I was asked to review Bike Bath last year but for some reason that I now forget, I couldn't.  So this year I decided I would put it on the calendar and make sure I did it.  It seemed like I should.
Which is why, on Sunday morning, I was driving down half the course I would ride later, to get to Bath.  It being around an hour away, it wasn't the earliest of starts, which is always good, and the sun was shining which is always better.  HQ is at Bath Recreation Ground in the centre of the city (I think it's a city right?), but in order to promote cycling and reduce congestion, we were advised to park at the free Park and Ride facility on Newbridge Road.  Not that I knew where that was, but I presumed my satnav would get me there which indeed it did.  Unsurprisingly I was parked up next to a fair few doing exactly the same thing.
The forecast was for mild and not too windy, so there wasn't too much faffing to do on the kit front, other than donning some arm warmers because it was still a tad chilly.  I was pleased to discover the car park was free, though the bus into town if you use it is not.  The toilets however, were not free, but I was pleased to discover I did actually have a 20p piece.  In fact I think you could say I was relieved 😉
Time to see if I could find my way into town.  Sorry, city 😉  I'd looked at the map supplied beforehand, and did so again, before heading off.  I was hoping to follow someone in but all the cyclists who had been around had suddenly vanished!  Luckily I do know Bath a bit and although I completely failed to take the right route in, I just followed the A4 until I knew where I was, found a sign pointing, presumably, to where I needed to be, and with no trouble at all other than a little traffic dodging, I was at HQ.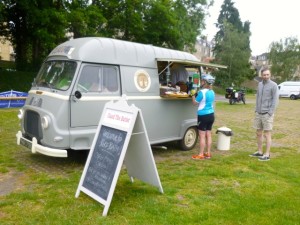 There was an event village set up, toilet blocks, tents, stands, all the usual, with the addition of the fabulous Claud the Butler.  I decided to go and register before I indulged my high quality coffee addiction.  Which luckily didn't take long.  A nice smiley lady told me where to sign, gave me my number and bike tags, and stuck a timing tag on the LHS of my helmet.  Time for my short black Americano, a trip to the toilet block, and a quick break on the steps to watch everything happening.
Things were all fairly informal, so I just kinda got myself together, grabbed the bike off the rack where I'd stashed it earlier, and joined the latest group gathering by the start arch.  The group ahead of us was just leaving so almost straight away we shuffled forwards for our rider briefing, that came with more of a sense of humour than usual, which was nice.  And then a little after 8:00am I was on my way.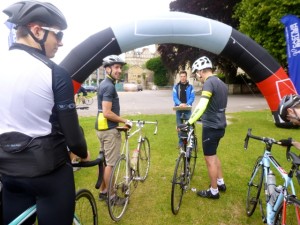 Sometimes local rides fill me with dread.  Really, these roads, again?  And sometimes I look forward to them because I know what I'm in for and I know I can do it.  Today was one of the latter.  Not that I'd ridden all of it before but still, a case of familiarity not breeding contempt 😉
In fact the first hour or so provided the greatest novelty.  Cycling through Bath in vaguely cyclocross fashion through pedestrianised streets, the wrong way up roads, down cycle lanes, along cycle paths by the river, along a lot of cycle path in fact, including most novel of all – the Two Tunnels.  Which was kinda scary!  Two sections of the Somerset & Dorset railway have been turned into shared-use path, although at this time of morning there was only the odd walker/jogger to share them with.  The tunnels are both downlit at regular intervals in oddly catacomb style so you can actually see where you're going, but the darkness around you and the sunglasses balanced down your nose do lead to a slightly unstable feeling.  The first section wasn't that long, but the second section seemed to go on forever and I was quite glad to emerge blinking into the sunlight, in front of the obligatory photographer to capture the moment.  As I thought, sunglasses on the end of your nose is not a good look 😉
There was a brief hiatus shortly afterwards where the signage said both straight on and left up and backwards.  Logic dictated that anything other than straight on would just take you back, so presumably that was meant for one of the shorter routes.  Straight on then, to infinity and beyond!  Well to Somerset anyway. Time to go uphill then, and there were a few ups to climb out of Bath.  Nothing too drastic though, just the gradual scenic variety really, followed by lots of country lane riding.  I'm sure I should have been taking photos but I was busy warming up and looking around, and generally getting on with it!  Oh, and we have great village names around here – Norton St Phillip, Buckland Dinham, and Great Elm to name a few.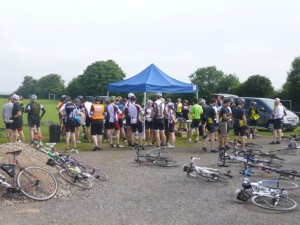 We were getting into familiar territory now, especially when we got to Mells.  Shortly afterwards came the first foodstop at Chilcompton.  The food was plentiful, with sandwiches, pies, bananas, and more, and Cawston Press fizzy juice drinks but it was a bit chaotic as there were no bike stands, so trusted steeds were just strewn all over the gravel car park, mine included.  I nipped inside the hall for a quick comfort break, took off the arm warmers, grabbed the usual half a banana and headed off again.
I think this route might become my favourite way to climb the Mendips, though sadly I live in completely the wrong place for it to be useful.  Yes it's essentially up, it goes on for quite a while, and some bits are steeper than others, but it just doesn't really feel as bad as it should. And it's pretty!  Plus all that up brings you to the top of the Mendips, and across to Priddy, from where you get to go down again.  Whoopee!  Oddly I've been up Deerleap loads of times, but never down it.  And I'm not sure I'd repeat the experience. Not with a classic car rally coming up it at the same time for sure!  Given a guaranteed lack of traffic I think it'd be a lot of fun though, and it still wasn't horrible, but it being narrow, steep and/or wiggly in places, it definitely called for a degree of respect.  Mind you, once that bit was done, the flying section onwards through Wookey Hole and to the outskirts of Wells was much fun 🙂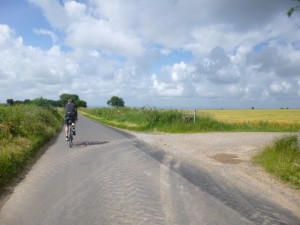 Time to head to Wedmore, down a road I use at least once a week, but which somehow seemed more fun today.  Well it was still sunny, and I knew it was pretty flat!  In fact there was around 12 miles of flat, pretty Somerset roads, attractive villages and the like.  I reminded myself that just because they're a bit like wallpaper to me these days, people do actually come here on holiday, and it's actually very lovely!  I have to say though that having done a lot of sportives in the South West lately, Somerset really does some have the worst roads around – I found myself feeling a bit embarrassed for my county!
Anyway. Enough with the reflective and flat and scenic, time to go up the iconic!  Yep, Cheddar Gorge loomed ahead of us.  Believe me, it's much nicer in the sunshine, and that we were still blessed with.  My Garmin refuses to believe I went up it in the prescribed fashion so I have no idea whether it went well or not, but it felt like it did.  It does help the PMA when you overtake people on the way up!  For those of you who don't know the Gorge, here it is in pictures. No Horseshoe Bend though – that involves concentration and hands on the handlebars! 🙂
It was starting to get a little less pleasant by the time I reached the top – clouding over and with some wind.  Mind you, that's often the case on the top of the Mendips, I should be used to it by now, and the cloud was still fairly patchy.  Having made it up once more I knew I was going to get one of my favourite downs shortly – down West Harptree Hill.  Which I was duly enjoying until I hit a bl**dy great pothole halfway down…  No, I didn't fall off, but it rapidly became clear that somewhere there ought to be air there wasn't.  I was, in so far as I could be, grateful to discover that it was at least only one tyre afflicted, and that it was the front tyre at that.  So I took myself off to the side of the road and set about getting it sorted.  Something I can do, I'm just not very fast at it.  Still, I was sat on dry grass, sheltered, in a patch of sunshine, so hey, needs must.  I was pleasantly surprised when most of the riders going past me checked to see if I was ok too – which is a good place to mention that this is one of the friendliest rides I've been on lately.  Lots of etiquette, and lots of friendly chatting in passing too – makes a nice change!
As I sat there the silver mechanic support van came up past me, which may have been co-incidence, or maybe someone arrived at the foodstop a little further on and told them about me, who knows?  They turned around a little way up, came back down, and pulled up next to me to check that I was ok and had everything I needed, which I was and I did, so I didn't need their assistance.  However having had a brief chat it was good to know that they were going to head back to the foodstop and that there would be a track pump waiting for me when I got there.  My little pump is pretty darn good, but getting properly back up to pressure would be good, and save me bouncing around for the rest of the ride.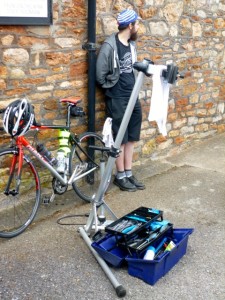 Job done, I headed down the rest of the hill a little more carefully, and then flew along to West Harptree proper where the foodstop was.  And yes, there was a track pump, in fact an entire tool kit, complete with a hipster mechanic to pump my tyre up for me.  Result!  The food stop had a little less food, not that I needed any, but the Cawston Press fizzy rhubarb was fab!  I also topped up my bottle with water and was rather thrilled to discover they also had Nuun tablets – my usual poison – so I wouldn't even have to use the ones I'd brought with me – bonus!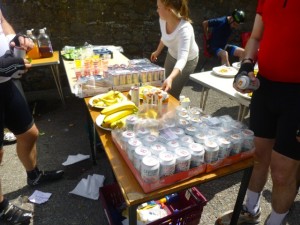 Right then. With around 60 miles done, I only had 20 miles ahead.  By the way it's amazing how much easier 80 miles is to deal with mentally than 100.  Weird, no?  Of course it definitely helped that the weather was nice, the hills weren't bad, and my legs just seemed to have it in them today.  And the rest of my body too.  I was having another good day at the office 🙂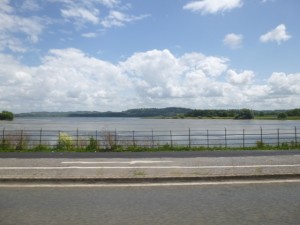 The final 20 miles took us past the very pretty Chew Valley Lake, and then back to Bath along country lanes, without too much up or down.  Sadly the weather deteriorated.  Black clouds were gathering all around, and I was really hoping that, doing a fair speed, I might get back in before they got to me in a big way.  Which I sort of did.  It did rain for the last hour or so, but since it was still fairly mild, and it wasn't too heavy, it was tolerable.  It did stop me taking photos though, which was a shame.  After quite a while of not knowing where I was, we popped out at Saltford, and suddenly I knew, and we were turning right onto the Bristol-Bath Railway Path to head, damply, back into Bath.  At least the rain meant, once more, we weren't sharing it with many other users.  The damp and straight and flat did get a little tedious, well, mostly the damp to be fair, but it didn't really take that long to get back into Bath, get confused once again by road signs, albeit in a different place, manage not to fall into the river cycling alongside it, and to negotiate Bath's now busier streets to get back to HQ again.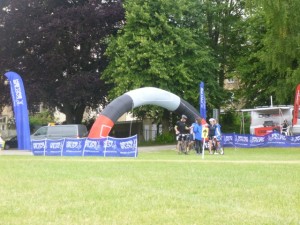 Rolling under the Finish arch we were all welcomed in over the tannoy by name and with time, as various staff/volunteers presented us with our medals and sent us off over to the event village again.  The rain managed to clear up for a bit as I parked the bike and then wandered around a bit trying to figure out what to do.  There was free hot food available, but I wasn't really in the mood.  There was a Bath Ales bar doing a roaring trade, but I was driving.  So I grabbed a bottle of water, sat by my bike, and checked my phone instead.  And then the rain started again.
Right then, enough already.  Time to head back to the car.  Which turned out to be 3 miles of the wettest riding I've ever done.  Everytime you wondered if it could get any worse, and if you could get any wetter, the heavens would inform you that yes it could, and yes you could!  I got to the car, opened the boot, and climbed straight in!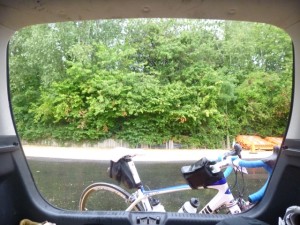 And it didn't stop.  I changed into dry clothes.  And waited.  And it didn't stop.  Eventually I managed to get the bike into the car without getting out, and the nice rider who'd just arrived at his car next to me shut my boot for me, so I could clamber over into the driver seat and head home without getting soaking wet again!  I gather it brightened up later and the whole event ended in glorious sunshine…*sulk* 😉
Still, I had a really good ride.  Well, apart from the drenching 😉  I enjoyed the route.  I had it going on, in so far as I ever do.  It was well organised, low key and most and best of all, it was very friendly.  It was definitely a nice day out on the bike 🙂
Cycling time: 5:10
Distance: 78.8 miles
Avg: 15.3mph
ODO: 10197.9 miles