On the Saturday I treated the bike to a thorough Muc-Offing.  I washed, cleaned, oiled and polished.  Good for the bike, very bad for fingernails!  But since so many cyclists I know do the Cheddar Cyclosportive, the bike at least had to be looking good.  Appearances are everything right?  Including deceptive.  Since it is so local, Guy and I took advantage of our proximity to it, and went down and registered both us and my Dad at our LBS the night before.  We weren't the only ones, but there wasn't much of a queue.  File in, sign, and get a little goodie bag that contained the bike number, with timer tag attached behind it, and an assortment of edible pre, during, and after things.  Well that was easy :).
Another advantage of a truly local event was the less than hideously early start in the morning.  An alarm set for 7:00am?  Unheard of!  Dad arrived, early as ever, for a little pre-ride faffing, and we were in the Square, with a small peloton of others at 8:00am, ready to ride to the start.  It was chilly, and the forecast was truly hideous.  Rain wasn't due until around midday, but there had already been an unforecast shower, so my faith in that forecast wasn't all that strong!
So much for making my bike perfect.  As we rode to the square I noticed that the front axle was squeaking like the darn dawn chorus!  I knew I should have left all the dirt where it was…  The first thing I did on arrival at HQ was head straight for mechanical assistance.  Paul reckoned I was doing it on purpose just to test him out for my review! 😉  Nonetheless he squirted something lubricating around it, spun it around a few times, repeated and…after a little while the squeak went away.  Phew!  I'm thinking that could have been quite annoying after a few miles – if not sooner!
Much relieved, not least because I'd used the toilets while I was over at HQ, I headed back to the start line where a veritable plethora of ACG and affiliated members was growing…after a while we lost count!  We were, amongst others, Guy, Gaz, my Dad, Jon, Martyn, Steve, Paul, Chaz…yep, I've forgotten the rest now.  You get the general idea though.  The plan today was to ride as a Group, and domestique Gaz to his first 100 miler.  Best laid plans…
Some of our group got split up as the waiting riders were briefed and let go in batches.  And some of those that didn't were never seen again, both in front and behind.  We also managed to lose Dad almost instantly, which was unfortunate, and a bit of a shame.  Well, the speed I was liable to be riding at, I could quite cheerfully have kept him company!  I've come to the conclusion that at the moment, I'm better off doing sportives on my own.  Last weekend I managed 117 miles on my own without feeling it, today I was constantly aware that I was keeping up, falling back on hills, and generally just not up to the grade of those around me.  Hard work in other words!
The first section of the ride, out to Wedmore, Glastonbury and beyond is pretty fast and flat, ignoring the small grind at Cocklake and the lump of Mudgeley, which took a few by surprise.  It is in fact, unsurprisingly, pretty Level ;).  It's also quite pretty.  Well, prettier when it isn't windy and grey, but still…  The terrain did mean that it took quite a long time for riders to spread out, and it felt quite busy early on.  Just as well the roads were fairly empty, as we were frequently more than two abreast!  Tut tut 😉  In the meantime I had a nice chat to a gentleman by the name of Rob, the second time in two rides that someone recognised me – which is very gratifying, not to mention sociable :).
Sadly it was too early for the denizens of Glastonbury to be doing much by way of living up to expectations.  Not a set of fairy wings in sight! *sulk*  After a little time spent negotiating the streets, and enjoying the antics of the small car completely failing to indicate and going all the way around the mini roundabout at the top of the town despite our presence, we were heading back out into country lanes again.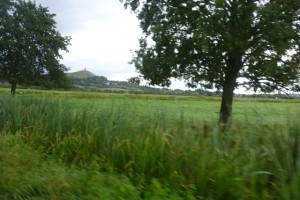 Although these are roads I'm familiar with I don't get out quite this far that often, and I always forget that it isn't totally flat.  I only had the thought of the High Ham Hill climb in my mind, and considering how I was going up hill I was dreading that.  However there were a couple of bumps in between to cope with first, which were as much fun as might have been expected.  At least that meant some fun flying downhill from time to time – silver linings and all that.  As we flew down from Butleigh towards Somerton a train went past us, and turned out to be the first steam train of the season!  It was a little odd, as I commented to Guy only the other day that we hadn't seen one all year.  Anyway, it's probably something to do with my Dad, but steam trains always make me smile 🙂  Shame I couldn't get the camera out in time!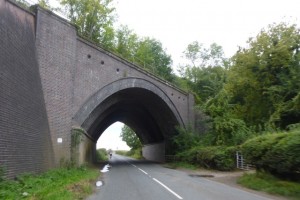 After the grind up to Somerton the back lanes were quieter, narrower, and flatter, and there was actually time for a bit of a chat from time to time.  I could pretend I was riding slowly to converse rather than because I couldn't keep up! 😉  T'was a but a brief respite as High Ham was looming…  There are other ways up this hill and I only ever do this particular climb on this event – why would I put myself through it voluntarily?  It's steep, hard work, with wet roads and stuttering traffic on it.  17% rumour had it.  The rider in front of me had had to stop, and then swerved all over the road trying to get back on and clip in again, which was a bit hairy for a minute.  Visions of failing to unclip and hitting the deck flew through my mind…but with a "we're behind you" shout from us, he managed to get out of the way, and the moment had passed.  *phew*!  At least I made it up, a fair few were walking.
The first food stop of the day was in the village hall, staffed by three very lovely ladies.  Aka George and her minions ;).  It was lovely to see a friendly face, and not just hers – the rest of what remained of our peloton were already there waiting for me.  They'd like to have been underway sooner, getting chilly 'n all that, but I needed to take five to top up the bottles, use the facilities, and get myself together first!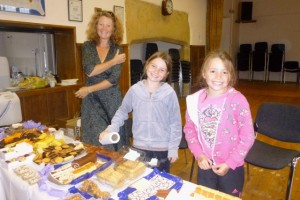 But it was only five minutes really, before we were on our way again.  Down High Ham Hill the way I usually go up it, with the obligatory photographer waiting on the apex of the sharp right hand bend at the bottom.  It's just possibly I was grinning at the time, rather than gurning for a change ;).  A stretch of fast and flat and temporarily on form took us to the bottom of Pedwell Hill, where Steve was kind enough to keep me company chatting all the way up.  It's a more gradual climb and I actually quite like it as these things go.  I don't quite like negotiating the A39 so much though – too busy too major.  It's a relief to be the other side of the dogleg needed to cross it and to see Brent Knoll in the distance – somewhere to aim for.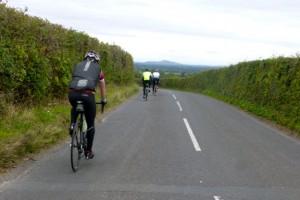 Shapwick, Catcott, Edington, Chilton Polden…we undulated our way along, in somewhat nicer weather.  I quite like the names of the villages along here, up to and including Woolavington, where I got to go downhill again – 'rah!  Just for once the long road to Bason Bridge after that wasn't too much of a slog, so it's just possible the wind was behind us.  Or maybe I was just sitting on Guy's wheel so was sheltered ;).
On to one of my least favourite parts of the ride.  The traffic in Highbridge, followed by the cyclocross gravel path along the coast to Burnham on Sea which, though scenic, is a shared path.  A delightful woman with four children, two on scooters, who had to move slightly, informed us all repeatedly that we didn't own the path.  Impressively everyone seemed to be failing to respond to this in the fashion that it might have warranted…ooh, the restraint ;).
In previous years going through Burnham on Sea has been a bit of a nightmare, but I guess the actual weather and the rain due meant there were less people out and about, and at least when we went through it wasn't too bad.  The main worry here is always that some eejot will open a car door as we go past, so it's always wise to leave a wide berth!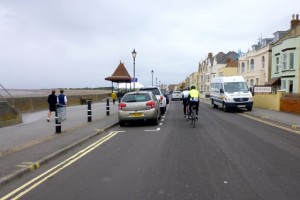 As predicted, since statistically speaking they're bound to get it right occasionally, the weather was starting to deteriorate now, a bit like me.  By the time we'd wiggled our way to the second food stop at East Brent, the rain was starting for real.  Oh and look, we do stop for traffic lights!
Time for the donning of marvellous waterproofs, as well as eating, drinking, etc.  I decided that the forecast was proving to be entirely too accurate, everyone else was too fast for me and I wasn't going to get any faster.  Throw in the fact that all the big hills of the 100 mile route are in the last forty miles, and that I had some things at home that I would be better off sorting out and…I decided today was a medium route day.  Let those better than I take the laurels.  Hey, I did the full route last year, and I can ride up Cheddar Gorge in the rain twice a week between now and March! 😉
That decided, a weight was lifted, and the last section was far more enjoyable for me.  Not faster, just more pleasant!  Besides which I quite like those roads.  Flat, some up and down, but not too much, scenic, and more importantly on the way home.  With a castle thrown in for good measure 😉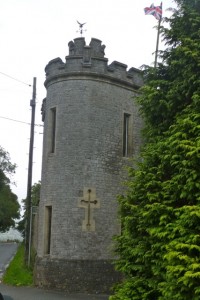 The biggest hurdle to negotiate were the traffic lights to turn right out of Winscombe and onto the A38.  I think the motorway must have been screwed again as the A38 was backed up Northbound, there was a long queue for the lights, and the phase is notoriously slow.  It's virtually impossible to sit in the queue, get up the hill and round to the right before the lights have changed if you're a cyclist.  And the motorists were not pleased to be being beaten to the front by cyclists.  There was a lot of engine revving, and stealthy road positioning going on to try and stop it happening, making for a somewhat uncomfortable atmosphere.  In fact I, and a couple of others, ended up making our way right to the front ahead of the lights to get away from the prat in an Alfa behind us, just in case he got even more agro!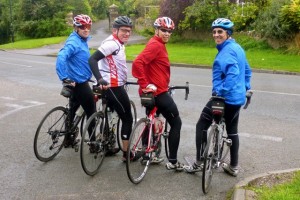 From there it was just a case of flying down hill, down the bypass, down road to Cheddar, waving a cheerful farewell to the stalwart few carrying on in the rain, and rolling myself over the finish line to HQ.
I handed in my tag, grabbed my voucher, and headed off to find my free coffee.  As we queued, the rain started to come down for real, and being wet already, I didn't regret my decision one bit!  I decided to get my coffee, go and hide from the torrential rain under the gazebo, and wait for Dad to come in so that we could at least ride back home together.  As it turns out, I may have been feeling crap, but that's more by comparison to everyone else than myself!  I was still a Silver and also third woman overall.  Which is why I should stop judging myself by other people's standards instead of my own! 😉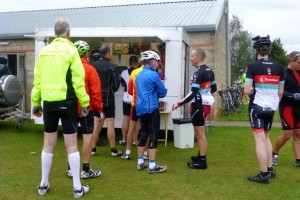 I'm pleased to report that the remain four musketeers completed the whole route, despite the weather, and Gaz did indeed pop his 100 mile cherry.  Chapeaux guys! 😀
Cycling time: 3:47 hrs.
Distance: 62.7 miles.
Avs: 16.5 mph.
ODO: 3803.7 miles.