I have to admit to having my reservations about women only cycling events.  I think sportives should be made more accessible/welcoming to all, rather than there being an alternative just for women.  You've never seen a men-only sportive have you?  Even if it feels like it with only 5% of riders being female on average.  Going down that route feels a bit on the exclusive side rather than the inclusive.  But you shouldn't judge things about which you know nothing, so when I was asked to review a Cycletta, it seemed like a good chance to see what they were all about.  I opted for the Cycletta New Forest because it's one of only a couple of their events that has an 80km route. Most of them offer three routes – c.20, c.40 and c.60km tops.  In supermodel fashion, I'm not getting my arse out of bed and driving 2+ hrs somewhere just to ride for a couple of hours and then drive home again.  Besides, 60km would barely tick the two hour rule box.  But since the New Forest is pretty, and pretty flat, I figured 50 miles was just about worth it.  Ooh, get me, cycling elitist 'n all ;).
My 5:15am alarm woke me to a dark, wet, and windy morning.  Not what you'd call motivational, but very typical for a sportive at this time of year!  Still it's not like I was sleeping well anyway, so rolling over and going back to sleep wasn't that attractive let alone not being optional.  Having eaten porridge and packed up the car, I was on my way by 6:00am.  I can't be said to have enjoyed the drive much, especially up a pitch black Cheddar Gorge, and the fog on the top of the Mendips above Shepton Mallet was a challenging touch.  But it was pretty uneventful.  I'd like to say the sun came up at some point, but I'll stick to just saying that it got lighter, in barely discernable increments.  But at some point night had finally departed, and it was day, and things were a little bit drier…
In pleasing fashion, I beat the satnav's ETA to HQ. Via a detour into the wrong carpark because I followed everyone else and not the satnav, which will larn me.  But it was a mere bagatelle, and 5 minutes later we were all slowly driving down the main entrance to Beaulieu Palace.  The official car park was off to one side before that for the tourists, by a ruined church sort of bit which was pretty much all I saw of the palace.  Maybe I was just looking the wrong way all day?  Anyway, everyone was parking pretty much in organised but unmarshalled fashion so I cheated and nipped down the first aisle to a little space I could see.  Gotta love having a diddy car :).  That put me right at the front, nearer the toilets than most, but with still a short walk to where I presumed the start was from the general flow of folk.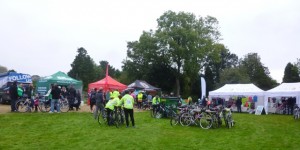 Being relatively early, the queues were still small, so I nipped to the loo before faffing in the not to be dry much longer.  Definitely layers.  And the waterproof stashed in the saddle bag.  It didn't take long though, since I drove pretty much dressed and ready, and I headed off, over the cleat clogging grass and gravel, to pootle around the event village a bit.  As I watched the kids doing the Scootathlon the rain started…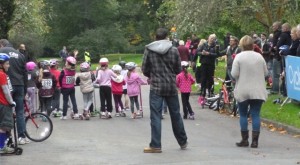 But it was a nice idea, and the kids were having fun.  They'd set up a little loop around the paths near the start line, and groups of age-similar kids were doing laps like Ironmen.  Or maybe iron childen ;).   Scooter lap, riding lap, 2 laps of running and then over the line.  Sounds like hard work to me, but they seemed to be enjoying it, along with a fair few proud lycra-clad mums in attendance clapping, and waiting for their chance to get over the start line too.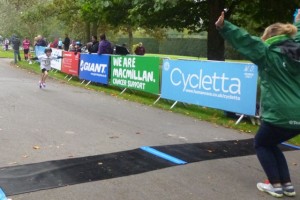 I still had about half an hour to kill before 9:00am when Challenge route riders were supposed to start. I decided that the rain wasn't funny anymore, and parked up the bike, put the waterproof on, before nipping to the toilets again. OK, that was the plan, but if you're going to have hundreds, or even a rumoured two thousand, fully clad female cyclists at an event, four mini toilet blocks (4 in each) and two single toilets, ain't going to cut the mustard.  Even normal sportives can get that wrong!  Still, we all stood in the queue and put a brave British face on it as the rain continued to get worse.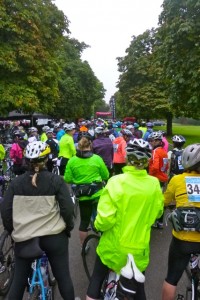 Marvellous.  Ah well, at least the jacket was toasty.  Ish.  But I was more than ready to get on the bike and get going after that.  The start queue had finally formed and I was a way back as a result of my unplanned delay.  At least I had time to get all the grass and mud out of my cleats so I could actually clip in and out without causing some sort of less than amusing domino effect in my vicinity…  Tip to the lady next to me.  When surrounded by a lot of clearly new, or amateur, or just not very experienced cyclists, standing over your posh expensive bike, all skinny and in shorts, talking loudly about your recent trip to the Pyrenees is a tad de trop.  Just saying.  OK, so the chances were looking good that I might compare favourably with a large percentage of the crowd, but I wasn't going to be rubbing anyone's noses in it.
Rain, rain, and more rain, but there was quite an atmosphere of camaraderie going on, and we weren't downcast.  I'm not used to be surrounded by people who are excited about the challenge ahead, everyone I know, and on the events I do, seem to have gotten rather blasé about what it is that we do.  Slowly we crept forwards to stand at the start line and be briefed and then let away in batches of ten.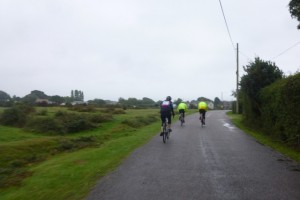 Off we went onto wet wiggly country lanes.  In order to maximise and simplify for the organisers, it's a figure of 8 kind of route. Start with 1 bigger loop. Take a straight section to a shorter loop. Take the straight section back to the Start. And, if you're on the Challenge route – repeat.  This has its pros and cons.
Two laps mean you know what you're in for halfway 'round which, if it was hilly, could be quite a deterrent. But since it wasn't, and there wasn't much climbing at all really, it means you know that maybe you could go a bit faster second time around, and that there's nothing to fear.  

The figure of eight route means that 2 "treat" stops become four with no effort at all.  Both stops were well equipped with food, friendly folk and mechanical support, putting a very brave cheerful face on standing around in dayglo overalls in the wind and rain all day!
On the downside
Though being first away for the long route means very little traffic of either sort on the way out, by the time you start the second loop it's full of all sorts of traffic and you spend your entire time over-taking cars and bikes.  If you're on a mountain bike slogging along into the wind and rain at no speed at all, being over-taken by me with my head down and going 15mph faster than you, must be a tad annoying/demoralising.  Sorry.  Kinda ;).

That straight section being used both ways, and for me, twice, meant that there were cyclists of all abilities going both ways down it with plenty of cars trying to get past in both directions.  And sometimes cyclists overtaking too.  Chaos.  I bet the motorists of the New Forest hate "us" even more now, even if they were all generally being more pleasant because we were girls.
Overlapping the route is confusing because if you didn't know that was going to happen – if you're on one of the other routes – it's quite easy to worry you're going the wrong way, and there were a lot of temporarily worried faces around.  Luckily there were plenty of marshals to point the right way as and when necessary and reassure the bemused.
There was a mix of terrain. Country lanes, forest, wide open moor land (for which also read exposed!).  Very scenic, in a damp drippy way.  Apart from a couple of stretches of bad surface, and signs warning you of that to go with them, the road surfaces were pretty good too.  Thanks to the marshals at all the main junctions, and the big black arrows on yellow backgrounds it was pretty hard to get lost, though the odd repeater sign would have come in useful.  At least second time around the route you know you're going the right way!  Down by the coast, around Lymington, the scent of salty mudflats had me thinking of rocks, and crabs, barnacles and anti-foul…Dad will know where I'm coming from even if you don't :D.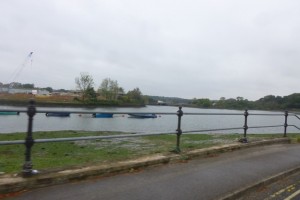 Luckily only the first 10 miles and last 10 miles were really wet.  I stashed the waterproof half way around, on my one and only stop, because life was getting a tad too boil in the bag for my tastes.  By the time the wet stuff started again near the end, I was essentially past caring and more interested on getting to the end as fast as possible.  There was a really nasty headwind on a couple of sections, but the loopy route meant it was also behind you at some points too.  Swings and roundabouts.  A couple of very doable climbs meant that there were even a couple of long downward bits. Nothing excessive, but enough for the odd grin.  Apologies if I went past you very very fast.  I wasn't showing off, I was having fun.  Honest! *grin*.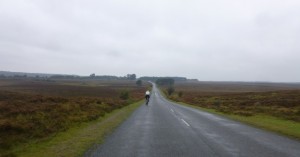 OK, I'll own up.  This was seriously good for my ego.  Don't worry, the Exmoor Beast next weekend will put me properly back in my place. But to be flying around, overtaking all and sundry, feeling pretty good?  It quickly became clear that I was going to be able to do this and do it fairly well, so I decided to set myself a goal and see if I could do the 50ish miles in under 3 hours ride time.  The mental arithmetic to work out the average speed required took a while too, which handily ate up a few miles 😉 Doing the math has never been my strong point.  Although English was/is so let's call it maths ;).  It was just bliss to spend three hours being somewhere else in every sense.  Not racing, but at least pushing it to see if I could do it, and just focusing on that.  Plenty of very much appreciated head space and not much thinking at all :).
And I did it.  After some daft shenanigans with cars and overtaking and…*grrrr*…which I made up for by overtaking a group of younger fit looking Rapha-clad women trying to race to the finish.  Tee hee hee…  As eldest would put it – *smug face*.  When I crossed the start line my Garmin said 2:55.  The text I got shortly afterwards informed me that my official time was 3:03.  Strava reckons my average speed was 17.3mph.  Now that ain't bad.  What's more I came 7th.  Not just 7th out of the girls, and rubbish overall, as would otherwise be the case.  No.  After all, we were only girls…so I was 7th overall.  7th?!  Did I mention how good this was for the ego?  😉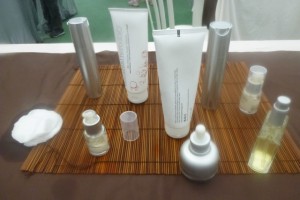 Having collected my medal and sample filled Liv/Giant goody bag, it was still pouring down, and the outdoor event village was not really somewhere for pleasant hanging around.  The only place properly undercover was the Beauty Event Spa tent.  Yes, there's a spa tent.  Yes, I'm guessing it is a girl thing *grin*.  There was a choice of (free!) treatments on offer.  Stretching (I've been told that's good for you…but not for me), leg/foot massage (20 minute queue), dry shampoo/hair tidying (as if), and facials.  Why not?  Well by the time we'd been talked through all the stuff to put on our faces, and applied step by step as instructed, at least my face was clean and lovely!  The rest of me was cold, and wet, and only getting colder…  Time to head to the car and do that hiding in the boot contortionist getting changed thing.  At least I could have the engine running to warm the car and me up.  Some form of changing facilities would have gone down a storm after the storm, as it were!
So what do I think of Cycletta now?  Well it's not really a sportive for women.  It's a women's cycling event.  Which is great, don't get me wrong.  There were all sorts of sizes, shapes, and abilities doing all sorts of rides. Short, long, solitary, with friends, on road bikes, mtbs, even tandems.  The lack of testosterone was refreshing.  Everyone seemed to be having a very good time, a lot of money was raised for charity, and there was an entirely different atmosphere to it, with a lot of family involvement.
But for me to want to do more, it would need a longer route still, and one that didn't repeat. Which I gather from the post-ride survey is something they're thinking about.  I quite like the after-ride bonding spa experience – very novel.  So stretch the route, throw in some more toilets and some changing facilities, then yes, I'll be there.
I'll add this, in postscript fashion…  Is it ever going to get women cyclists into the mainstream, or will it remain a stand alone thing?  How many graduate from Cycletta to "normal" sportives?  Now there's something I'd like to know…
Cycling time: 2:55 hrs.
Distance: 50.8 miles.
Avs: 17.3 mph.
ODO: 16580.19 miles.