I do not sleep well before sportives.  Even when sleep is white wine assisted.  After that one event when the alarm failed me, I think I'm so paranoid that I'm not going to wake up that my subconscious sees fit to wake me every hour or so just to make sure that I haven't over-slept!  In between times there will have been various surreal cycling related dreams.  I think it's safe to say my night was not restful, and I was up shortly before my 5:45 alarm.  Outside the rain was still falling…but, by the time I'd faffed enough to head over for breakfast, it had pretty much stopped.  Well, it wasn't really breakfast, more just coffee really, since these days I travel with my own free-from muesli and lactofree milk.  Service was a little relaxed this morning, and I nearly gave up on coffee all together, but a morning isn't a morning without a decent cup of black coffee, and it was very nice when it did come.
Now, all sorted, layered up, and checked up, I could have left my car at the hotel and cycled to the start as many others were doing.  However the route on the way to the hotel had seemed a bit convoluted, and a little lumpy, and besides, I can't review an event if I'm not getting the entire rider experience right?  Into the car I went, and back to HQ, early enough to be parked up in exactly the same field as I was in yesterday.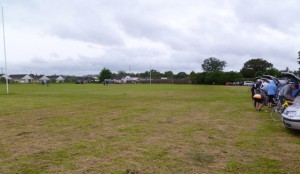 It wouldn't be empty for long, and once full, riders would be marshalled into all sorts of bitty car parks in the vicinity of HQ, as we were last year.  I prefer my field – though the long recently mowed grass was interesting to negotiate by bike, or when walking in cleats.
Since all the formalities had been done yesterday all we – being I, Gary, and GB – had to do was turn up, use the still posh facilities, and join the queue for the start.  At that point it was still a fairly short queue.  Riders were coralled into three pens, which were let go, and re-filled, in the relevant order.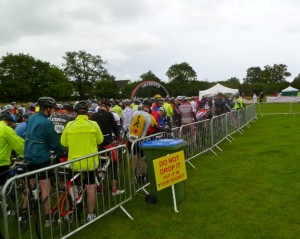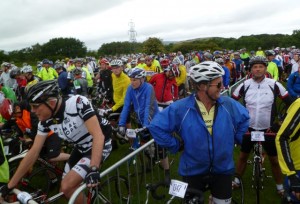 Ron gave a rider briefing, full of details about the last minute fallen tree induced route deviation, where/when to take care, and what to do with litter and for calls of nature.  First time I've ever heard a rider briefing get a round of applause at the finish!
It was a bit tricky getting going over the grass, past the timing things, and over the rug at the gate to leave HQ.  We were at the front of our pen which made things a little easier though.  We set off around 7:20ish, and were on our way.  It was wet, and windy, and to be fair not all that pleasant.  But not all that cold – until you got wet and the wind blew…moan moan.  The climbing started after about 20 minutes which is a shame because these days it takes me way longer than that to warm up!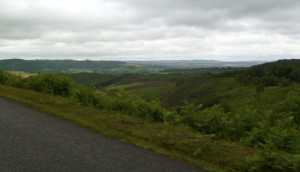 Dartmoor is stunning.  Even in this kind of weather.  With rocks and everything.  Oh, and cows, horses, ponies, and remarkably small-brained sheep.  Makes life more interesting right?   To be fair, random roaming wildlife was less of an issue this year, probably due to the weather.  Normal critters take shelter on days like this, they don't go cycling on 'em.  Or, for that matter, spectating!  I'm always amazed at the number of people who do turn out – their support is much appreciated, so I'm glad that, like us not being fair-weather cyclists, they're not fair-weather spectators :).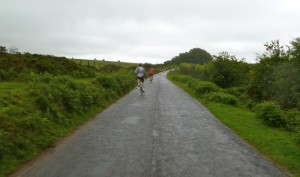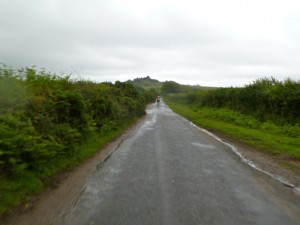 I got my kit totally right today.  I started off wearing all my layers, and by the day all the excess baggage (arm warmers, legwarmers, gilet) was in the saddle bag.  Perfect.  These came in really handy, as well as being very natty 🙂  Just call me a mobile advert!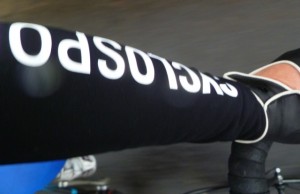 I'd like to tell you all about the hills with specifics and details and everything but, with this much climbing going on, they all kind of blur into one.  Let's just say there were a lot of them?  Some steeper than others, and often very long and drawn out…
The first (and last) food stop was at Princetown, which however you approach it involved a bl**dy great climb to get there.  First time around this was enhanced by being a slog into the headwind.  Nice.  Even if stopping wasn't on your schedule, you have to go at least go through it as it included a timing check.  Riders were being instructed to rack their bikes then sort themselves out if they were stopping, but there wasn't any space!  Luckily GB was there – having left me behind some time ago, and he grabbed me a banana so that I didn't have to find somewhere to park the bike.  Gary was here too – I'm not sure in which sequence we arrived – but we didn't hang around long as GB was getting cold and distinctly tetchy about it – even with his posh Rapha waterproof on 😉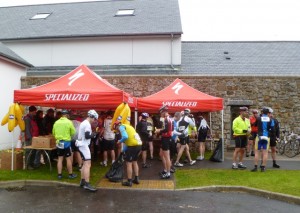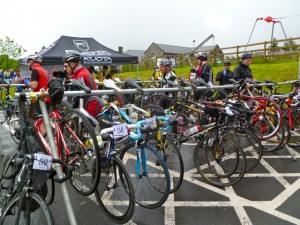 The 100km/100mile route split came just after the stop and, tempting though it clearly was to many considering the conditions, we did not take the 100km left.  Not us!  Right for 100 miles, right?!  After the big climb to Princetown, what goes up gets to go down, and there were some lovely downs, and also some rather technical and a bit hairy when it's wet descents, which were not so nice.  All the important junctions were marshalled so there was minimum stopping all day.  Signs – black/yellow – seemed to be ok, but there were so many riders on the route that you were never going to be lost!  The .gpx file worked too, apart from, obviously, the detour.  There were also lots of warning signs both for us, and motorists using the road we were on, which I always think is a good idea.  Especially when the route involved 2800 cyclists on a lot of narrow country lanes…  There were some traffic issues from time to time – of both car and cyclist varieties – and I think if the event gets much bigger this might become a real issue, as even I got slowed down a few times.  Bigger roads?  Staggered start times?  Hm…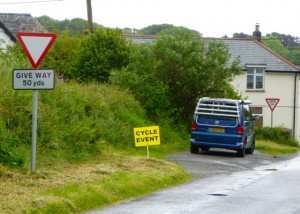 At some point the hills started coming equipped with yellow signs to tell you how bad it was going to be at worst, on average, and for how long.  I have to admit to having tried to ignore them, what with ignorance being bliss, but once I'd seen 'em, that was it.  At least I knew what I was in for, right?  And they're not Alpes.  Or Dolomites ;).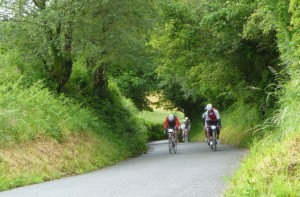 It was starting to dry up now, as you can see, which made the climbs less slippery and the descents less scarey.
Sadly Gary was suffering, and shortly after this heroic shot, he made his way via short cut back to Princetown and followed the 100km route home.  Shame, cos he makes hills like that look easy!  Next time, right?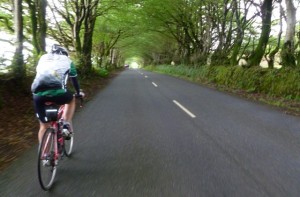 It wasn't all sweeping views and moors, there was a fair share of tree lined roads and forest bits, as well as the more usual mundane run of the mill country lanes.  Last year I found the first half proper hard work, and had to have a word with myself half way 'round.  This time I stopped at the same place, to mark the moment, remove my arm warmers, and also to note that this time around, however slow, wet, cold, whatever, it was, I just wasn't suffering in quite the same way.  Worthy of a pause for thought no?
Plus, around then, was the mental hurdle that is the halfway point.  Not quite so exciting when you're aware it's going to be a very long day with climbing like that, and that half is still a long time…but still, it's something.  There was a water stop around 58 miles in, with toilets in the village hall behind, and another timing check to ride past.  GB and I took a little time to fill up, eat, and remove layers – leg warmers gone this time.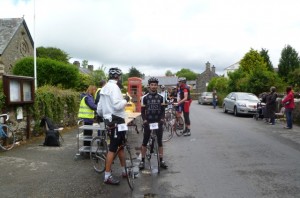 Time for more, drier, climbing, and more sweeping views.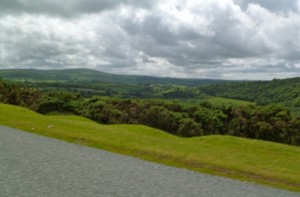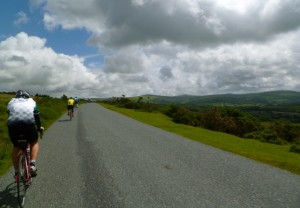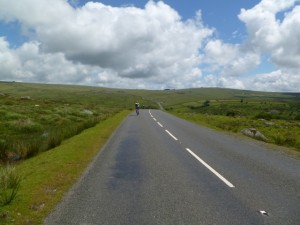 Apparently the Yogi team had around 140 members entered, which I'm guessing explains this: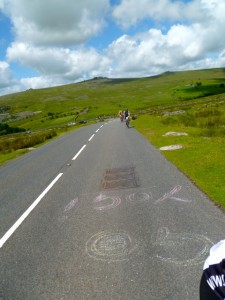 The longest climb of the day is the one that takes you back to Princetown again, with 65 odd miles in your legs already, which goes on, and on, and on, up and over the moor, with sightseeing traffic zooming by.  One particular motorhome came past me so close I flinched…and then went past GB ahead of me with barely an inch between his very solid fast moving wing mirror and the infinitely more fragile human GB.  *gulp*.  GB discovered his very own involuntary anglo-saxon reflex…so I hope the motorhome "driver" had his window open!
Princetown food stop second time round was sunny and a little less busy.  Spinach and feta tart anyone?  Or was it ricotta? I forget.  However having a savoury option made a change even if all I could eat was more banana 🙂  I also met Rob, who has been known to comment here from time to time, but you'd never have put us both at the same place at the same place like that if you'd tried!  More of him later…  And my gilet was the final entrant into the ever expanding saddle bag 🙂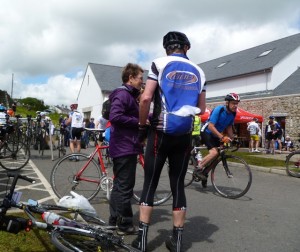 GB thought it was time we starting riding and stopped talking, so I had to curtail our chat and be on my way.  Don't know why since almost instantly, the white ACG blob that was GB disappeared slowly but inexorably into the distance, never to be seen again.  Déja vu!  Ah well, at least that left me free to do the remaining climbing my way, and descend without feeling him breathing on my neck and cussing my inability to descend around sharp corners…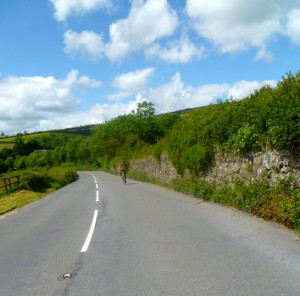 The final climb is a doozy, out of Moretonhampstead, and it just goes on and on and on and up and on and on and up!  I tagged on to these two near the top just because it relieved the monotony a bit…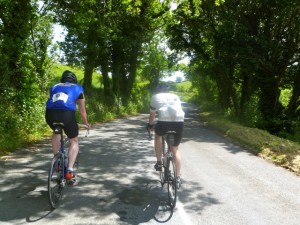 What made it marginally more doable was the knowledge that the last 15 miles or so are downhill and then essentially, by comparison, flat.  And man were they ever fun! Having eaten and drunk even when I didn't want to, my legs were up to a sprint for home, and the faster I went, the sooner the pain would be over and done with anyway right?  Flying along the valley, through tree shaded descents…where sadly one poor rider had clearly come a cropper and was being dealt with by the ambulance.  I hope he/she's ok 🙁  That kind of thing always gives you a bit of a mental check…and makes you ride a little more carefully.  Well, it does me, it doesn't seem to work on some eejots, hurtling past me as traffic came the other way.  After over taking a couple of Yogi guys, a little while later they went past me again, and I grabbed a wheel.  Well, actually, if there were 140 of them, I guess I'm just presuming they were the same two!  I ended up in a little peloton with them, which grew as we went.  After a while I felt bad for wheel sucking, so took a turn on the front for a bit which I thoroughly enjoyed, though I had to wait a while for them to catch up after I made my move – I really must get better at that.  I met one of the guys at the end after – having noted his name from his number, and thanked him for towing me, but he said I didn't need to as I'd done my share, they'd had a hard enough time keeping up with me when I did, and that I'd made grown men cry *grin*.  Tee hee… 🙂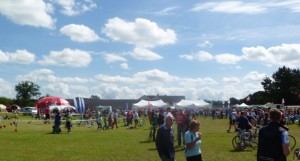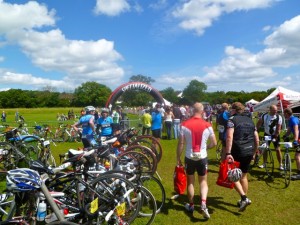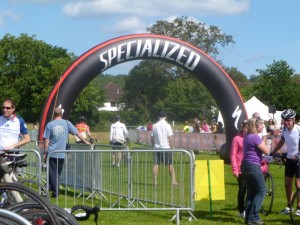 I was really pleased to get in, properly chuffed with my time, and very happy with how it all went.  Once over the finish line it was off to the timing tent to get my time – after getting to jump the queue because GB was already in it – cheeky but handy.  Turns out I got me a Bronze, same as last year, but it's a 35 minutes faster bronze than last year – 'rah!  It's nice to know I've improved a bit.  It would be seriously depressing if, what with this being my 14th sportive of the season, I wasn't on reasonable form.  From there it was on to the next queue to get my bronze medal, stone trophy, and goodie bag complete with Specialized brochure, inner tube, and saddle bag – quality stuff.  Breaking the process down into two parts split the waiting up, and you could choose to join the queues whenever you wanted to.  Even once in them they moved at a reasonable speed and no-one seemed to be complaining about it.  Us British are good at queueing right?  Apparently there were quite a lot of other nationalities represented too though – and I spent a while following a useful windbreak of a Russian cyclist *grin*.
Cycling time: 7:07:23 hrs (7:49 last year)
Distance: 102.42 miles
Avs: 14.4 mph.
ODO: 14598 miles
Official time: 7:39:13 – BRONZE (8:14 last year)
Well organised, with a great route, stunning scenery, and lots of properly challenging hills…hard to beat.  Which is what I said last year, and why I did it again this year 🙂  The Gs headed for home pretty sharpish, as Gary had been in for a while, leaving me to kick my heels around the event village in the sun for a bit on my lonesome.  Shame, it would have been nice to hang out with friends, but since I was the only one buzzing, I can't blame them for buzzing off *grin*.  I chatted to Ron the organiser for a bit, and thanked him for his hospitality, grabbed some more Dartmoor water, and contemplated what to do next.  I'm crap at the whole interviewing bit, but luckily Rob saw me loitering, and agreed to be my next interview volunteer/victim – I shall await his email.  Thanks Rob! 🙂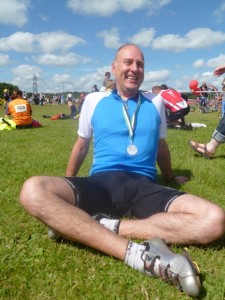 Fourth time lucky and he has his Silver – very impressive 🙂  There were lots of families, including his, enjoying the village in the sunshine, with the actually rather good live music, the kids activities, etc – which gave the whole event an atmosphere you don't get at most sportives, and which is one of the things that makes this one stand out from the rest.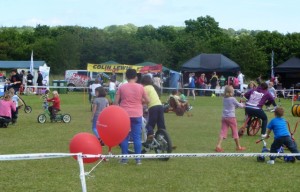 I think this picture pretty much sums it up 🙂
UPDATE: provisional results say that of 739 finishers on the 104 mile route, I was 381st, which will do me 🙂  I was 5th woman in my category, but there were s*d all of us – so 5th out of 8 ain't all that impressive *grin*.  And I was only just behind GB on 7:37:35, so I feel a little consoled by that ;).  My official Cyclosport review can be found here.