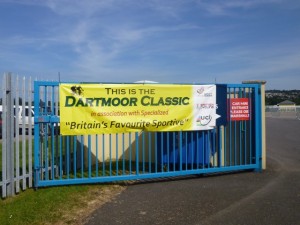 Thanks to the generous and enjoyable hospitality laid on by event organisers MDCC, it's safe to say that I slept like a log on Saturday night.  It's also safe to say that such things probably don't count as the most sensible way to prepare for a long hot sunny sportive…but hey, it's not the first time my pre-event preparation has been less than ideal and it's unlikely be the last.  It was however a very pleasant evening, and anything that means I sleep the night before is a good thing 😉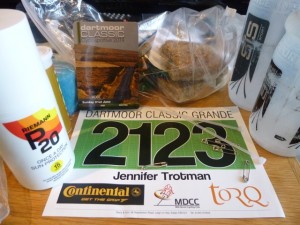 So, I was ripped untimely from the womb of sleep by my 5:30am alarm call, into a world where the light was alarmingly bright, and like it or not, it was time to ride a bike again.  I stuck my head out of the already open window and ascertained that not only was that bright light the sun actually shining, but it was already pretty warm.  Right then, time to pack away most, if not all, of the layer options I had brought with me.  The forecast was for hot and sunny with little wind, and although I might usually be dubious about that, since it followed on from several of the same, with more to come, it seemed more likely than usual that it might be accurate.  So, just one Cyclosport layer of kit on, my gilet in the saddle bag just in case, and nowt else, not a warmer of any sort in sight, which doesn't happen often!  It was time to put coffee & breakfast bar & a banana in me, and put all the bags into the car for later.  Much much later…
Having been put up at the Passage House Hotel in Kingsteignton, it was only a short distance to the start at Newton Abbot racecourse, and since we'd all been warned about possible problems getting in and out of the venue, riding to the start seemed the way to go.  Just a couple of minutes was all it took, but time enough to establish that I wasn't feeling too bad (there's no justice *grin*), neither were my legs, and that I wasn't going to need to get my gilet out.  Nice 🙂
Today was almost an ACG outing, and a small group of us gathered in the adjacent Premier Inn carpark.  Myself, Chris, Guy, Martyn, and Steve D were for the long route, and a couple of others, Gary and Steve A, were due later for the shorter route, as the ride has staggered start times, and colour-coded dossards and numbers so you can't cheat!  We were all a bit early, and other than the odd trip to the loo, having registered the day before there wasn't much to do, other than head to the start pens.  The first pen was pretty full so we opted to start the second one; we're getting a taste for being at the front it would appear 😉  Mein host, Ron, was looking very dapper in shades of pink, and gave us all a long briefing to pass the time before the official 7:00am start.  You guessed it – it's not a race, don't drop litter, don't take risks; be careful, watch out for the re-surfaced section (of which more later), don't "water" the roadside offensively, and so on.  Ron also gave a shoutout to the various riders/press covering it, including me, which was amusing, especially as that meant everyone in the vicinity knowing who I was and that last night's preparation had included rather more white wine than theirs! 😉  Still, other than the health & safety messages, the essence was that we should enjoy ourselves.  Well, although I've done this event before, and know it's long and hard, that was my plan.  To spend the day enjoying cycling around Dartmoor in the sunshine.  Others had other ideas however…
The first pen was waved off, patriotically, at 7:00am, and a few minutes later so were we.  The first couple of miles were neutralised, with each group led about by an NEG outrider, presumably to spread us out and keep us well-behaved in town.  We were kept to a reasonable average speed – i.e. one that even I could do – but after a couple of miles we passed the timing point and were let go on our way.  Well, that pretty much sums it up for riding with the ACG for me today.  Within 5 minutes, probably less, they were off, without a second glance.  I know I should be used to it by now, but a quick "we're off, have a good ride, cheerio" wouldn't go amiss guys… *sulk*.
Right, just me then.  Ho hum, at least I wouldn't have to try and keep up or hold anyone back, so it has its upsides too.  Talking of upsides…it wasn't long before it was time to be going up the side of something.  One of the things the Dartmoor Classic specialises in is very long slow climbs that you can see from miles away, wiggling away into the distance, making you well aware of what is ahead of you!  I call them long slow climbs because that's the only way I can do them, others can sprint up them and regularly left me for dust, as usual.  However it was still early in the day, and not too hot, so I climbed my way out of Bovey Tracey and up onto Dartmoor, enjoying the views of Haytor and the like, and amusing other riders by pointing the camera at them from time to time.  It was really stunning, and just reminded me why I was there and what the day was about.  However halfway through this climb, we hit the re-surfaced section, which was pretty unpleasant.  Trying to go up a hill, with fairly steep sections, on narrow roads, surrounded by other unpredictable riders is hard enough without doing it on what is effectively gravel!  It was a real relief when that came to a end…
I'm afraid I've lost track of the hills on today's ride, except to recall there were lots of them, and quite a few I either hadn't done before (I think the route has changed a bit) or had just forgotten.  Holne, Grimstone, Kilworthy…definitely not in that order.  It got hotter and hotter.  Eating was hard to do, though I tried, and I did make sure to drink.  My flapjacks were lovely but I just couldn't eat them; today gels were the way to go.
At some point on today's ride I met Mr Right.  Well, I didn't actually meet him, and he was actually Mr Wright, to be fair, but these are the games that your mind plays when left to its own devices mid-sportive.  You see one of this year's innovations is to have personalised jersey numbers, which meant you knew who'd overtaken you, who'd said hi as they did so (and thanks to those who did, much appreciated), and left you free to play mental games with their names in the meantime.  Hey, anything that passed the (considerable) time, right?
Another thing I quite liked was having the big climbs marked as such by yellow signs – with length, max gradient, average gradient, and name – so that you knew what was ahead.  And also that it really was a hill, not just your legs feeling tired and having had enough ;).
Still, by the time I arrived at the food stop at Princetown, I'd only done 35 odd miles in about 3 hours and it was already feeling like this was going to be a long hard day at the office.  Having said that, this is not to say I was suffering particularly, or not anymore than usual.  I was just aware I needed to sort my head out for the day ahead, and break it down into mentally manageable chunks to count down, etc.  For example, this was one third done.  By the time I was back here again, as this is also the second food stop, it would be two thirds done.  The last 15/20 miles of the route are fairly flat, so by that point there would only be 15 miles more or so of hills to be dealt with, which sounded doable.  Etc.
I topped up my bottles, used one of the "Ladies" portable toilets (proof I was reasonably hydrated), and enjoyed a couple of bits of both homity pie and spinach/feta quiche – figuring it was important to eat while I could, even if I didn't really want to, and loving the savoury options.  One more thing to look forward to over the next 35 miles – another reason having the same foodstop used twice is good.  So, time to get going again.  The route split comes just after the foodstop, and I could have bailed, but I didn't think being a bit lonely really counted as a good excuse, and although I could no doubt have dug a more plausible excuse out of my considerable arsenal, being a stubborn and contrary cow, I knew I'd kick myself if I did.  So I didn't.  I just go on with it.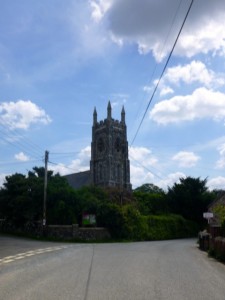 There were some lovely flying flat bits up on the Moor from time to time, and having done all that up, there were inevitably some amazing downhills.  I kept overtaking riders going down them, who would then catch me later.  One such commented that I wasn't half doing some speed down the hills, I must know the roads.  Nope, quoth I, I'm just making up for the fact that I can't go up them, which I was proving as they went past me again.  I do love downhills though.  Today my Garmin registered 49.8mph…though Strava says 50.8mph…ooh, so close *grin*.  Sometimes on the swoopy bits you could get enough momentum to get right up the next climb, which was a blast, and there was even a photographer on two of those occasions, I wonder if I look like I'm having as much fun as I was? 😀
The middle section played elastic time games.  Sometimes the time passed slowly, sometimes fast.  The lovely fast bit after Princetown faded into the past…  In addition to the lovely moor we had briefly left behind, here there were gorges and rivers and babbling brooks and all manner of pretty villages and lovely scenery which as I got tireder, I had to kick myself to remember to admire, as I zoned out a little.  After Tavistock, where the priest was actually baptising the penitent in the river, in front of a rubbernecking audience, came Kilworthy Hill which went on for a while…more than long enough for my amusement at the name to well and truly wear off! However once it was done, so was half the ride – another marker ticked off.  There was an easier section afterwards too, which was nice.  I'd forgotten about the foodstop at Lydford which turned out to be perfectly timed as I was starting to run a little low on fluid and it was starting to worry about it.  Having full bottles on a day like today is important!  I made up one to drink, and left one plain to make up later if necessary – the advantage of carrying your drink tablets with you.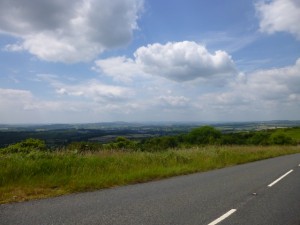 After Lydford, there was lots Moor climbing, which is a bad joke I feel I can make since there are signs all over the place telling you to take Moor care! 😉 Having spent some time off the Moor, where things were a little easier, the respite, such as it was since it just meant the hills were a bit shorter and shadier not that there weren't any, came to an end as we climbed back on to it.  Luckily the weather had clouded over for a bit which, as I looked at yet another climb disappearing into the distance, was a good thing, since there was nowhere to hide up there, and it was plenty hot without direct sunlight as well.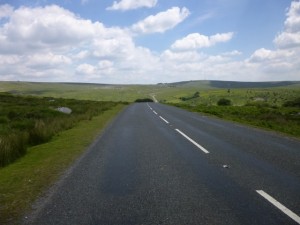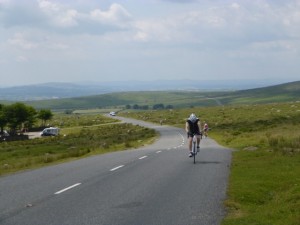 Time to get back to Princetown.  Only 5 miles to go, said the sign after the left turn that put me back pointing that way.  Good effort, keep it going, said the smiley man with his red flags, one of the many such cheery folk out today, marshalling every junction.  Hm…5 miles might not sound like a long way, but b*gger me, it took forever…  I poured water over myself, plodded along, up and up and up and somewhere around the 6 hour mark, even with the foodstop not far away, I realised that I was falling asleep, getting kinda wobbly, and that if I didn't eat something and take a break pdq I would also be falling off the bike.  So I did.  Take a break that is, not fall off 😉  A couple of minutes off the bike, enjoying the view, half a bar and a caffeine gel and I was on my way again.  Eventually, as is ever the way, the hill was done, and I was on my way down the lovely little descent down into Princetown again, enjoying the way the breeze I was generating cooled me down and very relieved to now have two thirds of the ride done.
Right.  The homity pie was all gone sadly, and I wasn't sure how well the spinach/feta quiche would sit, but I didn't let that stop me eating it, as I was clearly under-fuelled.  More water for the bottles, more water in me, and more water that could be on me later if necessary.  Believe it or not, as I left Princetown this time, I was actually a little chilly for a bit as the breeze which had appeared cooled down a very damp me.  It didn't last long though as there was more up to do, and the sun came back out again!  Still, the back of the ride was now broken.  35 miles to go, ish.  A few more little ups, some fantastic downs, the bl**dy big, how dare you do this to me with 85+ miles in my legs climb out of Moretonhampstead which I knew about but still didn't exactly enjoy and…there, finally, time to fly for home.  Maybe with not as much vigour as the last time, but I did my best, for miles of following the valley and the river and hoping I hadn't missed any signs as I had my head down!  Finally, with 5 miles to go, I ended up working with someone called Christopher,  which was lucky as there was now a minor headwind, I was fairly tired, and having someone to share the load with made a massive difference.  Even though he could have dropped me a couple of times he didn't, he waited for me to catch up; I took my turn as and when, and we made our way past as many people as possible, which was particularly enjoyable when you saw they were on the shorter route.  Time for the one short steep wish you weren't there lump that I remembered, and then back through the housing estates of Newton Abbot, and on to the racecourse.  He sprinted for the line, as you do, I took photos, as I do.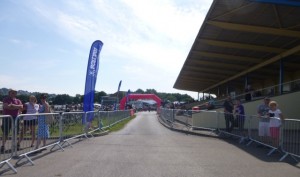 Chris was waiting for me as I crossed the Finish line; the rest of the ACG having not long taken their silver medals home.  His gold one meant that he'd been waiting around for well over two hours for me!  If it wasn't for the fact that he was my ride home, he could have been home hours ago, figuratively and literally…but I'm glad he wasn't, as a friendly face was definitely welcome.  Once I'd stopped feeling totally spaced, I went in and collected my time, t-shirt goodie bag, and bronze medal, and we went and sat in the shade to drink fizzy pop and eat hog roast.  I wasn't that hungry, but food seemed like a good idea.  I think I'd kinda overdone it, I'd run well into my red, and my brain wasn't really functioning so I wasn't exactly with it.  But I was happy enough.  Well, look at it this way, I figure I had two choices: either be depressed by how crap my performance was, or be pleased that I'd made it.  I figured the latter was better, easier, and nicer for all those around me!  And actually I was just really pleased to have survived.  I did good :).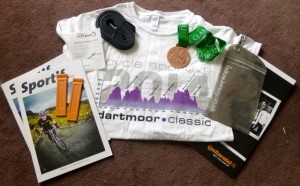 Cycling time: 8:30
Distance: 107.4 miles
Avg: 12.6 mph
ODO: 5372.3 miles
It's a very lovely event, and I'm very glad I did it again.  It's one of my top five events, and possibly even the best UK one I do.  It's really really really well run.  The marshals, outriders, organisers, are all friendly and efficient.  The foodstop is great, the route is amazing, and it's a serious challenge whatever the weather!  And today the weather was a serious challenge!   However the scenery is beautiful, especially so with blue skies, and I'd rather have it this way than in the rain for sure.  Besides which, how else am I supposed to get a suntan? 😉  Dartmoor Classic 2014 done 🙂
PS: official review is here, and look what the paper dragged in!