One of the many lovely things about the Dartmoor Classic is that that the organisers, the Mid Devon Cycling Club, put up all their guests and sponsors etc. the night before the event, and feed them too.  Which meant that rather than getting up at hideous o'clock to get down in time to register and ride on the day, I could go down to Newton Abbot at my leisure on the Saturday.  So I did.  Being earlier than hotel check-in time I went straight to registration at the racecourse, where there was plenty of parking, and plenty going on.  The event village was up and running, live music was happening outside on the Grandstand, and people were milling around here there and everywhere in the sun.  This did not mean however that there were massive queues, quite the opposite in fact.  I walked straight in, up to the Grande route tables, proved my identity with my passport, and was given my envelope.  Job done.
It was all so efficient and took so little time that I didn't really know what to do with myself next really.  The event village didn't have anything I could be convinced I needed, so having forgotten to get cash on the way down, and fearing the "minimum spend" card criteria that was probably in place at the catering places on site, I took myself off to the Beefeater next door instead for a pint and some lunch, having also forgotten that eating would be a good idea today.  Guy turned up a while later and, after registering himself, we had a chat for a while before going our separate ways – him to the Premier Inn next door, and me back to the Passage House Hotel a little further away.  Since I still had plenty of time to kill before dinner, after checking in and checking out the envelope and faffing a little, I spent a couple of hours overlooking the River Teign, in the sun, hydrating 😉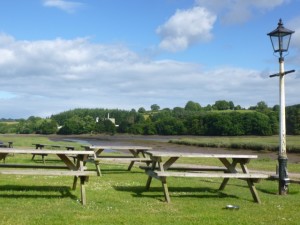 After a very pleasant meal with everyone at the Passage Hotel Inn next door, it was time for a relatively early night.  Well…it would have been earlier had my IBS not decided that something in the usually entirely safe (and particularly nice actually) ham egg and chips I'd had was not to be tolerated, and it would be passing Go without imparting any nutritional benefit on the way through.  (TMI? Tough!)  Gee, thanks for that.  Just what I needed.  So finally I was off to bed around 11pm ish, with an alarm set for 5:30am, not off to the greatest start…
Which was not helped by, for whatever reason, me waking up at 3:30am and completely failing to find much further comfort in the arms of Morpheus.  The bed was a little hard, the room was a little warm, the open window meant it was also a little noisy, with the road outside and with other guests coming and going through the very loud fire doors…it just wasn't happening.  Ho hum.  Who needs sleep anyway, right?
So 5:30am found me already up and drinking bad coffee.  I ate a banana and cereal bar, went through the usual pre-sportive routine, and then got the bike out and set up before riding over to reception to check out. Outside it was definitely not as nice as the day before.  Sadly.  Windier, chillier, cloudier…and the 5 minute ride to HQ made me very glad of my gilet and arm warmers!
There was a small group of us due to be starting off together (me, Guy, Steve, Rob, and two Alans I think?), if not riding so, and we all gathered slowly near Guy's car under the Premier Inn.  I took advantage of this to nip to the toilets, and got spotted and told off by some small officious female marshal for having my iPod earphone in one ear.  Apparently I was to take it off, or else.  Or else if I was spotted with it on the route, I would be disqualified and not get a time.  Like I care…!  Oh, and having checked back through the pdf with the regs?  No mention of them not being allowed either, as I thought.  She picked on me later in queue for departure too to make sure it was gone.  Well it wasn't.  It just wasn't visible.  And neither was it visible anywhere where I was likely to get caught on the day either 😉  But if you think I'm slogging up hills all day on my own without some background comfort, you have another think coming.  I'm not a slave to daft rules…  It's always on quietly in my left ear, and has yet to stop me hearing anything important!  She made me cross.  Mostly at the tone she used actually, I don't recall still being a child…
OK, eventually, after Steve and Alan had turned up and registered, and with several pens of Grande riders already en route, we all squeezed into the next pen ahead of the Medio riders as apparently all Grande riders HAD to be in this pen.  So there we duly were.  We do what we're told right?  Not that we were going anywhere anytime soon.  I know a rider briefing is a good thing, but this one was interminable…and I'm not sure anyone was paying attention after the first couple of minutes.  Maybe he was just killing time to allow the previous pen to be escorted and set on their way before the lead out car came and did the same for us but hey, play some music or something first and then brief?
I was feeling a bit nervous standing there, as well as post-telling off grumpy, oddly.  Not that I could figure out why, and I did try, but I just was.  Pre-ride banter was up to standard, and it was really nice to catch up with the guys though.  Finally it was our turn to go, with a neutralised start following that car, to keep us all well-behaved through the streets of Newton Abbot, before we were let off the leash a way out of town, past the timing gadgets, ready to get on with it.
My time with the guys lasted longer than the 5 minutes I'd half feared, but the elastic between myself and them snapped after about 20 minutes.  Which came as no surprise, and I'd already said I was ok with that, which I really was and am.  Although in retrospect it probably doesn't help to start off a very long tough ride already feeling left behind if that makes sense?  Maybe I'd have been better off starting on my own?  We'll never know…
Right then.  Me again.  This was my fourth time doing the Dartmoor Classic, and I was up for the 107 mile Grande route I was down for. Again. But I started having doubts early on, even though I did have words with myself about mentally shutting up until I'd at least warmed up properly.  Which today wasn't easy.  It was, as I believe I've mentioned, grey, chilly, and rather windy.  Better things were forecast though so…?
5 miles of relatively flat warm up, and we were going through Bovey Tracey and then up onto the Moor with the first climbing of the day.  It's really one long climb up to Haytor, but comes in sections, which today included a closed road Strava segment timed ascent of Beckaford Hill.  I plodded up the whole thing in my usual fashion, though with rather more rider traffic around me than was sometimes comfortable.  I looked at the views – stunning as to be expected – as crawler gear engaged (I'm always worried it won't!) and it was all going ok.  Still, my average speed was barely in double figures, the wind up there was killer, and I was still chilly.
After some time on top of the world fighting that wind, and a lovely descent, it was time for more up (when wasn't it?).  Several more ups as I recall.  One of which, around Holne Chase I think, is steep and narrow and was once again too busy.  After the left turn at the top, going steeply up past walking riders, with many more doing likewise ahead, one of those decided to try and get back on…failed to do so…and crashed to the floor right in front of me.  OK, so I stopped just in time, and warned the riders climbing behind me, but guess who wasn't going to be able to get back on either now?  I can't remember the last time I've had to walk on a hill and I was NOT amused!  A short grumpy walk later I was back on my bike and back to slogging up hills into the wind…
This is going to sound weird.  But I just got bored.  I know all these hills.  I knew
I could and would get up them.  I wasn't suffering any more than usual.  But I just couldn't really engage my head with the whole thing.  Or figure out why I was doing it.  With the speed I was averaging, in the wind and the cold, it was starting to look like I'd be out there all day.  And after the walking incident?  I was actually bored riding my bike and I certainly wasn't enjoying myself, so I decided that on that basis I'd possibly be better off cutting my losses…
The first food stop, and also the route split, was after the very very long slow windy slog up to Princetown, 33 miles in.  Which on a route like this is not two hours in, it's three hours in, and was possibly a little late for me on that basis.  Dave, of MDCC and training camp fame, was marshalling at the entry so I had a friendly face to say hi to on the way in.  It was busy but not too crowded, the queues for the toilets were short, and the infamous savoury Homity pie was still plentiful.  Having grabbed some and refilled my bottle, I took myself off to a patch of grass, broadcasting thousand mile stare so that everyone would leave me alone, and ate it whilst checking with myself that I really wanted to do what I thought I was going to.
I did.  I really did.  I texted Guy so as he'd know, and after another cheery wave to Dave, I was taking the left turn and taking the Medio Route, with 34 miles to go to get home instead of 74.  So sue me! 😉  This didn't mean the climbing was all done of course, but it did mean I'd broken the back of it.  Typically by now the sun was coming out, and finally my gilet and arm warmers came off, one by two.  After some Moor draggy ups, the long descent into Moretonhampstead meant that only one big climb was left – downs always mean ups – and this up doesn't half go on.  But I know it, knew it would pass, and knew that the last 15 miles or so would be a down followed by a long flying finish along the valley, and hey, who knew,  I might even get my average speed up a bit? 😉
After a happy hour or so doing what I do best, I was back at the racecourse and rolling past all the spectators to go under the Finish arch.  I can't say I was bothering to smile for the photographers, something I failed to do all day, but then I rarely buy the photos anyway 😉  It was just sort of good to have it over and done with.  Smiling on the inside?
I headed inside to get my time, the relevant medal for a slow Medio route, and my goody bag.  It turns out my official time of 5:18:44 narrowly missed the under 5:17 standard for Silver which, in retrospect, is a bit annoying, but I doubt I'd have been able to do anything differently anyway.  Well, ok, I could have not eaten pie.  But it was good pie 🙂  And talking of good, the goody bag didn't suck either – a DC kit bag, DC tube scarf, a Yellow Jersey Insurance Ass Saver, and an inner tube.   Nice 🙂
For all that I didn't feel the love, it's still a great event.  Pretty much every key junction is marshalled by friendly folk with fluorescent jackets and red flags.  The signage is good if practically superfluous as a result.  The foodstop is lovely. The scenery is lovely.  The whole thing is well organised, and friendly and helpful.  And it is a real challenge, although possibly less so fourth time around, and that's my motivational problem not theirs.  However they did have, I think, around 1000 more riders than last year though, and I think that was reflected on the narrow roads and the hills, which wasn't great, as I've said.  Would I recommend it?  Yes, definitely.  Would I do it again?  Hm…ask me again next year.
Cycling time: 5:14 (official time 5:18)
Distance: 67.6 miles
Avg: 12.9 mph
ODO: 9952.3 miles
And PS: where has rider etiquette gone?!