I'm home alone, faffing pre-event, and doing my best to try and eat properly.  It's very easy to be lazy and stick to what I know, plus cooking for one is less than motivating – but you can't ride a sportive on rice cakes and ham alone so…time to stop procrastinating and get on with it.
First off, my attempt at cereal bars.  I started with this recipe, but had to swop the butter & honey for dairy free spread & golden syrup, and so cooked them like standard flapjacks, ie in the oven.
Hm.  Not an unqualified success.  They're very tasty – but also very crumbly and crunchy and liable to disintegrate if you look at them wrong.  I think I've made granola!  They'll certainly get eaten – my mob will eat almost anything – but there's no way they're going to work in a back pocket…better luck next time?  Which will be these, but with sultanas not apricots, in case you were wondering.  Anyway the crumbly flapjack bits are going to go very nicely on top of tomorrow morning's muesli, so it wasn't a complete disaster :).
So it's just as well today I accidentally tracked down the bar that I had last weekend that was safe enough and seemed to be an improvement on the Nakd bars from a carb supply front.  Thank you Morrisons.  I may have to go and hunt them down online and buy the usual mixed box now, but at least I have one for tomorrow.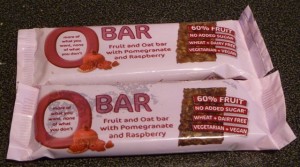 Time to see if I could do any better for dinner which, it being pre-event, has to be pasta.  It's traditional.  Or something.  So I took all of these: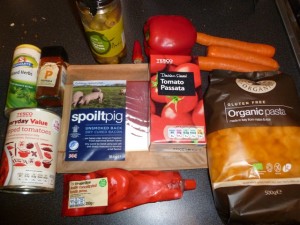 And turned them into this: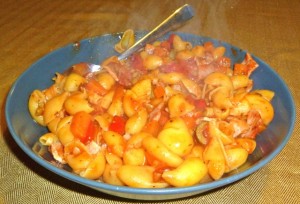 Not bad actually.  I made enough sauce for two meals, as very wisely suggested by George, so I'm sorted for at least one other meal this week.  It would have been better if I hadn't discovered I'd run out of paprika, but it was pretty tasty.  Very tomatoey, unsurprisingly.  "Pasta with bacon, olives, and tomatoes three ways".  Well, it would look good on a menu anyway, I guess it's sort of variation on pasta amatriciana.  Anyway it may not be cuisine, but that's not the point.  Carb loading done :).