Next weekend is the QBH.  The Quebrantahuesos.  Yes, it is a tad tricky to pronounce – hence the abbreviation.  I'd rather not call it the "Bonecrusher" which is one of the translations that applies – not good for the PMA!  Unfortunately I have been a tad busy, and tad otherwise occupied, of late, so it's fair to say I'm not entirely ready.  Logistically speaking at least.  Possibly on the training front too?  Even after a quick run to Sweets and back with Chris yesterday to talk it through, I'm not sorted.  Well, talking it through does not clean the bike or pack my bags!  Which reminds me, I should be cleaning the summer bike right now, ready to box up – oops!
Now, however daft it sounds, I haven't done a sportive in a while.  OK, yes, I know, it's only been two weeks, but it feels like it's been a while!  With the QBH looming, even if tapering is what normal people do, I kinda felt like I needed to do one to remind myself that I could.  Besides which, normal people don't do what we do anyway.  Tapering is a bit like Thursdays, I've never gotten the hang of it ;).  And besides which, what is normal?
I did the Great Western Sportive last year.  I quite enjoyed it, it's a part of the world I like, and it's not massively hilly.  I re-read last year's blog entry just to make sure it wasn't the daftest idea in the world…  And having decided it wasn't, Martin, the organiser, sorted me a place earlier this week, Twitter provided me with a ride partner, and just like that, I was set.  As the forecast got worse and worse, and I realised my complete lack of spare time for packing for QBH, I did have some second thoughts.  But the forecast was clearing, it's only weather, and having committed to doing it, I really didn't feel I could bail.  I hate to bail!
Would you like to read a catalogue, nay a litany, of the things I did wrong today?  Just for fun, maybe I'll highlight them in blue (to match everything) as I go through.  Let's start with having had a really bad pain week, during which I probably didn't eat properly, followed by one blissful day of normality, and too much rosé.  Sadly, after some fairly extensive research of late, it would appear that rosé and I do not see eye to eye, which is a great shame.  Yesterday's hangover headache was quite impressive, coming accompanied as it did by the return of the pain, and a seriously weird tummy.  And some of the side effects lasted all day…damm you IBS!  After the morning coffee run failed to clear it, I took it pretty easy for the rest of the day.  I even got a reasonably early night…and then typically failed to sleep much.  Well, apart from that bit where you finally fall asleep near the end of the night, down to that very deep place from whence the alarm has to drag you to consciousness kicking and screaming…
…nonetheless, dragged I was, and awake I was.  My insides were still less than happy, though I made sure to eat the requisite porridge, and drink coffee, and do my best to appease them.  Faffing had mostly been done the night before, driven by the forecast and the need to not wear too much that I might also need for QBH, though being lycra, it all washes easily and dries almost instantly, and since I don't have duplicates of everything, some of that is going to be inevitable.  Due to the weather forecast, I'd decided to ride the Cube, since although the Cinelli may need a degree of prep and washing down pre QBH, I didn't really want it to be totally covered in mud etc.  Plus the Cube has tyres better suited to inclement weather.  It seemed like a good idea at the time…and the Cube and I were off down the motorway as planned, at 6:00am.
HQ was at, appropriately enough, Nationwide HQ, in Swindon.  Lots of lovely free parking, with but a short trek to registration and the start.  I met up with Rob in the car park, who faffed more than enough for both of us, and we took the short ride to registration as I prefer not to trek.  I was number 460, the quoting of which got me my bike number and timing chip, before I went and signed the usual disclaimer/insurance list.  HQ had café facilities, a Torq stand, and Performance Cycles doing last minute mechanical stuff for those in need.  They were also to be seen out on the course later, in their shiny cars, helping the stricken.  There were quite a few toilets too, two of which were nominated for the ladies, a suggestion that was in fact being heeded by the gents, which makes a change ;).  It's always nice to see men queuing for the loos for a change ;).
Time to get to the start, and start doing what we were here for!  Martin gave us a bit of a briefing before letting us all go on our way, a bit after 8:00am.  Off into the chilly grey Wiltshire morning…  There's a nasty hill that starts steep and then keeps on going, all of three miles in, which would have come as a nasty shock to the legs if I hadn't known it was there, and even so it wasn't much fun!  Neither was the wind…  The wiggly descent from Broad Town, which is where we had climbed to, kind of made up for it though :).  This was followed by about 15 miles of fast and flat, of time spent in random groups, going faster than I ought to have been, because it was fun and because I (mostly) could.  It did occur to me that I might pay for it later…and I did.  Too fast too soon! And usually I'm so good at pacing!  I blame Rob – he's far too good at all of this, and made it look easy, and I didn't want to look like a girly wuss.  Anyone would think I had testosterone ;).
Time to start climbing again, as we hit the A4 at Cherhill, and left our latest slightly rag taggle group to head off into the distance.  Not everyone can ride in groups, and there was the odd liability out there :/.  Thanks to it not being sunny, the A4 was relatively quiet, and the long slow drag past the hill, the monument, and the white horse, was not unpleasant.  I seem to have ridden along here quite a few times this year – and it's called "Labour in Vain Hill"!  Isn't that a lovely name? :).
Well our labours were not in vain, and soon enough we were in Avebury, which let me down.  Yes, the stones and the tourists were there, as ever, but there was nary a Druid to be seen…and it's usually so reliable!  Maybe they prefer sunshine too?  I shall have to make a trip to Glastonbury soon and remedy the lack ;).
Leaving Avebury behind, it was time to head for the next big hill of the day.  No rush mind.  It might have been undulating and fast, but I knew what was coming, and I wasn't in any hurry to get there.  Energy conservation and intake of fluid and food were far more important.  Besides which, there were enough of us along here, and enough traffic, that we were all winding each other up, and it was best to keep a low profile and let everyone else get on with it!
Which hill?  Why Hackpen Hill, of course.  With, somewhat predicably, a white horse on it.  And hairpins and everything.  I pootled up it in bottom gear, as if I had a choice.  And it was the usual variety of hard work…but to be honest, I had been expecting to find it a little easier than that.  It would appear my legs weren't really in the mood for hills today – there was just nothing in them.  At all.  On a couple of occasions the hills were long enough for me to settle in a rhythm, which was slightly more successful, but mostly?  Any sort of incline saw me dropping off the back and left to my own devices until I finally caught up again.  Not good.
It's just as well there was a food stop at the top so that I could catch my breath, and eat the usual half a banana.  No toilets though…as with all the food stops today…and you know how much that annoys me ;).  Luckily thanks to my insides malfunctioning, today's tendency was more towards dehydrated…so it was less of an issue than usual!  Rob thought he might have a slow puncture in his rear tyre so he used the mechanic's track pump to check it…more for reassurance purposes than anything else.  Well, that's what the mechanical assistance is there for, right?  It turns out that it was fine, but at least that meant we could both enjoy the truly lovely descent towards Marlborough without worrying about it.  It's one of my favourite Downs ;).
Have we established by now that I wasn't feeling the love today?  It never really warmed up, there was a nasty headwind (surprise, surprise), my legs were empty…  Thanks to riding a slightly unfamiliar bike, my left knee kicked off, my lower back seized up, my arms hurt…shall I go on?  I also ate and drank as usual, but today that wasn't working.  Maybe I hadn't eaten enough this week?  Today?  Either way the tank was empty, verging on wobbly.  Now normally I'd have hung in there and done the whole 100 mile thing.  That's what I do.  I'd have made it.  But with QBH ahead, I really didn't want to ruin my knee.  OK, so I had the wherewithals to stop it (and everything else) hurting, which mostly worked, but just because it wasn't hurting didn't mean I wasn't still damaging it.  It would appear that there's just enough difference between the two bikes – set up, crank length, etc – to make a big difference!  I needed to look at the bigger picture…
We'd already discussed it as a theoretical possiblity, but I have to admit my mind was made up well before we reached the final route split.  Given a choice between 15/20 miles to the end, or more like 50, it was a bit of a no-brainer.  Especially with rain ooming on the horizon…  Boding even.  Discretion is sometimes the better part of valour.  Having made that choice, with a degree of weight off my shoulders, I suggested Rob do the sprinting for the end thing that he'd talked about earlier.  Not only would this mean he got a bit more out of the ride, having been nice enough to join me in bailing on the long route, but it would also save me from feeling the pressure to keep up with him.  Win, win, I do believe :).
So he hurtled off, having been assured that wasn't going to be at all offended if he did so, and I did my slightly slower thing.  I took a gel somewhere along the route…and more banana at the final food stop.  I needed a couple of minutes break there, as I was feeling like I'd overdone it a bit, which I think it helped give the gel time to settle in.  I definitely felt better after a while, and also the closer I got to the end, even if those 27km were not flat!
The rain that had been threatening came in.  First a little, and then just…more.  Not heavy rain.  Just more of it.  Not pleasant.  It was windy again, and I got wet and then cold, but actually not too miserable as I knew the end of the sportive was nigh.  Possibly just as well I didn't realise quite how wet I was until after I'd finished, and I'm very glad I didn't do the original route as planned – an extra 30 miles in the rain would have led to a complete sense of humour failure!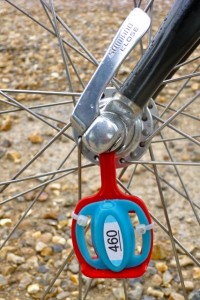 I crossed the finish line, and owned up to the distance I'd done, fun though it might have been to pretend to be really fast.  Even so, my official 4:40 time meant that, being an old bird with less expected of me now, I got a GOLD by two minutes!  How awesome is that?!  Rob, who'd been in a little while, had done the same, which cheered both of us up as we'd been feeling a bit flat until we worked that out.  OK, so it's not important, but still, I nearly never, ever, get a gold :).  I think it's only my third ever!  We all huddled together under the marquees drinking our free tea/coffee and clutching our rather nice free t-shirts – the Southern Sportive team (who organise this amongst others) do good t-shirts, I should know, I have at least four now.  It wasn't nice enough for much apres-ride though, we were both cooling down to chilly rapidly, so after a toilet stop (finally!) we headed for the car park.  I hid in the back of my car, stripped off my very cold and wet kit and replaced it with nice warm Skins, and layers, instead :).  Time to go home, said Zebedee.
Cycling time: 4:30 hrs.
Distance: 72.8 miles.
Avs: 16.2 mph.
ODO: 2492.40 miles.