Another Sunday, another sportive.  Which is the story of my life this month, and I'm not complaining 🙂
This time it was the Guide Dogs Tour of Berkshire, running for its second year.  It's not a huge event, and it's about raising money for the charity, not laying on an imitation Etape for Mamils.  It is also one I haven't done before, somewhere I rarely ride, and there's a lot to be said for novelty value.  I also knew that it was only 77 miles max, the forecast was good, and it had a whole heap less climbing than last week's Cotswold Spring Classic.  What's not to love?
So, with kit lessons learnt from the Cotswold's sauna experience, I headed off down various motorways to HQ wearing considerably less layers than usual.  HQ was, unsurprisingly, at the HQ of the Guide Dogs for the Blind Association near Reading.  Which would have been easier to get to if "they" hadn't closed a railway bridge a couple of miles down the road for re-surfacing, thus confusing both my TomTom and I.  Cue a confusing and circuitous detour…  But I was there pretty much as planned, around 8:00am, and parked up in the walled garden staff car park.  All very pretty, just like the house and grounds itself.  It was all fairly low-key, but very sportive.  Portable toilets, tent to sign up in, various catering outlets, all set out on the lawn.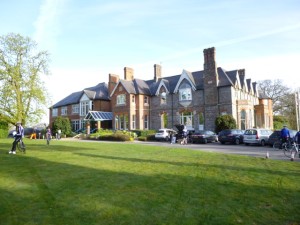 Even though the instructions had insisted on photo id, as did the desk itself, nobody checked.  I do wish people wouldn't do that, I only have my passport, and I always feel a bit nervous lugging it around and then leaving it in the car – those things cost serious money to replace!  Anyway I was duly handed my bag with my official numbers and various small goodies, which I took back to the car, so as to faff.  Just as well I hadn't gone over there, all ready, with the bike, as I'd still have had to go back to the car to leave it there…
First off – the bike number.  I'm not a fan of seat post numbers.  They just don't work with my bike/saddle bag combo, as you can see.  And the "don't bend" instructions for the timing tag on it had me a bit worried, but hey, there wasn't much I could do about it.  The helmet number was easy, though I'd rather not have bothered, but felt I ought to.  I continued to potter in the sunshine, debating what layers I had and which to actually wear.  The trick was to have enough space in the saddle bag and pockets to stash anything I might have to take off, without compromising on the other stuff I had to carry – food, drink tablets, etc.  But I reckon I had it covered, and although warm was due, it wasn't quite here, though the potential was definitely in the air.
Since kit recitals are becoming my thing, today's tally was as follows: toe covers, shoes, socks, lightweight tights, s/s bamboo base layer, merino s/s jersey, arm warmers, gilet, and winter collar.  See, wasn't that interesting?
I missed the horn for the start as I was queuing for the toilets.  Btw, life is so much easier without bib tights 😉  As I headed to join the start queue in my turn, it turns out there wasn't a queue if you were doing the "Epic" route and I was ushered straight through.  I was off, just like that!  The lack of waiting and a briefing was a tad disconcerting, I'm a creature of habit after all 😉
Right then.  Here I go again, on my own, as ever.  But I was up for that.  A Sunday spent riding my bike in the sun?  Oh alright then 😉  Mind you, as it turns out, it was a pretty linear loop – mostly out to the west, mostly back to the east – and it was pretty darn windy!  A wheel or two to hide behind would have been bl**dy lovely.  When you're doing your best and still only doing 9mph, you sometimes lose the will to live!  Luckily, if you can put it like that, the first half was mostly head wind, with the second half being mostly tail wind, as you'd expect.  And although there was, according to Strava, more climbing than I thought, it was mostly a case of ups and downs rather than distinct climbs and descents.  Rolling maybe.  Or Andalucian "flat" 😉  Mind you, the bigger climbs were all in the first half really, and gee, I really love slogging up hill into a killer headwind, it's just the icing on the cake! 😉
That wind kept things pretty chilly, despite the wall-to-wall sunshine.  The winter collar might only have lasted for the first 20 minutes, but my gilet stayed on until around 11:30am which is probably round about when I turned to face the other way, surprise surprise, and my arm warmers came off shortly after that.  The sunshine did make it all very pretty out there though.  Cultivated fields, thatched cottages, elegant country houses.  It being Berkshire it felt a little less countryfied than the Cotswolds had, there were lots of little villages to cycle through, interspersed with rolling fields, woodlands.  All sort of well-behaved.  England's green and pleasant land or something.  And somehow the miles just ticked by…
There were three food stops.  One around 25 miles ish, which I passed on, one around 50ish I think where I did stop, and a drinks one at about 68 miles which I also decided against, it being too near the finish for me.  They were a little makeshift – a van and tables in a lay-by, with fizzy coke, water, cake and jelly beans, and sadly no toilets.  Mind you the staff were friendly, the coke was good; add a few bananas and flapjacks and, of course, a portable toilet, and they'd have pretty much hit my mark.
I was doing my best to push it a bit for a change.  Especially on the flat with the wind behind me 😉  I knew it wasn't too massive a challenge, and I was fair flying from time to time, and feeling pretty good with it.  It's odd how the time goes though.  By the time I got in, I wouldn't have wanted to do 100 miles, I felt like I was done.  But then if I'd known I was going to do 100 miles I'd have paced myself differently, physically and mentally?  It felt longer than some though, maybe because it was a lot of all the same for 5 hours?  Or maybe I'm just getting bored of spending so much time with myself 😉  I did enjoy it though, which is the main thing.  It went pretty well too 🙂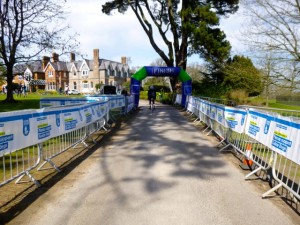 I rolled over the finish line, camera in mouth to avoid dropping it, and took up residence on the manicured lawn with the traditional can of fizzy orange, to watch the other riders come in for a while and get my breath back.  And catch a few more rays of course 😉  I couldn't stay there all day though, so I re-established verticality, popped into the toilets, and de-faffed before heading home.  It had clearly been a pretty long day, as having hit the M4 rumble strip a couple of times, my eyes just weren't going to stay open any longer, so I had to take a break at Chievely Services for a nap before heading on my way home again!  I think I need to remember to eat when I get in too – that might well help.
Cycling time: 5:00
Distance: 77.6 miles
Avg: 15.5 mph
ODO: 8851 miles
It's not a high falutin' sportive.  It's a modest well-run well-meaning event.  There were around 250 riders, and not including the money raised by individual riders, they've already raised over £1500 for the charity.  It was well sign-posted, though the odd repeater sign might have been nice, and the wind had played havoc with a couple of the signs – which the friendly marshals were busy fixing as I went past.  With the variety of routes on offer, 41.5km/84km/125km, it'd be a good event for the sportive novice, and with the relative flatness it'd also be a great route to try and do really fast as a group.  According to the results on-line 99 riders did the Epic Route, and I was 50th.  11 of us were female.  I was the fourth one of those, beaten by 3 Seniors but first in my V40 Category.  I'll take that 😉