On Saturday morning five of the ACG gathered in the Square ready, or so we thought, for whatever the weather was due to throw at us.  When Dave asked me earlier this week  where we going I didn't know, so I suggested that he create a route.  I really should know better by now.  The man is a mountain goat, who eats foreign climbs for breakfast.  For holidays.  For fun.  So it should have come as no surprise when his planned route turned out to be a bit lumpy! *grin*.  Ah well, in for a penny, in for a pound right?  What better way to see how the new bike performs?  So off we – being myself, Dave, Chris, Martyn and Mike – headed across the Levels, to warm up a bit before hitting the hills.  Three of us were even wearing ACG kit – including me – so we almost looked like a proper group and everything.  Very cool :).  It was hard to tell how the bike was feeling though, what with traffic, and the newly top-dressed roads.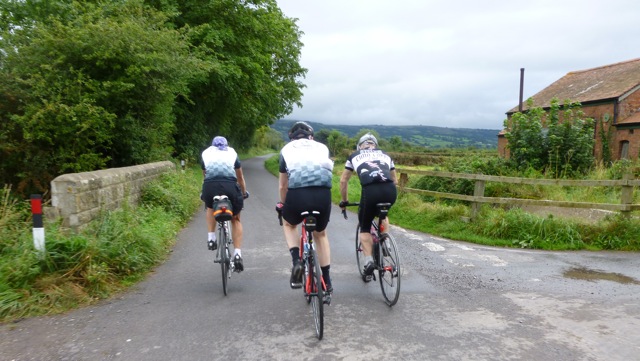 As we headed towards the first climb of the day at Westbury, the Mendips were disappearing under grey clouds, and there was an ominous massing of clouds happening behind us as well.  Which felt quite appropriate given how I was feeling about the concept of climbing up lots of hills.  Dave didn't even have us going up the usual Westbury Hill ascent.  Apparently the Stancombe Hill way is the way to go.  Says who?  To my mind it was just consistently steeper…not to mention more overgrown and slippery.  It felt like my granny gear was a little less granny than that on the old bike.  Maybe a Great Aunt gear?  Hard to tell though since I don't usually ride up that way so I didn't really have any basis for comparison.  I slogged my way up at the back of the pack, runt of the litter as ever, but I still got there, so clearly it wasn't insurmountable.
As we climbed the inevitable rain arrived, slowing turning from refreshing shower to torrential downpour, or stair rods as Martyn put it.  Having reached the top it was heavy enough to make it hard to see where you were going through your sunglasses, but too heavy to cycle through without them.  Just lovely.  I was also nervous about how the bike was going to handle going downhills in such conditions, what with it all being new to me, which wasn't good for my PMA.  Before we carried on our less than merry way the other four donned waterproofs but since it wasn't really cold and I was already soaked through there didn't seem much point putting my gilet on, so I didn't.  More riding and more raining.  Much more raining.  At some point cycling across the top of the dismal Mendips it occurred to me that I really wasn't enjoying myself, and in which case, why was I doing it?  Luckily I wasn't the only person having such thoughts…  Even if it brightened up which, as we all knew, it was bound to do by the time we got home because that's the way these things work, we were all soaked through, cold, and on top of that the roads were going to be horrible thanks to the weather.  We arrived at the crossroads by the pig farm, in fact almost in the middle of the junction since that little descent is very steep and full-on brakes were still slipping…and staged a rebellion, a mutiny, an uprising.
As we stood there debating our options and doing our best impressions of drowned rats, the real thing ran for cover across the road opposite us.  A drowned rat leaving the sinking ACG ship?  I think that sealed it *grin*.  It was time to call it quits, and head for home in the most direct fashion possible.  I decided the time had also come to put the gilet on for warmth if nothing else.  Well, it's not waterproof anyway!
The route home meant going down the Gorge.  Which, as the water quite literally poured down it, was more like swimming than riding.  Fairly clear why there's a Gorge there then!  I discovered my shiny but by now very wet new bike was behaving really alarmingly under heavy braking underwater going downhill.  It felt like the family car does with its seriously warped disc brakes, or how it does when the ABS cuts in on a normal car.  A sort of lurching forward, jerking, kind of motion.  Really unnerving and frankly a little scarey on that particular descent.  I took it extremely easy all the way down to the bottom where the rest of the guys were very kindly waiting for me.  Of course by now the rain has pretty much stopped and the skies were clearing…but too little too late.  In an attempt to salvage a little something from our ride, we had a coffee stop at one of the cafés in the Gorge, which luckily for them had wipe down banquette seating.  And Nescafé.  Ick.  Ok ok, I'm a coffee snob.
This was when I realised how cold I was.  Well, when I stopped worrying about my bike that is.  I was trying to put my hair back up neatly and couldn't because my hands weren't working…  I never realise how cold I am until it's too late, and I should really know better by now.  At least the mug of coffee was hot – it worked quite well as a hot water bottle!  Nothing for it from there but to head for home as quickly as possible.  I needed to warm up, and I wanted to see what the bike thought of the bypass, so I sprinted it.  Turns out the bike quite likes such things…or is that just me? 😉
Cycling time: 1:33:30 hrs
Distance: 20.41 miles
Avs: 13.1 mph.
ODO: 20.41 miles
As we were sitting in the café I checked the weather forecast for Sunday which, predictably, was sunny!  It was jokily suggested that we should try and do it all over again properly then instead.  Apparently many a true word is spoken in jest, aomewhat bizarrely at least four of us were totally up for doing that.   Voilà – new plan made!  Once home, having done this,  I spent quite a while fretting and consulting the twitterverse, friends, and Andrew, to see what to do about my bike.  I adjusted the front brake pads a bit, and made sure the front wheel was in properly straight, all ready to see how it would handle the next day.
Welcome to Sunday morning.  Same ride plan, different day.  Déjà vu.  ACG ride take two.  We were still five, even if Mike had mysteriously turned into a newbie called Trevor.  You know the drill by now.  So here we are, looking much more colourful, and much drier, heading back to Westbury.  Chris had, somewhat tardily, dug out his new ACG top to wear, but since mine was still a sodden heap awaiting washing, and presumably likewise the others, he was on his own.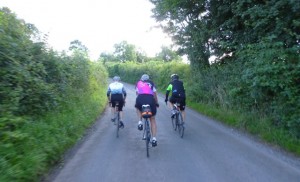 In order to see if going up Westbury Hill is in fact easier "my" way, we went up that way.  I still think that it's easier, though it is longer and does do it in steps.  The others disagreed, but each to their own.  I never quite felt that front wheel threatening to lift twitch that I can definitely feel on very steep gradients with this bike, which I did on the other ascent yesterday, so I'm bound to prefer it!  Of course that could just be because the road was dry…
See how much nicer it was?  Amazing what a difference a day makes.  So we didn't bail and head for home, we took the right turn we should have taken yesterday, and headed off, back on map.  There's a lovely long straight bit there heading towards the north descents of the Mendips and I couldn't resist seeing if the bike really does like sprinting and speed.  I'm very happy to report that it does *grin*.  Not the only time today that I did that either.  What can I say?  New toy to play with, couldn't resist, etc. 😉
Dave took us off along the top of the Mendips via a myriad of mystifyingly muddy roads.  How did all that rain not wash that away?!  I reckon you can tell it's a Dave road because it's way too narrow for white lines and even if they were there you wouldn't be able to see them under the vegetation and accumulated crud all down the middle of the "road" anyway!  Note to farmers – please cut back your nettles!  Axbridge Cyclocross Group?  After an interesting descent into East Harptree there was an additional lumpy loop with a really steep climb in South Widcombe which did at least afford some stunning views of Chew Valley Lake from the top, that we'd more than earnt!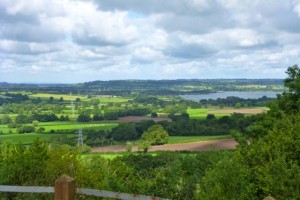 Talking of earning things, just rewards and the like…it was most definitely time for our coffee stop.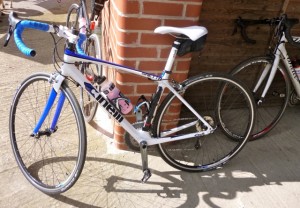 This turned out to be at the Stable Tea Rooms, part of New Manor Farm in North Widcombe.  I've been here before, but I've never managed to remember what it's called before.  They're in the process of doing it up and extending.  It's not completed yet, but the new toilets are lovely.  It's important to get the basics right 🙂  We sat outside in the sheltered suntrap of a courtyard and drank far better coffee.  For those that induged, to say their cake portions are generous would be an understatement.  Trevor's fruit cake might have slowed even MaxiMe down!
The cream tea was Chris' and we already know nothing slows him down…  Considering the smells coming out of the kitchen as we prepared to leave it was very tempting just to stay where we were and have lunch, but hey, bet I couldn't have eaten any of it anyway.  Besides there were more hills to climb.  Couldn't wait… 😉
It's amazing how wiggly and hilly the "roads" around Nempnett Thrubwell and Butcombe are.  I swear Dave knows every hill in there and that we went up most of them!  I'd done those before so I wasn't more than usually concerned.  They were steep, and mucky, and slippery, and I had one of those hit a patch wobble get it back together heart stopping moments on one of them but that's all it was, so no foul no harm.  I even got to do the odd bit of stupid sprinting again on the more flat bits around the various lakes and so on but not too much so as I was trying to save my legs a bit – I knew Blagdon Hill was coming.
To be honest I'd worked myself up into a bit of a mental state thinking about that one.  I've never been up it, only down, and I really hate it doing even that.  It's very long, and bits of it are very steep whilst the rest ain't shallow!  *gulp*.  I could see myself walking…  It was certainly hard work.  As I pointed out to the guy working on his house watching us go past, it wasn't my idea!  He reckoned he was just jealous, and would rather be doing what we were than his DIY.  OK, he had a point, I'm not into DIY either *grin*.  The upside to knowing the hill was knowing that it's steepest at the bottom, but having said that there is an annoying steeper than expected stretch near the end too.  It doesn't look like it, but it is!  Sting in the tail…  Followed by another stunning view :).  I'd have showed you views yesterday but we couldn't see them!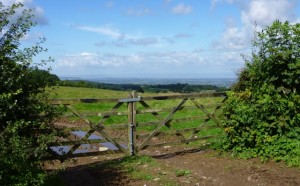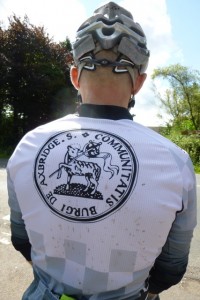 White tops are really not designed for the UK, as Chris is demonstrating here ;).  As was I apparently, but it's hard to photograph your own back!  We decided to come back down the Gorge rather than Shipham because I wanted to see how my brakes' behaviour would compare.  Plus that was what the original route said, and that's what we were supposed to be doing.  No hesitation, no deviation.  This meant heading across the Mendips again and getting to do some more hurtling from time to time, though into a headwind this time.  No fair!  Still, it can be very pretty up there – we're very lucky really 🙂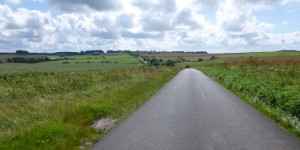 Going down the Gorge, following that muddy jersey, was infinitely better.  Interestingly enough the new bike handled the corners there better too.  Better braking and better handling – result!  Although I brought up the rear as ever we all got tangled up in the grockle chaos around the Caves.  We're planning on visiting there tomorrow.  Cheddar Caves on August Bank Holiday Monday?  We must be insane!   Anyway…
Nothing more for it than the usual race for home.  I got the jump on the others at the petrol station junction, tho Chris wasn't far behind me, and wasn't far behind me for long either – he sucks a mean wheel ;).  Yes, I know, he could kick my ar*e without trying, so maybe I should think him for not doing so?  We got into the Square having indulged our juvenile side, and waited for the other three to join us.
If at first you don't succeed…  We tried again and this time we did it.  I'm glad we did, and it was very (well ok mostly) enjoyable too.
Cycling time: 3:01:22 hrs
Distance: 42.26 miles
Avs: 14.0 mph.
ODO: 62.67 miles
As for the new bike?  It climbs, albeit it's marginally more difficult.  It corners.  It loves speed, and hurtling, and sprints.  There's every chance we're going to be very happy together :D.