Johnny always does the last dance of the season, even when somebody tells him not to.  I always do the first ride of the season, the Mad March Hare, even when life tries to tell me not to.  Nobody puts Baby in a corner right? 😉
Earlier this week, after some pre-event twitter banter, Mark (aka @velopixie), asked me if, in all seriousness, I was sure I was ok to be riding it.  I replied that I was doing it.  Which was apparently a little terse.  But to be fair, it was a bit of a daft question since of course I was, whether I should be or not.  I know, I know, people care, I should be more grateful.  I am, honestly :D.
Thanks to what can euphemistically be referred to as my "struggles" of late, the Mad March Hare had become rather more important than it should have done.  It is not an event that really warrants any great status per se, being not that long or hilly.  But it is traditional that I start my season with it, and starting my season was part of trying to make a fresh start, move forward, put the past and the pain behind me.  So the Hare had a lot of weight resting on his shoulders ;).
Now I'm not totally stupid, though many of you may choose to disagree with that statement.  However now would be a good time to hold your peace…  I'd checked that Sean was still doing it, and could and would review it for me if I didn't make it.  I took it a bit easier this week.  Rested some.  Ate.  I was aware that I could bail.  Not should, but could!  If I'd been feeling worse, or the forecast had been worse, I might have done.  But, thanks to the new world order, which finds me home alone every other weekend, I had nothing better to do.  I figured that bailing meant another day rattling around here on my own.  So a day riding slowly around the countryside with friends, even if it took me all day, well, why not?  Nowt better to do, as I said.
The upside to having had an empty nest on Saturday was the freedom to have everything all laid out and prepared the day before, and for it all still to be where I left it when I got up the next morning.  Often this early in the season I'm a bit rusty on the prep front, but not this year.  I seem to still have the hang of sorting the layers, packing the bag, getting it all done in the minimum possible time to maximise the time spent sleeping instead.  I didn't even forget anything!
So here goes; the first 5:00am alarm call of the season, set on both the phone and the iPad just in case.  I even got an early night beforehand, something else I'm not very good at, as I think by nature I'm actually nocturnal!  Luckily I now have a form of sportive autopilot, and the day started.  Get up.  Turn coffee machine on. Get dressed.  Eat porridge, drink coffee, finish packing, load final bits into car, program satnav, and leave.  45 minutes from asleep to en route.  Yep, I still got this :).
HQ for the Mad March Hare is at Cult Racing Cycles, in Solihull.  Parking however, is not.  In fact due to weather and various organisational shenanigans, none of us knew where parking was until about a week beforehand.  And it's at The Phoenix Group, in Birmingham.  Which is about three miles away, costs an extra £2, and is a nightmare to leave by bike as the marshals insist on you negotiating some bizarre footpath route to exit rather than the perfectly good road which is two-way and only being used by other arriving riders anyway!  Yes, it's a nice car park, in that it's not a wet field, it's tarmac, and there's plenty of it.  But that's about all that it has going for it really.  Today would have been a very bad day to have left something in the car, that's for sure.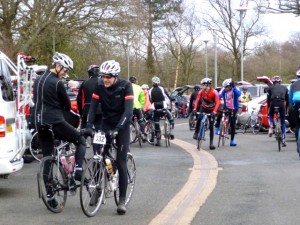 Still, let's backtrack a little.  After an uneventful drive, which left me feeling drowzy before I even started, I followed the satnav and a few little black on yellow arrow signs into the car park.  I barely faffed, unlike all the other riders who seemed to have a great deal to debate and decide upon.  It's just possible I've got the hang of this by now ;).  I headed off, toute seule, to find HQ.  This was a route that had also changed over the last couple of days, thanks to road closures, and was marked by those same standard sportive signs.   Not ones indicating that this was specifically the HQ<->car park route.  And there only seemed to be the odd one, which on a cold windy morning, left me worrying I was lost already, and I wasn't the only one!  Luckily, as this is my 6th MMH, I soon found myself on somewhat familiar roads, and then me and the blind following the blind, behind me, were where we were supposed to be.  Sorry, 6th?  6TH?!  Blimey!!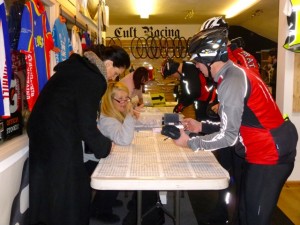 Anyway…  HQ is not a big site.  Riders and bikes milled around.  Registration was in the shop, ordered by first name not surname, which was novel.  I signed my name, was given my timing chip (another first for the event this year) and reusable cable ties, and found a fence to lean the bike on.  Free hot drinks were on offer, serve yourself, but I didn't fancy it.  My Garmin, all pre-loaded up with the course the night before, decided re-loading it now was one step beyond and promptly hung.  Oh marvellous.  There was no sign of the lanky fast one – aka Sean – and Mark was running late.  So I loitered with intent, and went to the loo, because two of the five that were available (+ one urinal bit) were for ladies only.  So I went twice ;).  Mark finally arrived, faffed more than I had, and also failed to fix my Garmin ;).  I consoled myself with the thought that at least I'd have a time for the ride as a whole though, and tried not to winge too much.  He'll probably tell you I failed dismally on that front ;).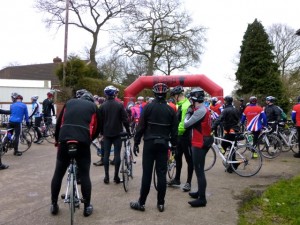 With no ceremony at all, and presuming Sean had gone haring off into the distance, we left.  Just like that.  Over the timing mat, past a traffic organising Paul (the organiser), and off out into the greyness at around 8:30am ish.  Presumably, as it's not like I could tell…  Moan, moan, winge… ;).
We were riding out into a nasty headwind which, as all cyclists will tell you, is the way to have it if there has to be wind, and apparently there always has to be wind.  It was a cold, strong and blustery wind today, and I was grateful of my layers and winter collar, and head buff.  Once past the initial too warm patch early on, when the body breaks into a sweat at the thought of being made to exercise, I settled down into feeling relatively comfortable as these things go.  Hey, it was cold, and it was windy, but at least it was dry.  Well, it was then anyway…
So, what to tell you about the ride?  The first half was into a dry cold wind.  The second half was brought to us by a tail wind and plenty of rain.  In the middle there was a big hill and a food stop.  That's the brief version.   Since my op, I've only done a few short rides.  Enough to assure me that the first half would be ok, if slow, but also to leave me worrying somewhat about how I'd cope with the second half.  Luckily for me the route is overall fairly flat, just the odd lump here and there.  There's a general trend for down on the way out, and up on the way back though, which is NOT the right way round, in case you were wondering.  You weren't?  Ah well…

I'm very glad Mark was with me.  Every ride should have a Pixie :D.  For starters, once he realised that without my Garmin I needed reminding, he made sure I ate.  I wasn't feeling that perky full stop, and although I sort of warmed up after about an hour, that was about as good as it got, I never really did get going.  Company was good.  Essential.  As was a wheel to suck occasionally – I am beyond grateful!  After the first couple of hours, thanks to a particularly nasty slog into the wind session past the little airfield, I really started to feel tired.  You can tell; it's when I shut up, stop talking, and get that bit sort of more internally focussed and concentrated.  It's a tell-tale sign that I'm not doing that well, or so I'm told.  Only physically today really, as thanks to not being on my own my head stayed pretty much ok :).
I'd eaten bits of bars, there being a sad lack of flapjack related to absence of youngest this weekend, and also had a couple of gels.  I knew the big hill was coming.  Compared to the big hills of previous MMHs, it was a bit uneventful.  Dare I even say disappointing?  I sat, and I plodded, and it just sort of went by.  Mark was using hills as training, and seeing how long he could avoid the bottom ring altogether ;).  It was fine, as hills go, and once over the top I was more than ready for what we had agreed would be a leisurely food stop.  Well it was not to be.  One village hall, lots of cyclists, and a queue stretching a long way out of the building and into the waiting hordes.  Even standing around briefly debating our options had me getting chilly, and I really couldn't face more of that.  There were a couple of portable toilets outside so I availed myself of one of them, and we were about to head off when we spotted Sean and his mate in the queue – apparently they'd actually been running late and had been behind us after all, just!  We chatted briefly but nonetheless left them to it, to add some extra "when will they catch us" speculation to the rest of our ride.  Shame, I'd have loved a coffee, and it would probably have perked me up too.  On the upside, I managed to persuade the Garmin to wake up while standing there.  Half stats is better than no stats at all?
It's a good thing we left when we did though because the weather started to seriously deteriorate.  Mind you I'll trade headwind for rain any day – it's amazing how much difference it made – so it could have been worse.  Although I knew we were over halfway done now, which is always very good mentally, I also knew how I was feeling and that this kind of distance was a new thing this season.  An unknown quantity as it were.  As I was to discover, it was very variable.  Life became a bit (hopefully post op) ouchy, so I did resort to paracetamol.  Since I'm not on the tramadol anymore I didn't want to take that and risk zonking out further.  I got more and more tired, but sort of in waves.  I'd fly along for a bit (fly is used as a relative to crawling term), and then have to pootle for a while to regroup.  Mark has the patience of a saint!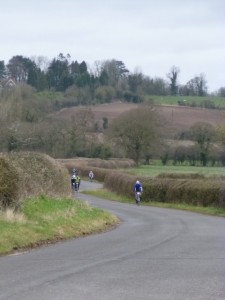 Having said that, thanks to the weather and the earliness of the season, no-one seemed to be pushing it.  Other than a couple of pelotons early on, it was mostly just small numbers of riders kinda slogging it around, so we were by no means unusual.  Out of the 800 or so registered, it looks like 662 actually rode though, which is pretty impressive for this time of year.  69 of them were woman, which is about twice as many percentage wise than usual – also pretty impressive!
Even if we had been going for gold today, the route was not conducive.  The return leg was sort of gradually uphill with a few of the real thing, as previously mentioned.  There was traffic.  There were a lot of right turns across traffic.  Straight over junctions, involving waiting to cross.  Good thing there wasn't even more traffic – later in the season I think this route would have serious problems, not least with people not stopping in time at those bottom of hill junctions and ending up playing with the traffic.  A few of the junction signs weren't that well sited and if it hadn't been for other riders yelling, we'd have missed them and got lost.  No way I was asking the currently functioning Garmin to try and load the route again, so we'd have been proper lost too!  There weren't really enough signs – one per junction and that seemed to be it.  No repeaters or reminders that we saw.  Other than mud and stuff, the roads themselves were actually in pretty good nick, and better than expected after the recent deluges, though I still wouldn't have wanted to be one of the ones riding expensive deep rim carbon wheels over them!  Each to their own…
Had it been a sunny day, I'm sure this ride/review would have been a different story, what with cute villages, pretty cottages, churches and country estates etc,  but today even the big hill wasn't all that exciting.  I'm sure the MMH has used bigger more impressive and more scenic ways up there before?  Today the whole ride just felt oddly unremarkable and generally a bit of a slog.  Something even Mark agrees with, so it's not just me being pathetic, honest 😉  Just as well the wind went the way it did, because riding back into it on top of all that would have probably totally wiped me out.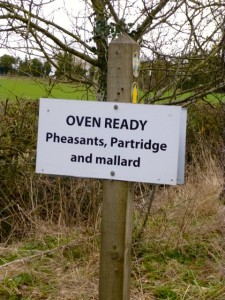 Neither of us were entirely sure how long the route was, and clearly my stats were no use.  This sign seemed amusing, because by whenever we came across it, I was one cooked bird!!  Crossing the motorway was a positive sign as it meant we were nearly there, and as it turns out we were back over the finish line about five miles earlier than we were sort of expecting.  Not that we were complaining…  Besides if it had been five miles longer, Sean and his mate might actually have caught us…as it was, while we were standing there figuring out what to do next, they arrived.  I found beating them back, by however small a margin, and however long they stopped back there, oddly gratifying ;).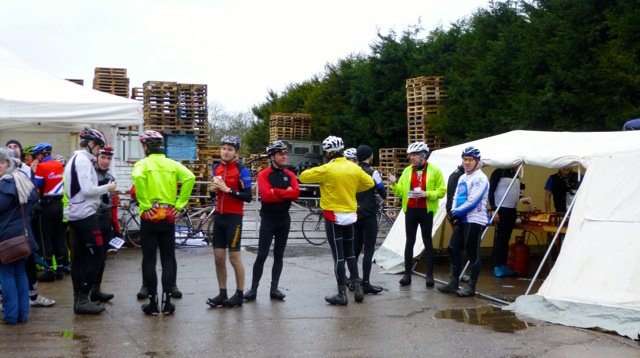 Man it was chilly by now though.  Although the free bacon roll or soup being dished out appealed, standing in what was by now a predictably long queue to get to it really didn't.  The weather was getting worse, and I really didn't want to get any colder, so Mark and I headed back to the car park.  This was not fun.  The return route was different.  Were they sportive signs or car park signs?  And where were they anyway?  Where were we?  We were once more fighting a headwind, into cold driving rain, and my sense of humour was rapidly failing as we negotiated the 'burbs, nearly convinced we were lost…  Luckily we weren't, but I bet quite a few ended up giving up, turning back and returning to HQ to try again.  It's a good thing I'm stubborn (yes, I know, you knew that already), and carrying on was right, and then we finally found a sign and found the car park *grrrr*.  I was very pleased to get back to my car, and start the reverse faffing that got me warm and dry, into my Skins, and with the bike wrapped up and away again.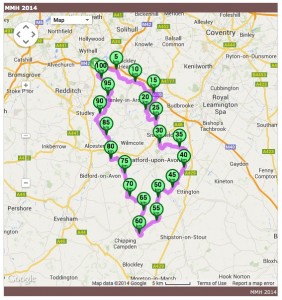 Mark and I re-united for a bit at Hopwood services for coffee and food that didn't involved queuing, before going our separate ways and heading for home.  Unwisely I was so tired that even with that coffee I kept dropping off on the motorway, which was more than a little scary.  Eventually I had to stop at Michaelwood services, probably about 30 miles later than I really should have done, for a nap to make sure I got home at all!  I'm hoping becoming drug-free is going to fix my inability to do long drives, otherwise I may have a problem…
Right.  Mad March Hare Sportive done!  Should I have done it?  Probably not.  Did I enjoy it?  Well, that might be pushing it.  Am I glad I did it?  I most certainly am 🙂  Truly.  It was important.  Psychologically.  Or illogically 😉  Cycling is mental, and so am I?  Maybe I was the tortoise to the hare.  And even that's probably only poetically true, since looking at the stats, I actually didn't do it much worse than I usually do.  Out of those 69 women, I came 17th, which is none too shabby I reckon, even if I did not have the time of my life 😉  I did it.  I did.  'Rah!  Welcome back me :).  And I truly can't thank Mark enough for nursing me round – I owe you Monseigneur, and I won't forget.
Cycling time: 4:53
Distance: 70 miles
Avg 13.7 mph
ODO:  17290.0 miles
Official Cyclosport review is here 🙂