Ok, so I have the Wheel Heroes sportive tomorrow, so strictly speaking I really shouldn't have been riding the bike today.  But given what the weather is usually like and the lack of guarantee that it will continue in this sunny vein, it's virtually impossible to not go and ride given half a chance.  And an ACG ride is more than half a chance :).
Which would probably explain why there were eight of us this morning.  Can't remember the last time we were that many!  We even had a newbie – welcome Martyn – who had found us via cyclingbuddy.com, which is a fairly new website that allows you to share routes, log rides, but mostly importantly find cyclists in your area to ride with.  Clearly it works!  It's also further proof that it's a small world, since he knows the guys from HBB, who make cycling kit, who I also kinda know.
Given that I am not the only one with bigger fish to fry tomorrow, that others had to get back, and so on, this was billed as an easy ride.  Out to Glastonbury for coffee and back.  I'd show you the route and actual stats, but I forgot to turn Bella back on after coffee so you'd only get half of it.  But it went something like this, and the stats you see later are extrapolated from GB's.  It wasn't that exciting as rides go – exciting is over-rated – so mostly I'm just going to show you how nice it was :).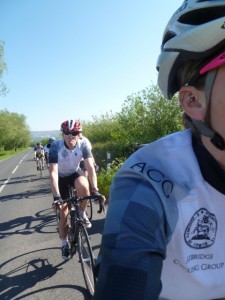 Look – ACG kit and everything. That's me that is.  Or at least part of me.   GB has clearly had enough of me taking his photo.  Not that that's likely to stop me…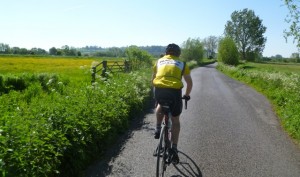 So that accounts for two of us.  Thirdly, though usually firstly since he's so fast he has a tendency to be ahead, was Chris.  That's his real name.  I call him Figgy (more of which later), and I'm not likely to stop doing that either…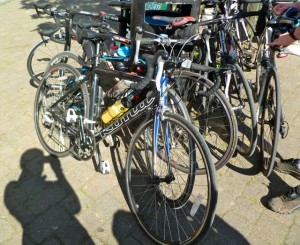 We made it to Glastonbury in no time flat, even with the nasty headwind.  Probably because it was flat.  You may now admire our precariously arranged and balanced bikes.  I hope no-one actually wanted to use the rubbish bin.  Think of it as like bicycle Kerplunk – you have to be really careful about which bike you move when or it all comes expensively tumbling down…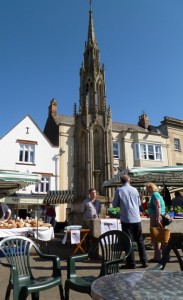 I don't know if the Farmers Market is new or if we've just somehow managed to miss it up until now.  Stranger things have happened.  Many of them in Glastonbury ;).  It was most definitely there today, bringing quite a different atmosphere to the place, and allowing for the purchase of very yummy pastry goods to go with the coffee from Heaphy's.  I had one of the flapjacks I made yesterday, which had just about survived in my back pocket – result!  Here's hoping they do as well tomorrow…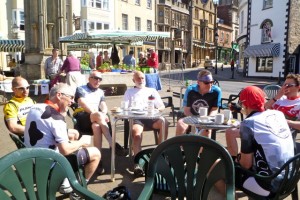 So here we all are, barring myself of course, sitting in the sun outside Heaphy's once more.  Figgy, Martyn, Mike, Dave, Steve, GB, and Ian.  Good riding, good coffee, good weather, good conversation, what more does a girl want? 🙂
Shall we get up close and personal with the ACG for a little while?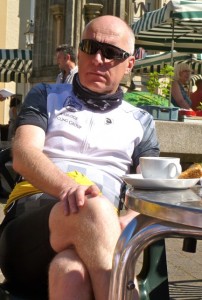 This is Mike showing that cycling is actually a very serious business…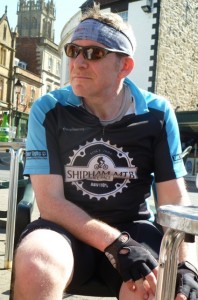 This would be Steve, proudly showing that MTBers are cyclists too ;)…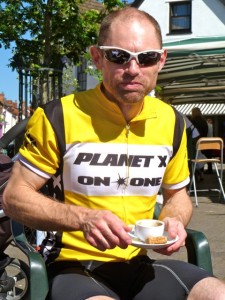 This is Figgy eating.  Not fig rolls for a change.  Hence the name, should you need reminding.  Must remember not to let him eat again – he just gets faster!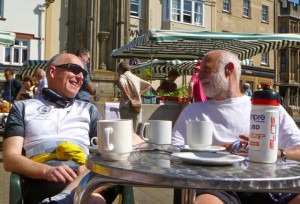 And this is Mike and Dave, now apparently seeing the funny side…
OK, can't sit around all day right?  Places to be, people to see…time to ride home again.  Well if the A stands for Axbridge, and the G stands for Group, the C stands for Cycling, not Coffee! 😉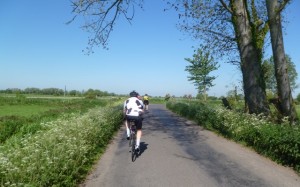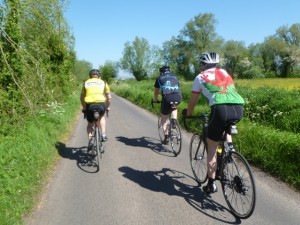 Presumably Ian is patriotic…  Aren't we a colourful lot?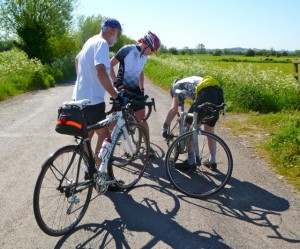 Apart from those of us that were black and white of course…here demonstrating how many cyclists it takes to watch another cyclist try and fix something.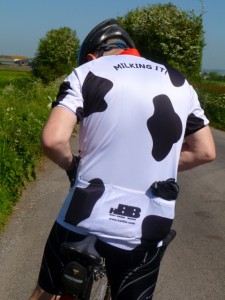 Talking of black and white…Martyn was clearing milking it! ;).
It's all very well trying to take it easy, but it's so hard when the sun is shining, the wheels are spinning, the roads are flat, the wind is behind you…  We did try.  Honest.  But as you'll can tell from our average speed (see below), we didn't do a very good job.  GB informed me that I'm my own worst enemy, and he did try to be the voice of my conscience…before he succumbed to the lure of the chase himself…  So that went well then *grin*.  Ah well, carpe diem and all that :).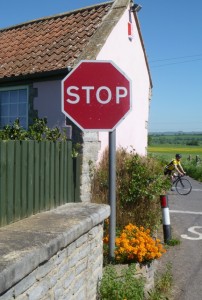 Even a sign telling us (and Figgy there) to STOP didn't have much effect.  Although to give us all credit we did do a very good job of keeping the G for Group thing going – waiting as necessary, picking up stragglers, etc.  No-one got left behind, though various folk did peel off as necessary on the way home.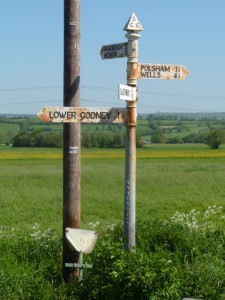 (sorry, couldn't resist…)
One last photo for you – of GB and Steve, Level pegging it on our way home.
Wasn't it gorgeous out there?  And the descent of Weare Hill was even better – I'm presuming that's where I hit today's maximum speed of 43.8mph!!!  That's pretty awesome for me.  Gotta be close to an all time PB :).
Cycling time: 1:50:00 hrs.
Distance: 32 miles
Avs: 17.3 mph.
ODO: 13937 miles
Right, I have some serious faffing to do, and an early night to get, if I'm going to be on the road by 5:30am tomorrow.  I've had a proper dinner, in an attempt to fuel up in preparation.  Lamb steaks, safe sauce, gluten free pasta, green beans…  Ever since that butternut squash risotto it doesn't seem matter what I eat, it doesn't sit well, but I have to get the food in whether or not that's a comfortable thing.  Hopefully this will do the job without making things any worse – damage limitation etc.  It tasted pretty darn good and included carbs, and the rest is in the lap of the gods…