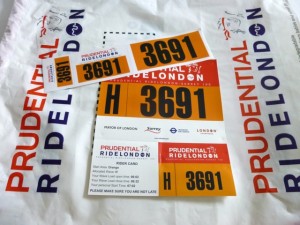 It's just as well that (I don't think) I'm supposed to be writing an official Cyclosport review of this.  For lots of reasons.  But mainly because I'm going to moan about my health, and the weather, and probably a whole heap of other things…when out there, on Newlands Corner, riding with his friends and girlfriend for charity, a rider named Kris Cook died.  How's that for perspective for you?  I will write about it, because that's what I do…but if you feel like donating to his cause, as many now have done in tribute, his justgiving page is here.  In the meantime, on with the trivial, and the fairly short.  Normal service is resumed.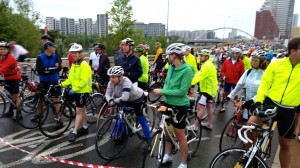 Doing a sportive whilst suffering from post-holiday gastroenteritis is probably not a good idea.  Not that that ever stopped me.  My instincts said stay in bed and bale…I ignored them as usual.  Well, it was all booked and organised, and I'd been training for it, in so far as I train, and I had nothing better to do this weekend so…why not?  Even the atrocious, "here have a hurricane", forecast didn't deter me.  Or make that us, since Guy and I were both doing it, and sharing travel and all that malarkey.  You'd think, after the Tour of Pembrokeshire, I'd have learnt by now, right?  Just call me a bear of very little brain…
Which is why I ended up spending 86 miles riding on my own, much of it in torrential rain and through floods, wondering what the hell I was doing it for.  Not 100 miles, as the weather meant that the organisers had truncated the route for safety reasons, removing the only two big hills of the day – Leith and Box – and thus also removing any sort of goal from the ride, other than, as it turns out, to get it over and done with.  To be fair, for the first hour or two I was doing pretty well, fair flying for some of it, and had it been another day, I reckon I would have beaten last year's time.  But it wasn't, it was this day, and when the rain started, and came down, and down, and down, I gave up on such lofty ambitions.
I don't think I've ridden in such torrential rain for such a long time.  Floods everywhere, pop-up rivers pouring off hills, unable to properly see where you're going, so wet that getting wetter didn't matter anymore, that breathing was hard because every breath contained so much more H2O than O, water running down your face into your mouth, past sodden spectators and photographers, not waving but drowning.  And no, I wasn't wearing my waterproof; I'd stashed that earlier on pre-rain when I'd boiled in the bag for long enough after freezing to shivering point waiting on the starting grid.  It wouldn't have made any difference anyway – water gets everywhere, including into my camera which, thanks to rain and flapjack oats, has finally given up the ghost, and it looks like my iPod shuffle may have done likewise.  Besides which, though soaked to the skin and possibly beyond, I wasn't cold.  With water, water, everywhere though more than enough to drink…dehydration wasn't a problem.  Well, that's not strictly true, though good for comedic effect, as ironically I was really thirsty all ride, and drank more than usual.
I rode, and rode, and rode some more.  Nothing much to see out in what passes for countryside that near to London, broken up by towns with anonymous high streets brightened by cheering supporters.  Kudos to all of them by the way – and much appreciation too.  With little to focus on and no goals in mind, I got bored.  Which is not motivating.  My knee, having had a break, hurt.  I couldn't stomach food so lurched from gel to gel, when I remembered that eating would be a good idea.  And eventually, after about 45 miles of downpour and well on the way back towards London, the weather cleared up a bit and I sped up a bit.  It was too little too late to salvage the event for me, but was at least in time to mean that the professional road race to follow would have better luck than we had.  Well isn't it always the way?  It's like jam, but with sunshine…
Cycling time: 5:06
Distance: 86.0 miles
Avg: 16.8 mph
ODO: 6122.1 miles
By the time I rolled, or maybe squished, over the finishing line, Guy had been waiting around for  far too long, and was far too cold to hang around any more, so without any further ado about anything, we headed straight back to his car; a 10 mile ride back across a now sunny London.  I did feel a little like a naughty child being route-marched back to the car for bad behaviour – being too slow in this case presumably – and I can't keep up with him on a good day, let alone after 86 miles of a bad one! 😉  I think the best thing that can be said for this year's Ride London is that I enjoyed it being over.  I didn't find it particularly hard work per se, and ok I wasn't feeling great, but I've felt worse.  But with the weather and all the palaver involved with the ballot, registration, accommodation etc., not to mention the considerable costs (even before a new camera & iPod shuffle!), I don't think I'll be throwing my name in the hat for 2015, however lovely it is to ride on closed roads.  One to chalk up to experience…and move swiftly on.