Just for once the weather forecast was right.  It predicted a patch of slightly less bad weather between bad weather (last night) and really bad weather (on its way in).  I really didn't have any choice but to ride the bike as I really needed to know if the new chain, fitted by Andrew yesterday, was working.  So, in sadistic mother fashion, I got MiniMe out of bed and made him come for a ride for me.  Misery loves company right? 😉  We did the Nyland Loop like this, clockwise, in mild windy wet that could have been a lot worse.  It wasn't all that unpleasant, and MiniMe was on form, even if he was moaning up a storm about it ;).
Cycling time: 0:51:39 hrs
Distance: 12.03 miles
Avs: 14.0 mph.
ODO: 14200miles
The chain works.  Ish.  I mean it makes the wheels go round, for the most part.  It came off once and got stuck between cassette and spokes, and other than that there was a whole heap of slipping, changing gear when I wasn't, etc.  I don't know if it's too loose, or if it's the fact that the large chainring and cassette need replacing, which will be happening next week when Andrew's got them in.  A bit of adjusting may be required before Sunday's Wiggle Dragon Ride though.  I know, I know, I swore I'd never do the Dragon again, but it's under new management, a great deal has changed, and on that basis it seems only fair to give them a chance, though I am only doing the Medio route this year.
So not a lot to say for our ride today, but plenty of other news to share with you.  Having been testing out the range of Nunn flavours I've come down to two favourites so far.  Lemon tea, which is caffeine enhanced, and Strawberry Lemonade, which is not.  I've been known to add half of a tab of lemon tea to one of lemonade to get the best of both worlds.  In either case, I like the taste, carrying the tablets on rides is simple, and they don't upset my tummy.  What more do you want?  🙂  I was running out, and my re-stock arrived today.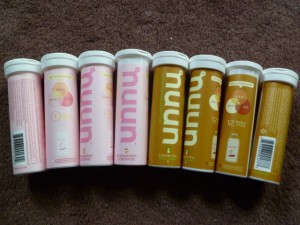 However today was a day of such deliveries.  A man in beige turned up on my doorstep with a surprise delivery for me – just as well I was in!  Courtesy of Cyclosport and Science in Sport, I am now also powered by SiS!  Thanks guys! 🙂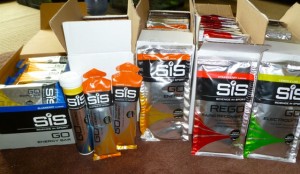 Some of these goodies will have to wait until I've ascertained precisely what it is that disagrees with me, after my strict low FODMAP diet moves on to the next stage, as they contain fructose, amongst other things.  However – miracle of miracles – it looks like both the bars and the gels are safe, which is awesome.  I'm looking forward to trying them out on Sunday.
As well as all my new safe things to take with me, this afternoon I made another batch of flapjacks.  I may be getting better at it.  Sadly though, having taken a basic recipe and kinda randomly messed with it, I'll never be able to reproduce it even if they turn out to be perfect cycling fodder…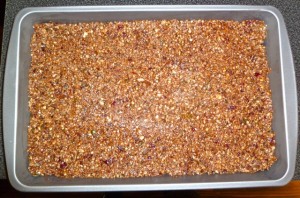 Now it's hard to tell from the photo, but the mix only filled the tray about 2/3 as deep as usual, which had me a tad concerned.  However I guess this is because, following on from some advice I'd had, I used my blender and chopped up all the ingredients much smaller to help them stick together and crumble less on eating.  Other than the usual golden syrup, sugar, lactofree spread, and oats I used mixed nuts, sesame seeds, pumpkin seeds, sunflower seeds, sultanas, and cranberries.  I also added freshly ground nutmeg, ground ginger, and some cocoa powder.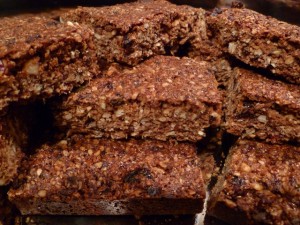 I remembered to partially cut them before they'd fully cooled, and they've cut up into the neatest bars of all my attempts so far.  Having tried a little bit of one, they're a maybe a little dry but they are quite dense and not crumbly, so I think they may be going to be quite good.  Result!  🙂  The proof is in the eating, so I guess we'll see…
And finally…
I've been asked to join the PocPac test team, and will be helping them test out improvements to their water resistant pouches, which are designed specifically for cyclists for phone and valuables storage.  How exciting is that?!  Very, in case you were in any doubt *grin*.  My crackberry will always be safe and dry now :).