And so the sportive calendar rolls on…
…with another 5:15 alarm call dragging me from sleep and back out onto the road again.  Today's target?  The Saddleback Sodbury Sportive starting from, as you may have guessed, Chipping Sodbury.  Not a first for me, I did their first one in 2012, which makes this their third, and my second.  But I had fond memories of it, felt bad when I was unable to do the second one when they asked me to, and so, here, or there, I was again this year.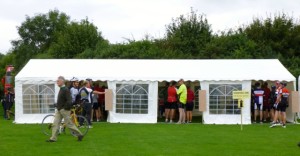 HQ was an hour's drive away, at Chipping Sodbury RFC.  Easy to find, and easily marshalled onto the playing field where the ranks of cars were slowly filling up and discharging lycra clad cyclists and their steeds.  With a positive weather forecast but a distinct chill in the air thanks to the wind, conversations all around were mostly concerned with what to wear.  Well, we do love to talk about the weather, right?  Before I made such momentous decisions, I headed off towards the clubhouse and found the registration marquee outside, as yet fairly queue-less, and for the clue-less, it was made easy – queue up by at surname ordered desks.  I duly signed my name, and collected my bike number (complete with integral timing chip) and two cable ties, before making my way inside to pick up a free cup of coffee, also known as warmth in a cup.
Right.  My turn for faffing.  Ooh, the dilemmas.  What layers to wear?  Would it rain?  Would the forecast be accurate…in which case it wouldn't?  I shook off the ghost of Ride London past and decided that limb warmers and gilet were the way to go, and trusted that leaving the rain jacket in the car would not prove to be an unwise decision.  There wasn't much else to do, so me and my trusty, and also cleaned, polished & oiled, steed headed for HQ together.  I trimmed the cable ties with the cable cutters provided – a nice touch that – and parked up so that I could use the facilities while waiting.  Even that only takes so long, so that done, I was amongst the first to be ushered into the start pen when it opened, having first had my number taken down, presumably to be used against me should the official system fail.  It was sort of considering being sunny as we all stood there waiting, and pretending to ignore the official photographer, which was nice.  Finally the time came for the rider briefing, complete with a top dressing warning, and the usual "play nice, be good, it's not a race" warning from one of the many yellow tabarded Rotary Club volunteers.
Time to go then.  No fanfare, but nonetheless we were off, first to be sent on our way into the Cotswold countryside.  In boy, or make that girl, scout fashion, I was prepared.  Well, prepared in that I'd read my blog from 2012, and looked at the route profile, and knew that however nice the first few miles were, it was going to be less pleasant very shortly.  About five miles from the start there are three big hills.  Well I think they're big, and they're big when you haven't warmed up and there's no respite between them.  The Hawkesbury Howler, the Alderley Grunt, and the Tresham Tester, one after the other…and if I hadn't known that things were going to get easier after that, the latter of them could have had me throwing my toys out of my cot and walking…it was hard work!  It takes me a good 45 minutes or so to warm up these days, and so I really wasn't ready for them.  Still, I recovered fairly quickly, in time to not enjoy the aforementioned and recently top-dressed section afterwards.  I swear some councils wait for a sportive to be imminent and go out that week to sabotage it accordingly!
Onwards and luckily not upwards, through a constant stream of cutesy villages, and quiet country lanes.  The route split comes all of 11 miles in, and I didn't even consider opting for the 60 miles instead of the 100, or more accurately 102.2, according to the Garmin file I'd downloaded the night before.  Nope, it was a right turn for me.  It was really windy out there, mostly in our favour initially, though once again having prepared for a change, I knew that that wasn't going to last either.
Still, the first 30 miles or so passed by fairly fast, and I was the first woman to the first foodstop, a novelty value that lasted for about 2 minutes before I was no longer the solitary female there, but which I enjoyed nonetheless.  Located outside a convenient pub where normal mortals were completely ignoring the steady stream of cyclists in and out of the toilets inside, there was food of all sorts from savoury to sweet, including printed lists of ingredients for all the cakes on offer, something the less tolerant of us appreciated.  I settled for a banana and a bottle top-up before heading off again, determined to be first woman out there for a little longer.  She and her much larger wind-break of a male partner (jealous, moi?) didn't leave me out there alone for long though, and I was shortly left in their dust.  Ah well, nice while it lasted!  Mind you, she did hold me up going downhill at one point, which just goes to prove I'm more of a nutter than she is, not that I'm any better at it I hasten to add 😉
It wasn't long before we were heading the wrong way as far as the wind was concerned, and just to rub salt in the wound, it even started to rain.  I'm pleased to say it stopped fairly soon though, and the lack of rain jacket did not prove to be an issue, otherwise my sense of humour failure would have been complete.  As it was, life turned into a constant and fairly solitary slog.  I hate wind!  It felt like an uphill slog which, as it turns out, it gradually was, all the way up to the very pretty village of Minchinhampton and the Common beyond where a helpful sign informed me that I'd now done 50 miles…whilst considerately failing to mention that that left another 52 to do of course 😉  I took a moment to immortalise it and try and get a grip of my fed up of struggling self, before heading off once more unto the breach.
Somehow I had completely forgotten the hill that came instantly after the lovely hairpin descent into Nailsworth where, just briefly, I felt in control of my bike and all pro and stuff.  Wiggle, wiggle, wiggle, how very European 😉  Then through the town itself, with the way ahead indicated by a camera-toting marshal at whom I actually smiled, and his smiley encouraging mate.  Ah, a yellow sign.  B*gger.  This would be the Nailsworth Nailer then.  Up and up and up, past pedestrians enjoying a sunny Sunday and cats crossing the roads, through and out of town to where you think it's finished…and it hasn't.  As I reached the roundabout where straight on was straight up, the road to the left was amusingly called "Another road" which was pretty much what I wished I was on 😉  Still there was a wind turbine to admire, and finally another helpful sign informed me that the hill was over.
I do like that – a sign at the bottom of each hill and at the end – proof that I am officially going up a hill rather than just feeling like I am 😉  And of course ups mean downs, and we all know I like them.  Sadly the next one was interrupted by traffic lights and then, once they had changed and a couple of us that had gathered there waiting were on our way through, a "lady" in a black 4*4 decided that even though her light was red, she might as well head up and plough through us anyway.  Well, we all know they own the road, right?  Shaking our heads disapproving, and maybe even tutting sotto voce, we carried on down the hill, and through the woods, around a gratuitous little extra loop thrown in, as it turns out, just to get us to the next hill…
Now, just because some smart Alec (or smart Simon!) realised that if you write a book about Britain's 100 Greatest Cycling Climbs, a whole heap of lycra-clad sheep will buy it and then slavishly tick every one off, whilst swelling his coffers in the meantime, does not mean that your sportive has to include one of them.  D'ya hear?!  Nope, thought not…and this is not the first time a route has deviated just to include one such which, I'm fairly sure, it didn't in 2012.  I'd remember going uphill for the best part of two miles right?!  Having read the description of Frocester Hill beforehand (see, said I was prepared), apparently "the gradient is all but uniform, steep, but it's never a grind".  Hah, bl**dy hah.  Just for once I was happy to take heart from the guys passing me with cheery words of encouragement and what I would normally consider to be patronising remarks as to how well I was doing.  Today I needed them.  To be fair, I'd probably have been much better off if I hadn't gotten my head all bent out of shape today by worrying about the ACG trip to the Pyrenees…ie if I wasn't enjoying this much, how the h*ll am I going to cope with them and that?  Cycling is so mental…and after hours of slogging into the wind, and now slogging uphill, my mood was going down in the same way as the road was going up – constantly!  Hey, at least it was sunny and the views behind me were nice, right? 🙂
Moan, winge, gripe…I know, I should button it…but it's my blog, so it's my way or the highway 😛  Inevitably, and finally, I made it to the top.  I was very pleased to find the next food stop shortly afterwards, even if it did interrupt my downhill progress, as my bottles needed topping up again and I needed a break.  Jelly babies for me this time, thought I was sore tempted by the marmite sandwiches.  I didn't stop long, as I didn't want to get cold or take root, and headed out again to fight the wind a while longer.
No more hills for a while, just endless country lanes on my own as other riders seemed few and far between, grateful for the good signage and the occasional marshals to remind me I was in fact on the right route.  I was definitely in the mental doldrums.  But not becalmed, that bl**dy wind made sure of that!  I just wasn't enjoying it, was still fretting away, and when my right knee started to hurt in chorus with the already strapped up left knee, it all got a bit much and a few not very manly tears at all were shed along the way (just as well I'm a girl then).  Honestly girl, get a grip!  In retrospect it occurs to me that this was my second longest ride of the year, only my second over 100 at that, and the other one was back in June, so it's probably not a big surprise that I was struggling a bit.  I'd also been hoping to do it faster than the last time but in the face of the wind and the altered route, I was disappointed to see that goal blown away early on, possibly setting the tone for what was to come mentally.  That'll teach me to have ambitions above my station 😉
After a very pretty patch heading southwards along the hills above the Severn valley, finally I turned a corner, physically if not mentally, and that wind started to be behind me, with about 15 miles to go.  This didn't stop me popping into the last food stop at the 91 mile mark – again I was keeping hydrated enough to need more fluid on board, and besides, how can I review the foodstops without stopping?  They were all well-stocked and staffed by friendly helpful volunteers – job done on both counts ;).
Inevitably there were a few more draggy climbing bits on the way back which probably only felt that way because I was tired and my legs had had enough.  Still, having had a quick peek at the map, up on display and helpfully marked out at the final stop, I was ready for them, and they were just part of counting the miles down.  By the time I rolled over the finish line, to a cheery chorus of cowbells and applause, I was more than finished.
I collected my goody box, checked my time on the spot – with 7:12 officially making me a Silver (must have low standards!) –  dumped the bike in the car, and headed back to HQ for free food.  Not my usual fare, but I didn't care.  One Cornish pasty and potato salad (though you could have had baked beans instead) were mine.  Oh and a large glass of orange squash enhanced lemonade – my latest post-sportive craving is fizzy orange for some reason, and that they didn't have at the bar.  And if I'd bought lager instead there's a distinct possibility I'd never have made it back to the car, let alone home.  The food may not have been good for me, but man it tasted good!  I sat and ate it at a table outside, zoned out and on a slightly different planet, as the lady who tried to talk to me when collecting rubbish will attest, as I didn't notice her existence for a good couple of minutes…oops!
Cycling time: 6:52
Distance: 102.9 miles
Avg: 15.0 mph
ODO: 6297.0 miles
There were showers, which I was half tempted to use, but with only a relatively short drive home, I opted for heading back and doing such in the comfort of my own home…where I also knew there was a bottle of restorative lager in the fridge with my name on it.  Well, not really, because that would probably make it Coca Cola and that wouldn't have hit the spot half so well 😉  Somewhat later, having narrowly avoided falling asleep on the motorway, and having drunk my well-earned pint, my goody box turned out to be a souvenir travel mug.  Now that's a goody.  Lovely though medals are, I'm thinking this is way more useful! 🙂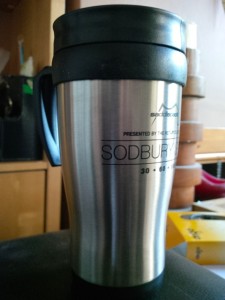 The Sodbury Sportive is a lovely well-organised friendly event.  I haven't got a bad thing to say about it really, other than that the route could possibly be a bit more interesting, and it would be nice if they could turn the wind off.  But if wishes were fishes…  I'd do it again.  But I'd do it better.  Honest 😉
PS: And yes, I'm still fretting. Now that I AM good at 😉
PPS: provisional results are now out.  817 riders took part in all.  Only 10 women did the 100 mile route.  Out of them, I was third overall (missed second by just a minute).  And I came first in my category.  I feel a bit better about it all now 😉