Today's sportive was the Southern Sportive.   Whilst not a new event to me, I've only done it once, back in 2007 which is many years and a cycling lifetime away.  It starts from Petersfield, which is a non-motorway 2.5 hour drive from here, so I indulged in a night at the Premier Inn before hand so that the morning start wouldn't be too hideous.  Just for once I let the bike sleep in the car, tucked up in its very own blankets, rather than fuss around getting it out, in and back out again.  After a pretty good night's sleep myself, I woke up at 6:00am to a variable weather forecast, wet roads, and a distinct chill in the air once I was brave enough to open the window to check it out.  Hm.  Layers then.  Of course the downside to not being at home is that when you unpack your kit and realise you've forgotten your sports bra, there's nothing you can do about it.  At least the one I had with me for the drive home after was fairly simple…and no bra is just not an option. D'oh!
HQ, at Churchers College, turned out to be all of 5 minutes drive away and since I was there a bit before 7:00am, I was one of the first there and so benefitted from parking on site right next to registration and all the facilities.  The early bird gets the worm right?  First things first – off to register.  No queue as they were still really just setting up, and the only real wait was for the lady behind my part of the desk to be briefed on what she had to do!  Find number 673, hand over the bike number and hub mounted timing chip, point me at the zip ties and the disclaimer form to sign, and that was it.  Easy.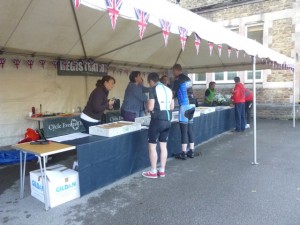 Back to the car, and faffing.  The surrounding cyclists and I indulged in the usual what to wear considering the temperature and forecast rain discussion.  Having recently been tempted by an extra 10% off sale prices offer from Rapha, my lovely new rain jacket arrived on Friday.  I was hoping it would be magic and that having spent the money I would never have to use it – a bit like an insurance policy.  But since I had it, leaving it behind would have been both daft and also guaranteed rain!  So, Cyclosport jersey, arm warmers and gilet, Skins tights (can't tell you how much I love these), toe covers, and new jacket in capacious saddle bag.  While I was faffing, other cars were filing in, and I could have sworn I saw Henry (of past Cyclosport fame) in one of them…and it turns out I did, I did, I did taw a Henry!  He came past on his way to registration, and it was nice to have a brief chat to a friendly face.  Albeit a young, skinny, very fit friendly face who was liable to do the whole thing in half my time and at twice my speed!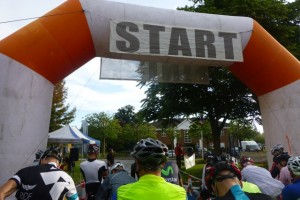 I had a bit of time to kill and considered buying myself a cup of coffee.  However the man behind the table was telling the guys in front of me that he didn't yet have any change and I didn't think my £10 note would go down well!  Instead I grabbed the bike and headed over to the vicinity of the start line to wait, use the toilets, and wait some more.  Riders were due to start in batches according to route length, though this was more advised than regulated.  Since I was down for the Full route, I wanted to get away as soon as possible, and long route riders were allowed to start first.  There was some discrepancy in the pre-ride paperwork as to when the start time was.  7:30am or 8:00am?  It depended what you'd read.  Well, due to what looked like some difficulties setting up the timing gear, it wasn't just not 7:30am but a bit past 8:00am when we were finally called to the front line.  Then followed a rather long-winded welcome, and a rider briefing.  We were all standing there, getting colder all the time, just waiting to get going…patience is not my strong point it would appear! Ok, ok, so you all already knew that ;).  Kudos to the guy at the very front who had TT bars and a conehead TT hat too – clearly desperate to do it as fast as possible.  Admirable…or something.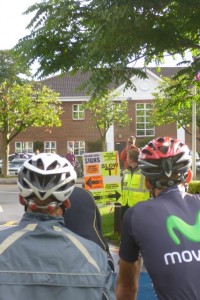 Right.  Finally we were off.  I was with the first group away, heading out on damp roads, and glad of my layers.  There was precious little time for warming up though, well, not the legs anyway.  Warming up otherwise came shortly.  After a brief stretch of flat, past swans floating serenely on a misty pond, the first climbing started all of a couple of miles in.  No fair! But I had a pretty fixed mindset for today.  I'd looked at the route times, I'd looked at the distances and considered my form, or likely lack thereof.  The times I'd seen were for the Gauntlet route – which I'll explain later – but even so I could see it was likely to be a long day.  It was Sunday, I was riding my bike, I had nowhere else to be and nothing better to be doing, so even if it took me ten hours and I suffered, why not?  So uphill I went.  Exceedingly slowly as usual, but without too much strain.  And with that attitude, and the fact that I was already feeling way better than last weekend, I was actually feeling fairly good.  Up hill, down a bit, up more hill…wet roads that suddenly seemed to be becoming wetter.  Drizzle turned into drippy rain, at which point Henry drew alongside for a bit before dropping back to be with his peloton again.  And then the rain turned into downpour and the donning of the rain jacket became unavoidable so I had to stop half way up one hill or another to do so, at which point I imagine they passed me and disappeared into the distance never to be seen again.  For the record, he was 2 hours and 7 minutes faster than me!
There's a distinct lack of photos for today, because the by now infamous jacket came and went three times, and taking photos in the rain is neither easy nor advisable.  The wet also meant concentrating more, mostly on the road for obstacles, potholes, puddles…all things that tend to imply that keeping both hands on the handlebars might be a good idea 😉  Thanks to the weather today, there were sadly a great many riders with a great many punctures…I think the record may have been the rider who had six, but who wants to beat that kind of record?
A while later the sun came out again, starting today's trend.  Rain, sun, clouds, wind, rain, sun…you get it right?  At least the wind warned you what was to come…and it went away again when the rain did.  There was lots of up, but mostly they felt like climbs, not hills, which may seem like splitting hairs, but I know what I mean.  The first food stop came around 24 miles in, at which point the weather was looking lovely, making all the waterproofs look a tad superfluous, and there was a lot of stripping off going on.  No toilets though – as with all the food stops – which you all know annoys me immensely!  Incidentally, note to self, if you wear a normal bra, and unzip your top for ventilation purposes, you should remember you have done so.  Cleavage at food stops seems to be a bit distracting ;).
I remember the hill from Duncton Mill to Duncton Quarry.  The names should have given it away really.  Mills are at the bottom where water flows down valleys, quarries are at the top where there's plenty of space to dig big holes.  Still my kind of climb though.  After the second food stop, 49.6 miles in, I remember the long climb to Goodwood race course, which was the only memory I had of doing this first time around, and the connection kinda made me smile for some reason.  Hey I can go up hill – just slowly! I can tell from Strava that there was actually a lot of climbing overall, but there was also more flat than I was expecting.  And some of the views from the top, especially earlier on, were awesome.  All the way across the rolling green countryside to the sea beyond.  Or is it the Solent from there?  The views were good, but mostly the rolling scenery was pretty but unremarkable.  Lots of the same.  Seems churlish to complain and hey, in the the sun, it might have been a completely different story.  At least all those ups provided a fair few downs which I could enjoy during those patches when the roads were dry.  In fact at the bottom of one of them, coming into a village, I even managed to set off one of those you're going too fast flashing signs, which may well be a first :D.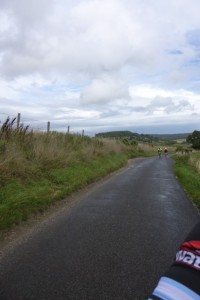 Ok, so there were no toilets.  Field stops then, not ideal but proof at least that I was hydrated.  The full/mid route split came quite early on, and I was surprised to see people taking it, since we were all supposed to be on the longer routes but then either they were wimping out, or so fast they'd started later and passed me already!  The writing on the split route signs was a bit small, and without a reminder that I was on the right route I did spend a while wondering if I'd gone the right way.  At least the orange reminder ribbons and signs reassured me that I was on a right route if not the right route.  I love repeater ribbons 🙂  But the miles ticked by and I didn't reach the end, so I figured I must have gone the right way!  Various groups went past me, and quite a few of them actually said hello as they went past which was a)unusual and b)much appreciated.  Anything that makes you smile on a long ride goes a long way :).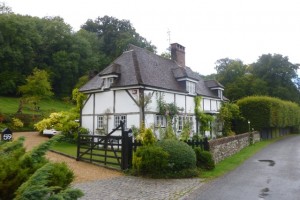 On to the route options.  The original Southern Sportive was the usual 100 miles long.  T'aint broke, don't fix it, so the Full route remains.  But to add a little challenge to life, they've added a Gauntlet option, which adds an extra 20 miles ish, all of 20km from the end.  I was considering doing it, and when I reached the third foodstop, presumably around 75 miles in, just before the 2pm cutoff, the marshall was walking around asking who was doing it, so that he could take numbers and keep track.  I'm thinking an extra timing mat here and there might have made keeping track of folk easier?  Anyway I said I might be possibly, to which he said if that was a definitely maybe, he'd note it.  I was the only one, and one of the other riders around me was heard to comment as to how that made me truly hardcore.  Funny!
But hey, nothing better to do right?  Good intentions and all that.  And at that point the rain jacket was still back in the bag, and I was feeling ok, so why not?  Time to head off again and see what happened.  Apparently there were two more climbs between me and the end on the 100 mile route, and I have to say that the climb to Butser Hill seemed to pass me by somehow, though it did amuse me to realise I'd been up the other way on the Wiggle Magnificat earlier this year.  At least I think it was that one, I have done a few sportives this year ;).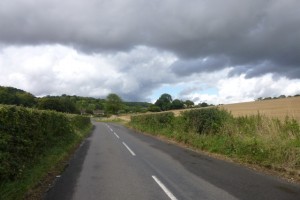 I spent most of the ride happily on my own, pottering along, and letting the mental cogs go around.  At some point, just before what was the start of the third, longer, rainy patch, I was joined by a very nice chap called Rupert, riding with his brother Humphrey, who had spotted the kit, realised who I was (ooh, the fame!), and had actually read some of my reviews.  Aw shucks, a fan 😉 *grin*.  We chatted for a bit, and then he kept me company for a while too, which was very nice.  He was so clearly faster than me though I started to feel bad about it, and also try to keep up, which is never good for me.  We parted company for a bit when we stopped to put rain jackets on as the rain returned…and then came the final route split and there they were, standing in the rain, trying to decide what to do.  Now quite a lot of me was leaning towards the 100 mile option but…with remarkably little arm twisting I found myself going left and manning up, as it were ;).  And I'm glad.  Sure, it was raining.  But a little bit of me wanted to do the whole thing, just to prove I could.  Although you'd think I'd be past proving anything to anyone by now!  We hung out again for a while, but soon it was just me, happy doing my own thing, going up and down hills in the rain.  The only other riders we had passed were going the other way…and we finally twigged that we were going to loop and then rejoin – they weren't lost or finished already and heading home!   After a while pootling around on my own, wondering if there would ever actually be a final food stop, or if they'd packed it away already, it suddenly materialised in a wet wood, from where Rupert was just leaving.  Again with the nice to see a friendly face.  I had a chat with the food stop guy, who reckoned there might be all of two guys behind me if they hadn't bailed thanks to the rain, but the idea of it being me as lanterne rouge oddly didn't bother me.  Someone has to be right?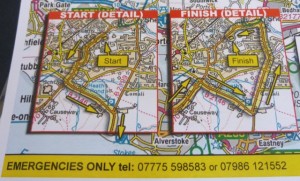 Right.  Twenty or so miles to go.  Nearly done, just me to please and nobody else.  So I did.  I climbed my way up a couple more hills before an essentially downhill ten miles back into town.  At some point, eating a bit of bar, something stung/cut the inside of my cheek, which was seriously painful but may well have distracted from the pain of the last few miles!  I felt a bit lost on the way back in, as I went past the same pond again…I was worried I was starting over!  Maybe I should have paid more attention to the map beforehand which would have explained it all…but some nice, slightly bewildered, lady pedestrian reassured me I was heading in the right direction and clearly I was as, around 9 hours after I set off, I rolled into a practically deserted HQ, over the line, and handed my chip in to a team busy packing up to go home.  I grabbed my free cup of coffee, passed on the free muffin, picked up my free orange t-shirt, and headed happily back to the car to sort my life out, where I found Rupert and Humphrey already there, packing up, drinking Costa coffee from the petrol station opposite, and doing sensible things like stretching. B*gger that for a game of monkeys ;).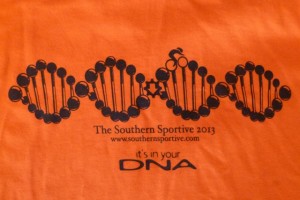 Today's sportive was all about Zen and the Art of Momentum Maintenance.  I don't have a motorcycle, and everyone knows that bicycle and maintenance are not two words that go together if you're me.  I'm pleased to report I actually wasn't the last one over the line.  No red lamp for me – believe it or not there were a few even slower than I.  A very few 😉  But hey, you know what, as it turns out, I was the only girl to complete that route.  The Southern Sportive threw down the Gauntlet, I took it, and I won.  I even got a Bronze!  Turns out I am hardcore after all! 😉
Cycling time: 8:26 hrs.
Distance: 117.7 miles.
Avs: 14.0 mph.
ODO: 3709.4 miles.
Note to self – pack sports bra next time!  Whilst apparently comfortable enough on the ride, two days of bruised ribs from the underwire is less comfortable!  Oh, and my new rain jacket kicks ass :D.