OK, if not back, at least well on the way back.  Though rarely stone cold sober, as a matter of fact *grin*.  I'll have you know that my drugs are prescribed and therefore legal ;).
Today's ride was an impromptu, organised by GB, long hilly ride.  Got a better turn out for that than for some ACG rides – I'd be miffed if I had any energy left ;).  Can you guess where we went?  There was a certain sense of déjà vu to it…
Here's a photographic roll call, a rogues gallery, some pictures to stop me having to write a thousand words…:
Martyn – who claims not to understand why we keep ragging him about being fast.  It's because he is!

Jon – not such a newbie now, I think subs may be due ;).  He's just as fast as Martyn and Trevor!  A terrible triumvirate?
GB – a bit under the weather and very keen that G should stand for group.
 
Steve – somewhat handicapped by lack of gears, and a quick trip home to pick up his son's bike instead.  Down but not out ;).
 
Dave – our mountain goat. Not sheep, goat.

and last but by no means least, an immigrant, a newbie, a guest – the very welcome Gary, dragged over from Minehead for the day.  I'm sure he's really pleased about it now ;).
 
Today's ride is brought to you by the word GREY.  Because it was.  First off it was just grey.  Then it was grey and damp.  Then after the coffee stop it was grey, wet, bleak, muddy, with zero visibility.  A ride that went downhill as the day went on, without going downhill enough.  Though the 6 mile descent to the coffee stop at Mells, and the final whoop of Shipham Hill were up there on the enjoyable front.  Take your pleasures where you can, right?
We started as 8.  We lost Trevor & Jon at coffee – someone was supposed to be back home for 12:30pm and hadn't paid enough attention to the route *grin*.  Tut tut, slapped wrist, etc.  We reckon he had a cat in hell's chance of getting back in time, even with Trevor to pace him back…but you never know.  That left us free to go home a little slower however, which was a relief and just as well considering the deteriorating weather.   G did stand for group, but we got increasingly strung out fighting the many elements on the way home.  Steve peeled off at the top of the Mendips to head for his car and home – having apparently had to resort to cheating to make sure to meet us on time on the way out ;).  GB left us at the top of Burrington Combe to go and add more hills and probably faster miles to his training programme.  I think we were holding him back!  The remaining four arrived back in the Square more or less together, later rather than sooner, since in conditions like that it's about getting back at all, not doing it in style!
I'm pleased to have put my first 50+ mile ride this year on the record.  I'm pleased not to have felt worse…on many fronts.  There was a dodgy patch at the café and for about half an hour afterwards where I felt properly in pain and seriously considered taking the codeine I had with me…but luckily with warming up again, misery to distract me, and the production of some endorphins, I managed to put that off until I came home.  I've yet to find out if codeine and riding mix and if I can avoid it, I'd like to keep it that way.
Having shown you everyone else, apparently I was there too…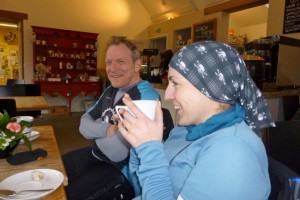 Cycling time: 3:52:11 hrs
Distance: 52.2 miles
Avs: 13.5 mph.
ODO: 15800.46 miles
And this is why GB still had the energy for more hills… 😉 *grin*.