It's Sunday. We all have our own belief systems. As I cycled through Stoke Fleming sometime around 9:00am this morning, melodious church bells were calling the faithful to prayer. At 5:00am my alarm bell called me from the depths so that I could go ride my bike somewhere new again. You take care of your soul your way, and I'll look after mine in mine.
Incidentally the sign for Stoke Fleming was partially obscured by foliage, and my brain desperately wanted it to say "Stroke Lemming"…  Your brain goes some very odd places on a sportive, especially when you're doing it on your own.
But I'm getting ahead of myself, which has to be a first for today. Today was the Hammer Sportive, starting from Kingsbridge in Devon, a very boring 1 1/2 drive away down a virtually empty motorway – not conducive to continued wakefulness.  I'd plugged the postcode of HQ, at Kingsbridge Community College, into the GPS, aka Tim, who got me 99% of the way there, but fell foul at the last moment by bringing me to somewhere where I could see it but not actually get to it.  Go Tim!  I made a rough guess, used my brain such as it is first thing in the morning, and managed to end up in the right place without too much difficulty. Sadly HQ had but limited parking which was now full, and I had to go back down a hill and park on a nearby industrial estate.  I was not best pleased, because it meant getting everything sorted before going up to registration, and also cycling up a hill that, both pre-sportive and as the final gasp at the end, was steeper and longer than I wanted!
This particular sportive came at fairly short notice. "Work" wanted someone to cover it, and it turned out I could, with a little juggling. However last night was the Mayor's Banquet (which was a little boring sober let me tell you), and I've got a lot going on, so when sticking my hand up in the air and volunteering, I did it with the proviso that I did the Claw Hammer route (100 km) rather than the Sledge Hammer route (100 miles).  They still signed me up for the 100 mile route, but I explained myself at registration, and it wasn't a problem.  Let's face it, even without all that, with the route and the totally dismal weather forecast; barely mild, rain, 20+mph winds with 40mph gusts, I don't think 100 miles would ever have been on the cards!
I duly signed in, they gave me my ties (long enough), number (355), timing chip (for the ankle), route map, and an Operation Smile goodie bag with a t-shirt in, which I asked them to put somewhere for me, otherwise I was going to have to ride back down to the car, put it in the boot and ride back up again – and gratuitous hills are really not my thing! 😉 I'm not sure stashing such things was originally in their plan, but the Cyclosport gilet may have swung things in my favour, as they knew who I was and that I would be writing about it ;). More of the bag malarkey later…
On riding up to HQ I had discovered my back brake was sticking on. I was kinda hoping "they" would have some WD40 or similar that I could judiciously apply, but it was not to be. I'm not sure if there was any mechanical support at HQ as I couldn't find it, and though I asked Andrew at registration, the cupboard was bare.  There was a motorcycle outrider and support car on the course though, so maybe support was more of an en route thing?  I decided, like I had a choice, to see how I got on, and hope damp roads and use would loosen it up, which luckily turned out to be the case. It's not like I need anything extra slowing me down after all!  It was time to go to the loo, faff a little more, and get ready to go.  The first few batches of riders were being sent away with a lead out car for the first few miles and I was advised to get going if I didn't want to miss that so I headed for the start line, caught the tail end of the briefing (though I couldn't hear it) and was off, just like that.  I was right at the back of my group, so didn't really get the benefit of the car, but it was kinda nice to be escorted through town in semi-pro fashion.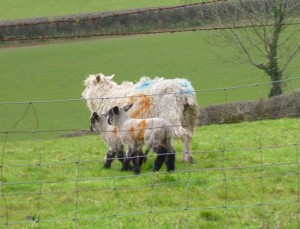 And then we were off, left to our own devices to get on with it.  I say we, which implies plurality and company, but today it was just me.  This was not entirely a bad thing. I knew today was going to be a challenge.  Grey, dismal, very windy, and very hilly.  Sometime it's better not to have anyone to keep up with, to feel left behind by.  Better for the PMA.  I had loaded the mp3 in preparation, with songs I've not heard in a while and actually fancied listening to.  I had everything I needed. I was, in fact, self sufficient.  Although company might have been nice, and would certainly have been useful when the killer wind became a killer head wind, I think it worked out quite well.  Apart from at the end when it would have been nice to sit, drink coffee or free beer, and debrief a bit.  That's kinda awkward on your own.
Right.  Back to the ride again.  The first section was very scenic and the wind was kinda favourable. Lots of river, cute little nestling villages, inlets, coves, coast.  The sound of waves crashing on beaches, which automatically adds points to a sportive if you ask me.  However once that was done, it was on to rolling Devon countryside.  Ha!  Rolling my ar*e.  Devon is definitely not heaven, because although my heaven would quite probably involve a bike, it would most certainly have a lot less hills!  Big steep grinding hills.  Going up takes forever, going down takes no time at all, with precious little relief from flat to be found anywhere, just the odd section over the top and near the end.  A ride that was always either going up hill or into that lethal headwind or, if you were really lucky, both!  The kind of wind that was strong and gusty and constantly in your face…at least you thought it was until you went past a gap in the hedge and discovered yourself suddenly riding on a completely different piece of road.  It's just as well I took the winter bike, the Cinelli is proper skittish with side winds, and even the Cube, that bit heavier, had some interesting handling issues from time to time.
There was every kind of weather but warm.  Drizzle, shower, heavy shower that verged on hail.  The only advantage of that wind is that whatever weather you were currently experiencing wasn't going to hang around for long, and my particular time window through it came out a lot better than I'd expected – ie I wasn't soaked to the skin and freezing!  Mostly it was just chilly, grey and overcast.  A few of the roads were a bit dodgy but the majority of them were dry, and most of the road surfaces were pretty good too – always nice when you're slogging your guts out going up yet another hill.  Two of today's hills made my front wheel consider losing contact with the ground, but I kept it planted, and plodded my way up.  I even overtook the odd walking person, which is always good for the ego ;).  There was also a timed "Hammer Hill" challenge before the last food stop which was frankly laughable if you're me. I'd love to be able to race up hills…but I can't on a good day, let alone 10 miles from the end of a tiring sportive.  I'm just happy to have made it up – it was a bit of a killer!
There were three food stops today, two of which had toilets ('rah!), and all of which provided the distraction of a brief break.  The last food stop was the best supplied and the most friendly – staffed by a little team of ladies, all smiley and chatty and helpful, with the radio on.  As I availed myself of the facilities, and fought through the layers, it played Shania Twain's "Man! I feel like a woman", which was amusingly appropriate.  I had half a banana at the first stop, and could also have had crisps since they were gluten free, but somehow they didn't appeal.  They didn't appeal at the second one either though I did grab some water, and at the third I'd decided it was time for a gel.  I think a lot of my performance issues could well stem from my lack of fuelling, so I'm going to try more such things towards the end of a ride. I think my gel may have been a little out of date as it tasted weird so I could only bring myself to take half of it.  Mind you, they frequently taste horrible, so maybe it was just that. I think it helped for the last section. As did the fact that there were only 10 miles to go, even if they continued to be hilly miles!
Today's route was supposed to be about 64 miles.  However thanks to a confused marshal at one crossroads, who wasn't sure what the Claw and Sledge were, and if you weren't doing the long route you must be tired so must be sent that way (some sort of "short" cut)…I ended up taking a 3 mile trip detour to Harbertonford before deciding that the Garmin was right, he was wrong, there were no signs, I hadn't seen another cyclist and I should retrace my steps.  Well the signage had been pretty good up until then – black directional arrows on green background, warning signs etc, and green arrows sprayed on the road – so their lack spoke volumes.  6 miles added to the trip took the total to 70, and, predictably, added some climbing too. I could, prior to that Hammer Hill challenge, have opted to do the longer route but, at the speed and suffering I was doing, I'd probably still be out there!  If you're interested, you can see what I did do here.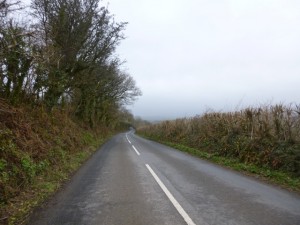 So there I was, 10 miles to go.  For a change there was some flat, and some lovely downs…but also one of the worse hills.  Not only was it long, but it was on a more main road, it was steep, and it had three lanes – two for those going up past you – so that the traffic passing you was frequently two abreast, one overtaking the other, neither paying attention to you, and doing up to 60 mph.  Scarey, and actually dangerous to my mind, and even more so for those who'd resorted to walking, thus taking up more road space. Having been indulging in my kind of soul therapy all day, on a couple of occasions it looked like I was going to get to meet my maker and explain myself rather earlier than planned!  Other than that the roads were pretty quiet today, although there was one particular climb that seemed very popular with cars desperate to be somewhere.  You can sit behind me revving your engine and crawling along all you like, it's not going to make me go up any faster ;).  To be fair, there was a lot of fairly cheerful give and take going on from both them and us generally, and I don't think we p*ssed off the locals too much.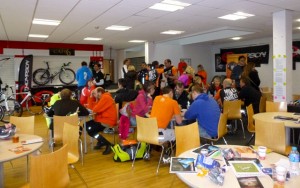 The final miles ticked down. Back into Kingsbridge, round the urban roads, and back up that hill again, to cross the timing mat and be relieved it was over and done with. My tag was collected, I parked up, and headed inside to get my time printed out, which is also a nice touch.  Of course I then had to go find the timing people and point out that hey, a gold time for the Sledge Hammer would be great, but to be honest, no-one would ever believe me, so it was probably best to be honest and own up to only having done the Claw Hammer.  I'm a stickler for accuracy ;).  Besides which it's really annoying when you look at the times post an event, having done the 100 mile route, and know for nearly certain that several of the fastest times recorded for your route are from riders who have cheated in exactly that way!  I then went in search of my goodie bag which had sadly vanished, even with boxes of numbered bags for all of us who'd clearly had the same idea at the start.  Andrew found replacement t-shirts for me and another lady who was likewise afflicted, so that was nice.  All done.  As I said, there didn't seem much point hanging around for long by myself, so me and my t-shirt went back down the hill to the car.  Rather than wear sweaty kit home, I actually donned the t-shirt for the return journey – it seemed appropriate :).
Overall it went better than I thought it would, and I feel ok now too.  Yes, it was hard work, but pushing the watts at the gym is getting me up those big hills that I would otherwise have walked up, which is gratifying.  Riding up hills should make me better at riding up hills right?  I managed to avoid the mental doldrums, even when I got lost, by opening myself up to enjoying the ride, looking at the view, and trying to do that be in the moment thing.  So I'm not hammered.  Though I may be shortly 😉 *grin*.
Official time: 6:09 hrs.
Distance: 70.2 miles.
Avs: 12.2 mph.
ODO: 16386.99 miles.
UPDATE: results are up here. Madly, out of the 171 riders, I was 87th/171 doing the Hammer Hill challenge, but I was only 139/171 overall for the whole route.  And I'm crap up hill!  There were 10 women on the route, I was 3rd in my category and 5th woman overall, but 3rd woman overall up the hill.  But then there's my whole 6 mile detour.  Hm.  Too complicated for me… and mental!