This year has not gotten off to a stormingly good start, what with the crappy weather, illness, and one thing and another. So I have to admit to not having given this weekend's Joker much thought, just in case it didn't happen.  Due to the squashed nature of my immune system I managed to develop an infected nasal abscess at the end of last week (too much information?), so I really wasn't sure I was going to make it, and it was a question of hoping the antibiotics would cut it in time for me to be able to ride.  Well I made it. Just. And I'm paying for it now – doing a sportive with that, glands so sore that doing your helmet up hurts, and medicated, apparently takes it out of you!  Although thanks to some clever acupuncture kinesiology tape stuff I was able to ride without being on the painkillers, so hey, it wasn't all bad.  BTW, first person to see me and call me Rudolph will be ex-communicated…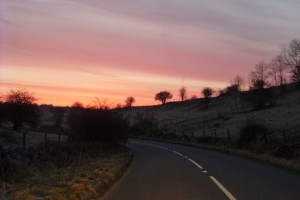 So, here we go…with a 6:00am start. Which was, unusually, shared by the rest of the clan who were off to do something involving fast four wheels not two slow ones. At least I didn't have to worry about waking anyone up, and the company made a pleasant change.  I headed off into the rising sun, over the Mendips, trying not to fall asleep and made it to Salisbury Racecourse about 1 1/2 hours later, pretty much as planned.
This is not my first Joker. It's my second. And it's only the second Joker full stop. Last time around I had a mechanical, so I felt like I had unfinished business with it. Which makes no sense at all but hey, that's the way it works sometimes. And who said getting up at o'crack sparrow to go cycling somewhere was sensible anyway?  However it does mean that I knew vaguely where I was going, and that sense of familiarity made the whole getting there, parking, etc thing that bit easier. Not that it was tricky. Marshals guided me into the car park, and the next car to park up was that of the Pixie, aka Mark.  As we faffed the line of cars behind us got started, and who should park directly behind me than GB?  Well I never! Serendipitous or what?
You see this time last week I was doing the Joker on my own. Whilst I'm perfectly capable of, and used to, riding events on my own, it is much nicer if I don't have to, so I put a call for company out on Twitter and ended up with these two jokers for company – result! 😉
It having been mighty cold of late, forecasts of slightly warmer temperatures and sunshine had us all in full on layer debate mode. I'm happy to report that I pretty much got it right. Winter socks, toe covers, overshoes (I hate to have cold feet). Bib longs, base layer, l/s jersey, l/s winter jacket., Cyclosport gilet. Neck scarf, head buff as given to me for my birthday and now part of my cycling superstition/tradition. Topped off with winter gloves. By the end of the ride the neck scarf and the gilet had been stowed away, the gloves swopped for mitts (which make photographing way easier), and the zips of all my layers had gone up and down a lot…but it pretty much worked. Had the sun come out in force, it might have been a different story, but it didn't and it wasn't, and now the washing machine is full again.
Right, time to register, grab a cup of coffee, and use the outside toilet block. There are also toilets inside, a fact which we didn't discover until after the ride, which are even more salubrious. I was given my number, axle timing chip, two cable ties, and a waterproofed map. As usual the cable ties were too short, but as a sportive veteran I tend to carry my own these days, complete with spares (wasted by the Pixie who got it all wrong) and scissors to trim them with (or cut them off when you've got it all wrong). I signed the disclaimer list, and headed back to faff some more. Eventually we were ready, and joined the queue for the start, where I bumped into Nick, of Pendragon, Tour of Wessex fame, and had a chat on the basis that at the speed he goes at that was the only time I was likely to see him all day. I wasn't wrong.
The rider briefing told us all to behave ourselves, explained the signs etc, and then sent us on our way over the timing mat. I love the sound of beeping mixed with people trying to clip in – makes me giggle for some reason. There were only around 350 riders out there, which meant there weren't a lot of groups and any we did see were going pretty fast, and usually going past us pretty fast too.  As we set off, the first stretch proved how chilly it was out there, as the tips of my fingers disappeared for a while until I'd warmed up properly.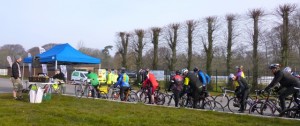 The Joker differs from other sportives in that it has optional extras. Or minuses. There are 4 extra "Jokers" you can choose to do – which invariably add miles and hills – and two shortcuts or "Fools" – which cut corners and miss hills/miles, but at a cost…being dodgy roads, cyclocross antics, and the like. Being well 'ard, and having only been able to do one of them last year, we did all four, and have the souvenir Joker cards to prove it. Well, not much point getting out of bed otherwise, was there?  So that's Straight Up, Gold Hill, Zig Zag Hill, and the Last Laugh. One by one we did them all.  Straight up was, unsurprisingly, a big hill. It went straight up, I just went up, slowly…;), and picked up my first Joker cards shortly afterwards.  The addition of a little plastic bag to stash the cards in was a distinct improvement on last year, as the one I did get was looking proper tatty and damp by the time I got back – this year they were all pristine.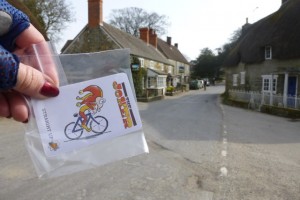 On to Gold Hill which was all Hovis advert and cobbles. I was having a massive mental block about this one beforehand. At some point before it started the boys were waiting for me (something that happened a lot) and I caught up, caught my breath, and headed off to the big hill before them. They were kind enough to not catch me and to let me get on with doing it by myself, which often works better for me mentally. And I made it up. No idea how!  The front wheel lifted a couple of times, there was the odd wobbly moment, but somehow I made it, hunched over the bars, to the top without falling over or failing to uncleat in front of the photographer or the waiting audience sat in the suntrap at the café at the top. 'Rah! Never again…I know better than to push my luck that far! ;).
The Zig Zag Hill Joker added an extra loop to go back up Zig Zag Hill, which we'd descended earlier in the ride, so I knew what to expect. It's quite a nice wiggly climb really, but the last long drag back to the food station across the top, into the wind, did me in though, and GB dropped back and towed me along until I made it – which I was seriously grateful for. Ah the wind. I don't think I've mentioned that yet. Well there was wind. More than enough of it, and it was cold!
After the food stop, there were many many miles, including a long tedious mainish road section, heading straight into that wind and even with three of us taking turns, it was pretty sapping. It might have been better if the Jokers were spaced out a little more, as it sort of felt like all the "fun" was pretty much done with, and these miles were just to get you back home. I also knew there were a couple more hills ahead which I wasn't looking forward to – it was all feeling a bit like hard work by now – but then I always have a flat mental spot, and this one came at around the 53 miles mark and hung around for a while. Still, it passed, as it always does. Which doesn't mean it got any easier, it just means the the end got nearer and I perked up a little. Unlike GB, who thanks to man flu, was proper suffering by now. Unlike the Pixie who was still doing a grand job, as ever :).
The Last Laugh means going up a long hill, along a bit and then back again…ie, going up a hill just for the hell of it, at the very end of the ride. Hilarious. We could have missed it out, but we were in for the long haul, so we didn't. What, and lose face in front of each other? I think not!  From there it was just a couple more miles back to the start, though my Garmin having thrown a wobbly and stopped for no reason, I had to rely on others to tell me that.
What can I tell you about the rest of the ride? Well it was definitely lumpy. According to the Pixie, with a better behaved gadget, there was around 6800ft of climbing, and it felt like it! The worst hill, Fontmell I think, was not an optional extra and it went on and on and on at speeds that would have meant walking was faster. The sign for the car park near the top urged those stopping there to "Enjoy your walk" which gave rise to an ironic smile. But I didn't walk. I'm stubborn like that. The scenery was pretty enough, though by the end I had a slight case of "if I never see another thatched cottage it'll be too soon", and there were some gorgeous views from the top of what GB says is an escarpment that basically we went up and down all day. However a lot of the road surfaces were pretty atrocious, and ok, so unlike many we saw, I didn't get a puncture, but that's not the point. Gingerly picking your way along narrow barely surfaced roads, dodging potholes, avoiding gravel on bends, etc etc, does not make you pick up any of the time you've lost climbing. Pixie reckons it's a good thing I haven't treated myself to shiny new fast wheels yet, as apparently they'd not have enjoyed it all. Not that that stopped some people – there was some seriously expensive kit being shown the sun out there!
The signage was mostly pretty good apart from a couple of places where they weren't clear until you got right to where the decision was to be made, and there was also a lethal right turn at the bottom of a long descent somewhere which luckily GB knew about. More warning would have been nice. It would also have helped it the Joker options were sign-posted in a different colour – red maybe – to distinguish them from the main route option. And finally, I'm a girl. Yes, I am. Why is this important? Because there was one food stop, used twice, and with no toilet facilities. It was very cold, windy, and exposed, and I was wearing bib shorts. You do the math. Not going to happen. Luckily the café at the top of Gold Hill, which co-incidentally does Mokarabia coffee (they're one of my clients) let me use their facilities.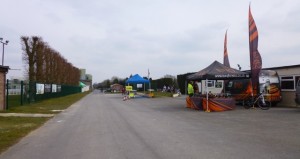 In conclusion, it was a hard day's work!  And slow. The car park was 3/4 empty by the time we finally rocked up back at the start, and they'd run out of Medium sized t-shirts. Just as well I'm a small then – sorry GB! We stashed the bikes, grabbed our free cup of coffees and stretched out a bit before folding back into cars and heading off to wherever it was we were going. I'm not complaining about the time though. It is what it is, I am what I am, and both of those are slow! 😉 I'm very glad of the company I had, it would have been a very different, and far more miserable, story without them. They didn't exactly nurse me round, but they did hang around – thanks guys! :).
Basically there is no point in comparing me this year with me last year. I haven't done the miles, my health has "issues", and I don't/can't eat properly. Plus I was still recovering from my birthday week, and then there's the Rudolph thing. So essentially I'm happy to have gone out, to have ridden, and to have gotten round. My unfinished business is now well and truly finished! :D.
Official time: 6:24 (including a great many stops)
Distance: 70.4 miles
Avs: 12.2 mph.
ODO: 1274.19 miles
Official Cyclosport review is up here. I've looked at the results and I was as rubbish as I thought.  On the other hand, there were only 2 women who did the full distance and all the Jokers, and I beat the other one by five minutes, so on that basis I'm a winner! ;).