Today's entry is sort of like a three course meal.  Possibly four courses actually.  Practically a feast…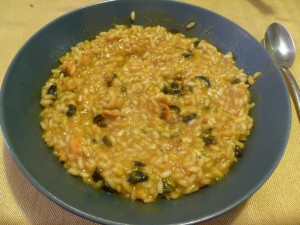 First off let's start with last night's dinner.  Butternut squash risotto.  Very few ingredients at all really (olive oil, black olives, arborio rice, homemade chicken stock, butternut squash roasted with salt and tarragon, and red wine), and the only one that I haven't had of late was the butternut squash.  Now I did think that butternut squash and I had fallen out a while back, but my dietician was surprised that I thought that, and suggested that maybe it was just because I'd usually eaten it in dishes that involved other "bad" ingredients, such as onion, garlic, and so on.  According to the FODMAP lists butternut squash is safe.  What do I know?  So I thought I'd give it a go.  Ha!  That'll larn me, right?  Having spent the rest of the evening looking about 6 months pregnant, uncomfortable, and back on the painkillers, I think it's safe to say that butternut squash is not safe.  It is far from safe, it is about as safe as investing in Facebook shares, or considering Greece a sound financial investment, and I shall not be eating that again in a hurry.  Shame, cos the risotto itself tasted yummy!  🙁
Which brings us to this morning, when I still wasn't feeling great.  It takes quite a while for my system to settle down once I've p*ssed it off properly, and I seem to have done a cracking job this time.  Which reminds me, I need to take some more painkillers.  Typical – this always happens shortly before a sportive!  Mind you, anytime is shortly before a sportive at the moment 😉 *grin*.  Anyway, it was time to go ride my bike in the sun again.  Yes – again.  Isn't it lovely to have a little patch of consistently lovely weather?  Ok, there's still plenty of inexplicable wind around, but even that wasn't chilly today.  Cycling in one layer, with suntan cream applied, and dark lenses in the sunglasses.  Blissful :).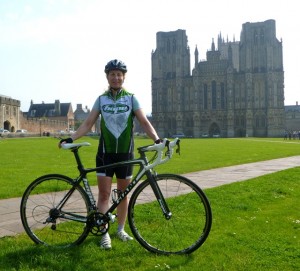 Mim set the route, as she finally has her new Team Hope Factory bike (albeit not with the right wheels yet) and needed to test it out.  This involved being mostly flat, with one big hill.  A route that had a great deal in common with that which I did with George last Friday actually.  Am I destined to climb Westbury Hill every Friday now? 😉  Apparently I get to be the QOM too, but that's not really true, since I know that I followed a slowly vanishing Mim all the way up – it's just that she doesn't have the relevant gadgets, nor care for them!  As ever, I'm only QOM because I have no competition, as someone kindly reminded me yesterday.  I do know, there's no need to rub it in you know! 😉  The top of the Mendips was windy and still hiding in clouds/fog, which the sun had yet to burn off, and it felt almost like a different day up there.
We made the route up as we went along after that, coming down a blissfully dry Old Bristol Hill, out of the clouds, through Wells for photo ops, and back home via Wedmore.  All very pleasant, apart from the fact that the sun brings out the eejots, who were very keen on re-inforcing the white van man stereotype.  I hate stereotypes, but this one really does seem to be true…*sigh*.  Some people just have no patience.  I'm presumably that if they actually knocked me off, it would have to be a hit and run, because stopping to sort it out would slow them down too much too?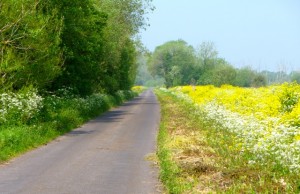 Cycling time: 2:13:44 hrs.
Distance: 34.20 miles
Avs: 15.3 mph.
ODO: 13905 miles
I've been so busy since then that it already feels like days ago…  If I got paid for all the things I do for free I'd be a whole heap better off!  Mind you, I'd only spend it all on bike and bike related goodies ;).  Having managed to get a lot of my "to do" list done – go me! – I switched into cooking mode.  I wonder what colour light bulb that involves?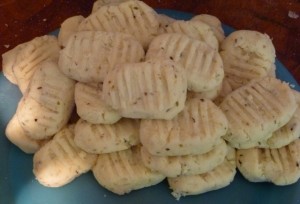 To start with I made home-made gnocchi, using a recipe from one of my new cookery books, to go with a bolognese style sauce that hubby made.  They didn't go brilliantly well, but well enough that I'm definitely going to make them again.  The recipe used potato flour where I used rice flour since that's what I had.  Next time I'm going to use gluten free flour, and chill the gnocchi before I cook them, in a bigger saucepan of boiling water, and then I reckon they'll be even better.  They're easy to make, and they're carbs – just what a cyclist wants, right?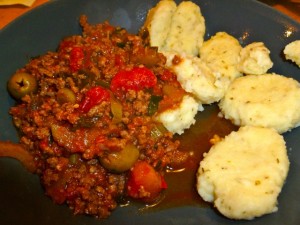 I then had another go at making Rudolph's carrot flapjacks, as planned, whoever Rudolph is.  I hope Rudolph doesn't mind, but I used sultanas (safe) instead of apricots (not safe).  Come to think of it I suppose it's Rudolph because of the carrots.  Are reindeers renowned for eating carrots?  I thought that was rabbits?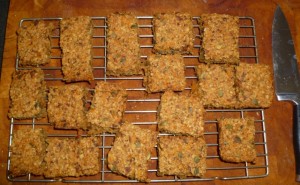 They've worked better than the last lot in that, as you can see, they actually hold together more or less.  More rather than less.  More flapjack, less granola.  They will probably be even more cohesive when they're properly cooled down.  Then I'm going to wrap a couple of them up in cling film, and see how I get on with one on Sunday.  The forecast for the Wheel Heroes is currently 25C, with an easterly wind, and sunshine.  Good thing that sun cream arrived today then.  Now I just have to figure out what to wear to be cool enough whilst minimising tan lines…whatever the rules say.  Weren't rules made to be broken? 😉