Ok I'm back.  From outer space.  Well, from Tuscany anyway.  Where we enjoyed two weeks of consistent 35C+ sunshine, and I counted down the days until I'd be back on my bike again.  And don't even try telling me rest is good for me *grin*.  As if to make sure I missed my bike properly, the darn things were everywhere!  You see they like riding over there.  A lot.  Which probably doesn't come as a surprise to anyone.  Whenever we went anywhere, there they were, riding around in their inevitably matching sets of lycra, on their shiny carbon bikes.  Well they would be shiny, the last time it rained properly in the region was back in June, for about half an hour…  Easy to have a sparkling clean bike if it never gets dirty! *grin*.
As far as I can tell, there are two types of cyclists in Italy.  The dedicated roadies, who bring their shiny steeds blinking out into the light, cycle around seriously in the sunshine for a while, before returning home and stashing their thoroughbreds away unseen in garages, basements, bedrooms…  Never seen parked up, never seen anywhere other than under a pair of (frequently white!) shorts.  Helmets appear to be optional…possibly not bling enough?    Posing however is obligatory…even when not in lycra.  Dapper, no?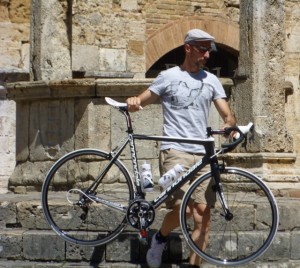 Then there's the other sort – those riding their bikes to get around.  They park them up all over the place as and where since, considering the state they're in, mostly in no-one would ever bother nicking 'em, and if that happened, they'd just pick up one of the others lying around and be on their merry way.  A motley crew, a mixed bunch; single speeds, fixies, sit up and begs, fold ups…all being used to get from A to B, to see the sights.  As modes of transport, rather than mobile gyms.  It's kinda nice to see :).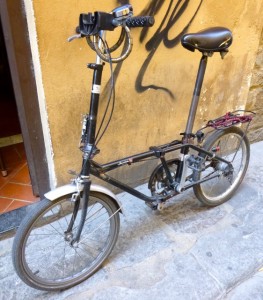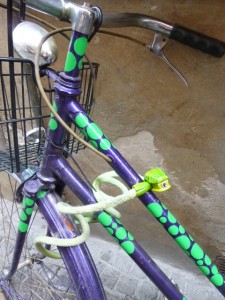 Look closely.  Seen the lock?  No doubt massively ineffective, but kinda cute nonetheless! 🙂
Ok, ok, have the real thing…*grin*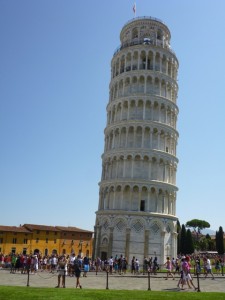 And when they've had enough of their bikes, when there is no more to be wrung out of their rusty bells, they leave them parked up in quiet corners all over the place to decompose in peace…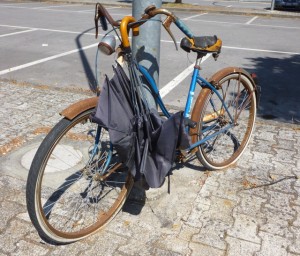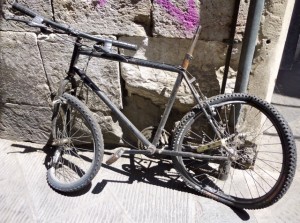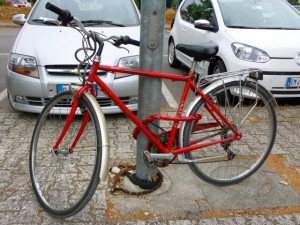 In Florence you can hire bikes, in a perfectly purple shade.  Not that we did – but they did look very pretty lined up in serried ranks.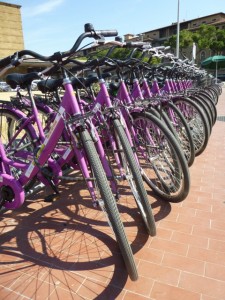 And two wheels are popular even when they're not pedal powered…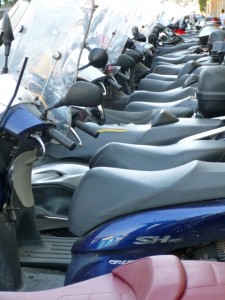 After all the unfamiliar sunshine, all the pedestrian sightseeing, all that enforced resting, the time had come, the walrus said.   Time for a final supper and for a little more of the chilled white stuff.  Just the prolonged purgatory of Pisa airport, a short flight, and we were home again.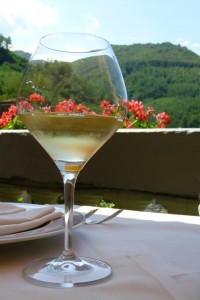 Which would bring us to today, and my long-awaited reunion with my bike.  T'was an ACG ride, that GB had kindly organised in my absence.  I was worried about it and looking forward to it at the same time.  How would I feel after two weeks off the bike?  How would 15C less than I was used to feel?  Is rest indeed good?  And…
…having done the low FODMAP thing, and removed anything of any interest or enjoyment from my diet (apart from white wine obviously), we appear to have established that at some level I have IBS.  Having (most of the time) eliminated the symptoms of that from the mix, it would also appear that I am doubly blessed, and in citrus fashion, IBS is not the only fruit.  What the other problem is remains to be seen – I'm being referred somewhere else – and in the meantime I'm working on pain management as and when I need it.  On top of all that, for those of you who may not have noticed, I'm a girl, and thus also blessed with the monthly trials and tribulations that go along with that.  Once, twice, three times a lady…  Well today my IBS was off on one, the stomach cramps were properly challenging, and it being the wrong time of the month seems to make the pain thing a whole heap worse too.  Ooh, lucky me…
When I arrived in the grey and muggy Square a little before 9:00am, GB was already there, and we were joined by Steve, Chris and Mike.  GB's planned route included a great many hills.  I reserved judgement…as well as the right to bail if necessary – even if no-one believed me when I said that!   So we headed out.  Little ups to start, after warming up across the Levels.  Up around Westbury, but not all the way.  Up around Wookey, but not all the way.  It was clear by now that flat was fine, up was not.  Up seems to engage my stomach muscles which, considering everything else going on in that vicinity, is a really bad idea, as apparently it works like a domino effect, and sets the whole chain off.  We went up to Milton Hill, to the junction with Old Bristol Hill…and after some debate as to whether to go down to Wells and up a Horrington, or up Old Bristol Hill and then across, we went for the latter.  Well, we were already on that hill right?  So, up Old Bristol Hill.  All the way.  All the very long way up.  Come to think of it, the legs and engine actually felt ok, but OMG…talk about painful.  Enough to take your breath away, which is not useful at a time when oxygen intake is particularly important.  I did try riding up holding my left hand side, which helps a bit, but that's not ideal either, since I like both hands on the handlebars!  It was a relief to reach the top, catch up with GB, and get my sangfroid back a little before the others joined us.  It was very clear that I wasn't going to be going up much else by way of hills, whatever anyone else was doing.
However as I mentioned, flat was fine.  Lots of fine, and lots of fun, so I had a bit of a mad hurtle across the top of the Mendips.  GB was right on my wheel, and I didn't realised the other three weren't until he pointed it out, so we hung out at the next junction and waited for them.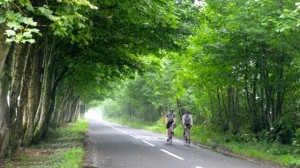 Coffee was at the Rock Cafe Coffee Shop, where our group was the first to arrive, but we obviously started a trend as we weren't on our own for long.  Very popular with cyclists up there, for good reason.  I can't vouch for the food – surprise surprise – but my large Americano certainly did the job :).  Following the usual range of double entrendres, witty repartee and the like, it was time to stop sitting outside and to see how far we'd cooled down…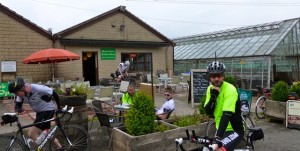 Layers were tricky today.  It was warmer than it looked but chilly until you got warmed up, and muggy once you were.  I was wearing my Maratona jersey & gilet to try and remind myself that not so long ago I could ride a bike.  Well, it was a looooong two weeks!  Anyway, the gilet is a bit heavier than my Cyclosport one, so I kept having to stop and take it off when it all got too much.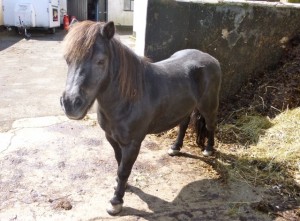 Horses for courses?  We were having another catch up break, where I stuffed the gilet again before the final dash for home, when we saw this.  Apparently he/she was worthy of a photo, and who am I to argue? 😉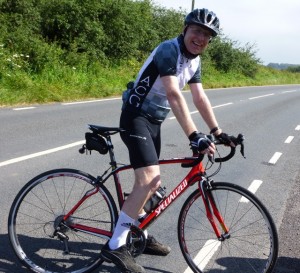 This is Mike, waiting patiently, on his shiny new horse.  Steed.  Bike.  Whatever.  Very nice indeed :).  Hope I have mine soon too!  (It will, as you'll hopefully soon see, carry on the current Italian theme).  By now it had brightened up a bit, making the final stretch of the ride far more enjoyable.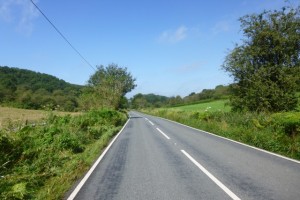 The stretch across the Mendips to the top of the Gorge is one of my favourites and there was some more silly hurtling along, mostly on my behalf.  Several times today we played crossover with today's Wiggle Mendips Sportive route, and so had deliberately decided to head home down the Gorge to watch them all riding up it.  It may be juvenile, in fact it most definitely is, but I have to admit to having positively relished cheerily saying hello to them all slogging their way painfully up as we hurtled down, grinning massively.  Small things, my small mind 😉 *grin*.
From there it was the usual race for home down the bypass, although GB spared me the final spint for the Square when he cruises past me as if I'm standing still.  Mind you, he does have man flu, so it's a miracle he was able to make the pedals go around at all ;).
Cycling time: 2:12:03 hrs
Distance: 35.11 miles
Avs: 16.0 mph.
ODO: 15182 miles
Bella says we did this.  Strava says that I managed to QOM 4 times – and I'm particularly proud of this one.  Still fast on the flat I see :).  All things considered, I think it was a pretty good ride, and once I'd warmed up it was lovely to be back on the bike again.  We were working well together, the bike seemed to be handling really well, and even the descent of the Gorge went better than sometimes.  I need to get a few more miles in this week, as I have the Sodbury Sportive next weekend, but I think it was a good start, and hopefully by then I'll have things a bit more under control.
I have to apologise to the ACG for not having been the greatest company today, and also for not having been very good at the Group thing.  In my defence, with the painkillers not working, I think I was in search of endorphins to add to them or, failing that, some physical distraction at least.  I'm probably not that good to be around when I'm not well – so apologies guys :(.