Being all signed in the day before, all I had to do on Saturday morning was get up, faff briefly about layers, and ride to the start line.  Due to the sun that was already shining, and the uncharacteristically optimistic forecast, I opted for a little less layerage than last week – socks, legwarmers, shorts, short sleeve Cyclosport jersey, winter jersey, mitts, and Cyclosport gilet.   Did I mention the sun?  Yes, sun!  Sun, on the morning of a sportive!  OK, so as I set off it was still pretty nippy, but when you're on your bike, the sun is shining, and the sea is glowing blue in the distance…well, I think it's safe to say there are far worse ways to start a Saturday morning :).  Oriel y Parc was no distance away and I was early.  There were only 3 (unisex) toilets, so there were some queuing issues, which is another reason being early was good.  As a result I was also right near the front of the queue for the start.  Sooner started, sooner finished, remember?
After a brief welcome from Valero, the main event sponsors, and also the organisers, we were underway at 8:00am on the dot, with our timing lanyards scanned as we passed under the start banner.  Interesting that I'd never done the lanyard thing until last week and now I've done two events in a row using that timing method.  Same timing company actually.  And in case you were wondering, dangling timing chips still irritate me :).  Right then.  Off we go again, through the quiet streets of St Davids and out into the even quieter countryside.  The first half an hour was pretty flat which, if I hadn't done the prologue ride last year, could easily lull you into a false sense of security.   It does mean you get chance to warm up your legs a bit, which is both nice and ,as it turns out, essential, because the route then drops down to the coast at Trefin, kicks up out of it again in a steep wiggle, and voilà, your climbing has begun.  Or, to be more precise, your climbing has only just begun.  The route was advertised as being 104 miles and c.2400 metres of climbing – so this was never going to be a flat ride.   Take that, and my previous experience, and forewarned is most definitely forearmed.  West Wales is lumpy!  Apparently I shouldn't understate it like that either ;).  Having wiped out last weekend, and being as I was doing this ride on my own, I had already decided to approach it as a long day out in the saddle in the sun and not to push it, so I settled down to enjoy the scenery.
Look at that sky!  The sea was the kind of blue that, if my youngest painted it that way, I'd probably tell her off for being unrealistic 😉  Just gorgeous…  About 15 miles in there was a timed hillclimb but since that involved a) stopping to be scanned at the bottom before going up and b) considering yourself to be competitive at any level, I gave that a miss.  The lady scanning at the top was warning everyone about the dangerous descent to follow, and she wasn't wrong.  It was steep, wiggly, gravelly, and involved farms.  Just as well it was dry, and that I'd done it before.  I gather a couple of riders came a cropper going down there – less cautious souls than me I imagine.  Very shortly I'm going to lose track of which climb was which, because for most of this ride if you weren't going down you were going up, and if you were going down, you almost didn't want to be doing so for too long because you knew that payback would be just around the corner!  So bear with me if I get them a little muddled.
The first of five – yes five – foodstops was in a pub carpark in Fishguard, about 24 miles in.  Refreshments on the outside, facilities within – perfect.  I don't ask for much really.  Half a banana ingested, one gilet stuffed in the saddle bag, time to go again, with many miles left to ride.
One of the many nice things about this ride was the route card given to all riders:
Every hill, every food stop, all marked out so you knew what was coming.  I checked it at each food stop, and thus knew that there were three big lumps between me and the next food stop.  It's all part of making the ride mentally doable.  Counting the miles until the next food stop, the minutes until I next have to eat, calculating how far through I am – quarter, third, half, over half and on the way home.  Breaking it down into manageable chunks and avoiding looking at the bigger picture at all costs *grin*.
Talking of pictures…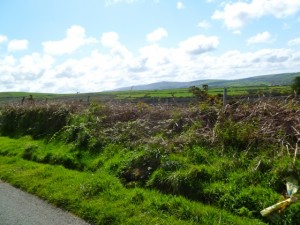 That's scenery that is.  And there was a lot of it.  Not easy to capture on my little camera, but I've tried.  Wales is not just lumpy, it's big!  Time to go up in the world again…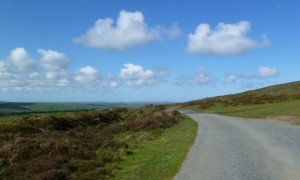 That would be the view behind me – I'm practising taking those.  The less post production straightening I have to do the better!  It's a bit of a challenge though…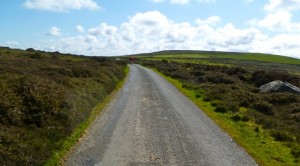 And that would be the climb stretching off into the distance.  Time for some serious plodding.  Zips undone.  On and on and on…in pretty relentless fashion, but the views at the top were awesome.  And look at those cute fluffy clouds?  Not pink, but lovely nonetheless :).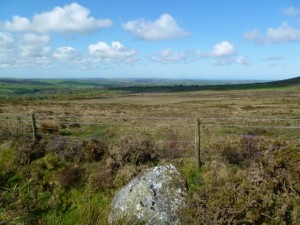 I'd been here before on the preview ride, but very shortly that route and mine parted company, and I was off piste…off into unfamiliar territory.  Fear of the unknown?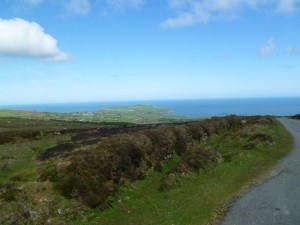 Still, you know what I've earnt now?  A bl**dy good descent – and I got one – wiggly windy and all the way to Newport, which we only really grazed.  No, not THAT Newport – this one.  Far more attractive.  Can you see the down coming…?
So, as you can see, the sun is shining,  There wasn't supposed to be much wind, but there certainly seemed to be enough cold air moving around.   And by around I mean usually being in my face.  Maybe it wasn't wind, maybe it was coastal breezes, but whatever it was, they clearly get a lot of it up there!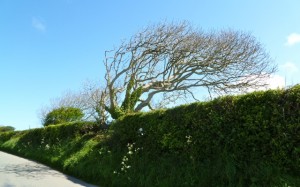 It stayed on the nippy side all day really – just the right side to cool you down after the massive hills though.  Hills and headwinds – insult and injury ;).  I chatted to a fellow rider, also on his own, for a while at some point.  He was from Bridgend and this was his first sportive.  I had to point out that he'd picked a pretty impressive ride for his first one, but it was early days yet, and I'm not sure he believed me…  Slogging up yet another hill, into yet more wind, could be enough to get you a little depressed, but then you go down a bit, around a corner, and this is waiting for you: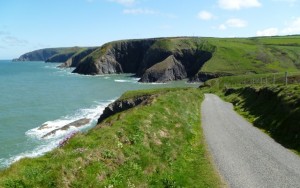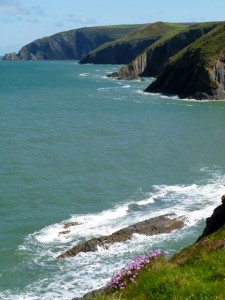 Does it get much better than that?  Just gorgeous.  I know I've been known to joke about metaphorically stopping to enjoy the scenery, as an excuse to take a break, but really in this case it was the view I stopped for.  Outstanding.  And very smile generating :).  Did I mention I love the seaside?  Time to move on, somewhat reluctantly, and head for the next feed stop.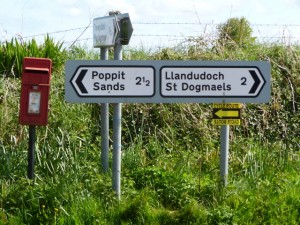 As you'll have gathered, that would involve a left turn, to the very cutely named Poppit Sands, where the food station was down on the beach at the RNLI base there.  Generally speaking the signs were pretty good – there was a mixture of these small ones and some very large ones – black arrows on luminous yellow.  There were a few places where a CAUTION sign would have come in useful, and a couple of places where more signs would have been good.  The main shortcoming was the route split signs which were mostly handwritten black on white, which is fine for "loose road surface" warnings when you're going slowly and have time to pay attention, but they're not what you're looking for when you're flying along and your eye is tuned to look for yellow/black signs.  Quite a few people ended up doing routes that they hadn't intended to…but luckily I wasn't one of them.  Plus the gamin file was accurate so if it had happened I'd have been able to rectify things.  Unlike last weekend.  Anyway, back to the course 😉  46 miles and another half a banana under my belt.
There was, unusually, a small amount of flat riding alongside the river here (ooh, the novelty) as we headed inland to find some more hills to climb.  Can't follow the coast forever…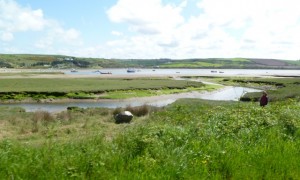 If I recall correctly, as it all blurs into one,  the next section involved some fairly long steady climbing through dappled woodland roads.  I picked up a hanger on for a while, I even passed the odd person.  You know how it is, you climb at your own pace and that is what it is.  By the time we reached the third foodstop at a very tempting country pub in Boncath, it was definitely time for some sartorial adjustment.  Time for the leg warmers to come off – job more than done – and for my legs to come out.  Woo hoo!  So that's leg warmers stashed in the ever-expanding saddle bag, another half a banana eaten, and a seriously wistful backward glance at the pub garden…  At least this was 58 miles in, so the halfway mark had come and gone, seeing another mental hurdle overcome.
Having checked my route card once again i knew that the really big climb of the day was coming up next (like all the others were little!) – over the Prescellis, which I probably can't spell.  When the hills you're climbing up have burial mounds and cairns on them, it's a safe bet that you're a long way up…and since it's probably a climb of around 6 miles or so, you've still got a long way to go.  I was worried it would be too steep for me – I definitely have a gradient threshold – but it wasn't.  It was most certainly hard work though!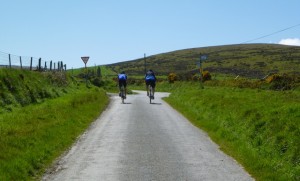 It just kept going up.  Every time you turned, there was more up to go.  They have more than enough up to go around over there!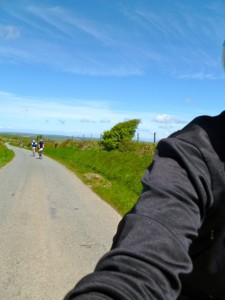 I distracted myself by taking photos, and doing my best to remember I was supposed to be enjoying the day out, so I admired the ever expanding scenery, the wheels went around, and the hill got climbed.  Or owned as my eldest would put it.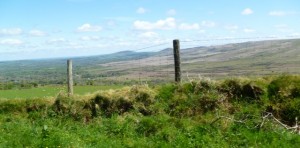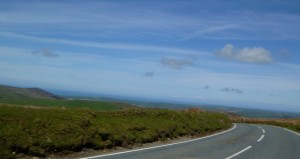 I had a brief internal Titanic moment – an "I'm the king of the world" kind of thing – as I briefly stopped at the top, along with others, to appreciate how far I'd come.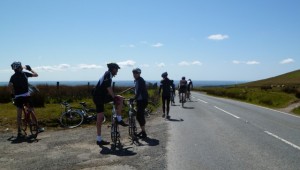 I had.  And I have.  Once upon a time, not so long ago, a hill like that would have killed me…and today it didn't :).  This was the highest point on the Tour, and although there was a still a chunk of miles to do, and a fair bit more climbing, it definitely felt like I'd broken the back of the ride.  And then you get to go down…*grin*.  There were some cracking descents on this ride – some of which were a little too technical for me to enjoy, but others were just awesome.  My max speed was 40.5mph which, for me, is pretty exceptional, and it felt even faster than that!  Maybe this sign applies to me?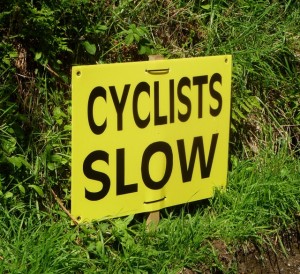 Considering that the Welsh highways authority must spend twice as much on road paint as anywhere else, what with having to mark everything in two languages, this sign is probably illegal and should say "Cyclists Slow Araf"…  There's something about seeing ARAF in big letters on the road – I think it reminds me of previous Welsh rides – always hilly and always hard work!  In a good way.  Honest ;).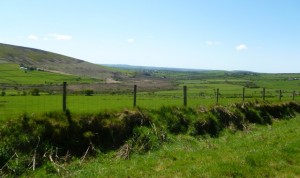 More views, more climbing, before discovering the fourth foodstop lurking in a sheltered valley at Pontfaen, where a rather fat chocolate labrador was roaming around in the hope of grabbing leftovers from cyclists who were far more interested in feeding themselves than a dog *grin*.  78 miles in, if you're counting…
The radio was playing in the background, playing "Beautiful Day" by U2 as it happens, in remarkably appropriate and oddly coincidental fashion.  A few of the riders here had missed the route split, and had ended up doing the long route instead of the medium one.  Given the weather they didn't seem too cross about it, but wow, if you hadn't trained for it, that was going to hurt!
As I carried on my way, we joined back up with the shorter routes, which also put me back on familiar turf.  It's amazing how much you remember.  The flat fast stretch through the valley was still fun, and the long steep climb out of it was still exactly that, except that this time I didn't fall off and have to walk – bonus!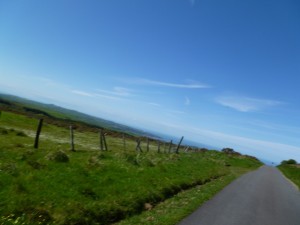 OK, so holding the camera straight was getting harder.  The advertised 2400 metres of climbing had come and gone, and there was still up going on.  Maybe not massive ups, but still…  There were three of us now.  I'd somehow ended up with Bridgend man again, who ruefully agreed that I hadn't been joking when I said it was a hilly ride, and just by the way his arse was in tatters.  And apparently I'm allowed to quote him on that *grin*.  Our third musketeer was another lady rider – there only were 19 of us – also bizarrely doing her first sportive.  Well that's one way to make me feel like an old hand I suppose.  We reached the last food stop, at 89 miles in, to be greeted by Father Christmas.  No, I have no idea why either.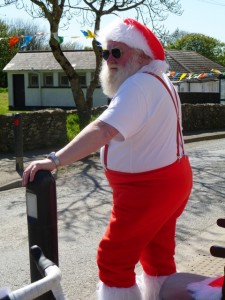 That left us with 15 miles to do, hopefully around an hour or so's riding, which I knew was essentially rolling.  To be fair, that doesn't mean flat though, and at that point, any sort of incline most definitely feels like a climb!  We rolled together, more or less, for quite a while, though we did split up from time to time.  The lady behind me apologised for using my wheel to get home but hey, such things are karma, and what goes around comes around.  After a while she perked up a bit and we chatted some.  Apparently I made the hills look easy and just glided up them.  If I'd had the energy I'd have fallen off my bike laughing *grin*.  That has to be the funniest thing ever…but as compliments go, I'm keeping that one.  I may even frame it.  With about 8 miles to go I started to get hints of feeling like I was losing it again.  I had two choices – MTFU, stick with the guys, pretend to be in control and get back or…be sensible.  I was sensible.  I dropped back, and ate a packet of my lucozade jelly beans.  Judging by how good they tasted I must have really needed them – they were bloomin' lovely.  I span my legs for a while and gave them time to cut in, which luckily they did.  At least having had it happen once, I can now recognise the feeling and deal with it early, right?   As I got my act back together, I found myself leapfrogging another rider – let's call him Altura guy – and once this had happened a couple of times, we started doing it properly, taking turns at the front, and generally making those last few miles that bit more pleasant.  Oh, and easier too! :).
The last little loop takes you teasingly around and away from your goal, which you can see but not touch, so as to bring you back into St Davids from the bottom with a last little kick of a hill past the Cathedral and through the very gatehouse that I walked through yesterday.  A very scenic and attractive way to do it.  Just as well I knew it was coming though – last minute hills are not good! 😉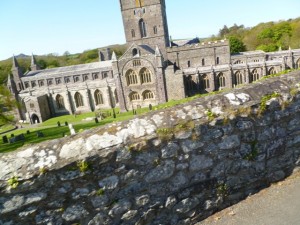 There wasn't time to take a better photo – otherwise I'd have ended up riding into the Gatehouse not under it, which would have been a tad embarrassing.  Good thing I got decent photos yesterday :).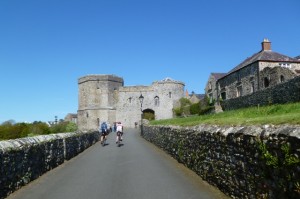 Right.  Job done.  Getting to the finish line was but a formality now, but it was nonetheless a welcome sight.  I was the 74th rider in apparently.  Timer chip scanned, number clipped off for me (nice touch that), and once both were handed in, I got my time slip again, a voucher for a free bowl of cawl, and a lovely Welsh slate commemorative coaster.  Both attractive and useful – definitely one up on another medal or water bottle!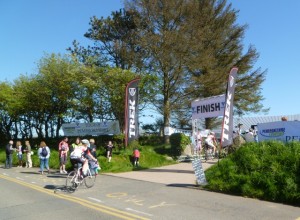 Yes it was a long day in the saddle.  Hillier than advertised – either 2892 metres without corrections or 3845 metres with – tho I've no idea which to go with.  It had coast, hills, estuary, moors, woodlands…every kind of scenery under the sun, under the sun *grin*.  I'd like to have gotten in at under 8 hours ride time, but hey, it's not a race right, and it's not like I missed it by far.  Having rolled up my sleeves, and removed various layers, I have some of the most ridiculous sunburn lines going, and may not need to wear blusher for several months to come.  Not that blusher is a big part of my life anyway, but it makes a point.  In conclusion it was long, it was hard….but I didn't walk, I didn't bonk, and I did what I set out to do.  I had a long day out in the saddle in the sun :).  Not as long as some – the final rider in had been out there just under 11 hours.  Chapeau!  Now that's a long day!
Cycling time: 8:01:56 hrs
Distance: 105.38 miles
Avs: 13.1 mph.
ODO: 13694 miles
Official time: 8:35:15 – 98th of 167 finishers. 9th of 19 women. Bronze.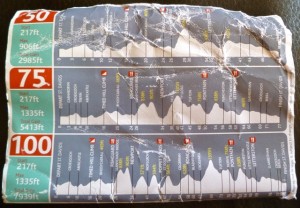 As you can see, my route card looks a little less pristine now…I think I may have perspired on it whilst it was stuck in my back pocket *grin*.