As this year's Tour of Pembrokeshire approached, day by day the forecast worsened.  No matter how many times I hit refresh, or how many different weather websites I looked at, things were not looking good…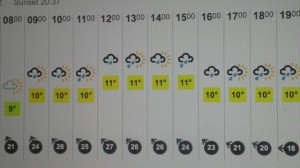 After the long drive west to St David's, with the B&B duly checked into, and a quick glass of sedative medicinal white wine, as I left the pub for bed the rain was already falling.  As were my spirits, if I'm honest.  When I dragged my perfectly comfortable where it was behind out of bed with the 5:30am alarm, the forecast had, quite impressively, managed to deteriorate yet further.   Out-standing.  *sigh*.
So, time to faff over kit, whilst drinking coffee and eating cereal.  I know me, and I know that I am no hardy northerner, and that I get cold, and a cold me is not a happy me, and this should thus be avoided for the sake of all concerned.  For all that I thought I was being a girly wuss, I decided to believe, and dress for, the forecast.   Full winter layers on me.  Waterproof in the saddlebag.  Toe covers and lightweight over-shoes.  Mitts and over-gloves.  See – layers, layers, everywhere, to cope with the water, water, everywhere that I feared was in my future.  I know, 10C is not that cold.  It is that cold however when you're soaking wet and being blown around by 30+mph winds.  This wasn't my first rodeo, and I'm fairly sure my mama didn't raise no fools.
Unlike last year I was actually staying in St David's (a lovely city), which meant only a short ride to the start at Oriel y Parc.  Rider registration and start times had been staggered by route distance.  We, being myself and the ever-tolerant Chris, hadn't made it down in time to register the night before, so we were aiming for a 6:30am registration and the earliest possible 7:00am start.  I hadn't realised that registration was actually at The Grove Hotel opposite, unlike previous years, which will no doubt teach me to read the copious emails that came out beforehand better.  Having said that, a few signs pointing the way wouldn't have gone amiss, but being a girl not a boy, I resorted to asking someone for directions.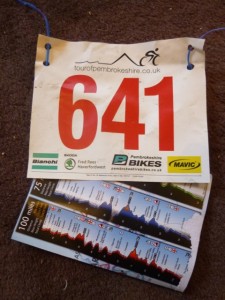 Right, over the road it was then.  Registration was pretty quiet, and I was given my number and ties easily enough.  Sadly the lady who did so didn't also tell me what to do next…  So I tied the number on my bike, wondering whether the flimsy blue garden twines were going to be long enough or strong enough, and wishing I'd brought my cable ties from my room which I nearly had done.  I then realised there was no timing chip in the envelope, so wandered back in again to figure out that I needed to find the timing team, tell them my number, and get my SPORTIdent chip hung around my neck.  I also searched in vain for a rubbish bin to stash my leftover envelope etc in, but couldn't find one, which was a tad irritating, and I have to own up to leaving my rubbish under a mug somewhere!  In the corner the outriders and support team were getting briefed, and there was time to look at the route and the profile and wonder if it was too late to bail and go back to bed.  Hey, no-one would notice right?  Well, actually, since you have to get your chip checked at several locations on the course, sadly they would.  B*gger.
Due to the staggering of the riders, and also possibly the staggering nature of the forecast, there was no great queue to get underway.  People were already leaving as we crossed back over the road, so we looped round, joined them and then, just like that, we were on our way.  Time to do my third Tour of Pembrokeshire.  Third time lucky?  Ha, ha, ha…
Well for a while it all went well.  Yes, it was bl**dy windy.  But it was dry, the scenery was nice, the climbing had yet to get going, and my PMA was still just about intact.  The first couple of dips down to the coast took several by surprise, the advantage of experience being that I knew they were coming so was in the right gear to climb out of them again, although I was nearly taken out by someone not quite so lucky.  He'd stopped, tried to get going again, failed, failed to uncleat, and failed to stay upright.  We picked him up, the boys exchanged derailleur comments, and the rest of the climb nearly killed me since I managed to get going again but didn't manage to get clipped in again, which did not make it any easier.  Sure as h*ll woke the lungs up though!
The weather was, predictably, slowly deteriorating.  The first food station at Fishguard was full of riders wearing shorts and making me feel cold just looking at them.  All the volunteers helping were well wrapped up though – no fools there either.  I nipped into the toilet, needs must 'n all that, grabbed half a banana and the odd cold potato, and we headed off again.
Things weren't going great.  Occasional showers.  Lots of wind.  And for some unknown reason, my insides kicked off.  Half way up one of my favourite climbs through the moors before Newport, I had to give in and take the tramadol, which wasn't great, but hey, if it meant I could ride, then so be it.  As we stood there and I caught my breath, and tried to get it together, a nice clearly bored marshal offered to take our photo.  The scarf behind me, stuck out at 90 degrees, illustrates the wind nicely!  Such a shame…but even so, there was an odd bleak beauty to it all up there, and although I could see where the weather was and where it was coming from, it was as yet mostly behind me.  On we went.   Sadly the descent to Newport was a nightmare – something all of the good descents today shared – because 30+mph crosswinds are never, never, ever fun when you're already doing 30+mph downhill!  There were several times then, and later in the day, when my frozen heart leapt into my sodden chest, as I suddenly found myself considerably further over the road than I'd planned on being!
There are two route splits, but there's not much distance between them really.  Although doing the 50 mile route didn't really appeal, I had half been considering the 75 mile, and that second split came at around the 33 mile mark.  Hm.  We pulled up and deliberated.  The cheery marshal told us we were both young enough to go the distance.  Nice try…flattery will get you everywhere, and maybe it would even get me around?  For all that I might have been feeling like bailing, it's a long way to come to only ride 75 miles.  I have many more events ahead this season, and I needed to get some serious mileage and time on the saddle under my belt.  Besides which, Chris hadn't dragged his arse all the way across to the end of the Welsh world just to nurse me around the short route.  I decided we were going left.  S*d it, 100 miles, here we come.
And for about 17 miles or so, all was well.  There was even some sunshine amongst the showers.  We got to to my favourite bit of the whole ride, along the stunning coastline, which makes me smile every time, and this time was no exception.  But then the showers got heavier, and the gaps between them shorter.  The second foodstop at Poppit Sands was a bit of a melee, with the food station squeezed into a corner and riders queuing for bananas and bottle filling; until a couple of bright sparks set up two hoses and started filling riders' bottles with those instead.  The wind was enough to blow you sideways just walking around here,  and riders could be found sheltering behind all manner of buildings, trying to eat food in temporary peace.
Time to go again, and tackle the long slow climb along and out of the valley that I also quite like.  The spectating residents in the house near the bottom informed us that we'd done 48 miles already, and wasn't I doing well, being a girl 'n all.  I'd feel patronised, but to be fair I'm impressed she could tell what with all the layers I had on!
Here comes the rain again…and this time it really didn't stop.  I put it off for as long as I could, but had to stop in a petrol station and put my waterproof on.  And take a gel since it became instantly obviously that I couldn't stand up without nearly falling over and fuel would be good.  As some of you know, I love my waterproof, and man, today it was a godsend.  I'm not entirely sure how dry it kept me, what with the tendency for water to get everywhere anyway, and the whole boil in the bag thing, but I think it did the job actually.  And it definitely made me warmer.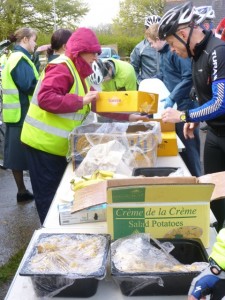 The third foodstop at Boncath was seriously well provisioned.  Potatoes, ham wraps, bread & jam, faggots, malt loaf, bananas, the list goes on….  The poor girls staffing it, from the Guides or some such, looked frozen solid, and I did feel a bit sorry for them.  And us!  The weather threatened to get worse, so we resorted to hiding out in the corridor to the rear of the pub just to let the worst of the latest instalment blow over.  Well, that blowing was something that was reliably going to happen today!  However if you stand still, you just get colder, and I had to get going again, like it or not, because I was freezing.  We discussed, and debated, and decided that though we were perfectly capable of being erudite and eloquent, what we really needed was for it just to stop being so f*cking 'orrible!  There's a lot to be said for a good bit of Anglo Saxon!
You see, that stop came somewhere in the middle of what turned out to be something like 5 hours of rain.  At some point my twingeing left knee blew up completely, and I had to take more pills at around 13:30, because every left pedal stroke was literally making me cry, but I couldn't take more any sooner.  Yes, literally.  Sad but true.  On the upside, I guess that means that my insides are clearly well enough now that the knee feels that it can have a resurgence.  Ooh, the novelty. ;).
It was just hours of relentless horribleness.  I don't mind climbing, but I mind climbing it one-legged, and the pills had only reduced the sharp stabbing to a duller one.  I think there were hours when I didn't actually have a single coherent thought, just followed the signs, and the flashing red light, or beacon, that was Chris' rear light!  Head down, grind away, grimaces and silence.  Well, apart from the deafening sound of the wind that is!  The downhills, as I've said, were lethal, the road surfaces weren't good, and it was rare to get anywhere near fun as a result.  Such a shame, because I do love some of this route, especially the climb over the Presellis.  Not today…  There were some fairly long unremarkable sections in-between too which would normally, on a good day, have been forgiven, but today, which so wasn't, just seemed to drag and bore simultaneously.  Still kudos to the organisers, it was impressive that as far as I could tell the large luminous route signs were staying where they were put!
I have to admit we cut out the 10 mile loop that takes in the fourth food stop and the Gwaun Valley.  It was definitely a case of enough already.  I have, as they say, nothing to prove anymore, if indeed I ever did have.  Plus I know that there's a really nasty steep climb out of there and there was no way my knee was up to that.  It was still whimpering "ow", "ow". "ow", with every down stroke.  Or maybe it was just me whimpering? 😉  You could ask Chris, but he had his own problems.  Apparently even hardy folk eventually get cold, and he'd lost the feeling in his left hand, and therefore the gears that went with it!  Riding a bike is supposed to be enjoyable, and this just wasn't.  Remind me why I do this?  Because today, I couldn't have told you.
When we stopped at the junction for that loop and debated on "cheat or complete?", the answer was a resounding "CHEAT"!  The marshal in the car opposite thought we were lost and got out and asked us if we were looking to do the whole 100 mile route.  She was deeply amused when we said no not yes as she was expecting!  Having said that, that didn't mean we were near the end.  We hadn't reached the 5th foodstop yet, and I know it's another 18 miles in after that!   It's not really 100 miles, it's 110!  Another couple of hours of slogging were ahead of us, with a very brief stop at that final food stop, where a very loud disco trailer was playing, and the resilient staff were busy being cheerful and helpful, no idea how they'd kept it up!
Every year I hate the last section.  I know "they" do it to bring you around St David's and back into the city the pretty way past the Cathedral, but it just goes on and on, on wiggly country roads, detouring off the road where the sign says St Davids is only 5 miles that way, but no, it's more like 8 the way the route actually goes, over more lousy road surfaces, floods, potholes.  I have no idea what the time was, I was about to fall asleep on the bike, a fairly sure sign that fuel was needed, even if the end was nigh!  Just as well we stopped for a gel though, else maybe I'd not have made it in at all, who knows?  Then finally we were cycling up the final steep bit past the Cathedral, more than a little beyond caring, mostly just relieved it was finally over.  We rolled up the high street and over the Finish Line outside the Grove Hotel, handed over our chips, and were presented with our souvenir coasters – a nice touch.  Tour of Pembrokeshire 2014 – done.  Thank f*ck for that, and many thanks to Chris for (yet again) putting up with me!
Cycling time: 8:20
Distance: 99.2 miles
Avg: 11.9 mph
ODO: 4495.7 miles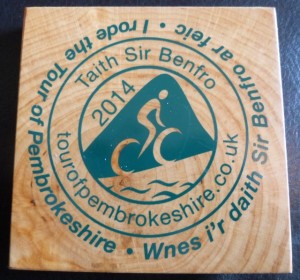 I've no idea what the après ride food was like, or if there were more goody bag things to be had, all I wanted to do was go back to my room and get warm, so that's exactly what I did!  I hadn't realised quite how wet I was until I took my kit off (ooh-err missus) and discovered that it weighed several times more than it ought to!  Having said that, I didn't regret having taken one item of it with me – I wore and used them all.  I spent a while wrapped up in the duvet trying, and failing, to warm up, but it wasn't until I sat in a hot bath for a while that I was restored to myself.  Still you can't blame the organisers for this ride.  It was just one of those days at the office.  The only good part about the ride really was having it over and done with!  Well, ok, and some of the scenery early on too :).
These may be two of the most well-earned (and mis-labelled) pints ever.  And they weren't the last…  And of course the following day the weather was much nicer – see?  Typical *grin*.