Apparently I've taken up multi-day cycling.  First the three day Tour of Wessex, now the two day Tour of England NSPCC Tour of the South East.  Who knew?  But this isn't just your average two sportives in a row.  "The NSPCC Tour of the South East is a tough, truly distinctive, 175-mile multi-stage sportive that offers YOU the ultimate pro-rider experience.  Snaking through the region's most beautiful countryside, and including timed climbs of Box Hill and Kidds Hill (The Wall!) plus optional circuit racing at Cyclopark, you'll ride in seeded groups, escorted by motorcycle outriders and serviced by domestiques, with back up from an experienced crew of mechanics and soigneurs."  On top of that there is an option to pay to attend the "spectacular Yellow Jersey Dinner on the Saturday night with a delicious menu plus auction, presentations and a special guest speaker".  I think that sums it up better than me, and saves me re-writing it!
I was invited to ride and review it for Cyclosport, so was lucky enough to have a place for both days, at the Yellow Jersey Dinner, and in a room at the Radisson Blu hotel in Guildford for the mid-ride night.  Well, it would be rude not to accept, right?  And unlike the Tour of Wessex, which I was kind of dreading, this Tour was one I was really looking forward to.  Something different, somewhere different.  Even if it did mean a 3.5 hour drive to Gravesend in Kent the night before, and a night in a Premier Inn where the door to the rooms upstairs slammed shut every time someone used it, which was frequently, and which woke me up every time.  *grrr*.
Still it did make for a relatively leisurely start in the morning, with a 5:30am alarm call, and 6:15am departure to reach HQ at Cyclopark, all of five minutes drive away.  I was a bit later than I'd planned since having had one overnight stay already, with kit to sort/wear for the day, a bag packed with clothes for the dinner/kit for the next day, and a bag full of food/gadgets/etc to put on the bike, I managed to totally misplace various essential things several times and had to find them each time, having put them somewhere sensible in a one bag or another but never the one I was looking in!
Since we were all in seeded groups, me being in Group 1, the 12-13mph group, we all also had staggered start times, so there weren't that many people queuing for registration.  Which is just as well as it wasn't very organised.  Rather than having one rider pack per rider, each one had to be given their timing tag, number, cable ties, sign a waiver, etc etc…all separately.  It took quite some time…but other than the odd eye-rolling when the eyes of slightly frustrated queuing riders met, all of whom would rather be getting their bikes ready, we all did the British thing and queued in an orderly fashion. I was number 10.  Well I was, except somewhere along my faffing way back at the car, I lost my helmet timing tag, so for timing purposes I ended up as number 19 instead.
Sometime after 7:00am Group 1 were gathered together for a pretty comprehensive briefing which, if you'd read the 30 page manual that came out beforehand, probably was a bit surplus to requirements, a bit like having a presentation where the speaker reads out the powerpoint slides.  I'm sure they had to do it for risk assessment/health and safety reasons anyway.  It did give us a change to meet our ride leader Ian, and our domestic Dave though.  There was one other but he was poached by another larger Group, there being only 13 or so in ours.  As we stood there, the weather was ooming, and the forecast, though improved on earlier in the week, was pretty convinced that rain was likely.  It started spitting a bit as we got to the start line, but I really didn't want to put my waterproof on as it was pretty warm.  Still, I did the wise thing, and did.  Well, not putting it on has only gotten me into trouble of late as I recall!
With a countdown, and air horn fanfare, we were sent off to do a quick lap of the track before heading out into the Kent countryside, following the arrows and our ride leader.  Riding as a kept together group was weird, and took me a long time to get used to.  Initially I was somewhere near the back, but having to brake for everyone else, especially downhill, was doing my head in a bit as I hate to lose hard-earned momentum, so I ended up much nearer the front where I could at least see ahead of myself and not have to worry about others more (probably sensibly) cautious than myself.  It wasn't flat either, there were a couple of decent climbs in the first 17 miles to make me realise my legs were still rubbish, and then an easier stretch to follow to get us to the first food stop.  The route was quiet, and pretty, along lots of leafy Kent lanes past what seemed like infinite numbers of Oast houses, but as it was still damp out there, taking photos seemed unwise.  There were various stops along the way, to co-ordinate layer stashing, and to wait for others catch up so we could re-group and carry on.  Some of this was facilitated by traffic lights which, like good, well-marshalled and supported little soldiers, we all stopped at.
My gears were a little out, so I took advantage (not literally!) of the mechanic at the food stop, around 25 miles in, to get them adjusted, which he did in no time flat, and perfectly.  Gotta love this supported riding stuff 😉  The food stop was, as they all were, fairly basic but adequate – with bars, gels, water/energy drink.  This one kind of summed up the route – the posh Surrey world interrupted by lycra louts!  I wonder what they thought of us?  But since we were escorted by a support rider out front, then the ride leader, then us, then the domestique, then a bike and support car, very few motorists seemed up for expressing their opinion on the subject, preferring to do as they were told and giving us a wide berth 😉
Kent is not flat.  It's quite lumpy, deceptively so.  Lots of climbing without lots of hills, which may make no sense, but some of you will know what I mean.  Climb up through country leafy lanes, arrive at top in leafy trees, go down and repeat.  Rolling, but with some big rolls!  There were however exceptions to the rule, and today's main exception was Kidds Hill, about 36 miles in.  Having arrived at the bottom en masse we were all then sent off at 30 second intervals to play at chasing KOM or indeed QOM.  As if – do be serious!  And yes, as billed, it was pretty hard work; pretty consistently steep, a bit more so at the bottom and then ramped up a bit again towards the top.  But it was not quite as bad as I'd feared it would be, and realising that, I just sat back and crawled up in my usual way.  A few riders overtook me, but not as many as I'd expected would, and at least one tried and failed, which was amusing.  Half way up the NSPCC team were out, cheering and clapping and rattling things, which was a nice touch.
It took quite a while to get us all up to the somewhat damp top, but the weather was improving and the big hill of the day was behind us, so everyone was pretty cheerful as they waited, once they'd recovered of course!  After a while riding across the top more moor-like area, with views to enjoy and so on, I was allowed to enjoy the descent my way – very fast very fun!  Luckily, as long as I waited up afterwards, Ian, our ride leader, was ok with that.  Which is good.  Though I did get a bit of a reputation for being a demon descender/speed freak.  Who me? 😉
Right, time for lunch.  Which really was lunch.  As in a meal!  I opted for beef lasagne rather than chicken curry, on the basis that it was probably the safer of the two options as I hadn't told them about my gluten/lactose requirements, and besides which, nothing sits well on rides.  And curry? *shudder*.  The lasagne was very nice, as it happens, and I surprised myself by eating it all.  Maybe I was hungry?
I passed on the cake that came too though – I thought that might be a step too far.  As we sat around, taking it easy, various juggling was going on to get everyone fed, including crew, as faster groups came and went.  Unsurprisingly we were caught and overtaken by faster groups both en route and at stops – there were 4 Groups seeded by speed – and as we were leaving yet another group arrived.  Some of them even smiled for the camera 🙂  At one point I was thinking about maybe joining a faster group and trying it, but with rumours flying around as they do, it would appear that the next group up, Group 2, were caning it, going far faster than the 14/15mph avs billed, and I decided I'd leave it and maybe consider it for tomorrow.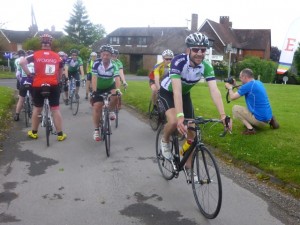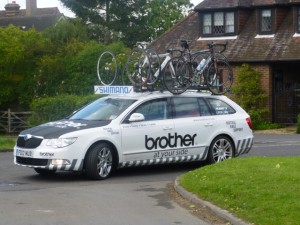 There was a bit of debate as to which way we needed to exit, as we couldn't see the usual arrow from where we were.  There was a sign though 😉  We were grouped up, led out, and escorted on our way again.  At which point I spent about an hour being very aware that lasagne was sitting heavy…I'm not used to riding after meals!  And since I usually sound like a steam engine going uphills, it amused me when one actually passed us going the other way…;)
Although I was dropping like a stone on every hill, I wasn't the slowest up them by far, and when it came to the flat/down, as I may have mentioned, I was possibly the fastest.  We sort of fell into a 50/50 split.  Half of us would have like to be doing a faster speed when possible, half of us couldn't, but we had to stay as a group, or at least not too spread out a group, to maintain the radio mike communication between all the crew, and also to stick to their rules and regs, which was a bit frustrating.  I made the most of the patches when I could do my thing, and waited as instructed, which was better than nothing.
The sun was out by now, and as we waited once more, this time outside The Star Inn, the thought of a cold pint of lager later was motivational; I'm very reward driven 😉  There were more country lanes, more bimbling, getting more and more strung out as people got more tired.  Uphill my legs were killing me, as all last week's training was still in them, but it was all very pleasant really.  Just like a weekend ride with mates, since our group had turned out to be a pretty sociable bunch.  And as long as I focused on that and stopped wishing I was playing pretend-pro, the miles just kept on passing by.  At least all the stops meant I was eating and drinking regularly, right? 😉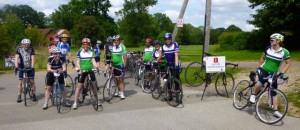 Here we all are, at the third and final food stop, ready for the final last 15 miles into Guildford.  And there's Ian, our ride leader, looking pretty pro, which he may well be, unlike the rest of us.  Having lots of riders in their free Tour jerseys was nice though, it made for a certain conformity, and looked good out there on the road 🙂
There were a couple of nasty stinger hills before we reached our final destination, which came as an unpleasant surprise.  At one point yet another well-organised peloton caught up again,  and we were instructed to wait to let them by.  I'm sure their "well done guys" comments as they flew by were well meant, but I'm afraid they did come across a tad patronising!  Luckily we chose just to find it very funny *grin*.  I did feel a slight pang though…should that have been me?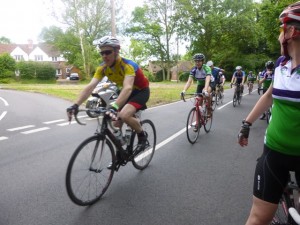 I was a bit concerned about negotiating Guildford, as I recall it being busy and having traffic, but as it turns out we didn't have any problems.  Once those climbs had sapped the legs it was a relief to discover we were the right side of town, with no distance at all to do, and we just rolled down into town and straight into the hotel area, just like that!   Day 1 was done, and around 90 miles and 6,300 feet of climbing were behind us.
The hotel turned out to be lovely, though it being 4* and swish, they seemed a tad (politely) bemused by all of us wandering around in grubby lycra.  Everything was organised.  Our bikes went into secure storage, our overnight bags were ready and waiting for us, and masseurs and mechanics were on hand for those that wanted/needed them.  What I wanted was to check in, get to my room, have a shower, put normal clothes on and then buy myself that cold lager I'd been dreaming of.  So I did.  Though since a 330ml bottle of Perroni ("we don't have draft lager") was £4.85, it was possibly the most expensive pint ever – ok, 660 ml – but you get the gist!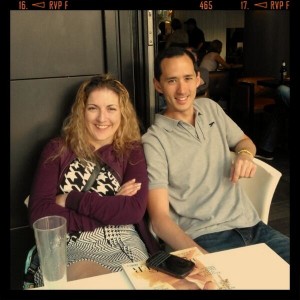 I was joined by some other riders and we killed time talking cycling as the time to dinner ticked down.  It took us a while to recognise each other in civvies!  There were some from my Group, and also a posse from Woking CC including Klem, who I'd already "met" pre-ride, but only on Twitter.  He insisted on tweeting a photo of the pair of us which probably isn't massively flattering, but the fact that he wanted to kinda was 😉
The dinner started with free fizz and mingling, followed by a sit-down three course meal complete with compère and inspirational speech by Paralympian Mark Colbourne.  Again, not my usual fodder, but I figured I needed the fuel.  Tomato soup, bangers & mash, apple crumble & custard – stuff to stick to the ribs.  The white wine was no cheaper than the beer (ouch!), but it was at least properly cold and really quite nice.  There was also a raffle and various awards, including those for the KOM and QOM up Kidds Hill in each Group, which was a nice touch – since interGroup competition would never have worked!
Things wrapped up at a reasonable hour so I hid out at the bar for a little longer, since early nights don't mean early sleeping for me.  It was nice just to enjoy some peace and quiet for a while.  Oh, and a little more white wine of course – for sedative purposes 😉