I was one of the first downstairs on Day 2, having gotten myself organised the night before, as is my wont.  Summer kit and arm/leg warmers + gilet on me, all my other stuff in the bag to be transferred back, and a small bag with gadgets/bottles/food to go back on the bike and in pockets for the day ahead.  The sun was already shining as I retrieved my bike from storage, leaving my still labelled bag there,  and duly loaded up my steed.  Not only had the mechanics oiled my pedals as requested, it turns out that they wiped down ALL the bikes, and they'd even adjusted my brake cables to brutal level!  So far in fact that, as I waited around out the front of the hotel for the others to join me, our mechanic loosened them off a little for me, to get them a little more to my taste.  Coffee and pastries were available in the lobby, it being too early for normal breakfast service, so I got my early morning caffeine fix and ate a breakfast bar I happened to have with me, since no breakfast at all would probably be a bad idea, but then so would pastries!
The massage team and the mechanics were also already up and at it, helping riders iron out the knots, both physical and mechanical, to be ready for the day ahead.  It was pretty warm outside and the forecast was for even better so I nipped back into storage and stuffed my leg warmers into my bag.  Well, can't have the extra weight making me slower, right? 😉  The event set up around me, with the obligatory photographer capturing every moment.  Stand up straight, shoulders back, stomachs in, right? 😉  Once more I bottled it, and opted out of joining the faster group, as I was too scared to, and besides, our group was a nice friendly one, and I didn't fancy starting all over with new people.
Gradually everyone else emerged or arrived, although we were a few short as some of our group had decided that Day 1 had taken it out of them and Day 2 would be a step too far, which seemed a shame.  Today's rider briefing was considerably shorter, and so it was a smaller but fairly cheerful group that set off once again sometime after seven.  There was only a small toot on the airhorn this time, but I bet we still weren't popular with the more normal residents of the hotel! 😉
Having descended down two hills to get into Guildford, we were all well aware that leaving town would inevitably involve some up.  And before long there was a properly big one, which was one hell of a way to warm up and to realise that the legs were no better than the day before when it came to such things.  Today's route was due to be a little shorter and about 1/3 less hilly, which was good to know, all things considered.  The views from the top were amazing; you could see all the way to London, which my camera completely failed to capture properly so you'll have to take my word for it.  If I'd found the hill hard, some were finding it even harder, and we slowly regrouped at the top, enjoying the views and the sunshine, and being overtaken by other unrelated cyclists all wondering what we were up to.  It would appear the sun had brought every cyclist in Surrey out!
It wasn't the only such hill, though as I slogged up the next one, I took comfort in the fact that the middle section of the ride was due to be fairly flat by comparison, with the exception of today's hill climb challenge.  Yes, just like every other cyclist in Surrey, we were due to do a loop to take in Box Hill before heading back to Gravesend; something to think about as we once more waited to regroup.  I like Box Hill.  Mostly I like knowing that I've done it before so I can do it again.  It's also nowhere near as steep as most of the other hills we had conquered, it's just longer and wiggly and prettier.  Oh, and iconic.  Not that I'm into Col ticking or anything 😉 At least we weren't going to have to cycle up it 9 times, right? 😉
Once more we were set off at 30 second intervals from the bottom.  A little bit of me had wondered if I could maybe do it at a little more speed than usual, but as yesterday's QOM passed me, any such thoughts evaporated away in the sunshine, and I stuck to taking photos, shooting the breeze with other riders, and enjoying my usual bimble to the top where the National Trust café is, and where our first food stop was.  There were NSPCC folk waiting to clap us to the top accompanied by several families who were presumably there to cheer Daddy/Mummy along, and more than happy to cheer everyone else too, which was nice 🙂
I think we were the first Group to the top but the following Group was overtaking us as we stocked up on water and food, hurtling in one by one all hot and sweaty and competitive.  Must remember what I've done with my competitive spirit…I know I left it around here somewhere…;)  Mind you, there's a lot to be said for knowing your limits 🙂  I also know the routes around here so I enjoyed the downhills afterwards a lot, as ever, but was also ready for the nasty kick up that comes somewhere in the middle of those glorious downs – and I nearly made it to the top out of the saddle, but not quite!  At least I can say I tried 🙂
On the way out of the Box Hill loop our QOM and friend had to stop, and it turns out they'd had a puncture.  Not a problem, the support car stopped with them, swapped her wheel for a new one, and she was with us again before we really realised it had happened.  Very swish!  As the route got flatter, and after yet another stop to regroup along the way, it was clear that we were once again falling into two groups, and some of the slow group were far from happy with having to try and keep up.  So for the next stretch of the ride we were actually allowed to split up, and 5 of us had a very happy fair few miles of flying flat section in the sun all the way to lunch, which was very lovely, very enjoyable, and possibly the longest stretch we went all weekend without stopping.  I was even allowed to lead from time to time, which was kinda cool, though Ian did keep having to rein me in as the speed would creep up without me noticing.  We made a good little group, and I think we all enjoyed it.
Lunch was once again full on, and this time I opted for the tuna pasta bake, rather than the cottage pie.  I may even have eaten some the cake 😉  There wasn't anywhere to sit so we all sprawled around in the sunshine on the tarmac, not an excess layer in sight by now.  Too much sun for some, who preferred to enjoy the shade inside, which doesn't happen very often!  One of our number had a dodgy knee; mine was doing fine thanks to being all kinetic taped up, in blue to match the bike of course.  It turns out that due to a multi-rider pile up somewhere back in Dorking, the relevant medical assistance was quite some way away and would have to be waited for.  Then, while that knee was eventually being treated, there was a bit of a palaver as some of the slower riders, who were considering taking a ride in the team car for a bit couldn't as there was space for two riders but only one bike on the roof, the other one being used by a spare just in case Wilier.  So they didn't.  But the broom wagon was a long way away too and no-one wanted to wait around for that.  Rather than making a decision, hard though it would have been, the support team were very keen to please all of the people all of the time and to not upset anyone who wanted to finish, and after endless debate, it was decided to carry on all together, and try and keep together – the two groups we had ended up in before had apparently become too far apart, thus breaking radio communication, and the various rules of the road that we were having to follow.  By the time we set off again, an hour and a half had passed…
So we were back to one slower group, cycling at the overall speed of the lowest denominator.  And getting slower all the time as everyone got tireder.  It was getting more and more frustrating, as I don't think we went more than 5 miles without stopping, making it really hard to get into any sort of rhythm.  It was hard on the slower riders, feeling forced to go harder than they wanted, in the heat, and hard on the faster, forced to go slower and stop all the time.  A lose-lose situation.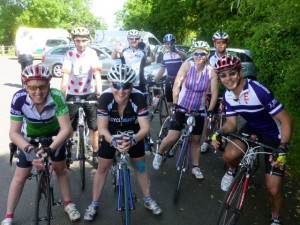 When we arrived at the next food stop, all of 15 miles later, one rider had well and truly had enough and bailed.  Being local he decided to make his own way back, his way, and left just like that.  One of the others decided that she'd hitch a ride in the support car until after the two big hills that were ahead of us and then join in again to ride in to the end, which left all of 6 of us.  It was really hot by now, and I resorted to pouring water all over my head, in time-honoured fashion.  It always works, and it did this time too.  It was decided that we should all take some time to recover, and for that knee to be treated again.  Like half an hour.  It only have been 15 miles since the last stop I would have loved to be underway much sooner, and I wasn't the only one, but ride leaders are there to tell you what to do, and he did, so we waited.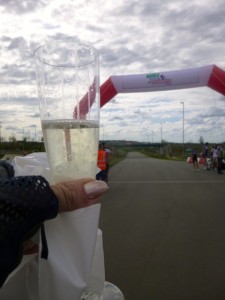 Right, time for the last 15 miles, and those last two long long long steep hills, which came pretty much straight away.  Hard work!  Still, I didn't walk, I plodded, the knee didn't hurt, and I wasn't the slowest.  Those done, and behind us with a sigh of relief, we regrouped for the final stretch, rejoined by the hitchhiking rider, and we wiggled back amongst the familiar Oast houses and the quiet country lanes back towards Gravesend.  We emerged from the countryside to find ourselves practically there, and rounded off the ride with a victory lap of the track, which we nearly raced, but decided to be restrained, aka finish in one piece!  Discretion, valour, etc.  The 5 of us who'd spent most of the ride together lined up, and we crossed the Finish line together, to be cheered in by a welcoming committee, complete with fizz (how very TdF), medals, and generous goodie bags.  Nice 🙂 Day 2 – done!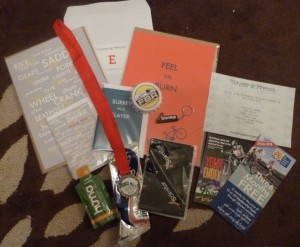 We were far too late to join in the optional racing, even had we wanted to, but we were in time to witness the presentations of more K/QOM prizes and also prizes for the race winners.  Having been first out, we were last in by a long way, so there weren't that many riders or crew left around, and with us all safely in, the event started slowly dismantling.  I had a chat with a few folk, thanked everyone for having me, collected my bag, stashed the bike and so forth in the car, and went and used the Cyclopark changing facilities to have a very welcome shower.  Well, I didn't want to spend hours driving in the car in that state – not a pleasant concept!  So clean, with a frock on, the Tour of the South East was done, and it was time to hit the motorways and head for home.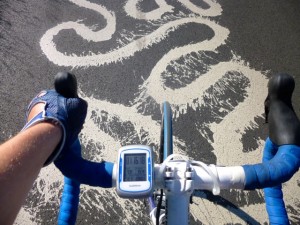 So…in conclusion?  It's a really good event.  Managing Group 1 was the problem, and it was made worse by logistics issues – maybe not enough medics, or bike/rider transfer capacity.  By the time we got in on the Sunday, we'd been out for 9:21, of which only 6:16 was spent riding the 84 miles and 4200 feet that we tackled.  I just wish I'd had the nerve to join the faster group… 🙁  OK, I'd have suffered on the hills, but I reckon I could have managed the rest…but then hey, 20/20 hindsight and all that.  On the other hand I had a fairly enjoyable two days riding my bike in the (mostly) sunshine, totally supported, with everything catered for and to.  I just didn't quite get the semi-pro peloton experience that I'd been looking forward to, which is partially my fault, and partially theirs.  But then it's a charity ride and a club rider challenge – and it must be hard to figure out how to be both!  Still, if they'll have me next year, I would SO do it better.  On the other hand I wonder if they could use a ride leader for Group 1? 😉