Welcome to Day 2 of the Tour of Wessex.  Just for once I'd managed a decent pre-sportive night's sleep, and I wasn't all that thrilled by the 5:45 alarm call…but hey, who would be?  Still, time to get up it was, so I did.  Sean and I consumed various incarnations of oats, in traditional cyclist stylee, before loading up the car.  I had warned Sean what state my bike was in, but it wasn't until he transferred him from my car to his that he realised I wasn't dissembling, and that he would now have to wash his hands!  Well, everything else got washed last night, I just couldn't face washing the bike too!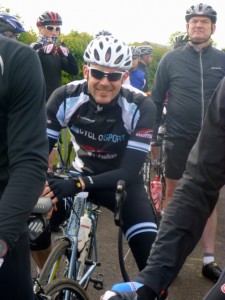 We set off on time, with me playing navigator as Sean was driving and doesn't know his way around here.  After not squashing lots of early morning bunny rabbits, and a bumpy but uneventful drive we arrived at Somerton, and were marshalled not onto the playing field, which was apparently no longer up to playing parking lot (more of a quagmire I bet!), but into a nearby industrial estate, passing Guy leaving on his bike already, where we were parked up outside a Somerton Town Council owned building.  Hard standing has it's upsides though – no grass in your cleats!  It also meant access to indoor toilets without any queues – result!
The weather was much nicer this morning, as was the forecast, but after Day 1's antics, I really wasn't sure whether to believe it or not, or what to wear.  Nothing new there then!  I decided to wear somewhat less, partially because half my kit was still at Chris', but really because it was supposed to get something approaching warm later.  So tights, toe covers, s/s jersey, arm warmers, fairly heavy Maratona gilet, and my waterproof over the top to keep the chill/wind off until I'd warmed up.
It was, according to Guy, 0.9 miles flat ride to the start, but far too flat to really see how the legs were feeling.  Actually getting to the start involved going around HQ and through all the parking/camping etc, which had an element of cyclocross to it, but somehow I managed not to have to ride on the grass.  There was nothing to do this morning but get to the start line, via toilets that had no queues but seriously needed cleaning!  Today's line-up had changed considerably.  No Jon of course, but Guy, Martyn, Sean and myself were joined by Gary, Robin and Peter, all of us with different plans for the day.  Having removed any self-applied pressure do to the whole 335 mile three days yesterday, I still hadn't really decided what I was doing.  After all, today's long route was to head South to the coast and back and included one of my favourite stretches of ride, along the coast above Bovington Camp to Corfe Castle, and I was thinking I'd still like to do that.  It's a lovely climb and it is beautiful 🙂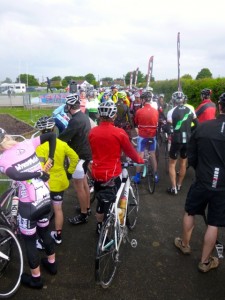 We joined the start line somewhat further back this time, although still rather too close to a speaker for comfort.  The Start/Finish arch was missing, having blown down the day before, which just goes to show what a lovely day that was.  The commentator did his best to jolly us all along, and since it wasn't raining, things were already looking up!  One more countdown, and we managed to be away in the first group, off to find out exactly how those legs were feeling.
The first section of the route was lovely country roads, and fairly flat, always good for warming up.  A rolling start, if you like.  I did my best to stay with the group, but it really wasn't good enough.  Hit an incline, and I dropped like a stone…  And the first proper one of those and they were gone.  Ah well, I'm used to it these days.  Although I'd kinda like it if folk said au revoir before they did so, but such is life.  However on one such up, possibly in Ilchester, I was very pleased to discover Gary waiting for me.  'Rah, a friendly face!  Maybe I wouldn't be on my own all day after all!  I took advantage of the stop to stash that by now boil-in-the-bag waterproof away, and although I was a bit chilly for a bit as I got used to the change, it definitely helped.  I don't perform well, or rather make that I perform even worse, if I'm over-heating that way!
Gary and I carried on our merry way, with him waiting for me at the top of ups, but still essentially sticking with me.  I checked like a million times that he really didn't mind, being well aware of the fact that I was holding him back.  However apparently that's what mates are for however, so I stopped checking and just got on with it 🙂  Gary is, incidentally, at least half the man he used to be and more than twice the cyclist.  Must learn how to emulate that!  Having ridden this route three times before, I knew was a particularly big lump ahead of us, but had conveniently forgotten it wasn't the only one and that others came first!  At least that meant I'd gone up, and could enjoy the flying section down to the Cerne Abbas Giant.  It helped to know it was there of course, and over-taking people who've dropped you on hills is always amusing.  Hey, they'd catch me again soon enough.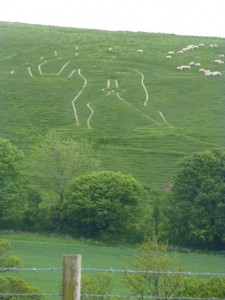 In previous years the food stop has been at the lay-by by the Giant, and we stopped there anyway, to immortalise his tumescence once more.  Which is a fancy way of saying big cock but that's usually Guy's joke.  However since he spent the whole ride without saying it, it seems I should *grin*.  It turns out that a lot of people were so busy concentrating where they were going that they missed him, which is a shame, since landmarks is part of what makes this particular route so nice.
Right then.  Time for that hill.  A quick wiggle through the pretty village of Cerne Abbas itself, where the residents were looking a bit bemused for us, and several signs showed that they were more concerned that we might upset the horses than vice versa.  Not that I saw a single horse that is.  And I had plenty of time to look around going up the hill.  It's a long fairly consistently steep climb and I knew it was going to be hard work.  Somewhere near the bottom we passed Sean, puncture stricken but far enough ahead of us to have had time to have practically finished changing it, so he waved us on our way.  Up and up and up and past the drummer and up some more.  Still, as is always the way, later rather than sooner, it was done and behind me.  And man, the views from the top were amazing.  A reminder of why riding up hills is worth it.  That and the lovely down that came afterwards of course.  At some point on one of the downs today my Garmin showed 48+mph…but I've still not made it over 50 mph though!  Well, a girl has to have a goal, right? 🙂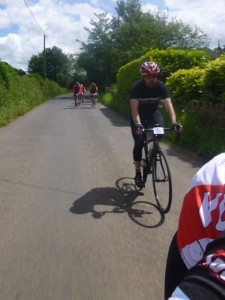 The first food stop was shortly after this, predictably full of riders queuing for food and the two portable toilets.  As I arrived, I met Derek again, he of Black Rat Three Bridges fame, celebrating his birthday in typical cyclist style – on the bike.  He informed me he was relieved I hadn't taken his "you don't descent like a girl" comment on that day as an insult.  Far from it 🙂  It was nice to see him, and to be in the sunshine once again.  He went on his way, and I joined Guy, Martyn and Gaz in eating food and taking a break – Guy had kindly grabbed me a banana on one of his trips thataway.  Martyn was keen to be on his way.  Peter and Robin also.  Guy asked me which route I was doing…  Well I hadn't decided.  But it felt like a leading question…and as it turns out, he was considering doing the shorter route.  Perfect.  Because that little "you're crap" voice in my head had been thinking…  Well, I reviewed the "Long" Tour of Wessex route last year.  For journalistic integrity it would make sense to now review the "Short" Tour of Wessex, right?  I truly admire my brain's ability to come up with excuses on demand, it's impressive 😉  And given the chance to do the short route in company?  Sold!  Gary decided to join us, the others headed off, and we set off at my more leisurely place.  We never did see Sean though…and just presumed he'd gone hurtling off past us at some point.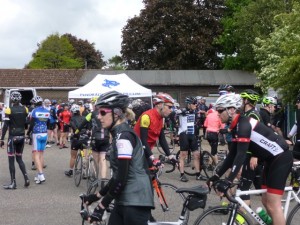 The route split came somewhere around Puddletown.  Just as well as the group of pretend-pros behind us, complete with shouted rider instructions etc, were getting a little annoying.  We went left, they didn't.  *Phew*!  And don't towns around here have the best names?  Especially when there were no puddles to make assorted jokes about 😉
The route took us through to Tolpuddle.  Ah, well, yes, it would have done if they hadn't closed the road for some town street event.  Diversion it said, you can't come through they said, so we headed off to follow the diversion.  Which diverted us as far as somewhere and then just dropped us there, having lost the route and missed the turning the route would have taken.  We tried to guess where we should go…but since it turns out that that would have been left and we went right, that clearly didn't go very well…  A little further down the road the guys were once more waiting for me, there having been an inevitable up.  This was good since I needed a comfort stop, and we needed to decide what to do.  As it turns out there was a marshal for another cycling event on the corner, complete with something very old skool – a map!  I reckoned we should head what looked like North ish for Bere Regis.  So did the map.  My geography may suck, but my sense of direction ain't bad.  We also knew that at some point we had to go through Milton Abbas, somewhere so pretty it was bound to be on road signs eventually.  There was nowt for it but to head off and see what happened.  There has to be a joke about being martyrs to cycling in there somewhere though, right? 😉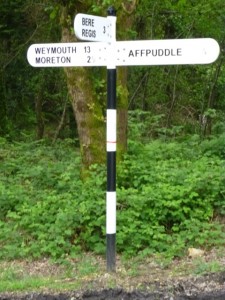 It turned out to be very pleasant nonetheless.  We'd picked up a hanger-on, who'd decided there was safety in numbers, which felt a bit weird.  Us three chatting away familiarly and him not. There were long straight green roads, quiet, no riders or traffic, scenery, Forestry Commision land section, fair weather, and fair wind (such as it was it was now behind us).  After another stop by Bere Regis, some consultation with the high tech (Guy's Garmin) and the low tech (a very chatty dog-walking lady), we found ourselves back on the route and heading for Milton Abbas.  Always nice to see those familiar black on yellow signs, even if there were more cars on the real route than on ours!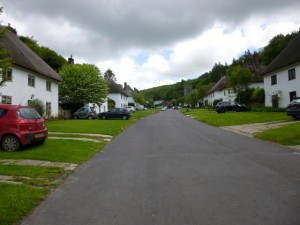 Last year Milton Abbas was full of fête and festivity and friendliness.  This year it was really quiet, with little to distract from the considerable climb up through it.  There was one group sat outside the pub who were busy frowning at us upsetting their personal idyll, even after my usual cheerful hello – grumpy s*ds!  You can tell it's up there on the affluence scale though – the road has been properly resurfaced, none of this silly short term cost saving top dressing stuff, all the way through the village, and the continued climb afterwards – it goes up a long way after the village, and well after you think it should have stopped!  They don't mind having posh smooth roads, but they're really not keen on Giant Wind Turbines it would appear.  Which led to much discussion as to what size would actually be acceptable, and to which dimensions qualify as giant.  After all, they're much smaller when they're further away right? 😉  I bet they're quite keen on having electricity around there though, for all the Nimbyism.  To be fair, I gather wind turbines are noisy, and I probably don't one in my (postage-stamp sized) backyard either.  But then I didn't really want a reservoir there either (as nearly happened) but am aware that water is a good thing, so was doing my best not to object to that on that basis.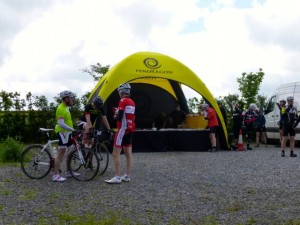 Anyway, where were we?  Round about the second, or third for the long route, food stop.  This one was much quieter – I guess the long route riders probably hadn't made it this far yet – and we had time to laugh at people swooshing in and out, all style and no substance – very funny. The chocolate flapjacks and jelly babies on offer were lovely.  Well, I thought they were then.  However for the rest of the ride it became clear that my flapjacks, liquid, gels, and theirs and whatever else I'd grabbed at food stations really wasn't sitting well.  I needed to keep eating and drinking but I really didn't want to, as I certainly didn't want to see any of it again!   However I'm pleased it stayed where it was supposed to for all that it threatened otherwise.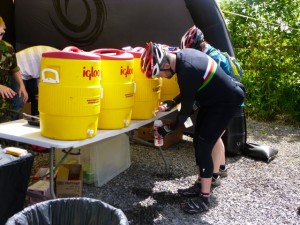 We were told at the food stop that it was 26 miles to go, and actually it pretty much was.  It was also fairly rolling with quite a bit of fast flat too and we worked pretty well as a little group, eating up the miles, picking up the odd peloton as well as growing our own from time to time.  Precious few bothered taking their turn at the front though, happy just to be towed home.  Even I was doing my bit – I like to make up for what I can't do by doing what I can when I can!  By now even my arms were out – not quite a first this year but not far off.  Cycling in nice weather is SO much nicer!  I ride better happier I guess?  Even the last little climb back into Somerton didn't trouble me too much, and very soon we were back under the now re-inflated Finish Line, with (thanks to the detour) 88 miles or so on the clock.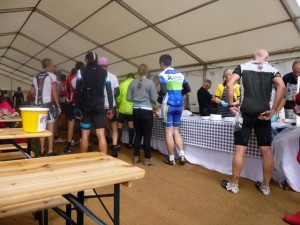 Guy headed off straight away.  Gary and I headed off to see Claud the Butler who still makes seriously good Americanos, to enjoy a little après ride.  See, he even kept me company for coffee!  Ohana 🙂  And many thanks to both of them – it made the day far more enjoyable.  If you've got my back, I'll go on…  Still, after a while, there was just me.  I'd completely failed to sort out how to rendezvous with Sean, and had run out of money, so I spent around an hour an a half talking to the world on my Crackberry and hoping he'd just turn up.  Robin and Peter did, and popped by and said hi.  Martyn finished but didn't.  And then finally Sean did – which was a relief, especially considering my house key was in his car!  It turns out that the puncture we saw was shortly followed by another, and of course he then did the long route.  Still, other than the fact that I should have been eating and stretching, there are worse ways to spend such time than sat in a sheltered warm tent in the sun, watching MAMILs posture.  Intermittently highly amusing 😉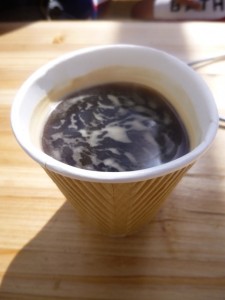 Cycling time: 5:51
Official time: 6:21
Distance: 88.7 miles
Avg: 15.2 mph
ODO: 4874.5 miles
Time to ride back to the car park, with bits of me protesting at being back on a saddle again, and to get home for the food I should have been having.  Oddly I appeared to have a ham egg and chips craving.  And what the body wants…  So it was that, once all clean and sorted for the following day again, Sean and I headed up to The Lamb for food.  Way quicker and easier than me cooking, and possibly more palatable!  And hey, a cold pint of lager never did anyone any harm, right?  Think of it as rehydration therapy…or sleep aid…or whatever excuse you need to make up for me 😉
Tour of Wessex Day 2 done.  A much better day for sure, even if my form was still as rubbish as ever! 🙂  Just one more early night and one more day to go.