Writing my blog and review for the Quebrantahuesos took me a very long time.  Unsurprisingly, as it also took me a very long time to ride it!  I also put quite a lot of work into my blogs.  Still, I couldn't write all the time, and I did manage to get out once last week for a quick recovery ride in the sort of sunshine.  I'll have to admit I did it on the old bike as I hadn't got anyone around to help me reassemble the new one, which Chris had taken the rear mech off when he put it in the bike box – talk about too technical for me! *grin*.  Once out there, it felt a bit like I was re-marking my territory – not cat style though!  Checking in with my patch, the Levels, the familiar roads…  plus ça change, plus c'est la même chose.  This may not be quite the kind of waterfall I'd like to be seeing, but better than nothing, right? 😉  Who knew it was possible to miss mountains…?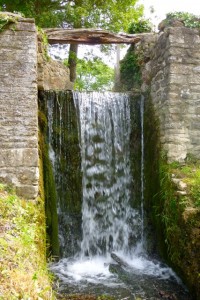 Cycling time: 1:40 hrs.
Distance: 27.0 miles.
Avs: 16.1 mph.
ODO: 16499.2 miles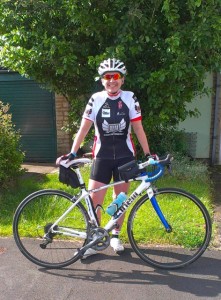 The ACG had big, long, plans for last Sunday, as GB will tell you. However I was due to be away, so I made a much shorter plan with Paul, he with the racing legs.  It was a good excuse to wear my proudly earned kit…even if it doesn't go with the bike.  Heinous I know.  I happily followed along, wheelsucking as ever, for a loop out to Sweets for coffee and back.  Very pleasant it was too.  I am getting a tad bored of riding on my own and it was really nice to have company.  He even found us a little steep hill to do that I wasn't familiar with – chapeau!  As you can see, Glastonbury, mid festival, was looking very lovely, though this was as close as either of us fancied getting!
Cycling time: 1:48 hrs.
Distance: 28.5 miles.
Avs: 15.8 mph.
ODO: 2666.9 miles.
I should be watching the Tour de France, but to be honest I'm a doer, not a spectator.  And though I may be a tad confined to the sofa today, that doesn't mean I have the patience to sit still and watch hours of cycling.  I gather Cav won his first stage today though, which is cool.  Besides which, if I want to know what's going on, I only have to take a peek at my twitter stream from time to time.  On our way back from QBH we stopped at a service station, which just happened to be dedicated to the Tour de France in the Pyrenees, with an awesome cycling sculpture thing.  The perfect stop for us, n'est-ce-pas?  I wonder who'll be doing this in a few weeks time?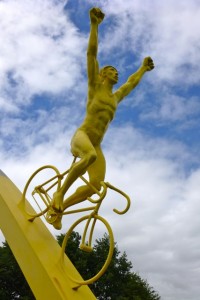 I don't know what next year will bring. I'm hoping it'll be less challenging than this one, and I don't mean on the cycling front. I'm currently mulling over options for next year's big goal.  I wonder where I'll be going to next?  Suggestions?  So far I'm tempted by the Cingles de Ventoux, or maybe the Etape if the route is interesting, or, or….well?