Another Sunday, another sportive. I like my life predictable :). Today's was the White Horse Challenge, an event I've done once before, in 2008. Blimey, was it that long ago? Apparently so….doesn't time fly? Etc. etc. This one is one of GB's favourites and there had initially been a plan for an ACG posse to draft him around and help him beat his previous time. However not all plans come together, and this one was abandoned a little while ago. Which is good since there was no way I was ever going to be able to keep up and I would have been left behind, all demoralised like. This way I stood a chance of some company to ride with :).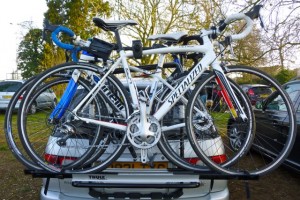 The ACG team car, aka Martyn's Picnic (still a very stoopid name for a car), arrived here at 5:45am, and collected both I and Gary, as the skies brightened and the pink clouds cleared. An uneventful and cautious drive down the motorway (well, there were three expensive bikes on the back!) got us to HQ at Shrivenham around 7:30am as planned, and we were marshalled on to the field to park. Not really a field, more of a wooded glade off to one side of the venue. GB, having arrived exceedingly early, was parked in the small car park actually next to the building, and a little down our row from us Figgy was already parked up. And then there were five. Before getting ready, we walked across the pitch, past people queuing for the four portable toilets outside, and into the hall to register. After a brief wait at the table designated for my number range, a lady appeared from somewhere, checked I'd signed by my name and number, gave me my number, and an electronic ankle tag. She instructed me topick up cable ties and map on the way out, and to enjoy the ride. Oh, and by the way, the toilets are inside on the right. Which they were.  Way better than outdoor loos, and you gotta love being a girl – no queuing at all!
Now the forecast was for dry until late afternoon, fairly mild but not hot, a little breezy…ooh, the layering options were bewildering! And with three of us faffing around one car, it was like faffing squared. Or cubed!  Poor GB was left kicking his cleated heels in the sunshine, waiting for us, for some considerable time. Taking advice from a hardy northerner as to what to wear is probably a bit daft, and Martyn doesn't like to be cold. Rock/hard place. So, should you be interested, here's what I went with, and which worked. Winter socks, shoes, bib longs, long sleeve base layer, winter jacket/jersey thing, mitts and overgloves, birthday Buff on head. Voila. Done. At some point the overgloves came off, but the rest of the ride was catered for by the frequent use of zips, and pulling my sleeves up and down occasionally.
Eventually we all assembled at HQ, after a few trips to and fro the car for forgotten things. We were joined by Martyn's tri-athlete friends Mark and Jeannie. The plan was to be two groups. A fast, race 'round group (Martyn, Gary, Figgy, Jeannie), and the keep me company slow group (Me, Guy, Mark).  Departure was an informal affair, just a case of heading off over the timing mat when you were ready to go, so off we went. We set off in the sunshine as a larger group, which didn't last long as there was a draggy hill about two miles in which came as a nasty shock! My legs felt like achey lead (can lead ache?), and it was 'orrible! The sort of horrible that makes you wonder if turning around and going home might'nt be a good idea. As the group spread out, with riders finding their own level like water, I was pleased to discover that the next 15/20 miles or so were fairly flat, which allowed me to warm up and get into my ride properly, and shake off that I feel like death slightly warmed up feeling. The fast lot rapidly disappeared off into the distance, never to be seen again, leaving us three behind to get on with it our way.
It was a lovely day to be out riding. If it had been a bit warmer and a bit less windy it would have been a lot perfect. Even so, there are definitely worse ways to be spending a Sunday morning than riding along quiet country lanes in chilly Spring sunshine, with gorgeous views, stunning scenery, and wide open skies.
And it's a lovely route. There's plenty of flat and fast, and some lovely long climbs, with equally lovely downs. There was in fact a deceptive amount of climbing, which is not to say that it's a very hilly route, more that you climb more than you realise, almost without noticing. There were enough hills to be challenging with enough space between them to recover in time for the next one. Apparently one of those hills was 17%, as indicated by a road sign which I missed, which is probably just as well from a motivational point of view. I did make it up all of the climbs, however slowly, and I have to admit to taking a certain pleasure in riding past walking riders…  Hey, I've walked up enough hills in my time, I've paid my dues, I feel I've earned it ;).
It's not called the White Horse Challenge for nothing. Yes, there's Challenge, but there are also White Horses. Four of them, though I didn't seen the last and oldest one at Uffington. Apparently it's not actually visible from the final killer climb that takes you over the hill on which it resides.  It's a big hill, and they were playing King of the Mountain timing games up there, so I was too busy concentrating on getting up the hill to be looking around for it too much anyway. As the last big climb of the day, it was quite enough for tiring legs to deal with, but it was at least followed by a fair few miles of flying home, which were great!
Today's ride gets points for food stations with a range of goodies, and toilets. In fact the second stop proved that, contrary to what some believe, it is possible to have a portable loo stationed on public land somewhere…and it was clean, and still stocked, which was pretty impressive!
It's a lovely friendly event – at least when it comes to the organisers, helpers, and marshalls. Most of the riders out there were friendly enough as we said hello in passing too. GB and I form what I call the "Relentlessly Cheerful Brigade" on sportives. This means saying hello to every rider you pass, and politely greeting every pedestrian or horse rider we encounter. This amuses us, and possibly takes the edge off the behaviour of the odd stupid peloton, such as the large one that decided that they had right of way at the roundabout in Wootton Bassett and would just hold up the traffic while they did what they wanted. We made a point of stopping, stopping others, and allowing the quite rightly irritated lady driver go where she was perfectly entitled to have been going in the first place. Honestly, sometimes us cyclists don't do ourselves any favours – and I bet those same cyclists complain the next time a motorist goes off on one about the behaviour of cyclists too!
There was a bit of a shortage, ok a lot, of people saying "Clear" at junctions, pointing out obstacles, warning of approaching cars etc., something I'm noticing more and more on sportives, which is a bit of a shame. Luckily the roads were for the most part, unlike the A4 stretch past Cherhill, pretty quiet. The road quality varied a bit, from the lovely to the quite a lot of potholes but since there wasn't much traffic, it wasn't too hard to avoid those. The signage was pretty clear, as you can see, though the GPS route must have been a bit join up the dots with straight lines because Bella peeped off and on course all the time, which was minorly irritating.
We rolled over the timing mat a bit over 6 hours after we left, to join lots of happy looking riders chilling out in the sunshine. The fast group had been there a while, unsurprisingly, and were full of tales of how fast they'd pushed it, and couldn't have done any more, and if it hadn't been for those darn traffic lights maybe…etc.  We all printed our times out, an ability I always like, which included standards and KOM times. They may have gotten around fast – and they did – but I still beat Martyn up the hill.  And Figgy – though we reckon he stopped for a picnic half way up ;).  I'm planning on not letting Martyn live it down for a while…as he's well aware ;).
We sat around in the sun for a bit, drinking our free coffee, and wearing our well earned medals. There was a range of drinks, rolls, and cakes to buy, and the cakes in particular looked awesome. I'd probably earnt one of those too, if cake was my thing, which it isn't :).
Overall, we all agreed it was a really good event. The company was good, it was well organised, the route was nice, and the scenery was lovely, aided and abetted by the sunshine no doubt. It's a lovely part of the world to ride around. I felt pretty good the entire way around too, and even afterwards. It was my longest ride so far – 90 miles – but it only took the same amount of time as the previous rides – 70 odd – which is amusing, but that's because it was considerably less lumpy. My kind of sportive I think :).
Official time: 6:09 hrs.
Distance: 89.8 miles.
Avs: 15.6 mph.
ODO: 1363.95 miles.