I'm getting used to the 5:15am alarm.  To leaving as the sun is rising.  As I drove over Winscombe Hill, a deer and I shared space for a little while, before it vanished into a hedge and I carried on my way.  Near Banwell tiny lambs were gambolling around in the fields.  And, unlike the night before, it wasn't raining.  All of which seemed fairly auspicious as these things go.
Right then, White Horse Challenge, here I come.  As ever, I beat the satnav to Shrivenham, arriving early enough to get a parking space on the field behind HQ.  Which was good because I knew there was going to be a whole heap of faffing this morning, and that takes time.  I have gotten my kit wrong far too many times lately, so had been obsessively checking the weather forecast for days, and had brought a whole variety of kit options with me.  First off though, registration, on the basis that walking over there and back would show me how cold and windy it really was out there.  Plus, it being earlyish, there wasn't as yet too much of a queue for the four portable toilets outside, so I thought I'd take advantage of that.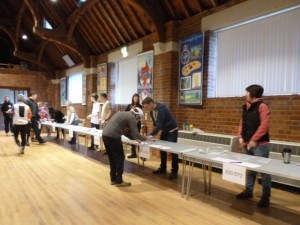 Registration was easy.  I signed alongside my name, my timing sticker was stuck on my helmet, and I was left with just my bike number to sort.  I passed on the free coffee, grabbed a map and two cable ties, and headed back to the car.  Being outside had demonstrated that it was indeed cold and breezy but, on balance, not quite as cold as it was last week.  Well, probably not.  So, what to wear?  Ooh, decisions decisions.  I mentally ran through my options, and what I've been wearing out there lately and, here we go, from the bottom up; toe covers, winter bib tights, s/s bamboo base later, s/s summer jersey, l/s winter jersey, lightweight gilet, winter collar, mitts, over gloves.  I was really hoping that I would have gotten it right this time…
Time to get going then.  My steed and I headed back across the field, where I joined a much longer queue for the toilets again.  When I emerged and headed for the start, I found Gary waiting for me without even having to look for him.  Yes, just for once I was doing a sportive in company.  Ooh, the novelty!  We'd had a chat beforehand and agreed that if either of us was as crap as we thought we were, and we ended up not being able to ride together, that neither of us would get grumpy about it, which sounded like a plan.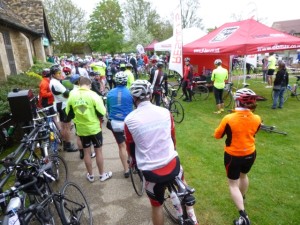 Time to go and put that plan into action then.  Riders were leaving one by one as they wished, no bunched starts here, so we duly rolled over the timing mats together and headed out into the chilly Wiltshire countryside.
Now, if last week's sportive was a ride of two halves, then this week's was a ride of three thirds.  The first 25 odd miles are fairly flat.  Which is good because it means you get plenty of time to warm up.  There is the odd up, but nothing drastic.  However, all of two miles in, on one of those, and probably also something to do with not being warmed up yet, my insides screamed into painful life.  And I use the word screamed because that's what I felt like doing.  I was already on the latest pills but it would appear they were wearing off!  It fair took my breath away, and I was out of breath already.  This did not bode well for the rest of the ride, let alone the hills 🙁
Still, on with the show, right?  25 miles of scenic flat back country lanes.  Which we did fairly fast as it happens.  I was muddling through, though probably not as conversational as I might sometimes be.  I hadn't warmed up yet, bits of me were screaming, and it was still pretty cold!  I sat on Gary's wheel as necessary, and we made our way around to the first climb of the day.  I've done the White Horse Challenge several times before, and today familiarity was a good thing.  For some reason it made the whole thing feel like a shorter event because I could break it down into chunks, and I knew all the challenges ahead.  And the first climb of the day – past the White Horse at Broadtown – I have done many times before.  However today, what with the pain, I was kind of dreading it.  I was very worried that going up was going to hurt even more which, unsurprisingly, didn't appeal.  And I was also annoyed because I've been doing pretty good up hills lately and to be sabotaged by my own body seemed unfair.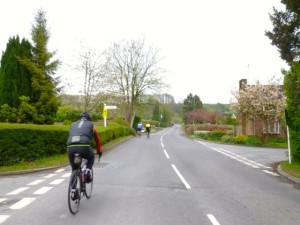 So I was very pleased when it actually went really well.  We'd agreed to meet at the top and yes, initially Gary drew away from me.  But as we got going, and my crawler gear engaged, I got it together, overtook some other riders, and by the time we reached the top I was on it and actually overtook Gary as the road flattened out.  It was, as I commented at the time, a lot better than I expected, which did massive amounts of good stuff for my PMA.  And it hadn't made the pain worse.  'Rah!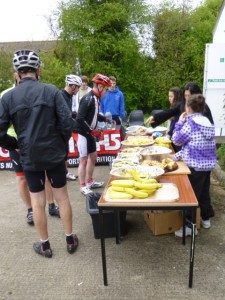 Which brings us to the second third of the ride.  Which started with a technical down hill, some flat and fun, and the first food stop, when I took the next dose of pills, ate half a banana, and popped into the village hall toilets.  We set off, and headed for more hills.  Which in this case would be the A4 past the next White Horse at Cherhill.  It's a very long gradual climb which is very attractive but, sadly, had a bit too much traffic on it.  Still I was warmed up now, the pills were working, and I was feeling a lot better.  On form even.  I actually accidentally left Gary behind me, but I waited for him at a relevant point, and we were back together to go through the stones at Avebury.  Which formed the pattern for a while.  I'd get ahead, then wait, and then we'd try again.
The stretch from Avebury to Hackpen is fairly rolling and fairly enjoyable, but without many places to stop.  It's not that wide a road which probably explains why the black Ferrari going past us all apparently nearly took Gary out – they're wide cars!  It just made me grin when it went past me – I love fast cars 🙂  Our next rendezvous was just after the right turn for Hackpen Hill, where we took a bit of a breather.  Gary was feeling a tad dizzy, so the maternal in me nagged him into not just eating but also taking a gel.  He did what he was told, though he may have been cussing me under his breath 😉
I love Hackpen Hill.  It's pretty, you can see it from miles off, the White Horse is lovely, I know I can do it, and I LOVE the flying stretch to Marlborough that comes afterwards.  Stick followed by carrot.  Overall it's one of my favourite patches of road.  The hill has hairpins and everything, and it's steepest at the beginning and then gets easier – the way all hills should be.  And again, it went well, I even overtook people on the way up.  And I waited for Gary at the top, which was handy for taking photos 🙂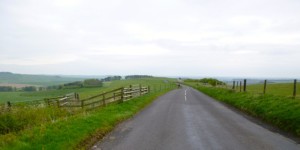 Having said that, the elastic holding us together was starting to stretch now though.  Yes I'd waited at the top, but I then had to go have the fun I'd earnt.  And I really did enjoy myself.  Fast flying downhill?  Of course I did.  But I did leave Gary behind again.  I waited in Marlborough though, as Gary and a small posse that had grown around him arrived, all of whom I'd overtaken on the way down 😉  We headed out of town down Chopping Knife Lane, which is a fab name, and set off into the middle of nowhere, with hilly wooded climbs, pretty villages, and yes, I'd dropped Gary again.  I think I only have one speed.  It's either the speed I can go at at any given time, or no speed at all, and sadly today it wasn't Gary's speed.  As I carried on there were quite a few more hills, including the one that has no name and no White Horse but is probably the worst of the lot!  I went up it with two other riders.  They both ended up walking.  I did not 😉
I reached the food station at Froxfield, about 68 miles in, feeling fairly positive, and did the usual.  I wasn't that hungry though and actually, looking back, I didn't eat that much today.  One small flapjack, half a banana, some Clif cubes, and one gel.  And about 1l of Nuun.  I can't say I felt the lack though, so I guess that's ok.  Anyway, Gary arrived shortly after I'd emerged from the toilet, and I was pleased to catch up with him again.  Or have him catch up with me I guess 😉
Which brings us, inevitably, to the third third.  Which was less fun.  I dropped Gary again, and decided to just keep going.  I felt a bit guilty, but the pills were wearing off slowly, it was still cold, and I needed to get this ride over and done with.  I also knew he'd understand.  Mind you there was also a killer head wind, and there were times I missed the chance of a wheel to sit behind!  So off I went.  There were more ups, and I knew that the big climb at Uffington was still ahead of me.  There was also lots of long draggy climbing through yellow fields, on long straight roads, straight into the wind, that just seemed to go on and on and on…  Talk about a slog.  My hard earned average speed was ebbing away by the mile, along with my PMA…*sob* 😉
Finally, and somewhat later on the route than I expected for some reason, we reached that last hill.  Uffington, aka the Dragon Hill apparently.  Which does have a White Horse, but you never see it!  It's also a timed hill climb, which always brings forth a wry smile…as if!  On previous rides this has been a pretty busy place, with spectators and the like.  It was quiet today, apart from the obligatory photographer half way up of course, which was actually quite nice; less pressure to perform!  And actually it was fine.  Just another hill.  A big one to be sure but hey, done it before, did it again.  In fact I apparently did it the best I ever have.  Go me! 🙂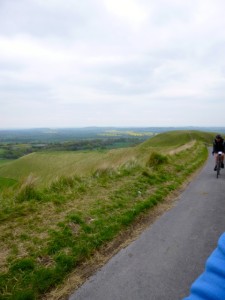 Right.  Enough with all the up stuff.  With only 6 miles of down and flat to go it was time to sprint to the finish.  So I did.  Which was fun, even with that bl**dy wind 🙂  Finally it was time to cross the finish line, print out my time, and drink fizzy orange while I waited for Gary to join me, which he did a little while later.  I'm pleased to say he was still talking to me.  Don't you just love it when a plan comes together? 😉  White Horse Challenge done 🙂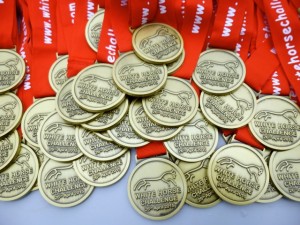 Cycling time: 5:51
Distance: 89.9 miles
Avg: 15.3 mph
ODO: 9092 miles
I'm a bit disappointed with my time; I think it's actually the slowest I've ever done it.  Which is weird because I swear it felt easier.  And I did good up the hills.  I guess what with the wind, and the whole screaming on the inside, and the painkillers, well…none of those are probably conducive.  But disappointment not withstanding, and all things considered, it actually went pretty well.  It's a nice ride, on a nice route, with lovely scenery, and I got my kit pretty much right!  I had a fairly good day out, and it made a really nice change to do a sportive in company though, even if we didn't stick together for the entire thing.  I may have to try and persuade more of my friends to join me at more events 🙂