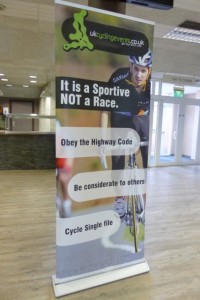 Last year's Wiggle Magnificat didn't go according to plan.  Read the blog, see for yourself, I won't bore you with the details.  Well, to be fair, I probably will allude to them, but hey, it's my blog.  So I had unfinished business, as it were.  Which is a ridiculous concept and a daft notion.  Like anyone cares whether or not I complete it.  It's not like my DNF was my fault, unless you consider that my inability to fix a broken chain puts me at fault.  But it is what it is.  A thing I set out to do that I didn't finish.  A little niggle lurking away in the recesses…
So I wanted to have a second crack of the whip.  Which is possibly appropriate, what with HQ being at Newbury Racecourse.  Having developed an inability to drive far without falling asleep, at fairly short notice I decided to find myself somewhere to stay the night before, if it wasn't prohibitively expensive.  Which it wasn't.  One family room at the Hilton Newbury Centre – £79.  They even rang me beforehand, due to demand, to check I was actually coming and would be using my room.  And since I was, would I mind swopping to a double room?  Which I did, having only booked the family one because it was the cheapest option.
Saturday was therefore a sort of leisurely broken up journey.  I went via The Mall at Cribbs Causeway, where I didn't buy half of what I meant to but did end up with an outfit for a wedding I'm going to soon.  Result!  As was finding two more Gromits :D.  I then drove down the M4 to Newbury, in the sun, listening to very loud music which probably drowned out my singing, to the great relief of anyone in the near vicinity, but kept me happily awake all the way there.  By there, I mean HQ, as having printed out the pre-ride pdf, I'd registered that you could register the day before and I'm all for anything that makes a sportive morning easier.  I thought I knew where I was going, having been here last year (you got that right?) but as the event is under new management, there have been some changes.  The main one of which is the parking – which is now at the front of the racecourse, not the back, on grass and with plenty of space.  It's still a bit of a trek to registration though – worth knowing for the real thing the next day.  You have to take your helmet with you – forgetting would be annoying, but there are plenty of signs to make sure you don't.  I walked over, signed my life away in the usual fashion, got my timing stick stuck on my helmet, and got a High5 bottle full goodies to boot.  Good start – Hi5 gels are fructose free and the only ones I can tolerate.  In fact I even quite like them, especially the caffeine ones :).  And since they were going to be available at every food stop, I didn't have to worry so much about how many to pack either.
OK, formalities done. I had a brief chat to Martin, one of the organising team, and headed back across the grass to my car.  As it turns out the Hilton was all of five minutes drive away.  Which, as it turns out, was possibly the only thing in its favour.  My room was fine but, like the whole of the hotel, devoid of air conditioning.  The window was ineffectively open, over an outdoor seating entry which was empty, as it's only for use by those using the conference/event facilities.  So there was nowhere outside to sit anywhere.  Indoors the bar and lounge were all dark wood and mugginess, and although it's not usual pre-event preparation, the only saving grace was the fact that the Stella was really cold!  I sat in the bar, reading Kindle books on my iPad, trying not to generate any more heat by moving around.  One ham omelette and chips (£12!) provided tolerable fuel.  I'd have like the healthy lemon and oregano marinaded chicken with steamed rice and grilled vegetables, but at £17, I think that was taking the p*ss…  Luckily a very good friend of mine, having discovered I was around via the wonders of Twitter, came over and kept me company for a bit which was very impromptu and very fabulous.  Hi Jo! :D.
I did try to get an early night.  We parted company at a reasonable hour and I headed back to my room, to discover that the function rooms were now hosting some form of celebration.  With a very loud disco full of people spilling out to outside, all right under my window.  Which then had to be closed, and proved as ineffective at keeping the noise out as it had been in cooling the room down.  Oh marvellous.  The festivities stopped around midnight, as they were supposed to, a fact I'd ascertained with a rather irritable phone call to reception, and I finally got to sleep.  I should have stuck to that family room – I bet those are further away from party central!  So, not an ideal start…but at least the alarm was set for 6:15am, not the much earlier hour that it would have been if I was at home.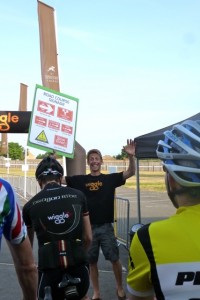 Getting sorted in the morning was easy.  It was already too hot, I was riding for Cyclosport, voilà, kit choice done.  No need for any other layers of any sort, not even to stash just in case.  I packed up my stuff, and headed out to the car, by way of a Grumpy of Axbridge conversation with reception.  Five minutes later and I was in the slowly moving queue of cyclists in cars funneling into the racecourse and being marshalled into the car park and lined up in the sun.  Easy.  As was getting ready.  Put bike together, attach number, stash required food everywhere, and walk to the start.  Plenty of very respectable facilities, as you might expect, which I used, as you would also expect.  There are four routes – Epic, Standard, Short and Fun – all of which have a different ride start slot, which presumably helps spread out the load somewhat.  There was certainly no hanging around.  I rode across to the start, joined the group forming there, got a ride briefing from a not at all camera shy Martin, and was off at 7:25am.
Due to the hot weather forecast, I wasn't entirely sure which route I was going to do.  I was down for the Epic, but decided that I'd see how I was feeling at the final route split, err on the side of caution if necessary.  I'd also decided that this was not a sportive.  It was an excuse to spend all day riding my bike in the countryside in the sun.  Nowhere else I needed to be, no-one at home waiting for me to get back (it's a motor racing thing).  Just me, my bike, and I.  Which is not a bad attitude to be heading off with.
Having re-read last year's blog, I thought I knew what to expect, but either my brain is faulty (distinctly possible) or they've significantly changed the route.  I was expecting a fair few hills early on, but after the first climb out of town, they didn't materialise.  I guess the new management have changed things quite a lot, but not in a bad way.  The hills were my kind of hills, and all pretty spread out.  I think rolling is the best way to describe it, and I didn't push it at all going up.  With the temperature rising all the time, I was very conscious of the need to not overdo it and pace myself over what could be going to be a very long day.  The signage was great, which considering I'd forgotten to download the gps file, was a good thing, and meant I could pootle around with worrying about getting lost.  Just as well, since mostly it was just me.  Occasional instances of APS, the same faces over and over again as we all played leapfrog, and the usual groups passing from time to time.  Oh look, I've been pelotoned.  It's my new verb.  Is it a verb actually?  My English Language studies are a little rusty.  Whatever.  It is the verb to peloton, to be pelotoned.  You can do it, or have it done to you.  To pass as a part of, or be passed by, a large group of riders travelling at speed and slightly too close to other riders, resolutely not saying hello or warning anyone of their approaching presence.  Sound familiar? 😉
Having decided to opt for 2 500ml bottles today, so that they could be easily swopped over on the move rather than the usual decanting palaver, I was a bit concerned about keeping hydrated.  There were four official food stops, the first three were at around 25 & 50 & 73 miles in (ish).  There was then a big 40 mile gap until the fourth and final stop, which had me worried, and rationing my bottles…not ideal.  Thankfully the organisers had reacted and at very short notice, got a team and an extra food/fluid stop set up at around the 95 mile mark.  They also set the motorcycle outriders to checking that everyone had enough to drink and and dishing out water if they hadn't.  All very responsive to conditions, very welcome and very wise!  I gather quite a lot of riders bailed on the Epic route precisely because they were over-heating.  Unsurprising when at some point in the middle here, my Garmin was showing 33C and the rest of the time it was 30+.  Blimey.  However the foodstops were all at proper venues, with toilets etc, where I resorted to my favourite method of cooling down – soaking my hair in cold water.  It works really well!  I also drank as much plain water as I needed too while topping up my bottles, and eating bananas and jelly beans.  There's a lot to be said for stopping, the sweat pours out, and then evaporates away and cools you down as you get going again! :).
Hurricanes clearly hardly ever happen in Hampshire, as it turned out there are, blessedly, a great many shade creating trees.  Essential on a day like this.  In fact there was lots of green everywhere, interspersed by picture postcard villages, and chocolate box thatched cottages.  Way more than enough thatched cottages.  An elegant sufficiency perhaps.  It could also be called the Tour of Affluent Hampshire, demonstrating amply over and over again why I moved to Somerset and couldn't afford to stay there.  The kind of houses it takes time to cycle past.  Properties that somehow aren't NT owned which means there must be people out there rich enough to actually own and maintain them!  Beautiful gardens, full of flowers and floral scents; lavender, chamomile, honeysuckle, English roses.  If I was an English rose, I'd have to be a white one, not a red one, it's an ancestry thing.  I'm arguably prickly enough to be one ;).  It was all very pretty, very nice, all day.  There were occasionally some very lovely views from the top of whichever rolling hill we'd climbed up, but for the most part, though scenic, it was sort of unremarkable.  More of the same.  Lots of England's green and pleasant land, inhabited by the kind of people who sing that at the Last Night of the Proms, I imagine.  Put it this way, I saw at least four different Aston Martins.  I even got buzzed by one.  I should probably have been cross, but there's always the chance that it's Daniel Craig come to sweep me off my wheels and lay me down in a bed of roses right? Make the earth move, if not the sky fall? 😉  Besides which, I have a soft spot for sports cars, and the sound of a six litre V8 (or whatever) engine kicking arse always makes me *grin*…
Gradually the miles ticked away.  Broken up into eating intervals, food stops, time between food stops, miles to go, estimated time to go, all those mental coping games.  When the route split came, I wasn't even tempted.   Because I wasn't doing a sportive, I was riding my bike in the sun ;).  Being as I was making a point of trying to enjoy that, I had time to notice all the fantastic names for towns and places we went past along the way too.  Inkpen, Hell's End Corner Farm, Craven Lodge, The Shoe, and Faccombe (sorry, very juvenile but it made me giggle)…  Even the hills along the way didn't really bother me, though there seems to have been more climbing than it felt like to me.  Maybe I'm getting better at it?  Maybe it's because whatever I was going up, it was neither as steep or as long as the Col de Marie-Blanque, and if I can do that, I knew I could do these.  Which is massively mentally helpful.  I do think they've made it the whole route bit easier, but I have no proof of that, I'm just sure I remember it being harder last year.  Towards the end, after that final and still welcome food stop, it flattened out, and I got faster, as usual.  Sprint finish time.  The Epic route had rejoined the Standard route now, and it was quite satisfying overtaking people knowing how much further I'd gone than them and that I was still going to beat them to the finish line.  Daft and petty I know :D.
As we got nearer the end, especially around Greenham Common, there was more traffic of both varieties, which was causing a degree of grief all 'round.  I let various cars past, including a silver Fiesta.  Having let it past, it turned out that she was such a cautious driver that she was holding everyone up trying to inch past cyclists…and eventually I was going faster than she was, having become stuck behind slower cyclists, and I had to overtake or, to be more precise, undertake her, overtake those slowcoaches and get on my way.  However when she eventually overtook me again, someone shouted obscenities at me out the window.  *sigh*.  Yes I'm a cyclist, and you're a motorist, but to allude to roses again, and to Shakespeare and other very English things, how am I that different to you?  If you prick me do I not bleed?  So it's ok for you to overtake me when I'm getting in your way, but not ok for me to do the same to you?  Same old, same old…the neverending conflict debate *yawn*.  I could easily have overtaken her several more times, but I held back a bit just to avoid the grief.  And hey, it's not a race right? 😉
And then, 125 miles suddenly behind me, it was over.  I was dropping back down the hill into Newbury, back to the race course, and over the finish line.  I was given a medal and sample filled goody bag, as well as another gel for bringing my rubbish back with me and not dropping it on the course – which was a nice, and motivational, touch.  I didn't see much rubbish out there on the road, so maybe it worked too!
My ride time was a little over 8 hours, which was better than I was expecting, and even with stops my official time got me a Silver.  FYI they only have three categories, regardless of age and gender – so it was a real bonafide Silver – not an old lady Silver!  Go me!  My unfinished business is now finished :D.
Cycling time: 8:05 hrs.
Distance: 125.2 miles.
Avs: 15.5 mph.
ODO: 2951.7 miles.