…rinse…and repeat…
The alarm went off at 4:40am.  Mad as a box of frogs…  Since breakfast no longer involves assembly – bananas come ready made – and I've got this packing for a sportive lark down pat (well, mostly), it doesn't take me long to get ready these days so I was out of the house and on the road by 5:15am or thereabouts.  I'm getting quite good at driving east these days…the roads most travelled of late (for the Lionheart, the Joker, and now the Wiggle New Forest…).  They're quite fun first thing in the morning, as they're fast roads, essentially empty, and when someone holds you up, overtaking opportunities are rife.  Draft and then slingshot past.  Not that I'm starting to drive like I ride or anything… 😉  *grin*.
I got to ride HQ – Brockenhurst College – around two hours later, which meant that although I was by no means first there, I did get to park in the car park nearest the start.  Always good.  Having done the New Forest 100 last year I was familiar with where everything was, and there are plenty of facilities – toilets, changing rooms, etc.  Registration took no time at all, the obligatory timing sticker went on my helmet, and that was that.  Sadly since I was doing this for Cyclosport – ie on a press/guest pass – I apparently wasn't entitled to the free Maxifuel pack that riders who sign up to Wiggle Events early enough qualify for, nor a free tea/coffee ticket, which I thought was a bit poor.  The latter especially – you know how I feel about coffee!
Time to faff.  Gaze at the sky in search of inspiration.  Slaughter a goat and check out the entrails for weather forecasting information*.  Um and ah.  Change my mind, change it back again…  Compare what I was contemplating wearing with what everyone else was wearing.  Etc.  Not that there was much deliberation to be done since the only actual decisions to be made were overshoes or not, overgloves or not, Buff on head or not.  The rest was what I was wearing and that was that.  I was tempted to skip the overshoes…but then I remembered how much I hate cold feet (see the Joker) and stuck 'em on anyway.  The overgloves went in the saddle bag just in case, and the Buff went on my head, on the basis that I could always take it off later.  I got it so right.  And to those of you wearing shorts, I can only presume you're all from up North.  Or just well 'ard.
As you can see it was grey and gloomy.  What you can't see is that it was also a tad chilly, and that there was more than enough wind.  Isn't there always?  Actually what is enough wind?  None?  Anyway, having run out of layers to consider, gadgets to set up, and delaying tactics to use, it was time to head to the start.  I took my place in the pen indicated, and waited my turn.
Following a short riders' briefing, our pen was on our way at 7:45am, one of the first away.  Today was my first solitary sportive of the season, though sadly it won't be my last.  I stuck with a loose group for a while as we got underway, and it was, as ever this week, bleedin' nippy out there once you started rushing that air past your skin!  Not as cold as the last event though, so I never completely lost touch with my fingers and about 10 minutes later they were back.  The group split up and spread out, mostly because they weren't going fast enough for me and I needed to warm up, not wheel suck – that could wait for later – so I put my foot down and hurtled for a bit just to get going.  The first hour or so is nearly always the fastest, and it's nice to get miles under your belt.  After a section in the so-called forest there was a climb up to the moor.  Well even the forest bits aren't very foresty, supposing that foresty was an adjective.  I reckon it should be called the New Moor not the New Forest as there seems to be far of the former than the latter.  And man can it be bleak up there!  Flat, open, exposed, with the headwind to fight against over slab-laid road surface – bump bump bump over every tarmac filled join.  Nice…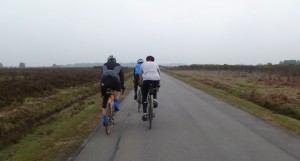 I put my head down and slogged along.  Being away so early meant I couldn't find a group to hook on to, so it was just me.  I was caught by a couple of the riders who I'd overtaken when trying to warm up, and after sitting behind me for a while they admonished me for being a lousy windbreak – apparently too small with too efficient a riding position – and promptly left me behind.  Charmin'.  Well, it's a backhanded compliment I suppose ;).  Initially the roads were lovely and quiet, until about 9:15am when clearly the local residents all woke up, realised they'd run out of milk or needed a newspaper, and hit the roads in their 4x4s and the like – so the traffic level increased noticeably.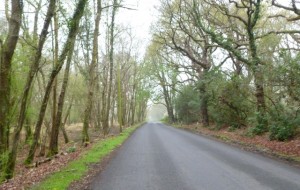 The weather slowly deteriorated, adding rain in varying strengths to the mix, and the temperature dropped another couple of degrees, so it was a relief to be off the moors for a bit.  I was glad of those overshoes now, and any thoughts of taking that Buff off my head were long gone.  The upside to the crap weather? Less people out there trying to enjoy the New Forest!  I think that helped a lot with the traffic levels, and with those drivers that were around not getting cross with cyclists being on their roads.   It was time to try and distract myself from the weather by enjoying the scenery.  Like this squirrel for example.  Though my youngest thinks there's a distinct possibility that it's a fox…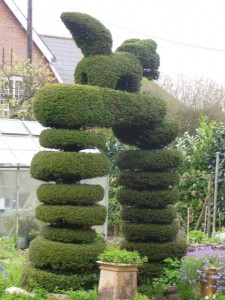 You should see some of the property lurking in amongst the trees.  Anyone want to buy a house, a very big house in the country?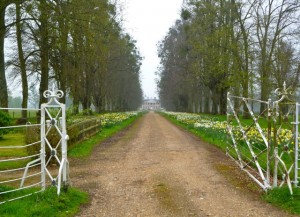 Presumably the owners are amongst those who are able to shop here?  Clearly, being hoi polloi, I couldn't get close enough to see what they drove, but I'm perfectly happy to make narrow minded assumptions *grin*.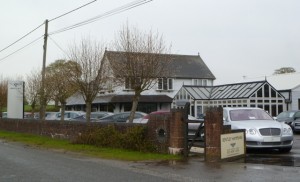 The first food stop came at around 35 miles in which for some reason, it being an 83 mile ride, seemed a little late.  It was also sat in the middle of an exposed grassy area, with no toilet.  Darn…  At least it had everything else you could possibly need – drinks, water, bananas, fig rolls, flapjacks, jelly beans, etc.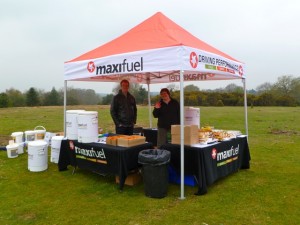 None of which are any use to me in my current intolerant condition, so I just grabbed some water and topped up my Nuun.  There were two very smiley staff, which is impressive considering where they were standing and the conditions in which they were going to be doing so for hours!  I chatted to them briefly, and bemused them by taking their photo, before being on my way again.  There was another food stop at 48 miles, which was really (I think) for those doing the MTB event, though I'm sure they wouldn't have refused to serve you if you had drop handlebars ;).  I didn't stop there though, nor at the third stop at 54 miles in, since I was travelling well equipped and didn't want to stop.
Anyone who's heard of the New Forest knows about the ponies, but it's not just horses and ponies that roam free you know.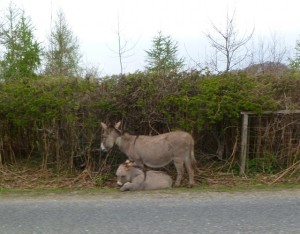 There are horses, ponies, cows, donkeys, pigs, and grockles!  Which as it turns out is a word that originates from the New Forest.  Who knew?  And how serendipitous is that?! *grin*.  But I digress…  Due to the weather conditions and being on my own, a lot of the ride felt like a slog.  There's not a lot of climbing involved, only around 8/900 metres all told, but there's quite a lot of gradual undulation.  Without big climbs, you don't get much by way of decent downs either, so you really have to make the most of those that you do get.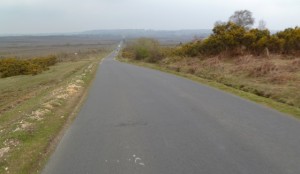 There was a memorable section somewhere on the return leg, back up on the moors, where the road was long and straight, and the wind was behind me, and I was flying for miles.  I could have done that all day :).  There is a kicker of a 25% hill in the middle as well, which I'd completely forgotten about.  The mind blocks out painful things apparently *grin*.  Which would be why I have two children not one presumably.  I think it's called Blissford Hill.  Anyway luckily it's short, and although I did have to get out of the saddle, I really didn't have any problems getting up it this year – whereas I remember it being much harder work last time.  Result!  Mind you one poor guy in front of me had clearly decided it was too much, and was about to stop, but failed to un-cleat.  Now this would be bad enough usually, involving toppling onto your left side on the verge as it does, but sadly in this instance the verge turned into a deep concrete lined drainage gully…I can't really describe quite what happened but it was fairly dramatic, involved him ending up upside down, with his bike on top of him, swallowed by the gully.  Judging by the cussing, it was also fairly painful.  The rider next to me was already stopping, so I just kept going, otherwise I could easily have joined him – stopping on that kind of hill with momentum is not easy.  If that was you – I hope you're ok!
At around the 55 mile mark, after they overtook me, I ended up as part of a loose group of four, which I stuck with for a while.  However one of them at least (a younger lass from Evolution Tri), if not two, were tri-athletes, and I have this theory that they just don't spend enough time road cycling.  No road warnings, no singling up to let cars by etc.  And no consistency to their speed either.  If I sat behind them they seemed to slow down, leaving me free-wheeling, and losing momentum by braking.  If I tried to sit on the front I'd end up pulling away from them, and then at some point, or junction, they'd end up with me again, and sit on the front again, slowing down…  Now I could have sat in this little group 'til the end, effectively being sucked home, and getting a free ride.  But I don't go riding to take it easy, and besides, that was going to take longer than I wanted it .  We were getting down to 20 miles to go now, my legs could sense the end, and at a decent speed I thought that could be done in a reasonable time.
OK, I'll admit it, I was trying to get a gold time.  Only because I managed one on the longer event last year, and it looked like it might be doable.  And it certainly wasn't going to happen if I stayed where I was so…I put my foot down again, and pushed it for the next twenty odd miles.  It may have been harder work than it needed to be, but they never did catch me.  Knowing they were behind me somewhere probably helped motivate me to go faster too!  I doubt it worked though.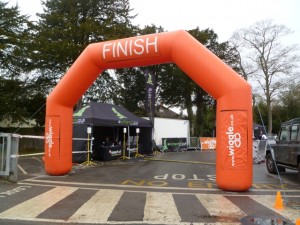 I crossed the finish line, fairly knackered but justifiably so, and collected my medal and goody bag (Cycling Plus, mini Muc-Off spray, bar, gel, water bottle etc).  After stashing my bike safely back in the car I went in search of refreshment.  There was quite a queue so I went and used the changing room and got, as that would imply, changed.  Well you can't stay in damp lycra for long, not when driving home is going to take another couple of hours, so civvies seemed like a good idea, and the queue was a little better when I got back and joined it.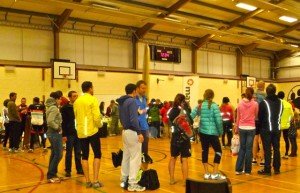 If such things are your thing, you could have had a sports massage too…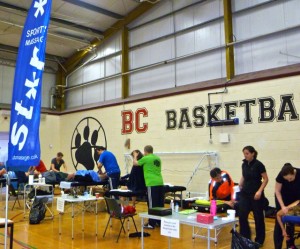 The fodder on offer looked all very nice, and if I could have I would have.  However they get extra points for having soup available – more events should have.  Well I was cold, and vegetable soup is a fairly safe dietary option for me, and very nice it was too.  Shame they over-charged me, but I wasn't feeling up to saying anything about it.  I should also have been interviewing people to see how they'd found the event but, when on your own, it's very hard to go approaching complete strangers in such a way, and I was feeling tired and quiet and shy, so I'm ashamed to say I wimped out.  If you rode it and have opinions about it, please get in touch! 🙂
Cycling time: 4:56:02 hrs
Distance: 84.52 miles
Avs: 17.1 mph.
ODO: 13156 miles
Ride number: 3848
Since the official times aren't out yet I don't know how I got on, but I think it'll be a Silver because of stoppage time.  It needed to be <5hr 5mins for Gold, which is never going to have been the case.  B*gger.  I'm a little annoyed that I was slower than last year's 17.8mph, but then I suppose I did spend a chunk of that ride in a group, and it was sunny and dry and towards the end of the season, all of which probably helped.  As opposed to early season, on my own, with miserable weather and a headwind.  I know, excuses excuses *grin*.
UPDATE:  Get in!  Official time is 5:03:28.  GOLD!  I am now a very happy girl :).
The official Cyclosport review is now up here :).
*(no animals were harmed in the creation of this blog 😉 ).