Plans are flexible things.  For a whole heap of various reasons, including several plans falling apart, I ended up able to join Guy on his long planned long Sunday ride yesterday.  Along with Steve.  Three ACG musketeers.  Or something.  Anyway I'd seen his route beforehand.  I was scared.  Though not scared enough to stay at home apparently.  Mostly because it started with the Glider Hill, which I have never made it up, which set me off fretting about it from the get go.  Not the best frame of mind for actually beating that hill.  So when Guy suggested that having driven up it the other day it was likely to be even more treacherous than usual what with wet and gravel and leaves etc and that there were other options I wasn't going to disagree.  And when we got there, having picked up Steve on the way, and he agreed with Guy, I have to admit to having been incredibly relieved.  Though the alternative was Westbury Hill which I did on Tuesday and didn't much enjoy then.  OK, so they were probably just taking pity on me but hey, I don't care, I know I can get up that one and once again I did…
Up and up and up from what had been semi-presentable early morning weather down in town, to cloud, fog, drizzle, and sod all visibility.  In fact taking the usual photo of the view behind me the flash went off – it was that dark!  As for views, what views?!  Not even anything to make all that hard work worth while!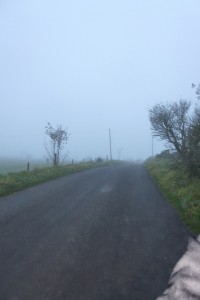 It did not make the climb any more enjoyable…that's for sure.  Compare these with the photos taken doing the same climb on Tuesday – talk about a contrast!  Still, I got another awkward eating photo – they're becoming my forté.  My signature dish.  Etc.  Guy was merely being tolerant…no smiling there.  Guess he's probably had enough of the omni-present lens by now!
The trek across the top of the Mendips was, not to put too fine a point on it, pretty miserable.  Headwind, 'orrid weather, slog…  I was not enjoying myself.  I was mentally entertaining ideas of leaving the pair of them to it.  Until we got to the long descent down to Chewton Mendip which I love a great deal and which may finally have conjured a brief smile onto my face, and which was enough to keep me going.  The weather didn't get much better, but once off the hills it was a little clearer.  The roads were unfamiliar to me though, so I wasn't able to take many photos – too busy wondering where I was going, and trying hard to keep up with those two.  We had a brief break at a conveniently closed road junction which came complete with cute chocolate box cottage – aka photo opportunity and excuse to stop!  I was feeling a bit flat so as I was informed we were still another 10 miles or so from coffee I grabbed a bit to eat too.  Possibly not enough.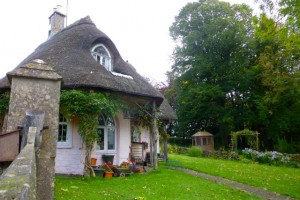 There was more riding, there was more climbing.  Quite a lot.  Today there just didn't seem to be hills in my legs.  Flat.  Downhill.  But not hills.  Was it because I was mentally behind and having to keep up?  Who knows?  I do know that the coffee stop at the Riverside Inn at Saltford came as a welcome relief.  Not only was it scenic, but the coffee was extremely good, and GB's bacon butty was lovingly presented.  Guy did try talking to me at the bar when we were ordering but apparently I looked a little wired.  He may have had a point.
We sat outside for rather longer than we probably should have because by the time we got going again I was shivering.  Even with the sun finally on its way out and the temperature slowly rising it took a while to warm up again.  There was a reason for this road sign – something to do with grumpy old men thinking it ought to have been located rather further away from the busy junction or something, but I may be recalling that incorrectly.  I was after all not the grumpy old man in question, merely the daft bint with the camera ;).
The route back was due to be shorter than the outwards leg, and somewhat less lumpy, which helped my PMA a little, if not a lot.  It was also more scenic somehow.  Back through Pensford, and Stanton Drew and the like.  Sunny skies, gorgeous autumn colours, pretty quiet roads.  As in pretty quiet, and quite pretty.  As ever sunshine makes a massive difference :).
But I was suffering.  I started to get that feeling.  Every time I stopped and had to unclick and put my weight on my legs and the ground I felt that little bit less in touch with reality and a little more dizzy.  I was clearly running on empty, though I'm not sure why.  In girly wuss fashion I had to take a breather next to that round cute thatched cottage on the junction near there, and I actually took a gel.  Gels are only ever in extremis for me and the last time was on the Maratona, which elegantly demonstrates the depths I was plumbing.  I guess it did the trick, but it did seem to take quite a long time.  Still it never got anywhere near as bad as it could have done so maybe I was expecting too much from it and actually it was working well before I thought it was.  We came back through Chew Magna and across the lake, and I pointed a camera behind me to see what faces Steve could pull ;).  I like the one on the left – because clearly keeping up with me is proper hard work *grin*.
One more big climb to go *sigh*.  The Wrangle I think Steve called it.  Straight up from Compton Martin to the top of the Mendips, at a fairly constant and only just tolerable gradient.  It would probably have been quicker to walk…but I didn't.  Stubborn as ever it would appear.  There are probably snails who have done that climb faster though.  Having finally reached the top where they were waiting, I did however know that there was no way going up any more hills was going to be a good idea.  Not if I wanted to be any use to anyone for the rest of the afternoon.  The initial plan had been to go across and down Burrington Combe and then back up Rowberrow and down Shipham.  All very nice in theory.  On another day.  Today?  No way José.  I was going home.  Across the top, down the Gorge, and home.  No more hills, and as close to as the crow flies as possible.  I don't know if the lads bailed just to be chivalrous and keep me company or did in fact feel as ready to go home as they said they were, but whichever it was, all three of us headed for home.
Finally my legs woke up.  Kinda.  Well I love that bit of road.  I knew the end was in sight.  I could smell home, and an end to the torment ;).  It was time to let the Cinelli off the leash.  OK, so I shouldn't anthropomorphize the bike but sometimes it really does feel like that's what it wants to do.  Besides which I think I  needed to remind myself that sometimes I can actually ride the bike.  That's what was missing today – I was not feeling capable.  In fact of late I have not been feeling capable.  I don't know why, but cycling is mental, right?.  Or psychological as Guy said, more correctly.  But how you're feeling has a massive effect on how you ride, and I haven't been feeling it.  I think maybe I'm just mental ;).
So I had a mad blast across the top of hills, under a bowl of blue sky, without caring whether or not I had company.  Sorry guys!  Hey, you like chasing rabbits right? 😉  They did catch me up at the t-junction at the end, where I was waiting to take their photo, as ever 😉  At least I'm predictable right?  After that I even did pretty well descending the Gorge, though Strava has stopped recording that segment – it was reported for being too dangerous apparently.  Shame, because it was nice to see that I was getting better at it – and I wasn't going to be trying to beat any times.  Bet some eejots would though, so maybe they had a point.
By the time we got back to the Square I'd still done over 60 miles, and I didn't miss that extra hill one bit!  I'd also survived, which had been in question a couple of times…  Kinda dreading next week's Exmoor Beast now though…is it too early to start (gluten free) carb loading? 😉
Cycling time: 4:17:54 hrs
Distance: 60.75 miles
Avs: 14.1 mph.
ODO: 953.65 miles
Later on, post refreshing shower, and in search of brownie points and restorative white wine, we went up the Gorge again so that youngest could show off her work properly.  Not just an owl, but a buzzard, a peregrine falcon, part of an otter, and that goat…all the work of her fair hand apparently.  Aw bless :).