Sometimes there are perks to my Cyclosport "job".  This time around I have a jersey to review and also, as it unexpectedly turned out, semi-matching socks!  And, to gild the lily, when it turned up last week, it's also purple!  Not that that makes a jersey better of course, right?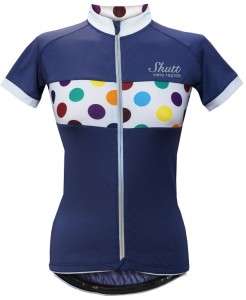 And so on to the details.  That which you see before you is a Shutt Velo Rapide Isobel short-sleeved jersey.  I wasn't sure which size I would be from their size chart, falling neatly between two camps, but they very kindly supplied both so that I could have the right one (and return the other).  As it turns out I'm a medium, which is no doubt better for my ego than being a large!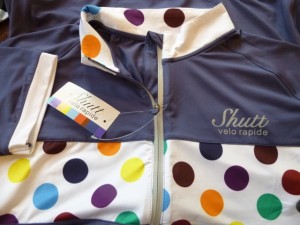 Apart from the joys of it being purple, it also has a polka dot band on both the front and back and also inside the collar which is a nice touch.  Apparently this inspires thoughts of a certain polka dot bikini song, which is close as you'll ever get me to being in a bikini!  There also isn't a flower, butterfly, or hint of pink anywhere to be seen – result!  I think it's quite attractive – a bit quirky, distinctive, but not OTT.
The jersey has three rear cargo pockets with an extra zipped valuables pocket, which is great as I'm forever wondering where to safely stash my keys without having to worry about losing them mid-ride when I pull other stuff out of my pockets.  The pocket is also waterproof on the body side, so it would be great for your phone too, though I use my trusty pOcpac for mine, which is the reason my phone survived Ride London and neither my camera nor iPod shuffle did!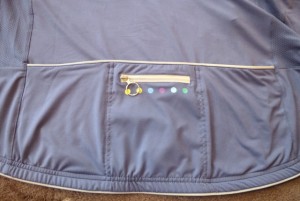 Once I'd stopped examining it and put it on, some of the other features became obvious, especially when taking photos.  All the zips and the piping on the hem and pockets are reflective, as are the logos, as you can see!    It's longer in the body, especially at the back, than I'm used to, with a good silicone gripper all round, and having worn it a few times now, that's nice.  It covers your lumpy bits, never rides up, and it keeps your behind covered properly.  It's not the lightest weight lycra out there, but it also has mesh side panels which you don't really notice but will mean that it's breathable, and means that it's probably perfect for most of what passes for both spring and summer weather over here.
I wore it for Ride London, and the extra length was both good and bad.  Good because even when soaked through, you have an extra layer of warmth there.  Not so good as, once the pockets were full of my assorted crap, my lovely waterproof, being somewhat shorter and relatively close fitting, couldn't extend to go around and cover them too, so the water just ran off it and on to (into?) them.  My Cyclosport gilet wasn't up to the task either.
All that said, and most importantly however, it feels really nice to wear.  I wasn't aware "Italian lycra" was a special thing, but apparently it is, and it is lovely and soft on the skin.  The sleeves are a good length, and fitted but not tight, so you can get arm warmers on under them, though you have to be a bit careful not to stretch them too much, as I think that might pull stitches, but that's ok.  The white trim on the sleeves goes well with a tan too

 The full length zip can be a bit tricky to get started from the bottom as it's beneath a little protective fabric corner that it hides in, but once done it works fine, and it goes up and down easily enough en route.  Oh and it tucks into a matching corner tab at the top too.
It fits pretty well, but having curves, the front doesn't always sit flat, and there's sometimes a bit of a gathering effect as the jersey stretches to cover them and the less stretchy front zip tries to cope, while the longer back pulls down happily.  The collar isn't quite as fitted as I'd like so it doesn't stand up straight when the zip is fully done up, but those spots do mean it looks lovely when the zip is undone some.   Also trying to have the polka dot panel horizontal and where it should be that pulls the collar down a bit too.  All of which probably work better on the less well-endowed however.  And none of this is anything you'd notice whilst out in it riding the bike either.
What else can I say about it?  Having worn it for Ride London, it did not dissolve!  And so far it's washing (30c machine wash) and wearing well.  Thanks to the fit, the length and how nice it feels on, I've already worn it again twice, which is pretty telling, and it's rapidly becoming a favourite.
As for the socks well, they don't actually match, but it's the same colourway.  And it is nice to wear matching things
 Sock length seems to be a matter of personal taste; I tend to prefer my summer ones short to minimise tan lines, so these, at 9cm high, are longer than my usual.  They are, once again, very comfortable, with a good fit and no seams to rub anywhere.  The cuff is doubled over so they stay up well, what with that meaning double the elastic.  When it comes to the technical bit, because even socks can be scientific, they have a "high-density elastic mid-foot support band and a diaphanous web on the top of the foot".  I'm not quite sure what those mean, but I'm presuming that's why they're so comfortable!  It also means they're very breathable which, along with the special Meryl Skinlife™ fibres they're made out of (which "contain naturally bacteria-static silver ions so that bacteria will not grow") will keep your feet and shoes nice and fresh.  And you thought they were just a pair of socks!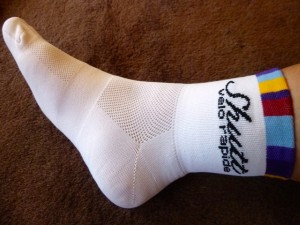 At £79 for the jersey, and £12.50 for the socks, it's not cheap kit, but then neither is it up at Rapha level, it's somewhere in the middle and don't let's forget that you get what you pay for.  It's really nice to have women specific performance kit that fits well, feels good on, does the job above and beyond, and is stylish without yelling "girl" at you!  There don't seem to be matching shorts available at the moment, but if there were I'd be seriously tempted to get some and go the whole matching hog