So, just one week after standing on the top of a mountain, it was back to the siren 5:00am alarm call that summons the mad to early morning miles.  Before I get started, I'd like to point out that the Malvern Mad Hatter is a lovely event.  It's really well organised, not very lumpy, very pretty, and the fact that I had a rubbish ride has absolutely nothing to do with the event.  Go do it next year, in fact come and join me doing it next year when I fully intend to do it better!
Right.  Where were we?  Ah yes, waking up at 5:00am.  Following a weekend of not a lot of sleep, not a lot of food, and quite a lot of white wine.  I think it's safe to say my pre-ride preparation was somewhat lacking.  Add that to my post holiday lack of form, the pill/pain combo and so on…and this was never likely to be a good day at the office.  But that wasn't going to stop me at least trying to do it since as you know, I hate bailing.  Besides, all I had to do was sit in GB's car, ride around in the sunshine, and sit in the car again.  When you put it like that it doesn't sound too bad does it?
GB was prompt, as opposed to his usual early, and we were off up the M5, with the usual "service stations we have known and loved" stop on the way, in very chilly sunshine.  HQ was at the Three Counties Showground in Malvern, which is conveniently signposted from quite a long way out, making it easy to find, which is just as well as GB's satnav is no longer working.  And hey, it's not like anyone actually uses maps anymore.  We joined the inevitable queue of people in metal boxes doing exactly the same as us, and were slowly marshalled into the venue, where we all parked up in organised but self-policed fashion.  GB parked us right next to the toilet block as it turns out – result!
We walked over to the main block to register, and lined up in our respective alphabet organised queues, once again proving that T surnames trump B surnames when it comes to be waiting around.  Or not waiting around if you're me :P.  There was my name in black and white, just waiting for my signature, and its corresponding timing to be peeled off and stuck on my helmet.  My bike number, tags, and pre-ride goody bag (gatorade pre-ride, recovery and bottle) were handed to me, and I grabbed the car keys from GB to go back and wait for him there.  Well, who knew how long he'd be? 😉  Other than removing my leg warmers there was surprisingly little pre-ride faffing to be done.  I must have gotten the hang of this by now or something.  In no time at all we were off to the start line, where group by group, riders were being briefed and sent on their way.  Since this ride is associated with Cycling Weekly and a certain Mr Chris Boardman, although run by ukcyclingevents, there was a large TV style camera being point at the front row of our group as I chatted to Martin (the one with the big sign) pre-briefing, so there's no doubt footage of me talking rubbish and looking bad in lycra out there somewhere.  Marvellous.
Time to set off.  Out of the showground, left at the lights, at out into the countryside.  There are three routes on this event, petal like loops out from the central point.  The original plan had been to do the Epic 104 miles.  I already knew that was seriously unlikely, and that we were probably talking the Standard 74 miles instead.  Let's face it, it's not actually a massively lumpy course.  Flat, undulating, big lumpy Malvern Hill bit, and then more of the same.  Still, however essentially flat and rolling, it just wasn't doing it for me.  I tried, but to be honest I was suffering!  Entirely my own fault.  It took me an hour or so to start to even feel semi-human, and also to start to pay attention to really very beautiful scenery, appreciate the sunshine, and come anywhere close to enjoying the ride.  I was kinda cheered up by the Boardman peloton saying good morning as it/he went past.  Followed by a group of riders with so much testosterone it was hilarious ;).  There were quite a few pelotons today.  That one was, though fast, well behaved.  Not to mention polite obviously.  The same can't be said for some of the others.  I nearly got knocked off by a eejot in one of them, and actually had to swear at another rider which I'm not sure I've ever done before. Hold your line, say coming through, whatever it takes.  Just show a little respect for your fellow rider – is that too much to ask?  The last thing I needed to was to be knocked off on top of everything else!  GB got quite grumpy…;)
As we know, I have proper problems with hills these days on – as in they quite literally hurt – but GB wasn't just having to wait for me at the top of anything with a gradient, but also frequently in between times too.  It wasn't hard to get separated and spread out on the quiet yet quite narrow sometimes country lanes.  To say we're at opposite ends of the spectrum right now would be an understatement.  He could ride forever, I could barely ride at all!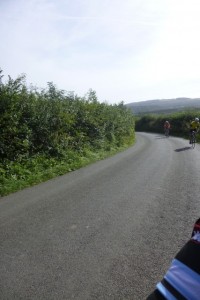 It was very pretty out there though.  Green, blue, pretty houses, oast houses, rolling fields, you get the chocolate box picture right?  The first food stop came around 25 miles in, and also came as somewhat of a relief – a proper excuse to stop for a while!  Having been dehydrated before we even started out (yes, yes, I know), I was playing catch up and the bottles needed topping up.  I ate half a banana, and walked past all the queuing Gents to use the Ladies, which always give me slight "smug face" as MaxiMe would put it.  Incidentally there seemed to be quite a few ladies on the ride today, which made a nice change.
We had a good look at the route map and evaluated my options.  It turns out there's also a Short 46 mile route, which might sound like a cop out, but does include the big climbs that make up the loop of the Malvern Hill.  I figured as long as I'd done the climbing it wouldn't have been a complete waste of everyone's time.  And 46 miles is still longer than my usual training rides.  We didn't make any decisions there and then, but it was good to know what the options were.  Standing around in the shade was getting a little chilly, so it was time to head for the Hill that had never been far from view all morning…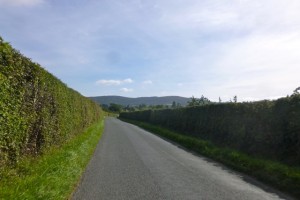 We set off again, but I still hadn't really perked up, and was starting to feel a tad sorry for the long suffering GB.  Still, he was happy enough, and when it comes to hills, he gets to do them his way, and then wait for me at the top.  Well it took a long time to get to the top of the Malvern Hill.  There are two long climbs, both of which suit me.  The first, after some steeper hair pin bends at the bottom, settles down into my usual plod along style long slog.  On the corner at the left hand turn that marks the top sits a bench which looked ever so tempting…  There was some beautiful flying down to reward us afterwards, though since there was a lot of parked cars around lining the roads, I was a little paranoid about someone opening a car door without looking, and the speeds we were doing?  It would have been very messy…  At some point, I think between the two climbs, we went through the very genteel town of Malvern.  Or is it Great Malvern?  Not sure.  Very nice indeed though.  And no doubt very expensive!  The Rose Bank Gardens have an awesome sculpture too – check it out here.  I'd post the photo direct but copyright worries me.
And then there was the second climb.  I think it was in that order anyway.  It's all the usual blur, but overall I remember lots of up.  I remember spectators, clapping, a cowbell, and lots of truly awesome views which, according to the blurb, stretch to the Brecon Beacons and the Black Mountains.  I don't know about that, but they sho' were pwerty ;).
By the time I'd finished going up, and up, and down, and up, and up, and then not down enough, I finally discovered GB waiting for me, as he had been for the last 7 minutes, on the left side of the road a little ahead of the first route split.  We stood, talked a bit, and I contemplated the very real possibility that I might faint.  We also debated what to do.  I was nearly up for heading for the middle route, especially what with all the climbing having been done and then now presumably behind us.  But that was almost the problem.  It was just going to be much more of the, admittedly quite lovely, same.  But considering how I was still feeling, GB tipped the scale in the right direction for me, by pointing out that I really wasn't with it!  That and the fact that riding the bike is supposed to be fun, and overdoing it would not be.  We decided to take the left turn for HQ rather than the right turn to carry on, live to fight another day, and go find some lunch afterwards instead.
So, readers, that's what we did.  We hurtled down the very enjoyable descent.  We had a daft but very enjoyable sprint down the long ensuing straight.  And in no time at all, we were back into the showground, rolling over the finishing line, and being handed our finishers' medal by that same Mr Chris Boardman.  Well if he only did the short route, I didn't feel so bad about my pathetic performance! :).  We even had a bit of a chat, before I got a photo of him doing his job.  We grabbed our finishers' goodie bags – which varied in contents, from free locks, to Cycling Plus socks, to Cavendish DVDs…all a tad random.  We packed up, cleaned up, and then we went to Tewkesbury, where the car park didn't flood (can you even be prone to occasional?), the Abbey looked gorgeous, and a bowl of chips with a pint of lager at the unusually untouched pub on the high street went down a treat.
All things considered, it's a miracle I managed to ride.  Even more so that I even enjoyed some of it!  And on top of all that I got a brush with greatness.  I'll cheerfully go back next year and try and do it properly, if they'll have me.  Like I said – lovely event, just lousy me!
Cycling time: 3:12 hrs.
Distance: 46.7 miles.
Avs: 14.6 mph.
ODO: 3523.2 miles.