There are lots of different reasons for doing sportives.  Sometimes it's about the mileage, sometimes, the scenery, sometimes it's even about the hills.  Sunday's Somerset 100 was about friends, and charity, and atmosphere.  To be fair, as the website says, "this is NOT a sportive, it's a charity ride", the charity in question being Above & Beyond.  It's organised by Somerset Cycling and Sweets Tea Rooms, and this year the ride has affiliated with British Cycling, which meant the entry process was smooth and simple and probably made life easier for Coxy and Co too!  It was open to up to 200 riders, and on the day I think there were around 150.  It costs £22.50 to enter in advance, £25 on the day, and at least £20 of every donation goes to charity.  One of the nice things about the ride is being able to choose your own number…Coxy originally put me down for 40, as a tribute to my new age…but I soon put him right – 40 is a good number, but 42 is way cooler! 😉
I may be a little ahead of myself though…  Shall we start back in the Square at 7:15, where Guy was persuing property prices when I arrived?  Yes, riding to the start added a few miles to the day, but it would probably have actually taken more time and been more grief to load up the car, drive there, unpack there, and faff!  Besides, it's a very good way to figure out what the weather actually feels like which, in this case, was a tad chilly, but dry and not too windy, with the promise of sunshine later.  We took the direct route to HQ at Sweets, which meant the fun of descending Mudgeley Hill, a great way to get a little PMA going. The roads were lovely and quiet, making the thought of getting up early to ride around here more often appeal…though I don't suppose I'll actually do that!  In no time at all, we were carefully turning into the gravel drive at Sweets.
Cycling time: 00:30 hrs.
Distance: 8.86 miles.
Avs: 17.2 mph.
ODO: 1722.34 miles.
It's a local ride, supported by a lot of local people.  Which means a lot of the faces on the riders milling around in colourful lycra were familiar.  We were amongst friends :). I won't name them all (sorry guys) because I'd be here all day!  We milled around, drank rocket fuel, used the toilets (they'd laid on extra this year), all the usual stuff, and gradually coalesced into a group that included myself and Guy, Ade, Mark, Gary, Clayton, Martyn, and a lad called Ollie.  Ollie and Clayton were new to me, but came via the Martyn tri-athlete conduit again.   I think he has a factory somewhere – presumably turning out tri–athletes by the dozen ;).  Registration was a simple as signing your name and collecting a map, complete with bag to keep it pristine in, ties, and a number.  Yes, that number of course :).  There was a bit of a queue, but it was a good natured one, helped by the sunshine.
At some point around 8:30am, Coxy welcomed us, Cosmic gave a safety briefing, and we were all away, heading out on very familiar roads in nice weather – which is less familiar these days!  It was so pretty out there.  Greens, yellows, and all the varied coloured riders up against the blue skies. Just lovely :). What was also lovely was the relative flatness of this sportive, especially for the first 60 miles or so.  There are actually two route options, making this ride accessible to more people – one at 35 miles and one at 102 miles – with the split taking the short route riders back up Pedwell Hill to get home, which is not an easy option for anyone, so I can't say as I envied them that, or felt tempted to join them! ;).
Thanks to the levelness of the Levels, there was a lot of fast peloton riding going on from the very start, and after a while we lost some riders as a result – Gary and Clayton hurtled away never to be seen again, Ade fell behind, and we were left as a group of five. We were working pretty well together, and somehow managed to average over 18mph for the first couple of hours which, for a sportive, is pretty good going for me!  And that's even taking into account the somewhat unpleasant stretch of cycle path and track that we were made to use around Cossington to avoid the main road.
The only thing that really stopped us in our tracks was a herd of relocating cows.  Clearly Martyn was in his element! ;).  It took a while for the recalcitrant bovines to move from one field to the other, as is often the way, and the peloton backed up behind us grew and grew.  It was all quite amusing really – there's no rushing cows – and hey, it's rural around here ;).
Back underway again, and off around some less familiar roads. North Curry…where are the other Currys?  Fivehead…where are the other four heads?  I love weird place names.  There was also the odd drag to break things up a bit, and to start bringing the average speed down to something more usual.  Ollie, who turns out be young enough to be my son, and also young enough to make me feel exceedingly old, was suffering from backache, something to do with the fact, I imagine, that he hasn't had his bike set up checked since he got it two years ago!  He may not have changed the brake pads since then either…it's a good thing there were only a couple dodgy descents to negotiate!  In my role as "Mum" and also mobile pharmacy, we dosed him up with paracetamol and carried on, past Muchelney Abbey, and on towards Somerton. It turned out that more pills were required, of the ibuprofen variety which I don't stock, so we were in search of some.  Somerton was a pleasant surprise – with little groups of happy cheerful supporters out clapping – something that happened quite a lot through the route actually – who were able to point us in the direction of the car park and store where ibuprofen could be purchased – always good to mix and match your painkillers…if you know what you're doing that is. Let's face it, by now I know more than I'd like and paracetamol…that's for girly wusses, I was on the good stuff! ;).
As a charity ride, there's only one official foodstop as such, at 70 miles in, so it's pretty much a case of fending for yourself for facilities etc along the route, not that there's a shortage of villages, shops and the like.  The broom wagon/support mpv went past at some point when we weren't paying attention, and was discovered pulled up on the road side, having gotten ahead of the majority of the pack, ready and waiting to top us all up with water.  Having done that, and remained suitably hydrated, when the car park in Somerton also turned out to have well maintained and well stocked toilets, multiples thereof – it was a result!
Things got a little hillier from the 60 mile mark onwards, around the back of Bruton and the like. There was a killer short steep one somewhere with the most amazing scent of wild garlic which, considering I'm not allowed garlic anymore, was a real treat! 😉  After a couple more big climbs, we reached the second food stop where it was nice to take a break, hide behind a hedge for the relevant, top up the bottles again, and chillax.  There was food, but since I didn't need any, I forgot to investigate and see what was available! As you can see, we weren't the only ones happy to relax for a bit…  To be honest, the hills, though reasonably hard work, weren't bothering me too much. I can make it up most things these days, albeit at my own pace, and that's oddly relaxing. Sit into it, and get on with it…
The next dose of pills had been due at 11:00am; I'd managed to put off taking them for a couple of hours , and I'd been riding better as a result…but it's a trade off thing, pain vs side effects.  Like it or not however, the time had come to take the second dose, since riding with the former is much harder than with the latter – zombies can still ride bikes it would appear ;).  Duly dosed up and refreshed, and warned about the nasty descent to come and the top dressing to follow, we were off again. They weren't wrong either – it's a really steep down…and I hate top dressing!
The next stretch of the ride is not, and was not, my favourite. With the exception of Nunney Castle, which is very pretty, there's a lot of long straight wide rolling green roads heading West, where the traffic goes past you at considerable speed. By now it was chillier, grey, and it was just a bit…well…boring.   I did chat to a nice guy in a vintage Volante while we waiting to cross the A37 – nice car too! ;).
Ollie had been flagging for a while, since hills aren't really his thing, and his longest ride prior to this was 84 miles ish, which wasn't long ago either.  We decided G was for Group, that we should make sure we all got around together.  After all, we've all been there, and your first 100 miler should be as enjoyable as possible, which is not the case if you're left to slog the last 40 miles out on your own, now is it?   Besides which, he's been very well brought up. Or he's blind. Why? Well he claimed to be a little gobsmacked to learn how old my son is, and informed me that I looked like I was in my mid twenties and didn't look my age at all.  He's a keeper ;).
Payback for all those long boring draggy bits came in the form of the long Horrington descent down to Wells, which is not technical, goes on for ages, is a joy indeed, and down which I was waiting for no-one – that's what the final junction at the bottom is for – regrouping.  Man that was fun!  I do love down :D. By now we were 12 miles from home, and nearly there. Was it worth taking another gel?  Nah…surely not…
Hm, when will I ever learn?  As easy as the rest of the ride was, a few miles from the end I got that feeling, that falling asleep on my bike urge, and kinda dropped to the back and didn't keep up – effectively nursing myself along.  Lack of food combined with pills I reckon.  It wasn't really an issue, but I'm glad I didn't have any further to go. Mind you, if I had, I'd have taken a gel!  It's not like we were going very fast anyway – thanks to the unpleasantness of the last minute road re-surfacing around Fenny Castle. Considering how little traffic goes down there, packing down that top dressing is going to take months – be warned!  After all that, it was nice to roll back into Sweets, to the sound of faster riders clapping, and park the bike up in the returning sunshine.  Mark bought me a coffee and we all kicked back for a while and I tried to get myself back together again.  Apparently I looked peaky. I was also pretty cold, another side effect that seems to come along with me wiping out…it's all a learning experience right?
Cycling time: 6:13 hrs.
Distance: 102.34 miles.
Avs: 16.5 mph.
ODO: 1824.68 miles.
The day is not just about the riding. There's a whole Fun Day thing that goes along with it, with bouncy castle, face painting, vintage cars, food and more, which means family and kids get to be involved for a change, and which raises even more money for the charity – £1001.92 to be precise I gather. It also means there's a great atmosphere surrounding the finish, which is lovely. The ride itself raised nearly £4000.  Not bad hey?  OK, so it doesn't have timing…but we pretty much all have gadgets, and it's not a race!  And, as I pointed out at the time, the signs, though plentiful, were a bit small and not all that visible – too much text and not enough arrow.  However I loved the red and white repeater ribbons though – not enough events have those!  But I've done worse sportives, and it's not a sportive…it's a very friendly local charity ride.  You should come and do it next year – it's a laugh, and that's not something I say very often!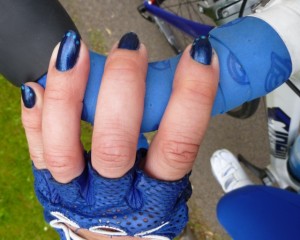 Having travelled there to ride, it was time to travel back again before we all seized up.  We split up, and Guy and I rode home in a slightly more meandering and leisurely fashion to avoid going straight over Mudgeley Hill!  It was actually a fairly pleasant return trip – a Sunday afternoon ride in the sun. What's not to love?. 122 miles in the saddle all told…and it didn't really feel like it. Not a bad day's work ;).
Cycling time: 0:46 hrs.
Distance: 11.42 miles.
Avs: 14.7 mph.
ODO: 1836.10 miles.