Yes that's right.  Audax.  Not sportive.  Which I entered because Gary was doing it and back whenever he suggested it, I wasn't doing anything else this weekend.  I entered it myself.  I paid the massive sum of £8 myself.  So I'm not even obligated to review it.  Even supposing the website was called CycloAudax not Cyclosport…  Apparently I'm still going to blog it though 🙂
It turned out that Guy was doing it too.  Not only was he doing it, he was actually going to ride it with us.  Blimey!  I had a "we're not worthy" moment for sure.  He's just so good at the whole cycling thing these days… 🙂  He also offered to give me a lift there and back, so things were looking better and better.   Including the weather forecast, which was for sunny and dry and maybe even warm…!
So, for the first time this year, when Guy picked me up on Sunday morning, I was wearing shorts!  I'd even applied sun screen.  Which is, like, unprecedented for 2016.  How cool is that?  Ok, so the top half of me was hidden under a variety of layers, but my legs were definitely out 🙂  Guy had somewhat overestimated how long it would take to get to HQ at a school in Minehead, thus allowing us plenty of extra time when we got there to fret about the weather and the murky clouds that were around us, and covering Exmoor behind us.  Would they stay?  Burn off?  Rain?  What layers to wear?  What to take with us?  I mean, it was nice and sunny and fairly warm now but…
Yes, I'm British, and we're talking about the weather again…  Shall we move on to registration, such as it was?  A short walk around the school took us, via the one and only accessible toilet, to the school canteen, where various other early birds were also lurking.  All we had to do was say who we were, be given our route instructions and route card, and be crossed off a list.  Easy.  Time to grab a cup of tea and head back out into the sunshine to get the bikes sorted then.  It didn't really take that long before we were done and while cyclists milled around in the sunshine, on a pretty impressive range of bikes, Gary arrived – having the luxury of being able to ride to the start and keep all his faffing, if there was any, at home.  And when I say range of bikes, I mean everything from shire horse to thoroughbred 🙂
Without any ceremony at all, we decided we were ready to go, and so we went.  Easy peasy.  I've ridden around here quite a bit, so most of today was going to be familiar.  So the drag out of Minehead came as no surprise, though it still wasn't much fun.  It was a fairly good way to warm up slowly though.  Slowly being the operative word for how I generally go up hill 😉  However the long flying stretch to Porlock was much faster and much more fun.  In fact since both Gary and Guy know how much I like this bit, I was told to go off and get on with it *grin*.  You don't have to ask a girl twice…not least because that would have taken longer, and reduced the amount of time I'd be off having fun.  And it sho' was fun 🙂  Still, I spend enough time riding the bike on my own, and that was not what today was about, so I waited up for the guys in Porlock.   Which was a good time to note the cost of going up there for various vehicles – which would be the answer to one of the questions on our audax card.  Well, in the absence of signs and timing mats, to make sure you're doing the right route, there were two official checkpoints to go through and have that card marked, and a couple of questions to be answered with information gleaned en route.  It's a whole new world…
I think it's become obvious that I actually quite like hills at the moment.  I can get up them, and that knowledge is good for the PMA, and I like a challenge and at the moment they're going well.  Probably because I keep going out and riding up them. "Don't buy upgrades, ride up grades"?  However that's all "at the moment".  I like the climb that is Porlock Toll Road all the time though.  It's long, slow, gradual, and very very scenic.  Today it was enhanced by sunshine, sheltered from the wind, and dry under wheel.  Perfick 🙂
I'm never entirely sure crawler gear is going to engage.  It's always a relief when it does.  And it did.  Predictably Guy had gotten ahead of Gary and I, because he's so good at such things, but could be seen in the distance from time to time as we wove our way through the tall trees, and admired the views occasionally glimpsed through them.  After a while I drew away from Gary, don't know quite why or how, but I was really enjoying it, and felt like I could maybe actually do it well.  In fact, after my favourite hairpin bit, I actually caught up with Guy, who commented that I seemed to have flown up that…*grin*.  We rode the rest, through the toll, and up along the coast together, all the way to the top.  It felt like I'd done good…and I was really pleased with how it had gone 🙂
I think that was pretty much the highlight of the whole event for me, and it certainly put me in a positive frame of the mind for the rest of what was to come.  Having reached the top there were two options – a dirt track shortcut straight across, or a road zigzag to get to the same place.  Gaz took the dirt track, what with being a Mtber 'n all, while Guy and I nipped round the other way.  Hey, extra miles, right? 😉 Besides I love swooping around on top of Exmoor – the views are lovely, and it's fun.  Especially when it's pretty much sunny…as, as hoped, the murk had cleared away.  Probably partially due to the getting brisker wind…but that was currently not too strong, and not too much of a problem – it being either in our favour or there being places to hide from it.  Hedges and trees are great things 🙂
It has to be said that I was relying on Guy and Gary to get me around.  I don't really have an audax mindset – and was completely not using the route sheet.  Guy has done it before, and it's Gary's home turf, so I just figured they knew what they were doing and tagged along for the ride  😉  The long cut we two took involved some up, so Guy met up with Gary way before I caught up with them both.  We headed South together across the moor, in mostly rolling fashion, apart from one annoying fly down and then go straight and steeply back up bit.  I knew it was there, and as I climbed back up the other side I was in the right gear and everything…at least I thought  I was, but things were just spinning and not going anywhere, and I thought maybe the chain had come off.  It hadn't…so I don't know what had happened, but having had to stop, I wasn't going to be able to get back on there.  So I rolled back down to the bottom and started over.  Annoying…but better than walking up it 🙂
However the lovely long descent to Exford more than made up for that.  I flew down in my usual fashion, and the chatty classically attired gentleman who finally caught me near the bottom, where it got narrower and wiggly and into towny commented that I'd clearly been having a blast.  Who me? 😉
Exford was where the first Control was, at the White Horse Inn by the River Exe, and about 18 miles in.  Not a food station per se, though the pub was cheerfully serving anyone who wanted to purchase such and take a comfortable break.  Oh, and they were letting folk use their toilets to take a comfort break, which was nice of them.  So I did.  So not a food station, more a very pretty place to mill around in the sun, and get your card stamped as proof you'd been there, and be noted down, which I guess helps organisers keeps track of who's where when in case Little Bo Beep loses one of her sheep on the moor 😉
I'd been feeling mostly good up until now, but once stopped, my body ceased to be distracted from the pain factor, which was a shame.  I had to take five, as it were, but luckily my two chaperones were happy to hang around and take it easy for a bit while I did.  Guy decided that he'd also avail himself of the facilities in the meantime.  Time was passing…and once he'd emerged, it was time to go again.  Was I ok, he enquired?  Well no, but yes, because bikes don't ride themselves and it was sunny and I actually wanted to be riding it myself.  My body was not ok, but my head was, so I was ok enough to be getting going again 🙂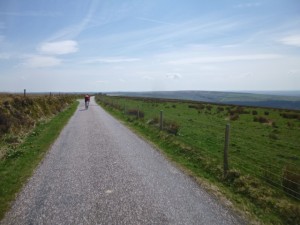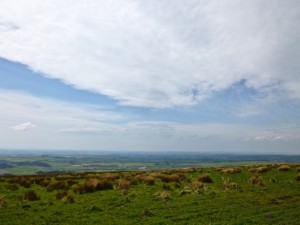 Having gone down into Exford, we then had to climb out of it.  We were taking it a bit easier for a while (like there's any other way up hill really) as they let me get back into the swing of things.  We were heading for Simonsbath – I gather there a variety of ways to pronounce that depending on how gentrified you are… 😉  Gary told me I knew where I was and as we climbed up something long and slow I realised he was right.  Wasn't there going to be a cairn on the right shortly?  Oooh yes, there it was.  And I remembered I like this bit.  Getting higher, looking down at the babbling brook/river winding through the valley…all just as lovely as I remember it.
And then, up at the top, in the wide open, we turned left.  And straight into a by now substantial wind….!  Oh man…this was going to be fun.  Not.  I'm glad there were three of us.  And occasionally 4, as we played leapfrog with one other rider in red who kept thinking he was lost until we went past him and proved he wasn't, and then overtook us again, until we caught him again…etc…  Nothing like wheels to suck in a headwind!  We did take it in turns though, even I sat on the front sometimes.  We had to regroup from time to time, as if you fell off the back for whatever reason – to admire the view, take photos, or whatever – you couldn't get back on.  And when my head was down I tended to just push on while forgetting to look behind, so sometimes it was my fault too.  It didn't stop it being glorious up there, but it did slightly take the edge off that a bit…being able to see all around for miles just demonstrated how much nothing there was to use to hide from the wind!  Even as the general trend became downwards as the miles passed it was hard work and it seemed go on for ages.  Probably because it actually went on for ages!
Finally we got to drop down off the Moor to Dulverton, where the second Control was, also at a pub, this time the Bridge Inn.  We decided to actually stop this time, as that had been hard, hot, and thirsty work.  Cards stamped we, as many others had, grabbed a table outside, and drinks from inside.  No fizzy orange, though a pint of OJ and lemonade was a reasonable if marginally too healthy alternative.  They also filled up my water bottle for me, which was nice.  Not ordering a pint of Korev, which I love and would have gone down a storm just then, was practically torture.  But probably very good for the soul to resist temptation.  Maybe 😉  Mind you I think it would probably have been a very bad idea…and there's no broom wagon on an audax to sweep you up so…I'd have to settle for dreaming of the lager I could have later.  I'm glad we stopped though.  Pushing up hills and into the wind had taken it out of me a bit, and I was suffering again, though mostly quietly I think.  Gary picked up on it as we to-ed and fro-ed preparing to leave and gave me a quick hug though, which was perfectly timed and really helped.  Sod gels and food, I swear hugs are soul food.  And medicinal.  And sadly not available free on prescription, unlike the shiny pills I was keeping topped up 😉
We set off once again, taking it easy for a bit…and once again I got it together after a while.  We spent a long stretch on a longer flatter road along a valley with the River Barle to the left, and trees with carpets of beautiful bluebells growing beneath them on the slopes to the right….and a far from idyllic road surface.  That grainy, lumpy, speed and spirit sucking sort…  Ick!  We had a break at some point for food, whilst admiring someone's country pad, and the immaculate cricket pitch.  The PowerBar Smoothie I had leftover from the Dartmoor Demon went down as well as it did then too, so I added them to my list of things to buy from wherever next time I was bike stuff shopping.  Of course being down in a valley led to having to climb out of a valley, at which point Guy hurtled off like a startled rabbit.  Something we said?  Nope, as it turns out, just a burst of unexpected form, and everyone knows those are use 'em or lose 'em things…so use it he had.  And then duly waited for us to catch up with him afterwards.  G is for Guy, Gary, and Group 😉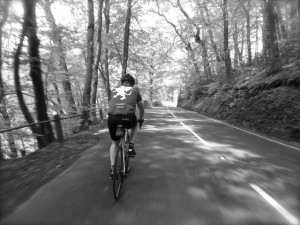 Which I think brings us to Exebridge, with about 20 miles to go. Gradually but not too noticeably up all the way along the A396, with a final sort of climb to Wheddon Cross.  Which accounted for about 11 miles, though my memory is a little blurry on the details because I was in "count down, get back" mode.  Not in a bad way – but it was just that last section of a ride where you're mentally, if maybe not physically, sprinting for home!  I remember the last 9 miles or so being basically downhill though 😉  Before long we were negotiating the back streets of Dunster, the main road to Mainhead, and we were back.  My first ever audax – Exmoor Spring done! 🙂
Cycling time: 4:29
Distance: 62.5 miles
Avs: 14.0 mph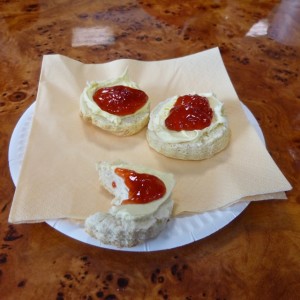 After a brief, "oops we locked this gate by accident" detour, we were parked up at the school again.  Inside, back at the canteen, we handed our cards in, which were checked, and officially stamped.  I gather audax riders can earn cumulative points over a year, and of course, points mean prizes, right? 😉  Formalities done, we took a seat, and enjoyed our complimentary cream tea.  Which, miraculously, even came in "gluten free" for those of us for whom that matters.  How cool is that?  I was pleased to be able to indulge, especially since I felt like I'd earned it 🙂
So.  How was my first audax?  Good, since you ask.  It was a nice route, in a beautiful part of the world, on a lovely day.  According to Strava, contrary to what you might think after reading this, I actually did really well out there, including a PB up Porlock Hill.  Told you I though it went well!  'Rah!  The best thing about it?  Probably how friendly everyone was.  There were no egos around at all which, being used to sportives, came as a very nice change.  But actually I think the best thing about it was actually riding my bike with, and supported by, friends.  In the sun, with the burgeoning stupid tan lines to prove it.  Thanks guys!  Or garys! 😉