Welcome to November.  It's cold, wet, and windy.  Maybe it's just as well that I'm not currently riding the bike then?  No of course it isn't!!  It's driving me more than slightly insane, in case you were wondering.  It's also exceedingly bad for my stats which are, as we all know, extremely important things.  My enforced rest has put me 78 miles down this October on last, about which I am (irrationally) not happy! *sulk*.
So forgive me bike(s), for I have sinned.  It's been nine days since my last ride…  *sigh*.  As if to rub it in, and remind me what I should be doing, I have, somewhat bizarrely, made it into Cycling Weekly for the last two weeks!  See for yourself…
First for Strava and Cheddar Gorge last week.  Looks like I need to improve by 13 seconds right? ;).  And the only reason I'm there at all is due to the fact that there are less female riders, proportionally, and even less of us that use Strava!  And then this week there I am again, resplendent in Cyclosport kit on the Etape Cymru and kicking Kevin's ar*e on a downhill somewhere.  Courtesy I believe, of sportivephoto – so thanks for making me look good!  Did I mention I like downhill?  I think they should put photographers on descents more often – there's far more chance of me smiling at them!   Kinda cool to make the rag though, for whatever reason.  I was quite chuffed :).  I know it's only been 9 days, but it feels like ages, and it was kinda nice to be reminded that I can ride a bike!  Well I could.  Whether or not I still can remains to be seen… :/.
While waiting, thanks to some much needed retail therapy, and some very helpful customer service from the guys at Rapha, I am now a whole heap more equipped to face the cold weather that has arrived during my absence.  Thick wooly winter socks, women's long sleeved merino base layer…
…and the deep winter collar that I love already even though all I did was wear it to work today!  To be fair it gets proper arctic in my office 😉  It's very clever, and kind of in segmented overlapping pieces, so that it sits where it's supposed to, and can be pulled up to cover your face.  Snuggly :D.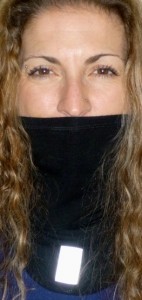 I'm going for a short ride tomorrow with Martyn, and anyone else who is around – just out to Sweets for coffee and back.  To see how it goes…  *fingers crossed*.  Best find my waterproofs, bet you it rains!  But hey, at least I'll be warm right? And well fuelled, since hubby has made a gluten free beef, veg, and red wine pie.  You can tell it's pie, it says so on (top of) the tin.  It should be safe…though these days there don't seem to be any guarantees :(.  Here's hoping anyway…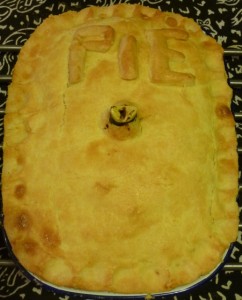 One last thing.  If riding is your thing, and you'd like to come and help me celebrate my birthday next year, I'm going to be doing some kind of away from home and riding type of weekend thing so keep 23/24th March free and come join me.  Details nearer the time, location yet to be decided, but there will be riding, and drinking, and then hungover riding ;).  Should be fun *grin*.