Another day, another ride.  According to GB, I did hills on the wrong day.  I should have done flat yesterday when it was calm, and hills today when it was windy.  Apparently everybody knows that…  Well clearly I did hills yesterday so that wasn't going to happen again.  The solution?  Do flat and sit on Martyn's wheel! 😉  It was still hard work though.  Reflecting upon that, I think my current problem is a one of strategy and time scale.  In the long run, the wattbike is going to be a very good thing for my form.  In the short term, I'm overdoing it on that and paying for it when out on the road.  In the long run, not eating a lot will be a good thing, because a lighter me will be a faster me.  In the short term however, it means I'm under fuelled and there's not enough in the tank.  Both of which means the last couple of rides have been harder than they maybe needed to be.  Add to that the fact that once my body is busy my brain tends to spin off elsewhere, forgets to pay total attention to what the legs are doing, they slow down and…well, that's not conducive to keeping up.  I'd like to say I shall learn from all of this but…well…it seems unlikely *grin*.
I'd show you pretty photos of autumnal Somerset, but you got those yesterday.  Instead, you can see my new Defeet Woolie Boolie socks, the latest weapon in my cold war arsenal.  Last year's pair had pretty much had it, plus these are longer.  Toes crossed that they help! ;).  I also have some new neoprene overshoes on their way, when the sportpursuit sale ends.  I hate cold feet.  I like to be able to feel my feet…even if it's not essential for pedalling.  Mind you, the socks are so thick inside my close fitting shoes that I think I may be squashing the blood flow out of my toes rather than freezing them and the end result is the same – no toes!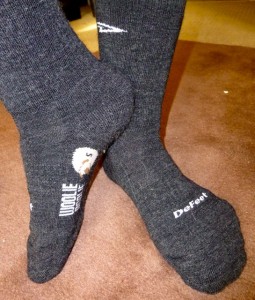 I also have a new camera.  Which is the same as my old camera, but which hasn't been dropped, stuffed in sweaty jersey pockets, used in the wind, heat, rain, and snow, etc, etc.  According to MaxiMe it is however better because it's blue.  According to me it is even better than that because it is blue, and therefore matches my bikes ;).
Cycling time: 1:59 hrs.
Distance: 31.5 miles.
Avs: 15.8 mph.
ODO: 16876.3 miles
I don't suppose I'll get to do so much riding outdoors henceforth, so I'll be sitting on that lovely wattbike, sweating up a storm, without needing to worry about the impact of that on real riding.  I now have a new routine to try, explained to me in words of one syllable so that I can actually understand what I'm supposed to be doing, and which will hopefully make me better at going up hills.  Gotta be worth a go, right?