Sometimes, it would appear, the Verve have a point, and the drugs don't work.  Today would be one of those days.  I suppose I could have decided to stay in bed and not ride at all, but to be honest that didn't even occur to me.  Yet more proof that I'm not normal, no doubt.  Since I'd already said I'd meet the Somerset Cycling lot, I was committed to riding, right?  Besides which I really don't like going back on my word, and how can the Friday ride become a regular one if I miss one?  😉  I was also hoping that a hefty dose of cycling produced endorphins might succeed where pills were failing, and besides which, sitting around at home feeling miserable really didn't appeal.  Better to be riding, better still to be riding in company :).
So I took myself off to Mark as planned, in the usual way.  GB had warned me by text that it was colder and windier out there than it looked, and he was 50% right.  Typically that would be the half that was the headwind of course.  Not conducive to hurtling down the A38 at any sort of speed, but quite good for warming you up, so it was not one of my faster rides but it got me to where I needed to be, early as ever of course.
As I loitered outside the pub in Mark, waiting for the others, it was pretty obvious that not only were the drugs not working, neither were the endorphins.  Ah well.  It was worth a go right?  The rest of the posse arrived in dribs and drabs…late I'll have you know.  Officially late, since the church clock had already chimed eleven o'clock before any of them showed up.  Sarah was first, and she'll be thrilled that I managed to get yet another photo of her ;).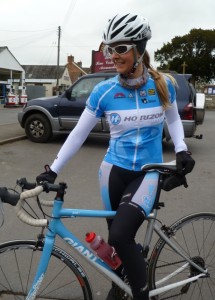 Then Justin, who I seem to have caught slightly in mail order catalogue male model pose…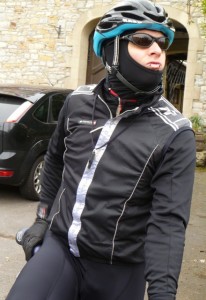 Followed by Coxy and Astana Man…feel free to guess which is which.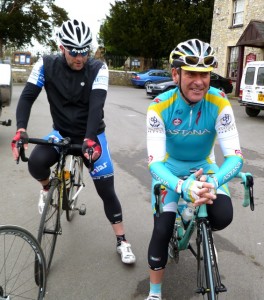 Coxy explained the route, which involved heading out Glastonbury way, then round to Somerton and so on, and I decided that I would bail at Glastonbury and head for home – as I'd half thought I might when he suggested it by text first thing this morning.  A sort of compromise between not riding and riding – riding less ;).
Michael was the last to arrive, and he'll be very pleased to see that I have chosen not to immortalise him this week ;).  We all headed out east and had a very pleasant half an hour or so's ride out towards Glastonbury, picking up Carlo on the way.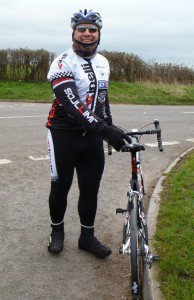 Sometimes the pain is, oddly, a helpful thing.  It makes you go faster.  Either in some misguided belief that you can can ride away from it, or in the hope that the effort and energy being expended will subjugate it.  This was particularly true on the long straight after the lovely descent of Mudgeley Hill, inevitably into the wind.  Oddly enjoyable.  I was aware that this was probably only going to be effective for a while though, as I was still conscious of the niggle gnawing away in the background.  However well I was doing, and I was, at some point I would be hoist by my own petard and pay the price, and what with the route getting further and further away from home, taking the left towards Godney still seemed like the best move.  Discretion is the better part of valour.  Etc.
I was pleasantly surprised to discover that Michael had had similar thoughts, albeit for different reasons, so not only did I get to ride some of the way home in company, rather than by myself feeling sorry for myself, I also didn't miss out on a coffee stop, as we had a break at Sweets Tea Rooms on the way back.  I think it's safe to say that that all worked out splendidly :).
Cycling time: 2:01:21 hrs
Distance: 34.91 miles
AVS: 17.2 mph.
ODO: 12419 miles
My average went up with every stage.  16.6mph to meet them.  16.8mph by coffee, and then with a tail wind and the urge to get home, up to 17.2mph by the time I was done.  Not bad.  Even better still, as you can see, I managed – just – not to break my self-imposed two hour rule.  Rah!  Admittedly I might have let myself off the hook today, but it's nice that I don't have to *grin*.  And if that was too much whingeing for you – it's my party and I'll cry if I want to *grin*.
Now I believe somebody said red wine was medicinal (it may well have been me) so I think I may have to give that a try later.  Then I can swop miserable for maudlin 😉  I surrender…wagon can wait!