It's more of a large village really, but I'd recommend against using the 'V' word around here.  If you do, a small mob will probably gather and cart you off in search of a tree to lynch you from.  What with the long and distinguished history of the TOWN there's probably also a small, long forgotten and still extant law lurking on the statue books that means that on Tuesdays in a leap year that's perfectly permissible.  Don't say you weren't warned…
This is what happens when you're riding along happily in the sun.  Your brain plays random word association games with the lyrics whispering away in your left ear.  There's really nothing like the head space on a bike.  Especially on a day like today.  Maybe you have to have days like Sunday's Mad March Hare (which must surely have gone down in history as the most badass ride ever by now) to truly appreciate days like today?  Days when the sun shines, the wind does not blow and, with a little judicious layering, you're warm enough and can count to twenty on your fingers and toes at any time.  Should you want to.
I wanted to ride in the sun.  Who wouldn't?  It seemed more important to take advantage of it than usual.  Judging by the amount of serious looking lycra out there, a lot of people were thinking the same as me.  Although I couldn't help wonder if they'd have been out on Sunday… 😉  I didn't want to do the usual type of training loop, as it gets a tad boring and let's face it, it's not all that challenging.  I did want to do hills, but I didn't want to go up Shipham because today was not a day for PBs and I didn't want to start off feeling slow.  That starts a ride off on the wrong foot.  So I did the Gorge instead, amongst other ups, in a nice sunny loop :).
The Gorge was betwixt and between.  Betwixt shadow and sun.  Between Winter and Summer.  Waking slowly from commercial hibernation, grockles emerging blinking into the light from wherever they've been hiding.  In short, quite pleasant :).  Won't be for much longer…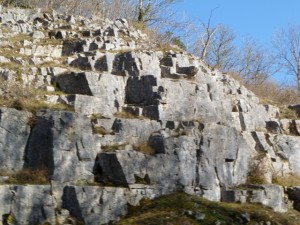 Clearly it was warm enough for mitts, as I can't take photos riding along wearing full gloves – it's just not physically possible.  I still had plenty of Rapha layers on though, and got it right today – *phew*.  I pottered up in my usual style, and put the worst bit behind me soon enough.  I stopped to be charitable along the way as, as a baby goat (yes I know they're sheep but they look like goats), lying in the sun at the side of the road looking like a dead goat is a very good way to end up a dead goat!  With a little persuasion both little families relocated themselves to somewhere safer.  Good deed for the day done.  It must be Spring, things are clearly breeding!
Somewhere near the top is a memorial to a car accident victim, that is clearly refreshed from time to time.  Which was another thing that made me wonder.  And it's very emotive I know.  But at what point do you stop using the site of the tragedy as a site of pilgrimage?  Is it not better to visit the grave, or the cemetery, or where you scattered the ashes, or somewhere of personal importance?  Rather than the arbitary location where someone sadly shuffled off this mortal coil?  Hm.
Anyway, let's get past that and move on.  Up up up, but not to the heaviside layer.  Up to the top, where usually wind would be, and it wasn't.  Up to a long smooth rolling road, with dappled sunlight and nowhere better to be, which really really didn't suck *grin*.  I just rolled myself along it, up and down, and enjoyed the moment.  A lot :).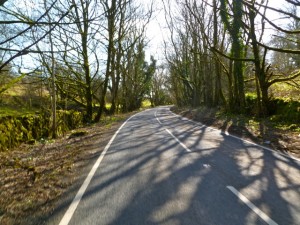 I went all the way along the right fork, took the left to the Castle of Comfort, and descended via a Harptree.  Last time I went down there it was wet and horrible and a little scarey.  Today it was a whole heap better.   Want to see the view of Chew Valley Lake from the top?  You can actually see it!  There are some much better, and indeed glorious, views on the way down, but that's generally considered to be a good time to be having both hands near if not actually on the brakes, not waving around trying to take photos *grin*.
The stretch across the lake reminded me that I was, once more, on the wrong side of the Mendips, by being that little bit colder.  Which is an excuse to go that little bit faster I suppose.  Weird how much difference those hills make, and how much shelter we must get from them over here.
Once through Chew Stoke, which is always surprisingly lumpy, I turned left up the delightfully named Pagans Hill.  The lack of punctuation implies that it was once a hill for many pagans.  Or maybe that's where pagans were lynched?  A hill made up of pagans?  My rides go full circle, sometimes my thoughts do too ;).  The climb up to the airport is a nice gradual one that almost goes in steps, and you almost don't notice it's happening.  Those kind of climbs I like :).  You also get to share your route on the ground with the aeroplanes in the skies taking the flightpath down to the airport.  Having been born near Farnborough, having attended a great many airshows, and with parents who spent most of my life working in the Defence industry, there may well be a little aviation fuel in my blood, and I really do like aeroplanes :).  Come on, it's pretty impressive that things that size can make it off the ground no?  I know there's plenty of totally logical science behind it, but I'm going to stick to it being magic *grin*.  I'm not sure about this one, which certainly isn't going anywhere anymore, and marks a small industrial estate nearby, but it made for an interesting photo.
Mere metres down the road, by the entrance to St Catherine's Church, is this wooden sculpture, making the most of what was once a mighty tree.  Did Redbull give it wings?  Is he/she about to take flight?  Did the wax melt, and leave it earthly bound, gazing wistfully at the sky?  I kinda like it 🙂
My wings came out to fly me down Brockley Combe which I enjoyed immensely, once I made myself ignore the Total tanker behind me who, to give him credit, did realise after the first couple of corners (which I went 'round faster than he could) that he might as well hang back and wait until the straight bit near the bottom.  Many thanks anonymous tanker drive man :).  It's a lovely descent but, though I can't believe I'm saying it, almost not fast enough unless you pedal *grin*.
Shortly after that I came to my favourite sign in the whole world which I finally get to share to you.  Amusingly I'm always going left at this point which is, arguable, the wrong direction, no? 😉  At least where I need to go if I need a boost in the future *grin*.  I met a couple of touring cyclists here and we had a brief chat about the lovely weather, the best way to the Strawberry Line and whether or not my overshoes actually did the job.  (Yes, they do).
I left them behind, feeling all smug roadie, and actually managed not to get lost around Claverham, which may be a first.  To be fair, I did think I was lost, I just turned out not to be!  There's a couple of the most consistently disgusting patches of road around there, covering in thick churned up "mud" and stones, all related to one particular farm, and quite lethal.   I bet Dad knows exactly where I mean too.  If that's the state they keep their farm and roads in I have to say I wouldn't knowingly go buying anything they produce!
Not far to go now, as these things go.  Back through Yatton to Churchill to go and find the last chunk of climbing of the day.  Since it worked out well last time with the ACG I wanted to go back up through Rowberrow which I duly did.  Just to see if last time was a fluke.  And it went just as well, which was gratifying.  Up at the top the views were lovely, and I do generally find that the sunnier it gets the further it is best to be from Weston *grin*.
That just left me the main reason I was there, if I'm being honest, which was to go home down Shipham Hill.  A dry, clear, sunny, swoopy Shipham Hill.  *happy sigh*…
Cycling time: 2:28:16 hrs
Distance: 37.7 miles
AVS: 15.2 mph.
ODO: 12384 miles
OK, not the fastest ride in the world, but it did involve a fair bit of climbing.  I certainly wasn't pushing it, and I think there was still a little event recovery going on too.  It was however a very lovely ride which I enjoyed a great deal, and that's really the point :).