I spent several hours at my second home yesterday.  Also known as Andrew's workshop.  Hours during which I got a new saddle, new cassette, new gear cable and bits, and a new big chain ring.  A big chain ring that didn't understand the meaning of the word compatible because it should have been and it wasn't.  Bye bye new chain ring, welcome back old chain ring.  Voilà  – a bike that works considerably better than it did before.  And that shouldn't creak going uphill any more.  The creak was the saddle, in case you were wondering.  It had done a lot of miles, and had just had it really.  I replaced it with one exactly the same.  Stick with what you know, especially when what you know is going to be stuck under your posterior for hours on end!  Oddly enough the bike looked instantly newer with it on, helped by the fact that I've touched up some of the damaged paintwork with black enamel paint.  My poor baby needed some TLC to go with all its new bits :).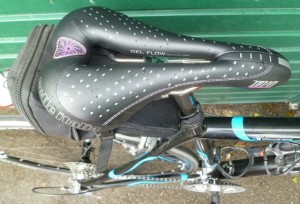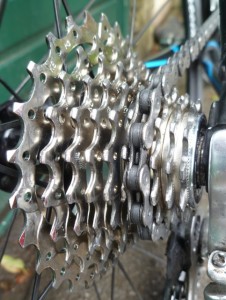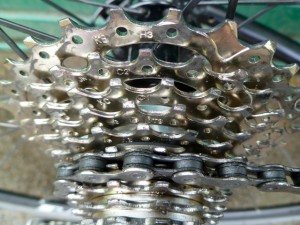 This overhaul meant that today's plans to ride weren't really optional when, once more, I needed to check that the bike was working properly before this weekend's sportive – the Great Western Sportive.  Déjà vu all over again.  The weather forecast was, as seems to be constantly the case these days, dismal, and as I sat in bed drinking coffee this morning the rain started.  Not exactly motivational.  So I came up with a strategy to make myself go out – I decided to commit to joining the Somerset Cycling mob's regular (ish) Friday lunchtime ride.  I figured this would make me go out, as well as making a nice change from all this cycling by myself.  The forecast also showed a remote chance of things being a little more pleasant by then, in so far as such things hold water.  I was further prevented from bailing by agreeing to meet Carlo in the Square at 11:30am to ride down to meet the other guys at Mark.  No excuses left.
I haven't been out with the guys in ages.  Whilst I really like riding with them – I have to admit that it's hard work.  They're fast folk, and I have to work to hold my own, and to take a turn at the front when I can.  I really enjoy it – it's a challenge, it's a different kind of riding to what I usually do, and it's probably very good training.  It's not necessarily a good idea in close proximity to a sportive though, hence the reason I haven't been out with them of late.  I gather it hasn't been quite such a regular reliable thing these days either, people have other things to do, lives change etc, so I guess I was lucky that today was once of the days when it was actually happening.
Carlo had claimed he might need a wheel to get to Mark.  Remind me to remember that Carlo is much faster than me even on one of his bad days!  Even though he was a little late, Cheddar having been more time consuming to negotiate than usual, we still made really good time down the A38 and across to the church in Mark.  Oh MAN it was windy.  REALLY windy.  If I'd known it was that windy I'd quite probably have stayed at home.  Well I'd have thought about it anyway.  Slogging into a headwind is not definitely the ideal way to warm up and I did have to hide behind Carlo from time to time when it all got too much.  We had sun, we had rain, we had drizzle, we had wind…  At least 3 seasons worth of weather before we even got there!  The only thing in its favour was that it was fairly warm, and when rain made you wet, sun and/or wind made you dry again pdq.
Carlo's mate John was already there and waiting when we arrived.  With deep rim wheels.  Rather him than me…!  I made a mental note not to be too close to him when the wind was likely to be from the side ;).  Mark and Michael joined us shortly, and we headed off on a route of Michael's devising.  Headwind first for a tailwind later, in an ideal world.  Routes change as you go along, but here's what we actually did.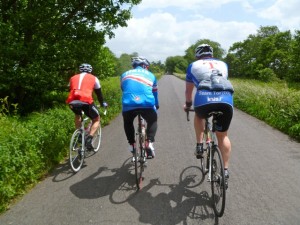 Colourful bunch aren't we?  Looks practically pleasant out there…  Even with the wind it was good riding.  Working hard is a positive thing sometimes right?  It feels good to be pushing it, to be holding my own and keeping up with these guys, who all make it look easy.  After a considerable time spent fighting the Force rather than feeling it, at some point near Glastonbury we turned tail and put the wind more or less behind us.  Much better :).  Shame it wasn't always like that – wiggling around the Levels inevitably puts you back facing it again from time to time, and unlike some, I can't sprint into that!
We had coffee at Sweets where, in traditional fashion, the camera came out.  Sorry!  It would be wrong if I didn't get Coxy eating again, or show you John, or annoy Michael by immortalising him again, right?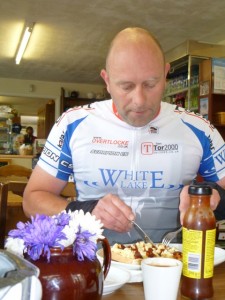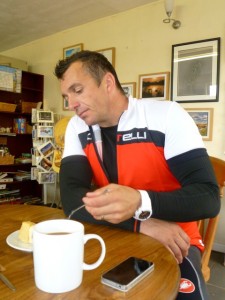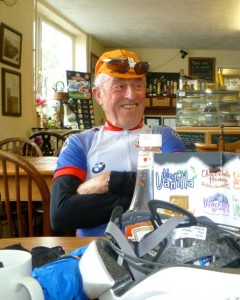 The coffee stop wasn't just welcome, it was essential, as very unusually for me, I'd left my bottle at home.  See?  Not much good there is it?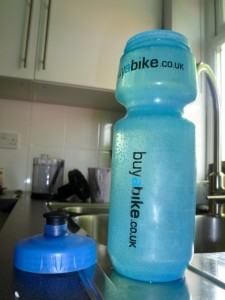 Coxy very kindly sprung for drinks, in my case a large Americano, and a bottle of flavoured water for the journey home.  Ta muchly! 🙂  There was much discussion of riding, mostly racing, time trials, and the like, something which I know nothing about, and only briefly considered earlier this year before sportives became even more important than ever.  I drank my very nice coffee, and ate my self-catered lunch – one small clingfilm wrapped flapjack.  Two forms of cycling fuel :).
I'm onto my fourth (I think, I may have lost count) attempt at flapjacks, with a recipe courtesy of my fellow Cyclosport writer Mark, and some tweaks from me.  Result!  Much moister than usual – probably because it used more golden syrup and marg than previous recipes but then, to be fair, it also used more dry ingredients.  Very tasty too.  Though probably not what you'd call a health food, even with sultanas, cranberries, and various seeds in there *grin*.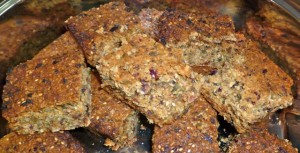 We came the direct route home, with the wind actually helping to push us up Mudgley Hill.  Novel.  There was a little confusion as to who went where then.  Having followed Carlo and John straight on, I think Michael and Mark must have gone left, since they didn't catch up, even though we dilly dallied, and stopped and waited a few times.  Carlo and I decided to head for home, as planned, and John went off to try and catch them.  Sorry guys – thanks for a great ride though :).
Cycling time: 2:07:46 hrs
Distance: 37.52 miles
Avs: 17.6 mph.
ODO: 14349 miles
Carlo and I took turns on the way home before he dropped me on the Wedmore straight.  I was doing 25mph+ and he was still vanishing into the distance.  Talk about strong…no wonder Strava thinks I did well – I was trying to keep up!  No chance :).  He slowed down long enough to say goodbye before we parted company though.  I got home tired but happy and well worked out, as you can see from the stats.  Flat but fast!  Now if they were to ride earlier in the week sometimes I might be able to join them more often…I definitely can't be riding like that on a regular basis AND doing all my other riding :).
Here's another one for the chain ring tattoo album.  Front chain ring from the look of it…