I was up with the alarm, and greeted by the unexpected sight of blue skies and sunshine out of the window.  A little bit windy out there, but still so much better than forecasted earlier this week.  I've got this leaving for a sportive thing down pat now, and was off on schedule, flying down the motorway.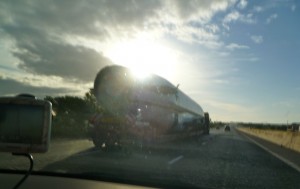 Hard to make out I know, what with that unexpected sun and all, but this is a large section of aeroplane fuselage making its escorted way down the M4.  Just before they closed the M4 between junctions 18 and 17 and made all the traffic detour in slow convoy fashion down the A420.  *grrrr*.  This was not helping with my joie de vivre, but being me, I had left enough leeway in the schedule that a minor delay, which was all it really was, wasn't a big problem.
The start venue was at Nationwide HQ, south of Swindon, and therefore blessed with copious quantities of free parking which didn't really need marshalling as there was so much of it.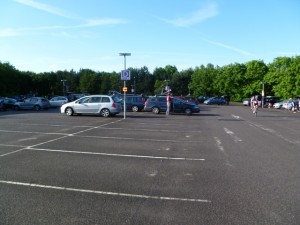 In fact the only real use the marshalls were was to tell me where registration was as this wasn't at all clear, and which involved getting back onto the road and riding back down to the roundabout and taking the opposite exit to get to it.  Luckily I'd figured that distance might be involved, having learnt from previous events and not wanting to to and fro, so I'd opted for getting myself all sorted and ready before heading over there.  A one way trip to the start for me.
Pre-event emails and information had been copious, so all I had to turn was turn up at registration, rider number mentally noted, get my number, cable ties, and tag, and sign in.  Last week I was 3401.  This week I was one digit out.  Literally.  Knock a digit off – and call me 340 :).  This week's electronic timing is brought to you by the attached to your wheel hub returnable tag variety.  Not my favourite and I cheated and attached it to the front wheel not the rear – no way I was messing with anything to do with the set up back there, we've only just gotten it working!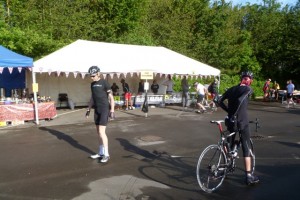 There clearly weren't that many doing the event – around 450 were signed up I think – and there were no queues for anything.  Including the all important toilets.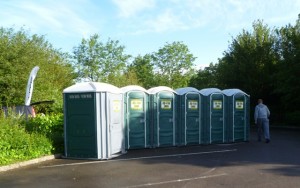 Today kinda counted as a cycling tweetup, as I met up with both @awbennett and @stevemoranuk.  In fact Steve, who I "met" while planning last year's Etape, and who is doing them both this year, plus the Haute Route, slummed it and most surprisingly rode the entire event with me!  I met him at the start, and after a short and not all that audible briefing, we were on our way a little after 8:00am.  The first, and one of the steepest, hills comes very early on, before the route settles down a bit and heads along the Avon Valley.  Thanks to the relative flatness of this section, there was quite a bit of impromptu group riding which was nice.  Especially as we were heading into a nasty westerly wind – there's shelter in numbers!  Other than the wind the weather was clement.  Dry, mostly sunny, with temperatures increasing as the day went on.  How nice is that?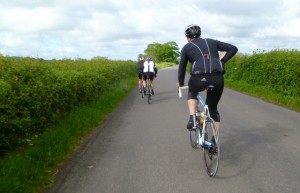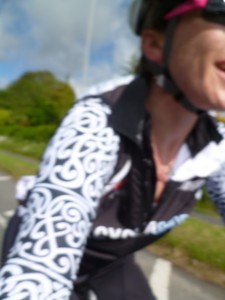 OK, so it's a little unfocused, but I'm smiling, and if it was an instagram photo you'd just presume it was meant to be that way… 😉    I'm quite familiar with this part of the world, or some of it at least, as this is where t'other half's family comes from, and I've also done the White Horse Challenge which uses some of the roads.  So when we entered the village of Cherhill I knew where we were, and that some climbs were on the way.  We turned left onto the A4, and formed a line to do the long gradual climb along past the hill that presumably gives Cherhill village its name.  Or vice versa.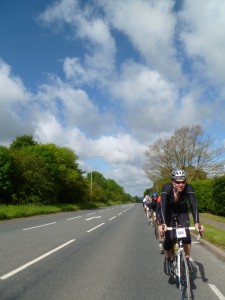 It was time to remove the gilet so I stopped and let the peloton go on their way, which also allowed Steve to catch up to me after his own brief stop.  Sadly my gilet is a little pink thanks to my daughter and a washing machine incident, so it was probably best tucked away as soon as possible.  Here's hoping some Colour Run Remover does the trick tomorrow…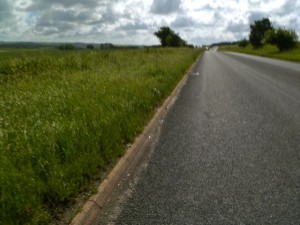 Anyway…  After the climb, and a rather nice descent on the other side, we turned left and headed towards Avebury, though we were through it before you knew it, so there wasn't a lot of appreciation going on.  Well, this is a sportive, not a sight seeing tour, right? 😉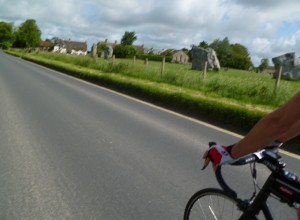 I knew Hackpen Hill was coming, but it was further away than I remembered.  However it was 2008 when I did it last, so it's hardly surprising that my memory is a little gruyere like.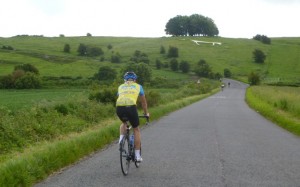 You can see the white horse ahead of you, the road climbing and wiggling up the hill, with small brightly clad cyclists cresting the top by the trees.  Which would shortly be us.  T'was a bit of a slog, and there were a few who had resorted to shanks pony, white presumably, but the wheels went round, and before long we were at the first food stop.  Lovely views, but no toilets, tut tut.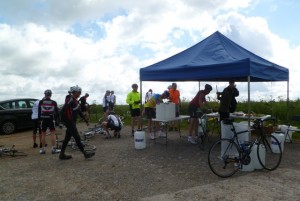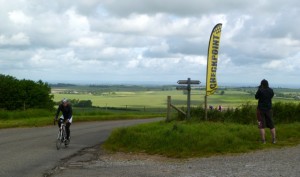 I passed on the food, I think I sort of forgot that I should be eating, since nothing at food stops is safe for me to eat!  However being properly warmed up by now, I did stop and stuff my arms in the saddle bag.  The descent over the downs, past the racecourse, along to nearly Marlborough was, partially due to my familiarity with the road, a whole heap of not very technical fun.  Nicely cooling too :).   The next chunk of the ride involved lots of ups and downs – never quite enough of one or the other in some respects.  The next notable climb is Round Hill I believe, which was considerably steeper than most, and I was glad of my triple.  Steve has the most ridiculous (not that I'm jealous, much..) low gearing on his UDi2 equipped steed – something to do with a long cage – and he spins his way up hills like it's easy!  Sorry – that's as technical as I can get about it, and you're lucky you got that :P.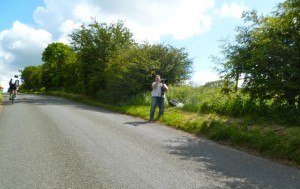 As ever, there was a photographer on the hill to capture the moment…so I captured him instead!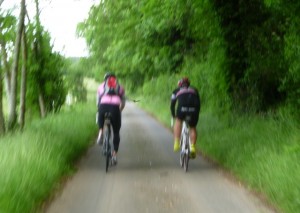 Doesn't black and pink make a nice change?  I'm not sure the yellow booties go though, or the red rucksack for that matter…but each to their own.  There's no law that says everything has to match, contrary to popular opinion ;).  On to the second foodstop, small, well catered for if sweet is your thing, but again with no toilets.  It was also next to a water pumping station, with the constant sound of running water, just in case you didn't already need the loo when you arrived…!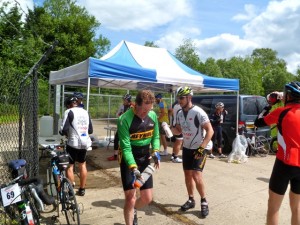 I was oddly impressed by the rider who pulled in, parked up, and had a fag break before getting going again.  Riding like this is hard enough for ex-smokers, let alone current ones!
This time around I remembered to eat – and it turns out that these flapjacks are the best yet.  Moist and not crumbly.  My SiS bars are doing the job on the road in the first half of my rides, and my flapjacks are for stops and the later part, depending on the crumble factor!  Too much crumble and there's no eating them on the move…  Mind you, I do wish someone would come up with a decent savoury fuel – after 4 or 5 hours of eating that kind of thing it's very hard to eat anymore, just because it's all too sweet.  Hm…may have to see what I can come up with for my next flapjack attempt! 😉
Essentially, thanks to SiS, Nuun, and to my multitude of flapjack attempts, I've managed to ride mostly digestively pain free recently.  Shame about the knee…which was not having the greatest day today…but at least the paracetamol I took is only having to cut off the pain from one source not many!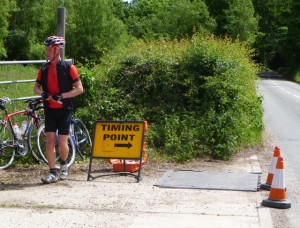 Time to ride over the timing mat, complete with satisfying beep, and be on our way again.  A brief field stop was necessary a little further down the road…  Before long we were over halfway through the ride – always good mentally.  As you can see my Garmin was working this week, though I did try not to obsess too much about what it was saying.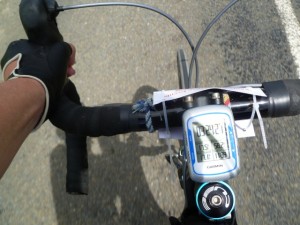 More up and down, more sunshine…and one final stop to remove layers.  My capacious saddle bag had enough room left in it for my legwarmers, and there I was in Cyclosport jersey and shorts, all summery and everything :).  There are worse places for a quick break, no?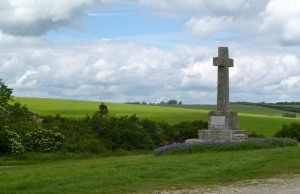 Having had the wind behind us for a while, we had to head north for a bit and then turn back into it, and I'm fairly sure it was way more of a hindrance than it ever was a help!  We took turns to play windbreak, and sheltered as best we could.  Luckily the route was quite wiggly so it wasn't too relentlessly into it all the time.  The final foodstop was about 16.5 miles from the end according to Mr Helpful there – making the route total about to be 101 miles, not 105.  Amazing how much that helps mentally.  I managed to persuade him to tell me it was all downhill from there on in too… 😉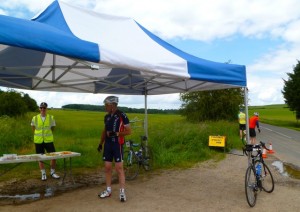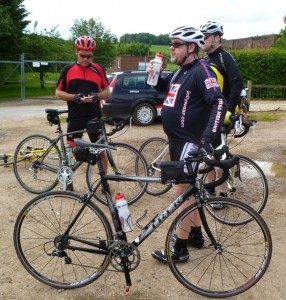 After another half a banana, and some more flapjack, we were off again.  No timing mat beep this time, though we did ride over it, honest!  Time for the last hour or so to the end.  At least it stood every chance of being an hour, but this was obviously going to depend on the wind, which was doing nothing for our rapidly dropping average speed, and how much climbing was left to us.  And there was more of both.  There was the long slow drag variety which, to be fair, wasn't hurting too much…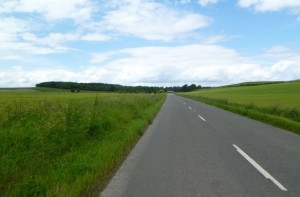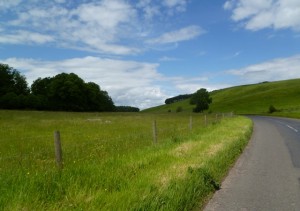 The sign for Hinton Parva forgot to mention that it was pointing us towards another big hill – Blowing Stone Hill, which was another variety entirely.  Quite a kicker in fact when your legs are already practically at the finish, and not inclined to be inclined!  Talking of signage, as you can see it was pretty clear.  Orange/black for the route, yellow/black for warnings and splits, with plenty of both.  Then there were my favourite signs – orange repeater ribbons – to reassure you that you are indeed going in the right direction.  Even if the gpx file supplied hadn't been accurate – which it was – I'd be surprised if many riders got lost today.  I didn't see many with punctures or mechanicals either, which was good.  And I wasn't one of the afflicted either – something I appreciate more these days than I used to!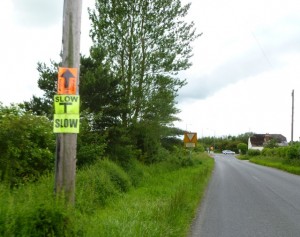 This particular sign was a very good idea as we were about to cross a main road, at which we duly waited, and waited, and waited…  The rider who came from behind us, barely looked, and just rode straight across is a very lucky individual indeed…  Down to 8 lives at least.  And if he rides like that on a regular basis, which seems likely, I'm guessing we may be talking considerably less than that!
After that there were a couple more kickers, short but nasty, to come, but my legs were on their way home and weren't having any of it.  Time to get back to the Finish, after a quick sprint down the main road for fun.  Must stop doing that, it's neither big nor clever ;).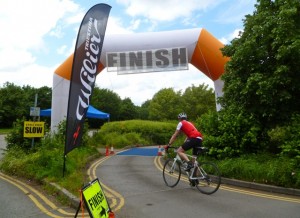 I was pleased to get to the end, especially 5 miles earlier than I'd been expecting!  It's been a while since I've done a hundred miler, so I was pleased with how it went, though to be fair, it was considerably less hilly (c.1500m) than advertised (c.2000m).  It was not however the best way to get used to a new saddle – we are NOT friends yet!  Oh, and something is still creaking….
Having handed in our tags we were given our voucher for a Tea and a Tee.  See what they did there?  That would be a coffee, a free double choc muffin to take home to the mob and a souvenir t-shirt for me :).  I definitely had a bit of post-event buzz going on, as I sat in the sunshine chatting to other riders, including a couple who actually came over to chat to me because they knew who I was, and wanted to put a face to the name, which was kinda amazing!  Nice to meet you both :).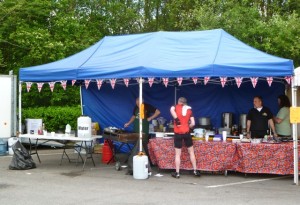 Cycling time: 6:09:37 hrs
Distance: 100.38 miles
Avs: 16.3 mph.
ODO: 14449 miles
I had a chat with Martin the organiser, who came over for a chat, and also recognised me because we met at the Joker.  I hadn't really taken note that the same group were organising both events – 'doh!  I thought he looked oddly familiar back then, and had put 2 and 2 together since, but I needed to know if that made 4…which it did.  I used to work with his brother, many years ago, and there's a serious family resemblance.  It's a very small world :).  Sounds like they'd had a good event too, although the weather forecast this week had blighted the turnout somewhat which is a shame as those riders missed out on a good day in the saddle.  Incidentally, I think this would be a great sportive for anyone looking to do their first 100.  Some challenging ups (but not too much so), some lovely downs, with beautiful countryside and great organisation – the perfect way to get you hooked on the sportive drug 😉
Personally I had a great Great Western Sportive.  Good weather makes everything so much nicer doesn't it?  I wasn't exactly flying, but it did go pretty well, and my legs did what they were told with minimum complaint.  Or at least less complaint than sometimes.  I met some great people, topped up the vitamin D levels, and enjoyed some lovely scenery.  To put icing on the sportive cake, my official time, which I checked on the way back to the car, was 6:27 and a Silver – woo hoo! *grin*.
UPDATE: official Cyclosport review is up here.  Results are now up here as well.