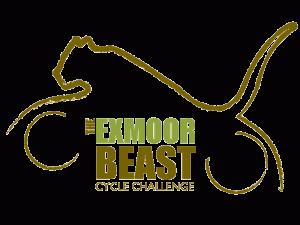 Considering how near to me the Exmoor Beast is, it may come as a surprise to discover that I've never done it.  I've never even really considered doing it either.  Why?  Maybe it was the infamous 2009 event when the weather was even worse than it is at the moment, and torrential rain and gale force winds resulted in all riders doing the shorter route for safety reasons.  Maybe it was because for some reason I'd also got it into my head that it was massively hilly, and totally beyond my ability.  So when I was asked if I'd like to ride the event this year, and furthermore if I'd like to go and preview it first, I have to admit to having had my reservations.  However I've been getting on pretty well this year, and there's a little bit of me that quite likes a challenge and hates to wimp out of things.  I also figured that if I checked it out first I'd be better prepared come October, and since I don't feel I have a lot to prove these days, I thought I'd opt do the shorter route.
Which is why, on a wet Wednesday, I tucked my bike up snug in the back of my car and headed for Minehead.  Maybe the unseasonal autumnal weather was deliberate, to make the preview experience more authentic?  The plan was to ride various bits of the route, take some photos, and get a feel for the event.  However constant rain, of that oddly not very heavy but yet totally soaking variety, with blustery wind, made the idea of much riding less than attractive!  First things first though. The start venue is at Butlins, Minehead, which is not somewhere I was familiar with, but was easy enough to find, because it's signposted!  There's hard standing parking for hundreds of cars, which in weather like this is far better than a field would be.  It being a holiday park, there's all the facilities you could need, plus if you're doing the ride your family and friends get to use the attractions for free, which is a massive bonus.  There aren't a lot of events out there that allow you to earn brownie points while riding!
Here is where I met up with Marcus Di Vincenzo, the organiser, and Ron (of Dartmoor Classic fame) who happens to be his father in law.  Cycling is a small world ;).  They kitted me out in this year's very fetching jersey, which is very striking I'm sure you'll agree.  My daughter loves it – she has a thing about cats :).
Considering the 'orrible weather we decided the best thing was to do the route by car, and just ride the odd bit. Of course, one of those odd bits had to be the climb up towards Dunkery Beacon, a segment that Strava calls Crook Horn Hill.  I was released from the car about a mile from the start of the climb to try and warm up a bit, which was a nice concept…but worked better in theory than practice.  The cattle grid at the bottom was wet and slippery and there was a brief back wheel moment…before I got on with wondering why I was doing this to myself…*grin*.  I had no idea what the hill was like, which was probably just as well but as it turns out, it's doable.  It was wet, green, overshadowed by trees, faily narrow, and on the day, with zig zagging riders and traffic, I can see it being a bit tricky to negotiate.  Be prepared – bottom gear as you turn left into the climb at the bottom, careful over the cattle grid which will be covered with matting so much safer, avoid the less well prepared riders, and then take it easy. Well, that's what I'll be doing anyway.  It's steeper at the bottom and gets easier around halfway up – which is the way around I prefer it.  It is however an average of 12.2%. Enjoy!
Taking photos was tricky thanks to the weather – but here's me after a brief conflab halfway up the hill, getting going again…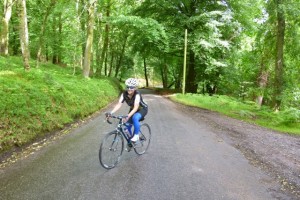 and a couple more further up.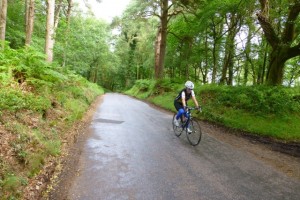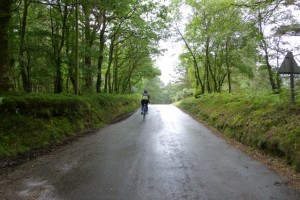 I told you it was wet.  Most of the rest of the route we did in the car I'm afraid, as there was no point getting soaking wet and miserable, or worse, at this point in the season.  Which is why there was no way I was cycling through the ford later on!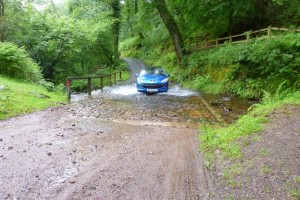 As this car demonstrates – it was quite deep, and the pave underneath are uneven, wet (obviously!), slippery…in short, lethal!  Apparently if you have the courage of your convictions and approach it straight on at a reasonable pace with no braking, it's fine.  Nope – that doesn't sound like me.  She who falters would be lost…  Still, there's a muddy path and footbridge available for those likewise faint of heart *grin*.  It may well also be matted on the day, which would definitely make it easier.
The Exmoor Beast is a ride of ups and downs.  Dunkery Beacon is probably the worst climb if gradient is your problem.  There are plenty of other climbs, but nothing quite like that.  The long climb out of Lynmouth is more my kind of thing.  Not massively steep, very scenic, and it goes on for miles and miles!  However all the climbs up are worth it to get you up on to Exmoor.  Even on a day like this, there's something oddly impressive about bleak stark wet moor.  In the occasional clearer patches the views were stunning, taking in the moor, the hills, the coast, and the metallic grey windblown Bristol Channel.  There's some lovely riding to be had up there, though it's probably too much to hope that there won't be a headwind on the day!  Of course having ridden to such dizzying heights there are some interesting descents to be negotiated.  I'll use the word technical – everyone else does – but I think with a little care and attention some of them could also be quite a lot of fun :).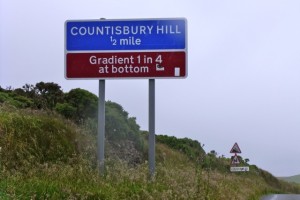 Just remember that road signs are there to inform – and I don't just mean event signs, though there will be plenty of those.  If, like this little group, the signs are warning you to be careful – you probably should be!  In fact half way down Countisbury Hill there a sign advising cyclists to dismount, if you have time to see it that is, as you should be paying attention to the road at the point.  And I'm not sure I'd go that far anyway ;).
This event is organised with military precision, and just for once I can use the word "literally" and mean it.  Marcus has an armed forces background, being a former Royal Marine commando.  Everything is planned meticulously, with the emphasis being on rider safety.  Up on the Moor the weather can, and does, throw anything at you, as well as changing radically with no notice.  A full risk assessment of the route is carried out, with comprehensive medical support stationed at the most appropriate points, equipped with satellite communications to overcome the frequent lack of mobile phone signal up there!  There's also technical support – pre-ride, mobile on the day, and a broom wagon if all else fails.  That's no excuse for not travelling equipped though – a van can only carry so many inner tubes!  It's always reassuring to know that there's help at hand should anything go wrong.
The last 10 miles of the route are going to be a lot of fun.  A long descent from the Moor, down through Dunster, and back along the flat to Minehead – perfect for a bit of a sprint if your legs have that left in them.  Unusually the finish line is actually indoors, which has to be a first.  Probably a very welcome first if the weather is anything like it was today.  There it will be warm, dry, with plenty of space, and the chance to grab some food, maybe a beer from the bar, and kick back in self-congratulatory fashion.
Having seen the 100km route up close now, and not having scared myself witless, I'm seriously tempted to do the 100 miles now, but I think that's a decision to be made on the day.  Yes, the terrain is demanding, but how demanding is going to depend on how wintry it really is.  Considering how unpredictable the weather is these days, all bets are off for what we might actually get in October!
So who's with me?  Over 400 people have signed up already, and places will go fast through the summer.  The last entry deadline is 23rd October, and you can't sign up on the day, so if you want to enter you'd better click here now!  Come and tame the Beast…you know you want to :).