In case you were wondering, the italian word "Maratona" means Marathon.  Right now blogging about it all is feeling like one…let alone riding the darn thing! 😉  Deep breath…and here we go again…
Man that 4:00am alarm clock felt early.  Which presumably would be because it was?  Half an hour later, all day sun cream applied, lightweight layered kit on, and it was down to breakfast.  It was already 16C so it was clear that heavy layers won't going to be needed – and skinny ones were probably just going to be for keeping warm at the start and possibly for descents.  I wasn't taken any risks with nutrition this time around – free from muesli and uht lactofree milk sachets got me a bowl of my regular sportive fuel sorted, and the coffee got my head slightly more into the swing of things.  The bikes went into the car, everything I might possibly need came downstairs with me and, slightly nervous about how long it would take to get to the start and where we'd park, we were off before 5:00am.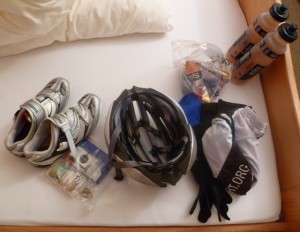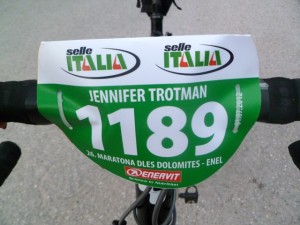 As it turns out, it was easy.  We parked at the ski lift car in Pederaces, a short ride from the start, in an empty car park.  Quite a relief.  We rode towards the start, past cars being marshalled into more formal car parking, so we needn't have worried anyway, and joined a steadily growing stream of riders doing the same.  It wasn't cold, but there was a bit of a nip that made me glad of my minxy arms and gilet.  For whatever reason, positive discrimination?, female riders get to be in pen two – Selle – behind all the pros and celebs in the first pen, along with the second ranks of men, so I left Kevin to join his Pinarello pen, one behind me – and went and joined my queue.  The ACG were further represented back there by Steve and Chris – does that make it an official ACG ride? 😉
The sun was still hiding behind the mountains, but the skies were already a brightening blue, and it was clearly going to be a good day on the weather front at least.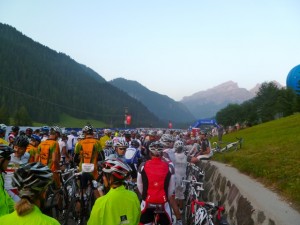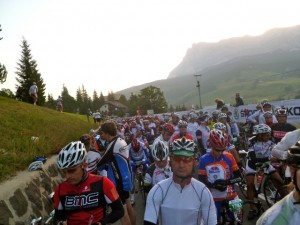 My pen filled up with professional looking riders.  A range of keeping warm tactics, from overalls to foil blankets, were in play.  As the start time neared, the tannoy kicked off, welcoming us to the event, wishing us many smiles, playing music and interviewing Big Mig.  Not that you could really make out what was being said but it all added to the growing atmosphere.  The live TV helicopter started flying past overhead, filming the scene for broadcast, and slowly the time passed.  I decided that my gilet wasn't going to be necessary any longer, and stashed it away with minutes to spare.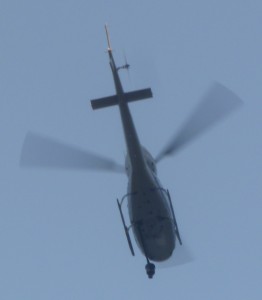 At 6:30am the gates opened, metaphorically speaking, and we were all off.  I was off over the line at 6:32am and on my way to climb mountains.  Wow…  The first climb of the day, to be revisited later, was the Passo Campolongo.  5.8km at 6.1%.  Not a bad way to warm up I guess, though I can probably think of better.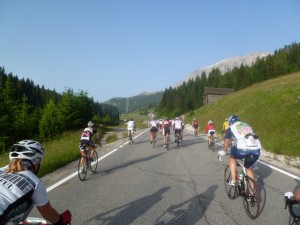 Still I was quite pleased with how it went, and also grateful that this was being done before the day had really woken up.  One kind of warming up at a time please.  However 9000+ riders on the road can make for some interesting riding conditions, especially when they haven't had time to spread out.  It has to be said that mass UK events have rather more etiquette to them than those abroad, in my very limited experience.  A lot of people very keen to be ahead of other people makes for a lot of barging, and squeezing through.  I didn't fall victim to being shouted at, unlike some, possibly due to my gender, but things did get a bit heated around others from time to time, and a bit hairy around me on those occasions when people went past you in non existent space on both sides!  And that's on the uphills – don't get me started on the downhills…. 😉
Talking of which, it was time to see what descending a Dolomite was like.  Quite technical as it happens, with a lot of hairpin bends, and a lot of speed to get rid of before you get to them if you have a healthy respect for your own well being…  Not quite my sort of descending, but once I'd stopped worrying about what was going on behind me, other than to make sure I was riding a reasonable line and not blocking the racing line, I kinda got the hang of it.  There were a couple of riders along the way who weren't so lucky…not nice :(.
The second climb is the Passo Pordoi, 9.2km at 6.9%.  And it seems to go on a very very long time.  Ribbons of cyclists weaving away ahead of you, into the distance where you know you have to go.  The sun was rising behind us over the still shaded valley that was getting ever further below us.  The helicopter passed by low overhead, which has to be the first time I've ever been made to wobble by a down draft, though the breeze was not unwelcome.  However you look at it, 9.2km going up is a long long climb…and that 6.9% is just an average – there was definitely some variation in gradient going on, making settling into any sort of rhythm a little harder.    At some point early on in the climb, a hand landed on my back, and an English voice greeted the Cycling Mayor from the UK!  Hello Mr Dave Lee, 6109 – good time!  Thanks for saying hello – every smile helped 🙂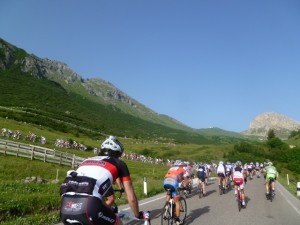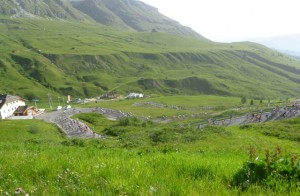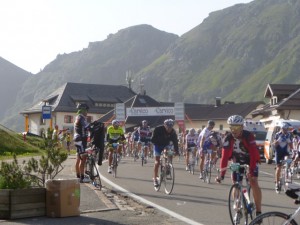 2239 metres up, and we were definitely on top of a mountain.  With the views to match.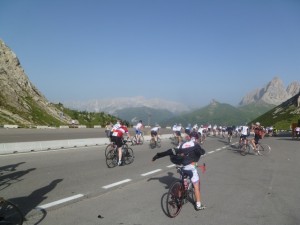 Now there's a distinct possibility I may not get my hills quite correct, but I'm trying…  After such a long climb there was, as you might expect, a long descent down to a shaded valley and a food stop.  At one of the stops early on, a rider got his front wheel entangled with my rear wheel which didn't seem a big issue at the time – just one of those things.  However it turns out it was.  In fact on one of the following climbs some Italian rider gesticulated at my rear wheel with some diatribe as to what was wrong with it.  Constructive if you speak Italian, not so much if you don't.  I announced to the general public that if anyone fancied translating that I'd be more than grateful…and the rider next to me got as far as knowing it was something to do with the cable, but not what.  I discovered part of the problem after this big climb, when something started making a noise on descending.  Turns out that that wheel had pushed my rear gear cable 180C from pointing up to down.  It had now moved to be catching in the spokes.  Not so good I'm thinking.  I put it back where it was, made it to the bottom, and didn't think much more of it.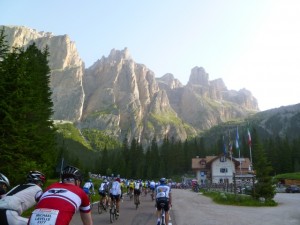 Until I left the food station, started the climb of Passo Sella, and realised I couldn't get into bottom bottom gear and my indexing was screwed *sigh*.  Well moving that cable takes that twiddly adjusting bit with it right?  Marvellous.  There was a slight element of deja vu lurking…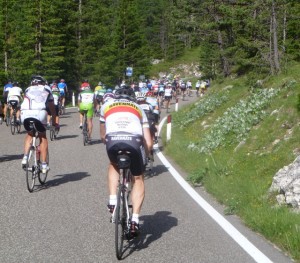 It wasn't instantly a problem, and as we passed the noise makers in their lederhosen cheering us on, the climb started for real.  5.5km at 7.9%.  I was clearly going to need that gear.  I stopped, fiddled, twiddled, and fixed it.  For a while.  This was to be the pattern of the day from hereonin.  Hit big hill.  Stop.  Turn bike upside down.  Twiddle.  Get bike into bottom gear.  Cycle up hill.  Carry on as normal afterwards, as the rest of the gears were pretty much working.  Until next big hill.  At least the climbs were pretty constant so although not ideal, it worked.  And hey, I now kinda know what that twiddly thing does ;).  Somewhere out there, courtesy of a rather rueful looking photographer who I caught at it when I looked up, is a photo of me bent over my bike messing with my rear mech.  I may not buy that one *grin*.
The higher we got, the better the views became.  The scenery was stunning throughout to be fair, it's one of the reasons people rave about this event.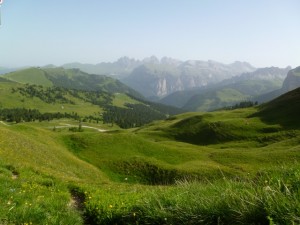 The Sella and the Gardena blurred into one a little.  More climbing in ever growing heat will do that to you.  And hey, it was a long day…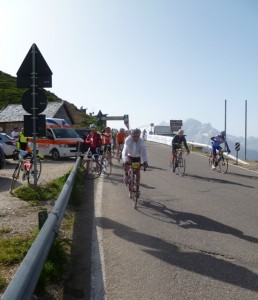 The long descent from Passo Gardena took us back down to Corvara, where the "short" route got to go and cross the finish line, while we all got to go and do Campolongo again.  I'm not keen on repetition, but at least I knew it wasn't terrible.  Some consolation.  It felt a little bit like starting all over again, which is a little hard mentally, and it definitely felt easier first time around in the cool of the morning, rather than the heat of three hours later.  By now it was 30C…!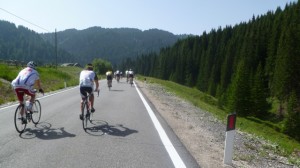 The food stop at the top of the Campolongo was much much busier this time around, as people grabbed as much fluid as possible, happy to have made it through the first cut off point with well over an hour to spare, with that little bit less pressure on.  Or maybe that was just me ;).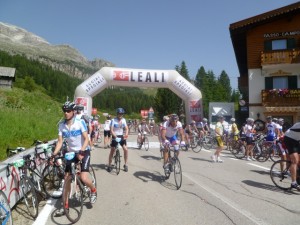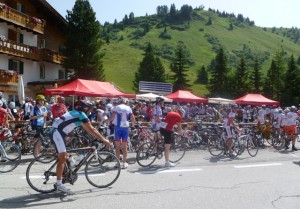 There were still two BIG climbs ahead of us, and even the little ones in between us and them weren't going to feel easy.  I know I don't work well when very hot, and I know from last year's Etape that what works for me is pouring lots of cold water over my head, and then the rest of me, so that's what I did here, and continued to do for the rest of the ride.  And yes, it helped.  I'd rather get round that bit more slowly, than get heat stroke and not get around at all.  I wasn't totally feeling it for a little while mid-ride here.  Hot, hard work, long way to go…often a low point.  But we got to another food stop which actually had decent indoor toilets.  An element of civilisation, more cold water, some food, one bottle filled to drink, one to pour over me.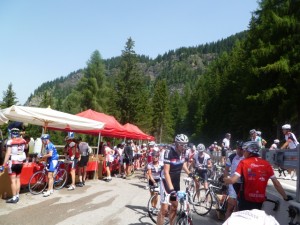 Thus revived, when it came to the 108km/138km route split I was back on for finding out what the Passo Giau was really like.  Well, not until I'd stopped at the bottom and put the bike back in bottom gear of course 😉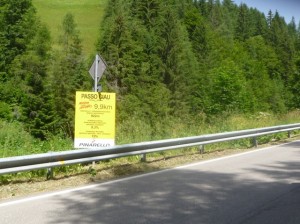 Getting back on the bike on, as it turns out, a slightly steeper section, was not easy but luckily I got both feet back in the cleats and got the momentum going.  Passo Giau was used in this year's Giro.  It's 9.9km at 9.3%, and it's really pretty constant.  It starts by following a river up stream, through trees and forest, and gradually takes you up to open mountain.  Very scenic.  Very constant.  Doable.  Very doable if it was cooler I reckon.  "Go Cav" yelled the road at some point, and I channelled as best I could ;).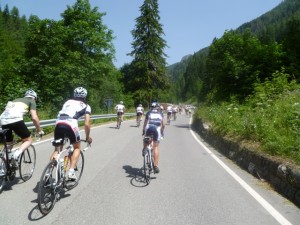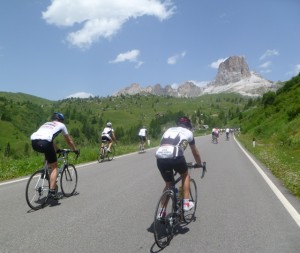 As you can see, I'm not the only one who pours water…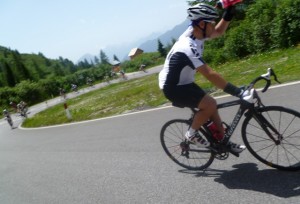 I was in a rhythm and plodding my way up.  I fell in with another UK rider – Tim Dearden – nearing the top, and we cycled along together chatting for a while, until threatening cramp (his not mine) separated us.  Yes – we could still chat!  He's doing the Marmotte this weekend too – mad ;).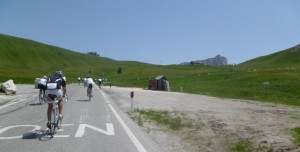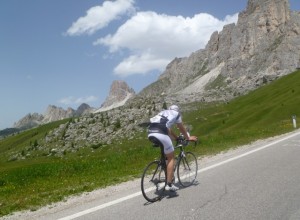 Inexorably and inevitably, I made it to the top.  With a massive grin on my face 🙂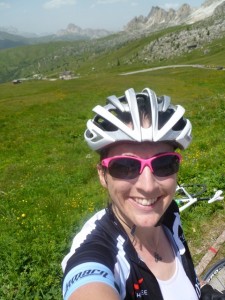 I mean, just look at those views!  Look at where we've come up from?  And we're higher than the helicopter!  How cool is that?  Interestingly enough the summit is 2236 – not as high as we'd already been, but it felt higher…probably because we'd climbed from lower and for longer.  Definitely a high point :).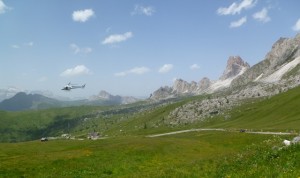 I sat next to the foodstop, ate flapjack, and told myself what a good girl I was. I'm modest like that ;). But man, it's a mountain! I climbed a mountain!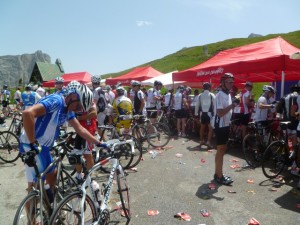 Time to top up those bottles again, and descend…for ages :).  So much nicer now, as we were down to only the longer route riders, and they were well spread out.  I could relax and enjoy myself a bit more, and actually overtook quite a few people, clearly people even more cautious than me do exist.  That left one last big climb between me and the end.  The combo of Passo Falzarego, and Valporola.  11.5km at 5.8%.  Less steep, but long.  Not to be underestimated with that many miles both ridden and climbed already taken out of your leg account.  The first section was almost irritating.  A bit of a climb and a bit of a flat, through forests with looming cliffs above.  But you know what's coming so you can't relax…  Once again I had company – hi Denzil – for a while, and the conversation definitely made it pass a little faster.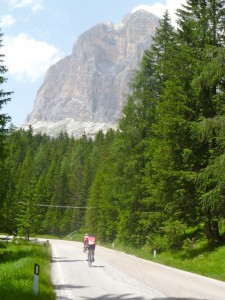 We chatted, had a water pouring stop, and then got separated as the climb got going for real.  Being once again in bottom gear, for the last time, I had my rhythm and that was the way it was.  The roads were re-opening now, adding traffic to the obstacles to be negotiated.  I was really feeling the heat again by now, it was well in the mid 30s, and I started to get that slightly odd feeling again, the one that I now know means that I'm running on empty.  I found a shady patch and pulled over.  A few minutes of cool, more water, and one of the safe SiS gels that I was given a while back.  I don't usually do gels, and I was a bit worried, but actually it was fairly pleasant as these things go.  Isotonic, or whatever it is, too, so that drinking with it is less important.  Needs must, etc.  I got back on the bike, and found a wheel to sit on.  Not to suck but to follow.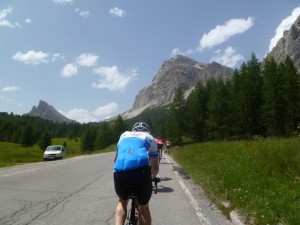 His speed was just right.  Slightly slower than I would be making myself go if left to my own devices.  I needed to let the gel work, and get myself up the hill safely, and as a strategy goes it worked really well.  The food stop was at Falzarego, a little before the summit at Valparalo, which I knew so I knew there was a little more to do.  On the top of the ride number, so that it folded over towards you, was the profile of the ride so you could see where you were, where you were going, what was where – truly an ingenious way of doing it and I'm glad I didn't cut it off like some.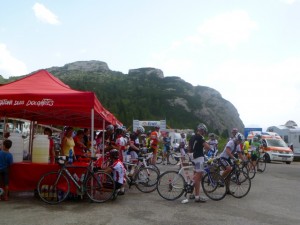 Onwards and upwards to that summit, knowing that I was nearly on the way home.  I even had time to find the smell of the burning clutches on the cars trying to get past us amusing *grin*.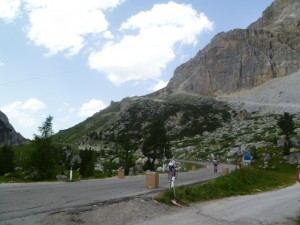 The other side, past the war museum, with awesome panoramic views, saw the beginning of the end.  A lovely long not overly technical descent all the way back down to La Villa, that luckily the cars were not allowed back on, before a little sting in the tail of a climb back up to Corvara.  I could have descended faster but how awful would it be to get that close and then not finish for some reason?  Exactly.  So I smiled my way all the way down instead.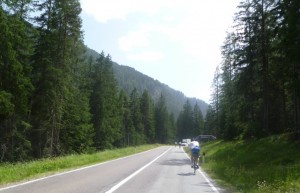 Nearly there, and the marker signs started appearing, while riders who had already finished were on their way home, draped in medals, all quite motivational.  Time to get back asap, safe in the knowledge that pacing myself was no longer necessary.  I crossed the finish line, grinning like an eejot, as the official photos show, as does this one a little later.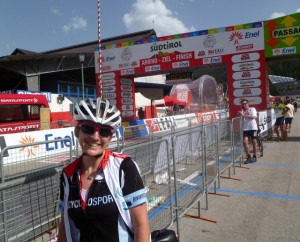 The finish village was fairly chaotic, full of riders kicking back in the sun after the ride, meeting their friends, debriefing…  I'd barely been in when the official timing from Datasport texted me my time.  In fact they'd texted me at every climb.  And my t'other half, who's number was registered as my emergency contact, so he kinda knew how I was going all day, which was nice.  Efficient no?  Turns out I lost the best part of an hour not riding, and I reckon without my mechanicals I'd have been at least 20 minutes faster…but hey, I finished and I had a good ride – way more important than my time :).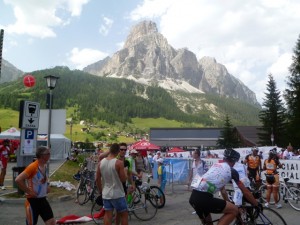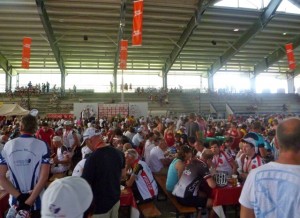 We collected our free gilets – queue jumping is an art, and variously ate our free pasta, drank the free beer or whatever, each to their own. Beer for me this time for sure!  Regardless of where we'd all started, and how they'd managed to pass me, we'd all ridden our own rides, and we were all in at pretty much the same time, all bar Chris who had kicked ar*e as usual.  Look at us all, don't we look happy?
Cycling time: 7:57:26 hrs
Official time: 8:50:51 hrs
Distance: 86.04 miles
Climbing: 4823 metres
Avs: 10.9 mph.
ODO: 14719 miles
Maratona dles Dolomites 2012 – done!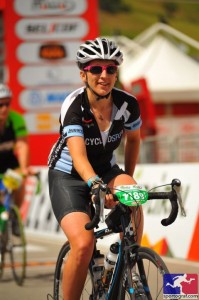 My official Cyclosport review can be found here 🙂