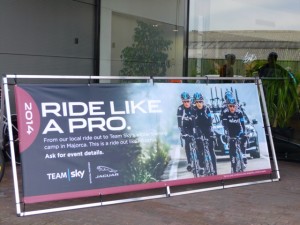 Facebook is…well…many things, but it is also responsible for me doing today's ride.  One of my FB "friends" said "here's this ride – why not sign up"?  And after a little discussion behind the scenes, mostly to establish what the route and clientele were likely to be like, I figured "what the hell, why not?".  Well I'm here this weekend (clearly) and I'm trying to get as many miles in as possible before I go on holiday and "taper" before Ride London so…yes, why not?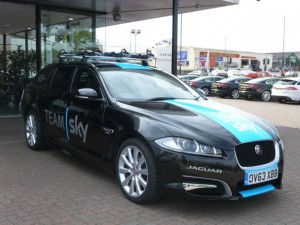 Which is why at 9:30am this morning I was parking my massively outclassed Hyundai i10 at Hartwell Bristol Jaguar, and unloading my massively outclassed bike from it!  All the high end kit and clearly fit riders around made me properly nervous too, so it was really nice when a friendly face  – aka James S – turned up.  Apparently 50 of us had signed up beforehand, but only 29 turned up on the day which, given the nature of the route and the gorgeous sunshine, seems a shame  – for them, not me!  There wasn't much faffing to be done.  I was already wearing as little kit as possible, so it was just a question of assembling the bike, putting gadgets on it, and stuffing my pockets with the usual stuff.  I could have had a coffee, but I didn't want to be the one needing a comfort stop later, en route.  I was nervous enough to have to go to the (very plush) toilet twice as it was!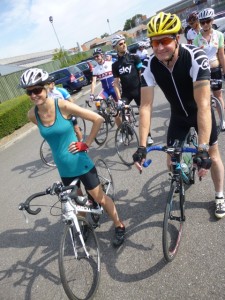 This isn't really an event as such.  It's more of an escorted club ride.  Escorted by a Team Sky Jaguar, bringing up the rear and loaded with such supplies as might be necessary, and led by a posse of whippets in Bath CC kit.  For the first time since the Mad March Hare garmin debacle, I'd actually downloaded the route, as there would be no signs, just a follow your leader principle, and looking at the principals involved, I figured I might be carrying the lanterne rouge home on my own and didn't want to get lost.  Although most of this ride is on my patch, the bits going out of and into Bristol are unfamiliar territory to me.  Well, why would I choose to play with city traffic if I don't have to?
After a short, we need to tell you this to cover our risk assessment arses, briefing, we headed off around 10:15, nominally in two groups.  James convinced me to go in the first group, on the basis that that way I could fall back to the second if necessary and, not having been brave enough to do likewise on the Tour of the South East, I was prepared to give it a go this time around.  Although I'd downloaded the route, I'd only really looked at it enough to see what the profile was.  Mostly flat with two main hills in the middle – Shipham and Cheddar Gorge.  Well, those hold no fear for me…other than the fear of being left behind of course!
It was fast.  It was hot.  I tried.  I got dropped a few times, but traffic lights, traffic, and obstacles of various nature combined to allow me to catch up.  Dropped was, of course, whenever the route went up at all.  I would drop like a stone on every incline, while the group surged relentlessly on, barely pausing to register that the gradient had changed!  How very TdF 😉  But that's ok, and only to be expected, and a lot of the time I did get to ride in the group, suck wheel, enjoy the scenery and even have the odd chat, when breathing wasn't too essential.  Out through Long Ashton, along the fun rolling road to Wraxall, through Nailsea, and then onto more familiar turf as I hit Dad's patch, and the long flat road to Yatton.  I held my own, just, as we went through Congresbury and Langford…but I also knew what was coming.  After averaging 18.5mph up until then, the road was about to go up, and the game would be up, and my true colours duly revealed themselves as we climbed up from Churchill to Shipham.  I say we…very shortly it was just me…one of them did try to tow me for a bit but there's no getting me up hills faster, I'm best left to it.  Besides, I was thinking it might be better to have the descent of Shipham Hill all to myself, all the better to enjoy it, as it were.
Hm.  I did.  Much fun.  But half way down I realised that something was up.  Something was rotten in the state of Denmark.  All was not well with the gearing world.  I had my granny gears, but top gear?  Nope.  In fact, not the top three, whatever ring I was in, however I tried to trick the cassette into them.  Not that this was currently a problem, with gravity on my side 'n all, but it did mean I couldn't shoot out of the bottom of the hill in my usual style.  Just as well, the junction was a bit busy, and I nearly overcooked it anyway!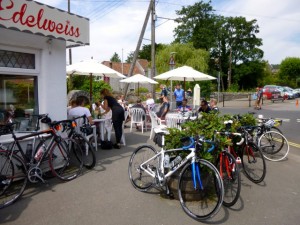 I rocked up at the Edelweiss cafe, where everyone else was already parked up, with a complete lack of fanfare, better late than never, but a little concerned.  One of the other riders offered to have a look at the bike for me, and after some fiddling, established that the right gear cable was frayed, under the hood.  And having fiddled, the gears would turn out to now be off a bit too.  Marvellous.  And spare cables are not in your standard repair kit, so that cupboard was empty.  Ah well.  I went and drank coffee and considered how ironically near home I was…!  Still, my car was in Bristol, and that's where I needed to get to…so that's what I would have to do.  Get back, gently nursing the gears, hoping the cable wouldn't snap altogether…though I checked the Team Sky car would get me back if necessary!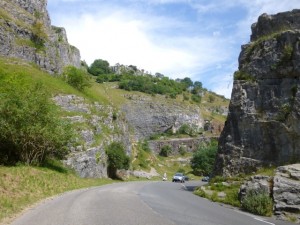 The second group, all fragmented, arrived in dribs and drabs as I was mulling this over.  Having drunk coffee and used the loo, I decided I would head off before everyone else so as to do Cheddar Gorge at my speed, without them having to wait too long for me at the top, supposing they would wait at all.  Which went well.  For them and me.  Hey, it was probably good for them to officially have a rabbit to chase, right?  Sure, some of them caught me, sooner or later, sooner in James' case, as him and a whippet raced for the top, but I wasn't the last up, and going up went ok, and that'll do me 🙂
Right then.  Time for some fun, namely the descent of Harptree Hill and then the fast flat testosterone fuelled section past Chew Valley Lake to Chew Stoke.  However it all got a bit too much for me eventually (maybe I ran out of testosterone?), and I dropped back a bit.  James kindly joined me which, as we all got more and more spread out, was a good thing.  Some behind us, some in front, but all out of sight as we semi-guessed our way back, and the Garmin failed to beep "off course" at us, thus proving we were doing a pretty good job of the same.  There were a couple more hills…aren't there always?  I plodded, dealt with whatever gear the cable decided I was allowed to be in at any given time, tried not to stress it or me too much, and James patiently waited while I did.  Nay problem :).
Bristol was getting closer and closer, but that meant areas of Bristol that I'm totally unfamiliar with.  And here the Garmin came into its own.  Sure, we missed a turning off the A37, but it shortly made us aware of the fact, and we took the next turning and fixed it.  After that we followed the trail it showed us.  Not a detailed map, for sure, it's only a Garmin 500, not one of the bigger fancier models, but it was enough of a trail to get us back to where we needed to be.  However near the end, where the route sort of looped on the way out, I was just about to convince myself we were about to start all over again when James knew where he was and where we needed to be from there, and one right turn at the lights later, we were back at the start.  Sometimes gadgets are good.  As is company – thanks James! 🙂
Cycling time: 3:00
Distance: 48.8 miles
Avg: 16.2 mph
ODO: 5928.6 miles
Did we ride it like pros?  Hm…well…not precisely, but it was nice to know that the broom wagon was there to sweep me up if that cable had broken, which made the return leg far more relaxed than it would have been otherwise.  I did have fun though, and keeping up was probably very good training!  The whippets were still there when we arrived, just, but headed off, presumably back to Bath, pdq.  The friendly staff at Jaguar were unperturbed by this sweaty lycra invasion and dug out lots of cold orange juice cartons and large glasses of cold water for us, which was totally what I needed.  It was really hot out there again today – as the salt crystals all over my kit and helmet straps demonstrate!  Oh, and we weren't the last in, by a long shot.  'Rah!
PS: On the suggestion of one of the other riders, and after some interesting driving around Bristol, I took my bike into BW Cycling on the way back home, and a very lovely young man replaced my gear cable on the spot.  Also 'rah! 🙂