The forecast was good.  The weather the day before was good.  All was boding well.  But it's not until you wake up and draw back the curtains that you know what's really going on out there, and…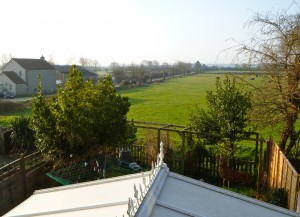 There.  That's better, right?  What an improvement :).  Both visibility and sunshine.  Bring it on!  Time for an ACG ride which, due to the busy nature of my weekend, was being slightly squeezed into the schedule, whilst still being an integral and essential part of it.  To not ride on a day like this when you have the opportunity to so so would be verging on the criminal.  Days like this are what cyclists wait for…
I threw caution to the wind, and went for the one layer option.  Which was pretty much as much wind as was involved on the ride ;).  I revealed my pasty white limbs to the world, and stuffed a gilet in the saddle bag just in case.  I was truly a Rapha girl too – even more so than usual.  My mitts, my Galibier jersey, and my sample sale first time out women's shorts.  And man were they ever comfortable!  Just as with the mitts, it's almost like you're not wearing anything at all, yet without the indecency charge that would come with that 😉 *grin*.
There may have been a minor nip in the air when 5 of us ACG stalwarts set off for a flat easy ride but it didn't last long, especially after the long A38, get it out of the way as quickly as possible, stretch.  I mean look at it, wasn't it glorious?
Guy had planned our route, and also found a brand new coffee stop – much kudos to him.  I've ridden past it many times and paid it little attention, I think it's always been closed, or I've presumed it is.  It sort of hides behind the adjacent building and as you're flying past down the nice straight bit of road there, it's easy to miss it.  Missed it before, won't be missing it again – and I think we'll definitely be back :).
How wonderful is it to be sitting outside a café, in March, in the middle of the countryside in the sunshine?  As usual I had to eschew the cake, but the coffee was up to par which, as we all know, is the important thing.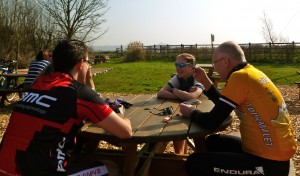 Some lucky people do get to eat cake.  I'm not sure I've ever seen a cream tea where the allotted portion of clotted cream was bigger than one of the scones!
Since Guy had planned an extra hilly loop to do at the end of the ride, I think this probably counted as fuel rather than reward.  I think I'd probably have to do an entire sportive to walk all that off though!  To be fair, his main focus was the scones, most of that lovely cream went to waste, and scones are just a tasty round form of carbs right? ;).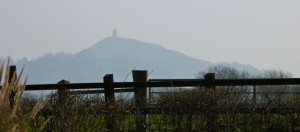 We sat there in the sun, discussed the weather, admired the view, appreciated the new café, and took photos, as you do.  Sunny it may have been, but it was still a bit hazy.  Or atmospheric, when it comes to admiring the Tor lurking on the horizon.  It wasn't easy to decide to leave and get underway again but, as I said before, places to be and people to see.
We took a fairly direct route back, via Godney.  I wasn't hanging around, though I should probably have been trying harder to.  But after a couple of distinctly average rides this week, and with weather like that, when the going is good it's good to be going, and believe me, it was good :).  Dave got a puncture on the way into Wedmore and we ended up splitting up.  Mike stayed to keep him company though, so at least no-one got left behind.  Once we got to Cheddar I headed for home, and Guy and Gary headed for the hills, literally.  I was almost jealous, what with it being such a perfect day to be out there but hey, I'd had a great ride in the sun, and complaining would be churlish.  With any luck there will more of the same this week :).
Cycling time: 2:09:04 hrs
Distance: 37.2 miles
AVS: 17.3 mph.
ODO: 12752 miles