Another Sunday, another sportive.  Which might seem mad to some, but I quite like it.  It sort of becomes routine.  And after a while if I have a weekend without a sportive I don't know what to do with myself.  Yes, I'm weird, we've already established that.  This time around it was the Sodbury Sportive.  Again.  For the third time I think.  I must like it to be doing it again right?  I wasn't so sure I liked it enough when, after another unusually good pre-sportive night's sleep, I was rudely awoken by my alarm, at 5:30am, to discover that the wind was blowing and the rain was falling.  Clearly my recent run of good sportive weather luck had run out…  Ho hum.
Still, the forecast was for better, so PMA and all that.  It's not like I can do anything about the weather.  So I ate porridge, drank coffee, made more coffee for the journey, and even put on sun protection lotion just in case.  Be prepared 'n all that…  Being in the middle of a rather painful patch, I also popped the panoply of relevant pills and offered a prayer to the pain gods that maybe I could catch a break today pretty please?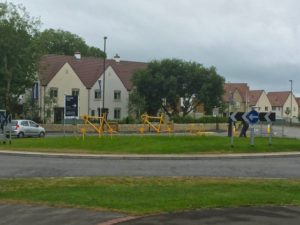 I left on schedule at 6:30am, for what turned out to be a fairly icky journey, fighting the wind in my little high-sided car.  I wasn't feeling great, but luckily it only took an hour.  20 mins to the motorway, 20 mins on the motorway, and 20 mins wiggle to HQ – so I didn't have quite enough time for the pain related woozy to turn into drowsy.  Which was good.  And the weather also cleared up quite a lot en route, which was also positive.  Somehow I arrived somewhat more suddenly than I expected though, and totally overshot the entrance, even with a marshal stood there.  I had to go around the roundabout, adorned with giant yellow bikes, and back again to get in.  Oops.  Ah well, here now, and I was marshalled past the club buildings and around to park on what I hoped wouldn't become a too muddy playing field – HQ being at Chipping Sodbury Rugby Club.  Not that we were parking on the pitch of course – hallowed turf 'n all that 😉
I learnt my damp grass lesson last week, so this time I had trainers on to walk across the wet grass to HQ, rather than sandals.  Hey, I prefer my feet warm and dry.  The Registration tent was easy to find, and not that busy.  I signed my name, got my number (with integral timing chip) and two cable ties.  Simples.  It being a rugby club, there were changing rooms with showers and toilet facilities, and also extra portable toilets.  I didn't think I'd need the showers, either now or later, but I did need the toilet, as usual.  And the necessary having been done, it was time to squelch back to the car to faff.
The weather was better, but still pretty windy.  But it wasn't as chilly as I'd thought it would be.  Hm.  Final tally?  Remove the leg warmers, stick with s/s base layer, s/s jersey, heavier Rapha gilet, & arm warmers.  Job done.  My bike and I headed back to HQ, all sorted, around 8:00am.  Remember those portable toilets I mentioned?  Well they came in handy now, as there was, unusually, a long queue for the Ladies in the block.  Partially because no-one had realised that there were no queues for the portable ones outside…  Luckily I did.  In my defence I did share that knowledge in my turn, after I'd taken advantage of the fact.  All ready to go then.  And although I was now sorted, and ready to go, I should mention a really nice touch this event has.  They provide cable tie trimming tools, for those who don't travel equipped with such, to neaten up things after your bike number has been attached.  I travel with scissors (not run with…) but then I've done a fair few of these now…
There was rather a long queue for the Start too, and no way around this one.  Which suggests that there were rather more riders than last time – I think I heard that around 1000 had signed up.  Riders were being put into two pens, and let off pen by pen alternately.  By the time my pen was full and all bunched up, briefing us on our 'not a race' didn't take too long though.  When asked if there were any 100 milers still around, there were precious few hands raised, even supposing there were many such to start with.  Maybe they'd all gotten away earlier?  My hand was amongst them though – 100 miles was still kinda my plan.
What with life being kinda painful, there are times when I can't do what I want to do.  And there are times when I get so fed up of not being able to do what I want to do that I tend to get a bit bolshy and reactionary, and I'd kinda decided that I wasn't going to be letting it stop me today.  Not unless I absolutely had to that is…even I have to admit defeat sometimes…but I was going to try and tick my 2016 century box.
So, time for us to be on our way, off out to enjoy a Sunday ride in the Cotswolds.  The first few miles were fairly pleasant, but I knew better than to be lulled into a false sense of security.  A couple of miles in come three big hills, one after the other, all in the first ten miles actually.  The Hawkesbury Howler, the Alderley Grunt, and the Tresham Tester.  One long and hard, one shorter and harder, and the final longer and harder!  Ok, this is a pretty cruel way to start a sportive…but although they were hard work, and proved life was a tad painful, I did think I'd maybe found them a bit easier than last time around, which was both positive and motivational.  Especially as this isn't the hilliest of sportives and although there were more hills to come later on, they weren't for a while.  A fair few were suffering more than I was so – I said it was a harsh awakening to a sportive route!
The route split came around 11.5 miles in.  Speak now or forever…  It's quite early for such decisions though.  You've barely warmed up, the day has barely warmed up, and you have no idea how the rest of the day is going to go.  Now clearly I was going to try the long route, so it wasn't really a decision …but not a lot of people seemed to be turning right with me.  Actually as it turns out, the routes seemed to overlap each other a couple more times en route, which might have been good to know if you wanted to make your route a little more flexible, or bail from the long route sooner than planned.  Anyway I turned right, and set off to do what I planned to do.  20 miles of mostly easy, sometimes rolling, roads followed – through countryside, under trees, over cattle grids, through cutesy villages with pretty churches, getting warmer, with the skies even threatening to clear up and become blue.   Very nice 🙂
The first food stop came at 32 miles in.  Not only were the ingredients of every cake printed out and displayed, there was also, on request, gluten and lactose free lemon drizzle cake available.  Well, given all the effort they'd gone to to cater for everyone, it would be rude not to, right?  So just for once I ate cake, while others ate sandwiches, flapjacks, cakes, crackers…all sorts really. Duly fuelled up, toilets used, it was time to head back out again, which is where I think we got our numbers checked again, just to prove we'd all done the route we were later going to claim that we'd done.  Bear with me, I lose track of things some times!
That brightening weather ceased to get better.  In fact it got a bit grey and threatening from time to time.  The wind continued to be noisy and blustery and occasionally hard to fight – pretty much a constant for the day, what with the wind being from the South ish and most of the route being either East, West or South.  The roads were lovely and quiet though, in fact amongst the quietest roads traffic wise that I've done a sportive on in a long time.  Of course the top dressing circus had clearly been to town around here too – I wonder if there are now incentives for Councils to top dress as many roads as possible in this financial year??
There was a general sort of upwards trend going on, with a string of gradual ups, but nothing too bad…  More miles of countryside, and trees, and pretty…through to Minchinhampton and the big open plain on the top there, which marked the half way point, more or less.  With all that up, there was bound to be a good descent, and the wiggly one down into Nailsworth is a good one.  Not fast, unless you're suicidal or far far more skilled than I am, because it's all hairpins, tight bends, and frequently cars coming up the other way…but it is kinda fun nonetheless 🙂
Sadly fun was then followed by the Nailsworth Nailer, as the yellow sign at the bottom cheerfully proclaims, complete with its stats, not that I had time to read them, as I was dodging traffic at the time.  It goes on for a long time, complete with false flats, up through the town, and then considerably beyond, past the wind turbine, and it's not until you pass the "climb done" sign that you realise it was all the same climb!  Still, I did my thing, again struggling less than I remember doing previously, and since according to Strava I knocked 1:30 off my time up there, I guess I nailed the Nailer!  And since, after a couple miles, the well earned descent was far less technical, I pretty much nailed that too *grin*.  Fun fun 🙂
What goes down was now about to go up, for the last big climb of the day; Frocester Hill.  I didn't enjoy it last time.  I suffered.  It didn't go well.  But I was in a much better mood this time around, feeling better all 'round, and more than happy to spend a while plodding up and around the side of a big hill, looking at the views, with the skies turning blue again.  I'm more than happy to discover I knocked 1:57 off my time up it too 😉  Man I am so easily pleased by facts and figures.  I thought it felt better…and I'm liking hills a lot more these days…and I guess I'm as on form as I get…I guess it makes sense, kinda.
With the last big hill of the day done, two thirds of the route under my non-existent belt and, even if it did interrupt the following descent, the second food stop was a welcome sight.  There's something about the sight of a crowd of colourful cyclists on the grass outside an English country pub, opposite a pretty church…fair warms the cockles of your heart.  And if that didn't work, there was tea and coffee on offer, as well as a good range of food again, and more of that lemon drizzle cake.  I used the pub facilities, wished I could hang around and drink their cold beer in the fairly warm sunshine, and then sat outside for a bit chatting and using the pub's wifi to check that the rest of the world was still turning in my absence.
However since I couldn't be sat happily indulging outside this pub and there were 34 miles and a long drive home between me and doing that for real, it was time to go again.  Not long afterwards I ended up on the tail of a couple of equally matched and somewhat better than me gents.  They were not only happy for me to wheel suck, they even made space for me in the middle between and behind the pair of them so I could get happily towed along for a while.  Since it was all flat country lanes, of the variety that I'm not bad at flying along on, this was great.  OK, so there was effort being put in to keep up and not get dropped, especially on any little rises that occurred, but I could do that, and I did.  Things were going well.  The little yellow escapee budgie (or whatever it was) that we came across in the middle of the road was going to have a far worse day than us if it stayed there.  Being all soft hearted and such, I stopped and investigated, as did the guys, and at least I could make the darn thing fly off somewhere safer, if it could, which it could so I did.  Well I could hardly be picking it up and getting it to Secret World today!  Off we went again, karma points earnt, and the miles were getting eaten up, and I had dreams of riding all the way back to the end in style…
…but time was ticking by.  My next dose of pills was due at 2:00pm, and today was not a day for skipping a dose, or even stretching the gaps in between them.  But…oh…and it was going well…and maybe I could wait…?  And stay on the train for a little longer?  But no.  I listened to my inner boringly sensible voice, made my excuses, and pulled over when the time came, too soon, and let the guys disappear off.  Dagnamit!
Feeling slightly annoyed, and slightly painful, but dosed up, things were about to get somewhat worse, as the weather decided to get all sympathetic and cry on me.  Quite a lot.  I was half tempted to retrieve the gilet and put it on, as it is a bit waterproof, and wet in the wind can be bad….but I wasn't that cold, and as usual I couldn't be arsed.  Just for once I wasn't made to suffer too much for that decision, but I did get pretty wet!  Maybe it was better to be on my own to negotiate wet country lanes, admire manor houses, castles, and the like.  And maybe I wouldn't have been able to keep up with them all for all that long anyway.  There weren't a lot of other riders around either, but thanks to very good signage I didn't ever feel lost.  Besides, it was pretty much flat, and even with the odd climb my PMA was damp but intact.  And even the damp eventually ceased, as things eventually dried up.
Time for the third food stop, which I nearly didn't stop at, as it wasn't all that far from the end – about 12 miles or so out I think.  Lurking in the corner of a school's car park was a small huddle of tables, tents, and riders, but not, as far as I could tell, any toilets.   Ah well.  All I wanted to do otherwise was top up my bottle, but clearly I looked like I needed more as one of the friendly ladies was very concerned that I didn't want anything else and did try and force food on me, which was quite funny.  Clearly I looked worse than I felt!  And that huddle of riders?  Well it turned out to contain my pair of friendly gents, and they turned out to be more than happy for me to join them for the final stint.  So I did.  Result!
This time around there was time for a bit more chatting, and so I give you Rob Allan and Stu Berryman – cycling friends of long standing, who used to race with Paul Baker of Cheddar Cycle Store.  Which will tell some of you something…  I did a really good job of staying with them as the last few miles flew by, even when the rain returned, but when the odd little up and push over rises turned into a couple of longer drags near the end that was it – there wasn't a lot of up left in my legs, and what there was wasn't going to be done at their speed.  I finally fell off the back and stayed there, but I didn't mind at all as they'd more than done enough for me.  I may have spent longer pushing a little bit beyond my comfort zone than usual, but I enjoyed it, even if my legs might make me pay for it afterwards!  So it was just me, myself and I who shortly rolled under the Finish arch to the sound of cow bells and applause to be presented with my free food voucher and very cool souvenir.  Sodbury Sportive done.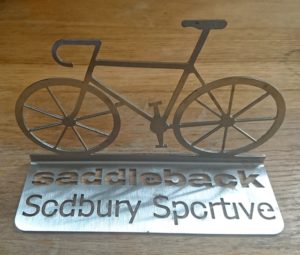 There was no sign of the guys, and I was wet, still getting rained on, and liable to get cold hanging around, so I headed back to the car to stash the bike and put dry clothes on.  Once I was back in civvies, with the very wet dirty bike tucked away, I headed back to HQ, and bumped into Rob and Stu who were just leaving so I was able to say thank you in person, which I was glad about.  Credit where credit is due.  And I was also quite glad about my free cheese and onion (didn't fancy beef, declined the accompanying baked beans) pastie even though it probably wasn't good for me on many levels.  It tasted nice, and it was hot, and it warmed me up, and it was nice just to sit in a corner of the club house eating that, and drinking equally free squash, while unwinding a bit.  Normally everyone would have been out on the grass, on the picnic tables, etc…but not in the rain, so inside was very busy, very bustling, very noisy, and oddly cool 🙂
Cycling time: 6:49
Official time: 7:30 (Silver)
Distance: 103.5 miles
Avs: 15.2 mph
And then it was time to go home, madly but quietly proud of myself for finally getting a 100 mile ride done this year, whilst oddly surprised to not have found it harder, or to not be feeling like that's what I'd just done.  See sometimes the pain doesn't win, I do.  Sometimes stubborn works 🙂