You know what's even better than a sportive that's just on your doorstep and an easy drive away?  One that's quite literally up the road, that you get to ride to and back, without adding more than a couple of miles each way to your trip.  Welcome to the Somerset Hills Gran Fondo.  Being as it's a VERY local sportive, I wasn't the only one doing it so, and, it's getting better all the time, I even had company.  A very pleasant change to recent routine.  Of course before meeting them I had to eat carbs, and fret about layers.  2 out of 3 forecasts that expressed a preference said it was going to be cold, grey, but dry and not windy.  One of them said warmer and sunnier.  Being as that was what I wanted, but know better than to expect, I went with the other two.  I'm fed up of being cold!  So socks, shoes, overshoes, leg warmers, shorts, l/s jersey, winter jersey, and for good measure, my Cyclosport gilet.  It may sound a lot but…
Me, an unexpectedly present GB, and Gary met in the Square at 7:10 and headed off to Broadway Caravan Park to sign in.  Blimey it was nippy out there!  So far my sartorial choices were good ones!  We were amongst the first there, so the queue was negligible, and actually there weren't yet that many other riders around full stop.
We signed in, and were given our timing devices – which this time around were timing chips on lanyards to be worn around the neck and scanned in at each feed station.  For those leaving straight away they were scanned there and then and off you went.  I needed to do the usual pre-ride faff and use the facilities (as ever the ladies was free and there was a queue for the gents – is that positive discrimination ;)).  We headed for the start, ready to get scanned and on the road, only to find that the lady required was still back at sign in, so I had to back track, get scanned, and then head off.  Not a big problem when there's only a few riders around, just minorly irritating, but I think when there were more, she'd have been better off standing by the exit…  While I'm at it – not loving the lanyard things.  Unzipped layers mean the darn thing kept dangling around and having to be tucked away.  I like the being scanned at every stop though – means you can't switch from the Gran route to the Medio without anyone knowing, which must make sorting out the times easier.
Right, off we go.  I got half way into Cheddar before remembering to start Bella off though – 'doh!  Time for GB to take us up the Gorge.  I swear he only manned up and came out so to do *grin*.  And he still made it look easy!  He's the one furthest away from me…unsurprisingly.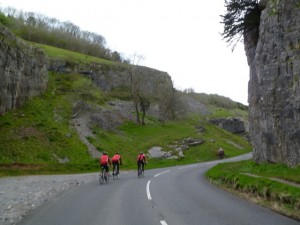 Cheddar Gorge gets included on every Somerset sportive.  Which is great, I appreciate that it's iconic and all that, but it's not actually the most challenging climb in the world.  Some of those that were to come later in the ride are/were far worse!  So we pootled our way up the Gorge.  Clearly I'd usually sprint my way all the way to the top, but considering the length of the ride, I thought it best to pace myself…;) *grin*.  We picked up another rider along the way – Nick from East Harptree – who was allowed to join us as he was wearing the male ride uniform of the day (see above) and thus blended in perfectly – what's black, white, and red all over? ;).  He also won a place in our elite ranks by taking a turn at the front with me as we headed across the Mendips towards the descent to Rodney Stoke.  A little more climbing…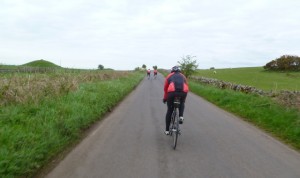 …a quick stop to take in the stunning views of the Levels to the south…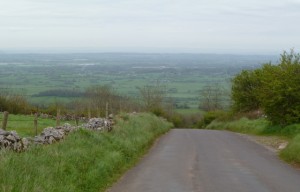 …and time for the first decent descent of the day, watching out for gravel and traffic, all the way to the main road at Rodney Stoke.  Nice 🙂  The guys had waited for me, and we posse'd up and headed off over extremely familiar roads to Wedmore and out through to Blackford.  This is when GB decided he'd made his point, he had done the MTFU thing, however advisable that may have been, he'd seen if he could, and he could, so it was time to make the right decision and head for home.  I'm glad he came out to play, it's been a while, but I'm also glad he went home and didn't do any more damage 🙂  So then there were three.
We headed out through Mark, which is reputedly the longest village in the country.  This may well be true.  I'm not going to argue.  Cycling through it certainly seems to take a while.  One of the publicans who initially introduced me to cycling called it a "mother-in-law road".  Because it goes on, and on, and on… 😉  Which it does!  From there we headed across the flats to the Woolavington climb, and then the descent into Hell.  Aka Bridgwater.  Suburban roads and obstacles and plenty of traffic even at that time of the morning, though less than sometimes.  I think it was a bit early for most of the residents.  We were even heckled by a white haired lady pedestrian, which is not unusual for Bridgwater, but this time she was saying "Up the Cyclists" which has to be a first!  Go that woman – bucking the Bridgwater trend!
Time to head for the next big climb of the day – Enmore Hill.  Crawler mode engaged…  I've been up here a couple of times but I'm far from familiar with it, other than knowing that I can get up it without walking.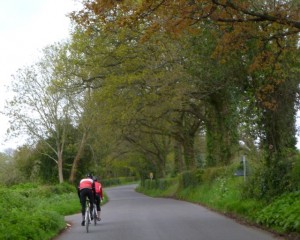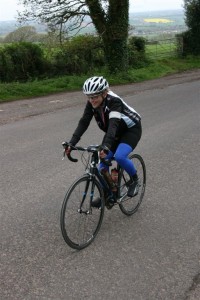 It's not a constant climb, more of a three steps up, one step down, affair, and as a whole apparently goes on for 10k.  I guess that depends on where you consider the start and finish to be though.  I knew we were heading for the first food stop at The Pines Café, which came sooner than I expected since I vaguely remembered it being right at the top of the climb, and it wasn't quite.  35 miles in, and it was definitely time for a quick break.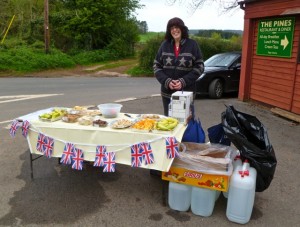 Sadly the café was closed, which meant so were most of the facilities, and I had to use the gents, which even though I'd waited until it was apparently clear, probably gave the non-cyclist who'd sneaked in there when we weren't looking a bit of a shock!  Hey, needs must…*grin*.  Half a banana later, a quick photo of Nick, and it was time to be on our way again.
It wasn't the top of the climb, we had some more up to do.  The sun had been coming out for a while and at the stop, after the heat generated by that long climb, I'd contemplated removing layers.  I'm glad I didn't because it was just as chilly as ever setting off again!
There was a lovely descent to follow down Constitution Hill, which could have used a couple of "CAUTION" signs due to the bends, gravel, and the fact that cars go up it when you're trying to go down it!  Luckily I'm a cautious soul…but that didn't stop the white van and blue car coming the other way as I went around the sharp right hand bend half way down giving me a bit of a shock!
Shortly after this we came to the route split.  Left for us, as Gary had decided to switch from the Medio to the Gran to keep me company (thanks Gary!), and right for Nick, doing his first ever sportive.  And then there were two.  We had some nice pottering through pretty villages and across expanding countryside, before the next big climb.  I had been blissfully unaware of this one, having completely failed to do my usual level of research, but Gary was far better prepared so at least I had a little warning.  And the long climb up to Exmoor is a doozy!  8k at 15% ish, and then 8k at 10/12%.  Lovely…well, doable.  Long enough to get into my climbing rhythm and just get on with it.
The views behind were stunning and luckily, as we headed towards Wheddon Cross, we got some that we could actually look at as we went along, although as you can see, it was a little hazy out there.
There seemed to be an unfeasible amount of going down to the bottom of the valley that took us to Dunster.  A valley that was, rather unfortunately, also acting as a remarkably efficient wind tunnel!  What with that wind coming from the North East, and having properly cooled down coming down, I was freezing again by the time we got into Dunster.
Dunster was as popular as ever, full of people not looking for cyclists, so it was a case of handle with care and get out the other side, from where you get a good view of the castle.  Dunster Castle, unsurprisingly.  A real, National Trust owned, honest to goodness castle.  Not like ours 😉
I wasn't quite ready to take the bus though…;)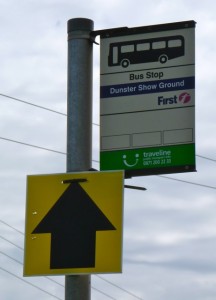 This put us on the A39 for a bit, which wasn't ideal, as it can get pretty busy down there.  The next food stop was looming, in Blue Anchor, the left turn sign for which was partially obscured, but luckily we spotted it.  And then suddenly there was a big climb looming ahead.  No fair – I wasn't expecting that!  Ah well…  Gary decided such things would be best tackled after answering nature's call, so I waited for him at the top and took his photo, amongst others, to pass the time.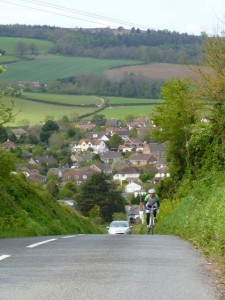 The second food stop was on the sea front at Blue Anchor, in the sun, with the seaside, and everything.  They'd also negotiated the use of the toilets at the nearby café, which was handy.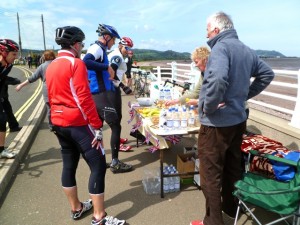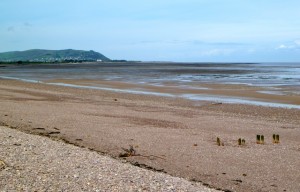 It was 65 miles in by now, and we took a slightly longer than usual breather, as I was feeling the need for one, but it wasn't long before we were back following those signs.  I had the route on Bella, but Bella, along with various other people's gadgets, had been yelling "off route" on and off all day so when she started doing it again, I pretty much ignored her, and we headed off up the long climb out of Watchet and rejoined the A39.
Shortly after this things went pear shaped.  Turns out we, and many others, missed the right turn that would have taken us up Crowcombe Hill.  Looks like the locals had been "helping" again…  By the time we'd worked out that yes, we knew where we were, but that no, we were not where we were supposed to be, it was easier to carry on and rejoin the route that way than retrace our steps.  The mileage looked to be much the same, and hey, I'd been dreading that particular climb all day, so I guess fortune had decided not to favour the brave for a change, but to shine on me instead ;).
I've been known to wonder what it would be like to cycle along that particular stretch of road, having driven it many times, and now I know.  Swoopy, and quite enjoyable, as it turns out.  The same cannot be said for about the following hour or so of riding.  From Cannington, where our route and the official one merged and all our Garmins beeped their satisfaction simultaneously, into Bridgwater again, through the chaos again and then out the other side on the rather scary and not busy enough to slow the traffic down dual carriageway back to the M5 junction.  Not fun.  A tad scary from time to time to be honest.
At least we had our signs back again, right?  Nice big signs that were, mostly, pretty unmissable.  A few more repeater signs wouldn't have gone amiss on long stretches, and also few more signs at the worst or most important junctions.  A lot of the signs were put up high to avoid those pesky kids meddling, but then if your head is down, or you're temporarily distracted, you can easily miss those, especially if there's only one of them.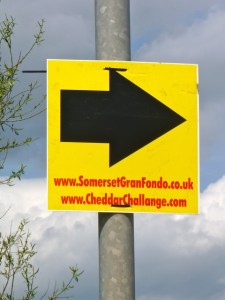 Right, 95 miles in, and the next, and final food stop, came after the relief of a left turn before the motorway junction, as an artic and trailer thundered past me…*shudder*.  Having three food stops definitely helps break the ride up into more manageable chunks, and it would have been even better if the third one had had obvious toilet facilities too, but two out of three ain't bad 🙂   From here on in, being back on home turf, I knew that the terrain was essentially flat, and there was only 20 miles to go.  How hard could it be, right?
Well even though the website written description had said Burnham on Sea, Bleadon, Axbridge and back…the .gpx and the signs said we had to go through some fairly unpleasant and major roads through Highbridge and then briefly along the A38 just to make us go over Brent Knoll.  Which struck me as a tad gratuitous.  At least there were some perfectly presentable public toilets on Brent Street before I had to tackle it.  I prefer the hill the other way around, but actually it was ok.  Ok considering that I had a great many miles already in my legs.  Not ok by any other standards you might use.  Hey, I got up it right?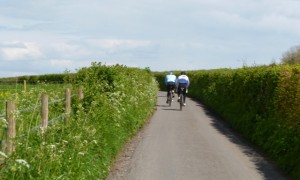 Several other riders went past asking respectively for new legs, their mother, and a new hobby… 😉  Good to see we all still had a sense of humour *grin*.
Not far now…a bit more flat, and then the all too familiar climb past the Webbington where, to make it more interesting, I got the camera out again.  Poor Gary… 😉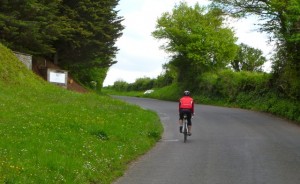 And here's Brent Knoll from afar.  We went over that.  Well, actually, over some of it, it's more like up and over one side, before i go over-egging the cake.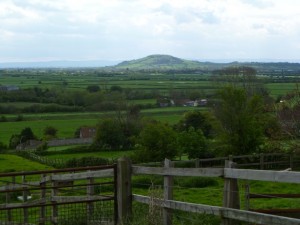 Right.  Home straight.  We are nearly there yet 😉  Down t'other side, no horses this time, and through to Cross and the junction with the A38 – another place a "CAUTION" sign would have come in useful.  I dismounted, as is essential there, and realised I was absolutely totally geknackert.  Not a problem, as we were nearly there.  Right?  Wrong.
We crossed over and started the climb up towards the bypass, and I dropped off the back like a stone.  Lost it completely.  Gary headed off into the distance, and I tried to remember how to make pedals go around.  And how to stay on the bike.  And why, even when I'd finally reached the going down the bypass bit, albeit with headwind, getting anywhere was so hard.  It was the most bizarre feeling.  I guess I bonked.  Not something that's ever really happened before.  And it's just as well it didn't happen any earlier as I'm not sure what I would have, or would have been able to have, done.
I limped, metaphorically, up to the Finish, got my time swiped, and went and sat on a bench before I actually fell over.  And I'm not even joking.  I dread to think what colour I was – I do a good ghost impression at the best of times!  It took me a few minutes to get it together enough to go see Gary and hand in my timing chip.  Luckily, rather than head straight for home, which I'm pretty sure I wouldn't have been able to do, Gary fancied chips and was kind enough to buy me some too.  Best.  Chips.  Ever.  Just because I could feel them helping me climb up the stairway back to normality.  Shame the same cannot be said about the quality of the coffee…but it probably helped regardless.
Cycling time: 7:10:11 hrs
Distance: 109.8 miles
Avs: 15.3 mph.
ODO: 13536 miles
This is what Bella has to say for herself, and this is my official time card, which was a nice touch.  No waiting for some website to post them for a change :).  Since we weren't wearing numbers, identifying who's who on the photos when they go up could be interesting though.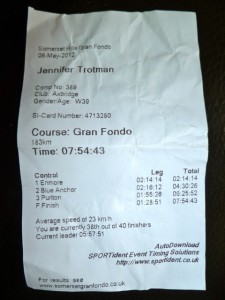 Once I'd pulled myself together, which took a while,  I introduced myself and had a nice long chat with t'other half of the organiser, David, who was busy being told by everyone what a great event they'd had, which must have been nice.  390 riders had done the ride, a long way up on last year's 89 for sure!  She was very friendly and chatty, and actually seemed genuinely interested in what I'd thought, which is nice.  Positive criticism taken that way can only help make the event bigger and better :).
Oh, and by way of a post script, my layers choice was right.  I may have been a little hot occasionally, but the cold always came back and, other than stashing my gilet after Watchet, I was sorted :).  Furthermore I have completely forgotten to mention that today was the first time Gary has done over 100 miles!  And he didn't even look tired, or like any of it was hard work – the man is a machine! *grin*.  Well done Gary – and many thanks for keeping me company, I really appreciate it :).
UPDATE: there were 190 riders on the Gran Fondo, of which 7 DNF, and I came 98th overall and 5th of the 13 women who did it.  Not bad!  And better than I thought actually :).  Photos are going up, and my blue legwarmers have made me easy to find, so I've added in a couple of me above at the relevant places, just to prove I was there.   There's a lot to be said for free downloadable photos :).  Official review is now up at Cyclosport.