The Great Weston Ride is a tradition.  Sure, some of the variables, and the players, change year on year.  But apparently my attendance is a constant.  2016 was the 7th GWR and, just as with the previous 6, I was there.  Which apparently makes me unique.  Go me.  Like we didn't know that I'm "unique", and probably "special" and other such terms 😉
This time my merry band, we three, were myself, Alan, and Clayton.  Well, that's how things started out…   Anyway Clayton, having moved away and no longer being quite as local, rocked up to park his car at my place around 6:20 ish.  And after very little faffing – yes that can be done – we headed up the road to meet Alan at Shute Shelve.  It was grey, but humid, and though the arm warmers, knee warmers and base layer were to stay on a while, the gilet came off there and then.  In that today's event is usually a ride of three halves, the first half is the ride into Bristol, to the Long Ashton Park 'n Ride.  Last year, without Guy to guide us, Clayton and I got lost, and added a good few miles to the route in.  This year, thanks to Strava, I pointed Alan at the route we took in 2014, when we didn't get lost, and he downloaded it.  So it was a sociable, uneventful,  20 miles or so that got us to HQ on schedule or thereabouts.  And not getting lost was a huge improvement!  We were still there well before the 8:00am start so, though not the first there, that'll do right?
First things first – the toilets of course!  There were the usual inside the building ones, and some extra portable toilets outside.  I opted for inside, before heading outside to registration.  Which was a bit confusing.  When it was busy, I imagine it made sense.  Find the queue that led from your surname letter and follow it all the way to the desks.  Except there weren't any queues, and there were no letters on the desks, and quite a few of us queued our way to the front in what we hoped was the right place only to be told we needed to move one queue to the left or right!  Still, the free coffee being given away to those waiting near the front by Truestart helped ease my suffering somewhat 😉  Once finally in the right place, I was given my bike number and cable ties, and a free 9Bar, and sent happily on my way.
There were a lot of riders milling around, and I was trying to keep an eye out for James, who might have been joining us, but I never did see him – not before, during, or after!  I did however bump into organiser Darren, which was nice since by now we're practically mates 😉  We had a bit of a chat, before he headed off to the front line to do his duty, and I headed back to Alan and Clayton for a little more faffing.  Well Clayton's front mech was playing up…or something like that anyway.  I'm not that techy remember?  The queues for the mechanics were fairly long though, so he decided to leave it in the hands of the gods and see what happened en route…
We joined the massing hordes and slowly shuffled our way towards the start line, a process that was gradually sorted into more organised batches.  Eventually it was our turn to reach the front line, after the photographer had immortalised Clayton and I, to be given one of Darren's briefings – which he can probably recite in his sleep by now.  We were warned about the narrow gravelly road after Priddy, and the nasty gravelly descent to Westbury, reminded that it wasn't a race (a warning without which no sportive would be complete), and let go on our way.  There's never any point hurtling off though, though some people do, as there are two sets of traffic lights, that will inevitably be red at the wrong time, to negotiate before you can get going on your way proper.
There are lots of options to the route these days.  You can add various loops – all or none of them as you wish, to add more miles, more climbing, or both.  Blue signs for extras, yellow for basic.  Being a traditionalist and having always done the basic route, as it was, so shall it always be, and none of those extra options were for me.  So instead of heading straight on and straight up, we were for the lanes of Long Ashton and beyond to Barrow Gurney.  Retracing our steps from the way in, as it happens, but that didn't last too long.  Cycling through the narrow traffic calmed Barrow Gurney rat run is far more fun than driving through it and luckily when our slowly stretching out batch went through it, there weren't too many cars there to wish we weren't there…
It was still grey, and humid, and threatening a little damp, but I was warm.  A little too warm.  So before we hit the A38 we stopped so that I could stash knee warmers and arm warmers away, which was a huge improvement.  Mind you it didn't make the slow slog up that A38 any more pleasant, but it's pretty unavoidable and it didn't take too long.  A bit longer than usual though, as the traffic meant there was no over-taking slower cyclists and it was just a long linear orderly queue slowly progressing up the road until we could escape by turning left!
After a bit of dragging up in steps, which slowed me at least down a bit, came the lovely long flying section towards Chew Magna that I enjoy every year.  In fact I probably enjoy it even more because I know it's there so I can make sure to do it properly fast, I know where I can overtake people, and I know that it goes on a while; so I know that the people I've overtaken aren't going to be laughing their arses off when 30 seconds later if the road goes up and they go straight back past me! 😉  All good things come to an end though, and there's a little bit of up and down to do to get out the other side and down the long straight past the very pretty Chew Valley Lake.  Man it's pretty around here.  It's so easy to be blasé about it when you live here, and it's worth taking time to remember that I live in a very lovely part of the world.  You should come and do the Great Weston Ride and see for yourself 😉
Right.  Past the lakes, and the ducks, and the people feeding the ducks.  Time for one of my least favourite parts of the ride – the draggy section along the A368 from West Harptree to…well we'll get to that in a minute.  This bit is slow.  Sure, there are some nice down bits in it, but there are a lot of up bits.  And they're draggy, the road surface is that thick porridgy stuff, there's traffic, and they go on a while.  Nowt for it but to sit back and get on with it.  Plod, plod, plod…in the grey, and occasional drizzle…  Clayton was struggling a bit behind me, I wasn't flying, and Alan was having lots of fun getting behind us both on the down bits, and then hurtling past us, out of the saddle, and making it look easy on the ups, so as to wait for us somewhere convenient after whichever up it was was over.  Well he was having fun, it was making me laugh, and hey, the miles passed…
Which brings us to where we were going to…Burrington Combe.  Which is today's big climb.  Turn left off the A368, and there's barely time before it starts for a sigh of relief.  Or to catch your breath.  Well, there kinda is, because the first refreshment stop is at the bottom.  This stop seems to vary year on year.  Judging by the moaning of other riders around me, they were expecting a food stop.  To be fair, it is only a refreshment stop, and it is only 20 miles in, so a full on food stop really isn't required anyway.  I thought I remembered there being more in previous years…but my memory isn't what it was (and it was never good), I've done a lot of events that kinda blur into one, and it's been pointed out to me that I'm wrong about that.  This time there were just two barrels of water – there wasn't even energy drink, though I think there had been earlier, judging by the tubs in the rubbish bin next to them.  Since all I need is water, and I don't eat anyway, I wasn't bothered…but that's really not the point is it?
Having got off the bike, I realised my balance had gone again (I'm starting to be more aware of the signs these days) and I was feeling a bit woozy/weird again.  Not great.  Time for this break to be a little longer than usual.   Toilet facilities were available, by arrangement, in the Burrington Inn, and when I headed off to use them, I realised they were also open and serving tea, coffee, and the like to a couple of riders as I walked past.  Which I would have known if I'd paid clearer attention to the pre-ride information.  So as I walked back I joined them.  No fizzy orange…but they did have Appletiser, and I figured that would do.  Fizzy sugary re-hydrating goodness 🙂
I slowly wove my way back through all the riders milling around to rejoin Clayton and Alan…and it turned out Clayton had had it.  After the ride in, and the extra 20 miles now done on top of that, he was well past his longest ride to date post knee surgery, and not having a good time of it.  We spent a little time figuring out the flattest easiest route he could take back to my place and then he'd gone…leaving Alan and I to head off up the Combe together.  I've no idea how many times Alan and I have cycled up here together, but it's a lot!  According to Strava, I've been up it 34 times myself, and I was cycling up it well before Strava came along.
But I like it.  It's long.  It's pretty.  It's got harder bits and easier bits.  Even though I wasn't feeling top notch, I was happy to pootle along my way and enjoy it.  In fact it actually felt really good, even if Alan still had to wait for me at the top 😉  Sadly the top of the Mendips was not at its best today.  In fact it was pretty much in a cloud.  Grey, drizzly, a tad chilly, and devoid of the usual views.  Not somewhere we wanted to hang around much, and definitely not a day for adding the next extra section in.  Which, if you were interested, took you across to Charterhouse, down Shipham Hill and back up Cheddar Gorge.  Probably lovely, especially if you don't have Cheddar Gorge on your doorstep, and want to challenge yourself a bit.  But tradition, remember?
So instead we hurtled across the flattish top to Priddy.  I realised I was heading for that falling asleep on the bike thing again, so I warned Alan, and told him to talk to me to keep me focussed and awake.  He made some sarky comment about wasn't it normally me that does all the talking…  I think we'll have to agree to disagree here… 😉  So we chatted, and pedalled, and got to Priddy where the nasty gravelly road out the other side was exactly as forewarned, and also a bit tricky as it includes a nasty short, steep, and narrow up.  Tricky because it's steep and unexpected, and trickier to negotiate when there are a few riders around, of varying abilities, all trying to get up it at the same time.  Alan and I got out of the saddle, and pushed up around them all – politely I hasten to add – just to get it out of the way.
Actually you could avoid the Priddy bit altogether, by taking a right turn earlier on…but I guess it's included to show off Priddy, or add miles, or something…  Anyway ahead lay the descent we'd also been warned about, down Westbury Hill to Rodney Stoke.  It being a bit damp, and having been warned, we took it really easy down the descent.  Which was a bit annoying because it's a very nice down, and also because it turns out my brakes were squealing, and now was not a good time to stop and find out why!  Still, braking was kind of essential, as there are bends, and there was traffic of both sorts, and gravel near the bottom, and today caution was a very good thing.  Someone should possibly have mentioned that to the eejot who flew past Alan on the way down, and got dangerously in the way from time to time…
A nice friendly marshal was making sure we all stopped at the bottom of the descent, and didn't end up playing with the traffic on the A371 (which is the main road from Cheddar to Wells).  Once crossed, the down continues, as did the eejot…who kept stopping and waiting for some reason, and then flying past us inconveniently…  Anyway moving on, we moved on.  On across the distinctly warmer Levels, which are, unsurprisingly flat.  And familiar.  And fast.  And fairly fun, now that I was a bit more awake.  On to Wedmore, dodging roadworks and traffic.  It's always a bit interesting going through the town, with parked cars, and shoppers, and so forth.  But once out the other side, after a fast flying bit, with some peloton larks, we reached the second food stop at Hugh Sexey's school.  And if you were disappointed by the first stop, this one is always more than worth waiting for.  There was an amazing range of cakes, as ever, at £2 for a slice + tea/coffee/squash.  There was even gluten free cake!  And outside there were bacon rolls and the like, which I gather were very lovely.  Even I had cake!  Well, I figured the woozy needed feeding to make it go away.  And if that didn't work, a couple more shots of that free Truestart coffee should do the job 😉  Plenty of time and space to hang out, chill out, eat, drink, and get it together again.
So.  20 miles to go.  No big hills.  Sun coming out.  There's only one way to do that, right?  Yep – time to sprint for the finish, in juvenile racing stylee.  Aided and abetted by the SAS team.  No, not that SAS…this one…but they were still quite fast!  Fast enough to tag on the back of as we headed out again, towards Mark.  We were kinda hoping that saw us set for the rest of the ride but no such luck, someone lost their bottle.  Sorry, a bottle.  And they all stopped to salvage it and regroup so we had to carry on regardless.  Thanks to long term road works on the Mark Causeway, even the traditional route had a little detour today.  It may have added the odd mile, but it took us around some of the nice flat quiet straight country lanes around here and, was to my mind, an improvement on the usual head down into the wind slog of previous years!  Mind you…there was still a headwind!
We pushed on, trying to keep the speed up, with the odd glance behind to see if the team had caught us yet…  All that racing along in ever improving weather meant I was getting pretty hot now – how novel is that?  Before long we were back onto the usual route and the joys of Highbridge and Burnham on Sea.  Town roads and traffic – not all that appealing, even in the sunshine.  As we waiting at the traffic lights to turn right and along the Burnham sea front, we were rejoined by the SAS team (far far later than expected!), and a fair few others, which meant negotiating the sea front was a bit tricky, as it gets busy, and 'they' really don't seem to like cyclists much around there…  Well, sunshine brings out the tourist…and the sun was out, and so were they.  Lots of us and lots of them was not a great combo.
The less than fun continued out the other side and northwards until finally, at Berrow, we got to turn off the main road and stop playing with traffic.  I managed to jump onto the SAS band wagon as they set off, but Alan wasn't so lucky.  I couldn't bring myself to drop off the back though, and I figured life would bring us back together soon enough.  I do SO love fast group riding, especially when I'm on form enough to hold my own, if not sit on the front .  As we went on, even that group started to fragment a bit – with a faster few heading off and a few off us dropping back – not by much but with an ever growing gap.  I still had enough wheels to chase though.  The wiggles towards Lympsham can be fun, but are less so sometimes…as the SAS guy who was currently with me accidentally overcooked it on a corner, lost his back wheel on some gravel and ended up on't wrong side of the road, and in the oncoming traffic…  Luckily the only injury was to his pride, and the drivers' blood pressures…they were less than impressed.  That was close…!
Onwards, still in one piece, we started chatting for a bit as, as it happens, he's one of my readers, and really hadn't wanted me to see that!  Hi there… 😉  Hey, at least I'm not embarrassing you by name, right?  As we were chatting, Alan came from behind and blasted off into the distance.  Since my current companion needed to rejoin his mates, I left him to it and hurtled off after Alan.  And if it hadn't been for the pesky junction with the A370 I'd have caught him too!  As it was I was left just racing the clock to get to the Finish as fast as possible.  Up the main road drag, left and through Uphill, out t'otherside, to hurtle along the Weston Super Mare seafront, and, to the sound of cowbells and applause, pull up on to the lawns and go under the Finish arch.  Man I love riding fast!  The sun was shining, I was probably grinning like a loon, and my 7th Great Weston Ride was done.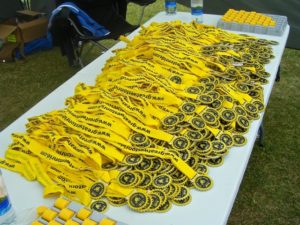 I collected my medal and food token and a much needed bottle of water, and bumped into Darren just the other side, who was waiting to welcome people in and also keep an eye on everything I expect.  We chatted for a bit, and I passed on some feedback, and he made the photographer take my photo too, which I doubt was a good look – what with the whole hot and sweaty thing!  I took my leave, before finding Alan unsurprisingly somewhere near the bar, having already collected his burger.  Just as well he had…the queues later were impressive and probably a tad annoying…  He headed to the bar for the pair of us in gentlemanly fashion and I put the bike and me down on the grass, to chill out in the sunshine for a while.  I'm glad the whole ride wasn't in weather like what we now had, but for us it had worked out perfectly.  Reasonable to ride in, then lovely to relax in 🙂
We hung out for a bit, debriefing as you do, and then Matt arrived to join us, eat my free burger (never likely to agree with me, but best not wasted), hang out for while, and then take me home. Yes, I had a lift home.  I know, I know.  Ok so it's traditional to also ride home afterwards but hey…some traditions have to be broken…especially if you're me.  I'm trying not to push my boundaries too far, and pace myself (see, I did listen to what of the clinical pain psychologist said).  So rather than risking falling asleep on the bike, to minimise post-ride consequences, and with Matt around for the weekend, I'd decided weeks ago that that part of tradition at least would have to bite the dust.  And with no Clayton now, and Alan only having a couple of miles to go back to Lympsham, I'd have been doing it on my own anyway.  So….after a couple of pints of lager, chatting & laughing in the sun, my bike and I were in the van and we were heading for home.  I pretty much had an absolute blast 🙂  See you next year Darren?
Cycling time: 3:38
Distance: 56.6 miles
Avs: 15.5 mph