OK.  Generally speaking, the pain (which should probably have a name, or at least come in 'inverted commas') takes a while to wake up in the morning.  As do I 😉  It's my grace period.  And it's bliss…  And actually I'd had a pretty good week on that front even after I've woken up.  So when I woke up at 6:00am, half an hour before the alarm clock, and things were already hurting, it was possibly a sign that my day was not going to go well.  But I say possibly.  I have patches and pills, that's what they're there for.
So after a bit of half dozing, whilst trying to ignore Cassie being so pleased that I was awake that she had to purr in my ear just to tell me so, I was up at 6:30am.  Time for the usual routine.  Get up.  Grind coffee beans.  Boil kettle.  Put porridge in microwave.  Make espresso.  Make espresso into Americano.  Eat.  Drink.  Dress in what might be the right layers.  Pack the other layers in a bag.  Mess around on the internet while everything settles.  Load the car.  Leave at around 7:15.  Let the satnav tell you what time you're going to get to HQ.  Prove satnav wrong 😉
HQ for today's Taunton Flyer was Taunton Racecourse, which was around 40 minutes down the M5 away.  A nice easy drive in the sunshine which, with a little music for company, made for a pretty good start to the day.  As ever my sat nav got me where I needed to be, and the marshals got me on to the racecourse parking field, which was already busy.  Lots of lycra emerging into the sunshine, and bikes being assembled.  It being on the other side of the road to the actual race course and stands, it looked like most people were getting ready and then going over there, rather than to-ing and fro-ing.  I decided to join them in that.  Well it wasn't like I needed to register – everything necessary had arrived in the post a week or so beforehand.  Bike number, cable ties, and helmet timing chip – job done.  I wish all sportives did that…as all we had to do was turn up and ride.  And it was a proper we, not a royal we.  Gary was doing this one with me too and, half way through faffing, I realised he was parked directly behind me, two rows closer to HQ.  How very convenient! 🙂
So there we both were, stood in the sun, having the usual conversation about the weather.  Yes it was sunny.  The last couple of days had been really nice and sunny and warm.  The forecast was for not so warm and not so sunny, improving later on.  In actuality it was a little overcast, with the sun trying to break through, a bit windy, and really pretty chilly.  But that's not unusual for 8:00am even on what turns out to be a really nice day.  Shorts. Toe covers. S/s base layer, s/s jersey, arm warmers, head scarf, winter neck scarf…but should I add leg warmers?  Which I don't like, and which Nora Batty all the time.  If the new Craft knee warmers I've ordered had arrived I'd have worn them, I think.  But they hadn't (and still haven't), and I decided to leave the leg warmers behind…
We headed off, over the road, and walked past the stands towards the start.  There were toilets on the corner of one block, but the Ladies turned out to be locked still, even though the Gents were open.  Which was a tad worrying…but luckily further along, the main stand was open, and had that which I needed.  It was also where anyone who wanted to could sign up on the day.  There were three routes today – the Wellington (111 miles), the Dakota (70 miles) and the Spitfire (34 miles), all themed around the wartime airfields of East Devon and Somerset. Although I was, as ever, signed up for the longest route, I'd decided against that ages ago.  I'd like to get a century in soon, but 111 definitely seemed like a step too far.  The long route riders were due to be allowed off first, with us Dakotas due to start from 8:20am onwards.  Judging by the number of riders gradually massing near the start, the majority were doing the middle route with us.  Amongst them were George, Linda and John, who were doing this together, though expecting to be slower than us, so not with us.  It was nice to have a few folk around to have a chat to – practically sociable!
It was really chilly hanging around though.  Every now and then the sun would break through, and a little ripple of happy would run through the crowd before it went again.  And we ended up hanging around for quite a while longer than planned, as the local county highways department had unexpectedly decided to close one of the roads on the route to resurface it.  Marvellous…  The organisers were madly running around moving route signs around to match the official diversion signs so that we could likewise be diverted.  In the meantime we were not diverted…and it was all bit tedious, and I was feeling a bit ouchy, and we were getting colder all the time.  At least I had time to take photos of the mechanics doing their thing, and the spitfire parked up and looking awesome at the start line, right?  When we did get the go ahead – Gary and I ended up in the second group to be let away, after a long and detailed briefing…and weren't actually on our way until just before 9:00am, by which time we were both absolutely freezing.
I knew that the first hill was 5 miles in, and since the first few miles were easy or downhill, and frequently shady, I really wasn't getting any warmer, so I was kinda dreading it.  How were hills going to be today?  Oh man it was cold…I wished I'd put those leg warmers on for sure.  We cycled through Corfe, which had no castle, but did have pretty cottages.  And then it was time to go up in the world.  Up Blagdon Hill.  No, not that Blagdon Hill 😉  As it turns out, the climb was ok.  Longish and gradual, with the odd wiggle, and half way up we passed George & co, who'd managed to get away in the group ahead of us.  I got told off for being a very poor domestique having not brought them bacon rolls 😉  I left Gary behind, hills being something you do at whatever your speed is, but once up on the top I slowed down and he caught me up shortly.  Lots more trees, views to the right, fairly straight and rolling for a good few miles.  However not enough trees, and not all of the time, as up there on the top, the wind was definitely worse, and chilly with it.  It was pretty though – trees, bluebells, greenery…  All very green actually.
It was a relief to drop back down to normal altitude and have things be marginally warmer.  I don't like being cold.  As I've said before when 'the pain' is lurking, I seem to feel the cold more.    And when I'm cold, I cope less well the pain.  I was going ok, but I was definitely having the odd moment.  Having had my morning dose at around 7:00am, the next wasn't due until 11:00am, which I was getting the feeling definitely wouldn't be soon enough.  Being somewhat of a mobile pharmacy these days, I did have extra ammunition with me, and we stopped around 10:30am so that I could add them to the mix, and hope that overlapping would tide me over…
It was a bit sunnier by now, and every time we stopped for whatever reason, standing in the sun was almost pleasant.  Getting going again made you cold again…*sulk*.  But the riding was going well, the miles were ticking down, and our average speed was higher than usual.  It didn't really feel like a sportive, more of a Sunday ride.  Mind you, quite a few of our fellow riders clearly thought it was a race…hurtling past with little warning and less manners…
There was quite  lot of "all the kit don't know sh…." around.  I reckon there were several reasons for this.  It was near Exeter and Bristol, easy to get to, with a relatively easy route, so you and your Flash Harry mates can bring out your shiny expensive kit and gear, hurtle around and pretend to be pros and, doing the middle route of course, be home in time for a round of golf/family bbq, and regale your adoring audience with your tale of achievement…  There was a particular little group of them at the Start Line that had me nearly constantly in giggles, comparing their deep rims, discussing tactics, etc…  Over-compensating much chaps? 😉
Luckily, and well before the food stop we were about to reach, most of this lot had hurtled off into the distance, leaving the rest of us to get on blissfully doing our own thing, and doing odd things like saying hello to each other, pass the time of day, point out potholes, and so on.  Something actually worth pointing out is the number of the women doing this ride.  By which I mean lots of them.  Which was really nice to see.  Girl power, or something… 😉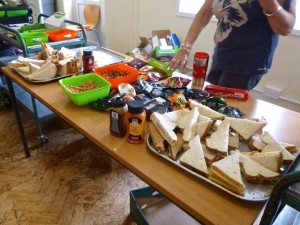 Right, I believe I mentioned we were about to reach the food stop.  Which, at 30 miles in on a 72 mile route, felt a bit late to me, and not just on a mileage level.  It turned out to be at a school in Broadclyst.  We pulled in, and in the absence of anywhere to put the bikes, laid them down on the grass.  Inside, in the canteen, was a whole range of foods – sandwiches, crisps, flapjacks, fig rolls, High5 Isogels, and much more, not to mention water, High5 drink, tea and coffee, and tables and chairs to sit at if you so wished.  I decided cheese and onion crisps and maybe a caffeine enhanced isogel were the way to go, but we decided to sit outside in the sunshine to consume then, and enjoy the unfamiliar warmth.
A break was probably called for.  Eating is a good idea.  Toilets are handy.  But…  When I'm riding I don't know how bad things are, if they are, because my body is busy riding the bike.  When I stop I can then realise I've been pushing my limits more than I realise.  First off, when I got off the bike, my balance had gone.  Uh oh…  And while sitting in the sun, whilst Gary wandered off for a comfort break, it became pretty obvious I wasn't doing as well as I thought I was.  Ow.  *sigh* I ate crisps, took the now permitted second dose of pills, and made myself drink the Isogel, to give my body some fuel to fight with.  Gary returned, and I wandered off in my turn, rather gingerly it has to be said.  While it got worse…  As I returned, I met George & co who'd just arrived, and were heading where I'd just been, so we exchanged trivial banter at a level of cheeriness I really wasn't feeling.  Which left me feeling even worse, and when I got back to Gary, I lost the ability to keep it together altogether.  Again.  Which came as a bit of a surprise to both him and me.  *sigh*  So he got to be a shoulder to cry on.  Literally.  I think it was as much a physical reaction as an emotional one.  It hurt so much, and it was so frustrating when everything else was going pretty well.  And constantly fighting it, even if I'm not aware I am because I'm riding, just takes it out of me, so I guess my guard goes down.  I got it together again relatively quickly though, and although crying mid-sportive might not be ideal, t'were far better done in company than by the side of the road on my own.  Sorry Gary!
(The whole thing did make me think of some sort of Facebook meme though…something supposedly inspirational about how "it only hurts when you stops, so don't keep going". Or something)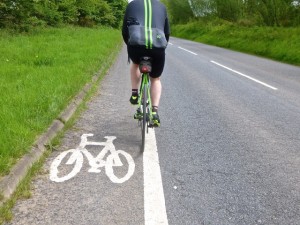 Let's go ride bikes again shall me?  This is supposed to be a sportive, not a pity party.  Like I said, I wasn't actually down or depressed…it was a reaction, I'd reacted, and now I wanted to ride.  Which, having gotten nearly warm stationary in the sunshine, was not nice.  How was it STILL cold??  Just for once I'd actually paid fairly close attention to the route – and I knew that there were a few hills ahead – at c 38 miles, 42 miles, and 50 miles.  We bimbled for a bit until we'd warmed up some, and I'd gotten back into the swing of things.  Being, shortly, half way around, also helped perk me up, as ever.  And yes, there was a climb at 38 miles in…but it was just a long drag up an A road, complete with cycle lane, to fly all the way down the other side.  Easy!  I was starting to feel a little better, and that being easy definitely upped the PMA.
So when we started the next up, a few miles down the road, I wasn't too worried.  Holy Crap!  I SO should have been!  Compared to what had come before, the Greenway Lane Climb came as a very nasty shock.  Apparently there was a sign at the bottom indicating a hill was ahead, but I hadn't seen it, and even if I had, I don't think I'd have been expecting this!  If you're local to me, I can tell you it's like Draycott Steep, but a bit steeper, and quite a bit longer.  Having gone up Draycott Steep last week, I can say this with confidence!  For the rest of you, this climb is long, narrow, and steep.  Near the bottom I had to lose precious momentum to let a silver VW Camper past, but I managed to keep moving.  As we slow ground our way up, past walking riders, and it got a bit steeper, and with no idea of how far we had to go, I did muse out loud that I wasn't sure I was going to make it up this one.  I seriously though walking might be a possibility.  Up and up, narrowly avoiding those who fell by the wayside by stopping in front of me.  Half way up, blocking most of the road, was that van. With a cyclist leaning on, and into the passenger window to chat.  But would they move?  Nope  I did say I was coming through, but he told me that was fine, and waved me through, into the dirt and gravel on his left, to get past.  I was not amused…  I kept going up and it got marginally less steep, enough so for me to keep going.  Gary took to walking at some point, I was too busy focussed on ahead not behind to see when.  It was bl**dy hard work, but being one of the very few still pedalling was motivational.  Higher up and properly into the trees, with gravel, potholes, and an occasionally lifting front wheel…  Two cyclists were walking ahead of me…and I didn't have much energy for saying excuse me…but luckily they noticed.  The gent in red moved to the left a bit, and as I went through the narrow gap he encouragingly told me to keep it up, not far to go now, and not to worrying about the car behind me.  Car behind me?  Hadn't even noticed.  You'll never guess what it was…  Ok, so you will.  It wasn't difficult…  And was I going to move out of the way?  Was I f*ck.  Especially as I thought I could see the end.  So thanks to the motivation and a serious dose of stubbornness, I kept my line, kept pushing and made it to the T-junction at the top, feeling more that a little pleased with myself. I waved a token thank you at the VW and he went away.  I'd feel guilty, well, maybe, but when I learnt that she'd (it was actually a she) actually let that cyclist, her husband's mate, hang on to her wing mirror for a tow all the way up well…
There were a few riders at the top – some had walked, only the odd one hadn't.  Sat there in the green, surrounded by dappled sunshine and bluebells,  recovering or/and waiting for mates, they were playing "spot the still pedalling cyclist".  Quite hard as it happens…  Go me!  A little time to chat, and commiserate was great as it gave me time to get myself together, and I was almost human again by the time, not that long after, Gary emerged.  See, even today, I can go up hills.  OK, so I paid for it for a little while until things settled again, but the mental boost from going up that hill more than made up for that 🙂
We were back on the top now, that being where they build the airfields that this route nominally tours around,  For a while the chilly wind actually verged on being refreshing…  We were back to rolling now, and although it was all still a little bit unremarkable it was still pretty.  I  knew another hill awaited ahead…and I even saw the sign this time, so I was prepared.  The lovely down into a little wooded valley had pretty much given it away…  What goes down, must go up!  Basically it was just the like the killer hill before, but about half the length.  And we both got up this one 🙂  Which was to be the last real challenge on the route.  Just as well, I'm not sure a third such would have been doable!  Go us!
Mind you, fighting the headwind was quite annoying enough.  I think I'd rather fight gradients than knots.  The wind never went away today, and always seemed to be in your face.  As a lot of the route was long straight bits on wide B, or even A, roads, there was often nowhere to hide.  We like trees a lot, and their shelter made the various tree tunnels we cycled through even more attractive.  There were still carpets of bluebells everywhere there was shade, and they really were beautiful.  Where there weren't trees, it was wide open…and we even saw a couple of the airfields we were supposed to 🙂  I'd pretty much gotten on top of it now, the drugs were working, and I was feeling fairly good.  I'm actually relatively on form at the moment, believe it or not!  Occasional bit of bimbling were required, but never for long, and Gary stuck with me for those, and towed me along if necessary.  We also spent a lot of time chatting too, which is always nicely distractionary.
The second food stop came around 59 miles in, at Upottery, which marked the Smeatharpe WW 2 airfield I think.  On the, "it hurts when I stop" basis, and with only around 12 miles to go, I was tempted not to stop, but that could have been unwise on other fronts, so we stopped anyway.  And I'm glad we did, as in addition to the same wide range of food and drink, and toilets, the little hall was hosting an exhibition of WW2 bits and bobs, complete with folk dressed up to match.  Plus this cute little chap, Javan, who was very happy to pose for photos – as apparently it happens all the time.  I did check with his parents before I immortalised him though – sadly you have to be a bit careful these days 🙁
Another High5 Isogel, a look around, and a drink, and it was time to go and get cold again.  Clearly it really wasn't going to get warm for us today.  Time to roll home.   And after some rolling, we were dropping down, back off the hill, which was long and easy and fast…and SO much fun 🙂  The route split was only a few miles from the end, and neither of us were up for adding an impromptu 40 miles on to our day.  The marshall pointed us in the right direction for us, and cheerfully shouted than we had 6 miles left, I think, and as we kept flying along, and down, a spectating rider told us we only had one to go…and he wasn't wrong.  There we were, back at the racecourse, and our work here was done 🙂
Time to take photos of the spitfire properly.  Sadly we'd missed them running the engines and we'd gone by the time they did, if they did, run them again as they suggested they would.  There was a raffle somewhere, the prize being a cockpit tour and to be in there when they ran the engines.  Eldest had informed me that if I won that he'd never talk to me again though…I could't quite decide if that was motivation or deterrent…;)  I couldn't find where to buy a ticket so luckily that point was moot.  We queued to get our time print outs, and then we got a goody bag each with a bottle, bronze medal, and t-shirt.  I chatted to the man in charge – who I thought I'd recognised earlier.  He and his run the Dartmoor Classic and I met him over dinner last year.  Was I doing it this year?  Not been invited I said.  I'm sure you will be he said.  (We'll see I thought…as I'm not sure I want to be).  But if I'd like a place on the Moor to Sea please get in touch.  Now that I might chase up.  Not done that one, and novelty is good.  Anyway, all of that was all well and good, but discovering the canteen serving hot post ride food also did cold Fanta was the icing on the cake, and sitting outside drinking that and finally getting warm was lovely 🙂 Taunton Flyer done 🙂
Cycling time: 4:45
Actual time: 5:33
Distance: 71.5 miles
Avs: 15.0 mph
So, do we have a conclusion?  Well, it's a nice enough event.  Well run, good HQ, good food stops – though they're not spaced right to my mind.  It being a sunny Saturday and with a lot of the route being more A road than B, there was quite a bit of traffic from time to time.  I much preferred the country lanes section, even the little detour added this year to avoid going through Cullompton.  I didn't notice the unexpected diversion that delayed our start – Gary says we did it, I thought we didn't – but it didn't add miles either way.  It was very much a nice long Sunday ride, rather than feeling like a sportive, and that's no bad thing.  I just wish I hadn't been that bit too cold all day!  It was still a pretty good day on the bike, barring the obvious.  And I got up those hills *grin*.
Some of you probably think I'm mad.  But the Chronic Pain Clinic says I can cycle because although it makes the pain worse, it's good for ME, and it doesn't actually make me any iller.  So if I want to do it, and it hurts, that's my call.  Although they think what I do is a tad extreme (which as you know, by cyclists standards, it really isn't) and I should work on doing other things and developing a support network, blah, blah, blah.  But it's what I do to not be bigger, to not be in my head, to get away from it all, and more – so I can't see me stopping any time soon.  If it turns out to be a bad day, it looks like I may have have to factor a crying jag into my sportive plans though!  May, I am such a girl!  But hey, I can do that.  I know it will be a lot harder getting through it when I'm riding on my own, so if you fancy joining me for any of the rides I'm doing…?  I have company for the Black Rat but after that it's back to just me.  I can't promise not to cry but I'll try! 😉